Go to the Archive index
---
Second Peninsularis Run - 4 July 2004
Neil Morley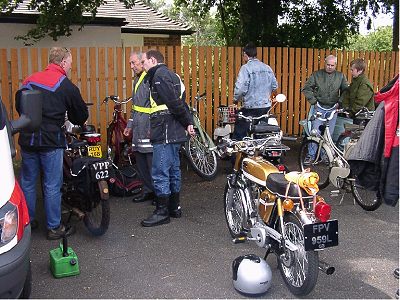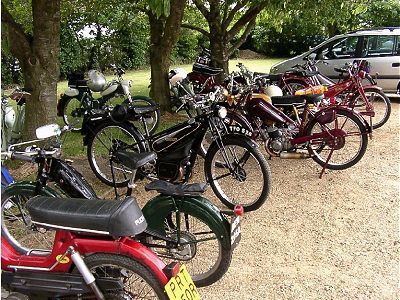 The second Peninsularis Run achieved a splendid turnout of twenty nine riders to navigate the course and, once again, we were delighted to have a number of riders travelling from further afield to attend the event. Apart from one brief but heavy shower, the weather was generally fine.
Arrivals were greeted with complimentary teas, coffees, cakes and biscuits at the reception facilities in Bucklesham Village Hall. This year's event was complemented by no fewer than five stands, a significant increase on last year. Andrew Pattle (NACC stand and Librarian) signed up several new members. Between them, David Evans (Puch stand), Mark Daniels (Moped stand), TigerMan (Mopedjumble Van) and G Daw (Moped trailer) displayed a veritable treasure chest of parts, accessories, and complete machines for sale.
After the customary jockeying for position in the car park, Mark filtered his much-modified Raleigh Wisp to the front of the pack and we were off. The enjoyable outbound route was easily navigated using the proven routemarker system and we enjoyed an excellent lunch at the Maybush pub in Waldringfield, on the bank of the River Deben. Just before lunch Mark had dropped home to exchange bikes for a Mercury Mercette as the supersonic Wisp developed a malady in its rocket-fuel supply. The spirited return leg ran through the area's scenic sweeping roads, and stands re-opened on arrival at Bucklesham Village Hall with further refreshments being served. The atmosphere and activity generated from operating a moped jumble in conjunction with Peninsularis Run creates a superb event like no other. This format is surely pointing the way forward.
An excellent day and one well worth adding to your future calendar!
Riders
Carl Harper - Ariel 3
Pete Smith - New Hudson
Mark Daniels - Raleigh Wisp (1st half), Mercury Mercette (2nd half)
Dave Jockel - NSU Quickly
David Evans - Puch MS50
Paul Efreme - Francis Barnett Powerbike 56
Steve Cobb - NSU Quickly
Steven Gleed - Zündapp Falconette
Martin Gates - NVT ER2L
G Daw - Simpson S51
Alan Bloys - Mobylette
Paul Nelmes - Bown Auto Roadster
Jeremy Colley - Puch VS50D
John Daborn - Mobylette
Mike Daborn - New Hudson
Brian Barley - Puch Maxi
Bob Goodwin - Mobylette AV45
Neil Morley - James Superlux
Andrew Pattle - Honda Motocompo
Gilbert Smith - Raleigh Runabout Pop
Laurence Coates - Mobylette AV78 'Old Rusty'
David Whatling - Rex FM30
Ted Riceman - James Superlux
Andrew Nahum - Itom
Mick Cook - Mobylette M50V
Ian Ranson - Honda PC50
Pete Ranson - Bown Moped 3K Special
Steven Last - Lambretta 125
Neil Bowen - Yamaha FS1E.
---
First published, August 2004

Go to the Archive index
---