Go to the Archive index
---
Garioch Show, Old Meldrum, 1 August 2004
Arthur Groves
Each exhibitor, arriving at the office to sign in was presented with an envelope containing their machine number, a programme, lunch ticket for a plateful of stovies with oatcakes, a route map for the run and an (empty) whisky glass to commemorate the show's 40th anniversary. It was also pointed out that the raffle contained plenty of liquid prizes, many beginning with the word "Glen".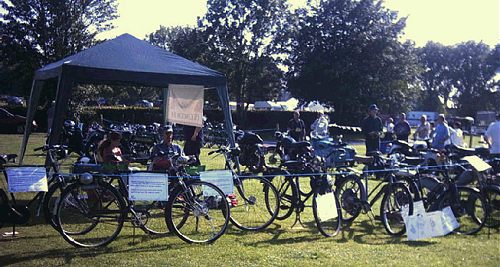 Front & Side views of our display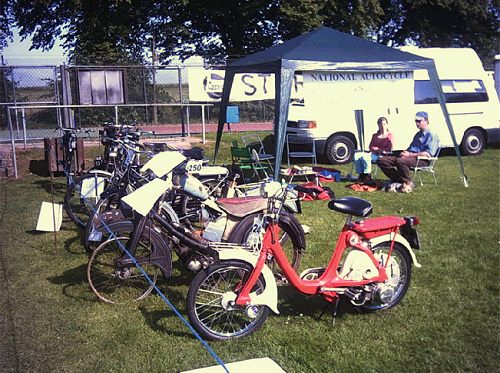 What a day it turned out to be. We had been allocated our own sector (which may be because we had an NACC member on the committee), and had a seated area under our banner in the gazebo where we could shelter from the sun. We had an even bigger selection of machines than last year including Cyclemaster, Winged Wheel, Cyclaid, 1952 VéloSoleX, Mini Motor, Teagle, Express Radexi, Hercules Corvette, Honda P50. Two of the bikes were in a partially dismantled or dilapidated state but that only added to the appeal. Vic tried to slip in a mini dump truck of unknown pedigree but without pedals it wasn't going on the NACC insurance form.
At the earlier New Byth show we had attached to each machine, an A3 sized card showing, in the simplest terms, some history of the bike or the manufacturer. This certainly helped to generate interest and we decided to repeat it here. Joe Public's new-found knowledge of cyclemotors encouraged them to spend a fair time at our display and each machine was then scrutinised in great detail.
A few membership application forms were handed out and two potential members were even seen trying to thrust money into our hands. I want to join now!
A road run had been organised which, we were told, included some stunning scenery but the route map also advised that brakes should be checked at certain points before proceeding. Now was the time for some serious thought: 49cc, single speed, seventeen stone, dicky ticker and 1 in 8 hills - that doesn't add up! Bob had his 32cc Cyclemaster fuelled up and raring to go but alas, trying to get a travelling companion was not to be. For those of you who aren't too familiar with the Grampian countryside, if you don't like the look of the forthcoming hill you can always double back and take the previous turn-off. Be careful though, there is often a good reason why it is not shown on the map.
Jim Lawrence was awarded a huge silver cup for his skilful riding in the trials. The test course included traffic cones, a fishing rod, twa wee plastic ducks, an' a couple of buckets of water. I'll tell you, Sir Lancelot wouldn't have had a chance against this guy. This had to be seen to be believed. His achievements were recorded in no less a journal than page 44 or thereabouts of the following week's Turriff Advertiser.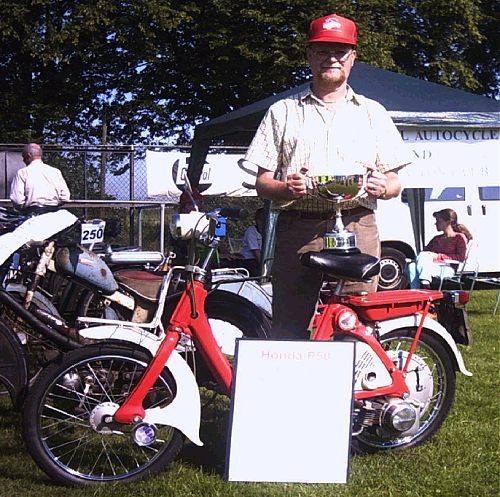 Jim Lawrence with his prize and his trusty steed for the day (Honda P50)
As the day went on, we managed between us to confidently answer all the questions that were asked but one elderly gent approached towards the end of the proceedings and told me that the bike looked better than when it was new. Comments like that fair ca the feet fae under ye and help to mak the day.
Thanks to Bob, Ian, Scott, Jim, Vic and Sandra for all pulling together to make the day a success.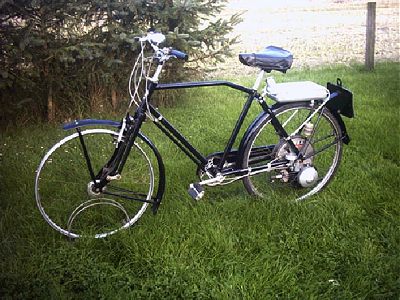 Bob's Winged Wheel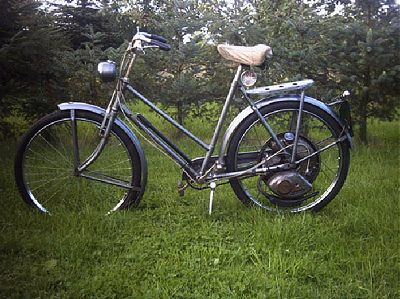 Bob's 32cc Cyclemaster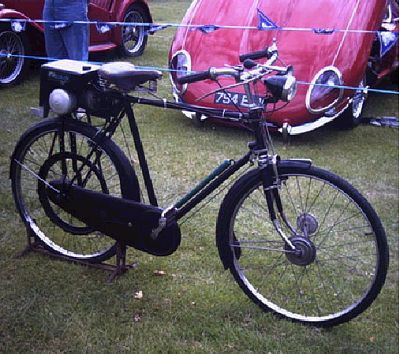 Ian's Cyclaid
---
First published, October 2004

Go to the Archive index
---