Go to the Archive index
---
Something Lurking In The Woodshed
David Banks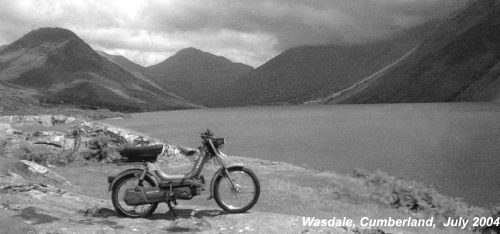 There was too! To start at the beginning: for many years I have travelled in Italy with a trailer caravan, often stopping for some weeks in one place, notably a small village in the Dolomites and on the southern edge of Florence. Over the years, as in many places, city centre access has become more difficult, and the centre of Florence is banned to non-residents' cars. It became apparent that a light portable form of motorised transport would solve my problems, brought from the UK on each trip. As was so many years ago, the moped is an obvious modern day solution, but in Italy, as in Britain they have almost disappeared.
I had joined the Club, and started looking for something reliable enough for the regular 16km round trip from the caravan site to my friend's home in the medieval centre. During my search, I set off on another journey to Italy to stay in the Dolomite village at a caravan site with many Italian friends and a site owner known for 27 years.
It was over an outdoor dinner one evening when I asked the assembly if anyone had a usable moped in the cellar, not expecting a useful reply. I was amazed when, after all had shaken their heads, one recalled that there was one in the site wood shed. I was amazed. I must have walked past it hundreds of times!
The next morning my friend Sylvana and I approached the owner, Gianni, to enquire about its availability. Unexpectedly he was delighted at the chance to dispose of it. He opened the shed, and we began to excavate the machine from under piles of wood and sawdust. These conditions must have kept the bike dry for years and slowly, a new-new looking Garelli emerged. Gianni would take no money, insisting that it was a gift as it had cost him nothing! Apparently, ten years before, he had found the Garelli at the site gate, and after some days notified the Carabinieri of the abandoned machine. They recovered it, and after being unclaimed for the statuary six months returned it to Gianni as the new legal owner. (It had no documents and no number plate.)
After some tidying up and the usual checks, I was riding it around the site to the amusement of everyone. I brought it back to England some weeks later in the back of my Citroën C5 estate car.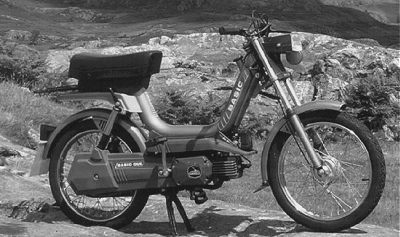 With no documents, no number, and no known year of manufacture (e-mails to Garelli remained unanswered), the DVLA was reluctant to register and license the machine, but the bonus was that customs were not interested. With the help of the Club's ME, Robert Gardiner, and David Casper, a dating certificate for 1983 was obtained and the DVLA issued, to my surprise, a 1983 local Cumbrian number. The little Garelli, a two speed automatic with front and rear suspension is often used and can be seen in the accompanying pictures in Wasdale, not far from my home. All that remains is to return it to its much loved warmer homeland for some regular use!
---
First published, December 2004

Go to the Archive index
---