Go to the Archive index
---
1981 Peugeot 103
Stuart Houghton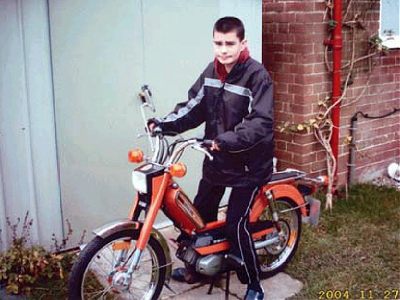 I joined the Club in October 2004 after my dad bought me a 1981 Peugeot 103 moped at the October Stafford Show. That's me on my moped in the picture. My dad and me have done a few jobs on the moped since I got it; we have cleaned the carb and fuel lines, sprayed the rear shocks, overhauled the brakes and oiled some of the control cables. My dad helped me set the carb up on the moped, it now runs a lot better. Next on the list is to have a look at the lighting system, then I am hoping my dad will take it for the MoT sometime in the next few months.
Does anybody in the club know were we can get spares for this type of moped? I have got an English workshop manual and spares book and the original sales leaflets that came with the moped, only trouble is the sales leaflets are in French. Its first owner, a Norwegian, bought the moped in June 1981 from the Peugeot dealer in Thonon-Les-Bains in France. It then went back to Norway with the new owner in October 1981; it then came over to England with its Norwegian owner in Jan 1992. Its last MoT was in 1996 and was carried out by a dealer in the Southampton area.
It has done a total mileage of just under 1,500 kilometres since new so you can see it has not been used much in its lifetime. My dad has been interested in British motor cycles for the last 15 years; he has two 1960s BSA motor cycles and 1960s Royal Enfield motor cycles. So if I have any problems with the moped I can always get my dad to help me. That's all for now I will keep you posted on how we get on with the Peugeot.
---
First published, August 2005

Go to the Archive index
---