Go to the Archive index
---
Coast to Coast Run 2005 - I
by Sheila Brown
As far as any living human-being can remember, the Coast to Coast started in 1997. That should have made this the ninth annual run but as you may remember, organised rides were curtailed during the summer of 2001 because of the foot-and-mouth epidemic, so this year was the eighth traverse. A field of forty men, strong of sinew and thick of head, lined up in the new car park kindly created by Hartlepool Borough Council precisely for this event... or perhaps not. Two lady riders from our own 'Rotherham Ramblers' made the starting gate up to 42. This honourable field comprised: C Selvey, John Bailey, John Alston, Stuart Robinson, Tim Green, Peter Green, Brian Eccleston, Karl Heim, Ray Parkin, Alan Grassam, Paul Simcox, Dean Fielder, Brent Fielder, Andrew Shaw, Alan Redgrave, David Flye, Marcus Allard, Hugo Wilson, Matthew Pardo, Derek Ashworth, Frank Brzeski, Dennis Hiller, Steve Hughes, Martin Knowles, Peter Moore, Andrew Speak, Geoff Wilkes, Tim Shields, Martin Smith, Andrew Nolan, Peter Nolan, David Brearley, Martin Tordoff, Sherwood Grimshaw, Nick Garnett, Melvyn Smith, Stephen Smith, Dave Hepworth, Gareth Clark, Nick Crosland-Turner, John Hogg, Sheila Brown, Barbara Smith and Uncle Tom Cobley and all.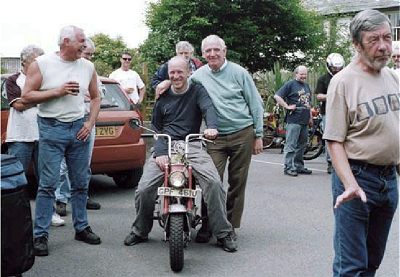 Bassenthwaite Bonhomie
L-R: Frank Brzeski, Marcus Allard,
Derek Ashworth, David Casper
It was a field day for onomasts. That is for the benefit of 'a member' in this list who assures me that he likes to be sent scurrying for his dictionary at least once during every copy of Buzzing. By the way onomasts should not be confused with onanists whose idea of a field day would be quite different, trust me.
The most unusual machine was probably Nick Crosland-Turner's PEP ('petrol, electric and pedal'?) an interesting stab at the 'hybrid' cyclemotor. this retired gracefully during the first day unlike a number of other great British prototypes one could mention, the R101 for a start.

C Selvey refuels his 1952 98cc
2-speed Sachs-engined Follis at the
second day morning stop near Penrith.
This French moped was also available
with a 49cc 2-speed Veloto engine.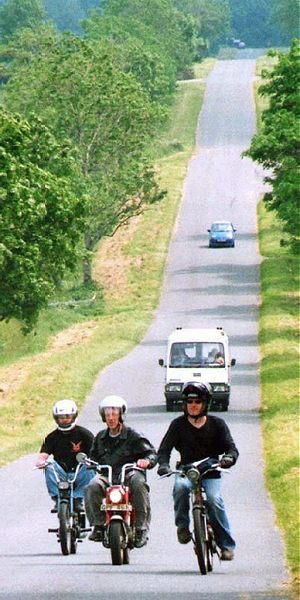 Climbing Inglewood Edge between
Unthank and Hesket Newmarket
Nick was so impressed by the 'power and speed' of Peter Moore's Trojan Mini-Motor that he went right out when he got home and bought himself one. So let's face it, there's still a chance he'll crash in flames on a hill somewhere in France. I saw a great deal less of Peter and his Mini-Motor this year for which both of us were grateful. I don't like to mention Marcus Allard's BSA Dandy, a wart on the face of the otherwise beautiful woman that was the 2005 Coast to Coast. It was reported that as Commissar Brzeski's Kawasaki strimmer was unloaded from the van and given a trial airing, a colleague remarked: "I bet them weeds are ****ing themselves!"
As driver of the sweeper van I didn't see much of the action. Two of Chairman Casper's neighbours turned up for the start a little late complaining that their colleague was unable to come 'just' because he had a broken ankle. The Shropshire PMTs (no I don't understand that either) also arrived late for the start on their Puch Maxis but they had just ridden down from mid-country that morning. The execrable Dandy was not the only problem theat Team Zubi-Ondo were having. Having brought two bikes per rider this year and having had around a 50% success rate they're wondering whether they might get through three bikes each next year. The verb 'to maintain' round their end must have the same meaning as the verb to **** does in Rotherham, otherwise they'd use it a bit more often. Actually the fact that I don't know what that verb means even in Rotherham was illustrated by the fact that two of the three bikes I was responsible for repeatedly packed up and had to be coaxed back into anxious life. At one point The Maths Adviser ended up about ten miles behind the peloton and had to ride hell-for-leather to get her lunch at the Sun Inn, Bassenthwaite. My God, that women will take some risks for a ham ciabatta on a green side salad. The autocycles had the usual New Hudson problems - hot coils, blocked jets, leaky floats and the need to form a committee at the roadside to analyse each problem as it occurred. Frank Brzeski had to retire for the first time ever on the run when his back wheel collapsed. For the rest is silence.
The weather was kind, although the view from Hartside was obscured by cloud. Dave Hepworth, a Coast to Coast virgin and the newest member of the Rotherham Ramblers, professed himself well satisfied despite an ailing Honda Camino. And there's nothing more painful as any Spanish doctor will tell you. It would be good to read a rider's account if anyone can be bothered. Next year Chairman Casper promises bigger and better for the 25th anniversary of the Club; if you are a regular you won't want to miss it and if you've never done it, for shame on you!
---
First published, August 2005
---
The Story of Turkeylegs and the Trojan, or A Tale of Cumbrian Wildlife
by Peter Moore
I was robbed by a pelican - in Whitehaven - of a prize which at the time I did not realise was within my grasp. An event so nearly occurred that would surely have caused the little world of Granadaland to wobble on its axis. The Trojan Tortoise so very nearly beat two of the Hudson Hares to the finish, it pains me now to think of the lost opportunity!
It began for me at Morrisons in Whitehaven as I was waiting for the red light to change. Suddenly, The Crazy Frog and Mr Fixit roared up alongside, grinning wildly but saying nothing. They knew what was at stake, but I hadn't made the connection. Apparently they had lost the rest of the pack and gone on a little tour of the Western fringes of Whitehaven (they did not get lost!) Let no-one tell you that the Coast to Coast run on a cyclemotor is an easy ride. It takes a certain mindset and continuous concentration. I had been in that mindset all day, with the Crazy Frog perched on my shoulder urging me on - saying that the van was leaving Whitehaven at half past two, with me or without me. It wasn't until I relaxed on the glorious downhill run into Frizington (a place remarkable only for allowing the Trojan to put in a sustained speed limit-busting run down to the T junction) that I realised that the van was following me! The Frog would have to wait for me! But still his psychological hold on me was too great - I never questioned the superiority of the Hudson Hare. I had left Alston early that day in the company of Mad Frank 'Weed Slayer' Brzeski, and we conquered Hartside together. Sadly, Frank's rear wheel yielded under the fiendish power of his Japanese strimmer, and the load imposed by his legendary heavyweight underwear (you'll have to ask him!) and I was left to a largely lonely ride. The Editorial Vimto Van fortified me on the short Orthwaite mountain section, and I raced into the lunch stop at The Sun to find the pit crew had laid on cold drink and hot food. Just time to adjust the ignition timing (it made no difference, but who really thought it would?), refuel, but no time for a handwash - that voice from a lilypad somewhere in the carpark told me to be gone!
I pedalled off, and some time later, the Trojan joined in. autocycles and mopeds passed me and waved, I passed small knots of them at times resting, and occasionally I would pass the Hudson Hares stopped for a frolic at the kerbside. I was in a state of determined concentration - see a hill ahead, start pedalling; see a downgrade ahead, lose the speed first, and try not to melt the 68 year old brakes. Listen to the exhaust note, right ear constantly tuned, waiting for the sparks to cut out - again. thus did Turkeylegs and the Trojan form a close, but uneasy, working relationship. And so we arrived at Morrisons, and waited forty-five minutes for the lights to change - not much happens in Whitehaven on a Sunday afternoon. The tortoise and the hares set off and sped into Whitehaven. The hares stopped at the traffic lights and I waved them to go left - gullibly, I was helping them! We raced on to the mini roundabout, Villiers and Trojan two-strokes rasping gloriously off the terraced walls, and made the right turn and onto the newly block-paved speed humps. The Hudsons went through the pelican which turned red in the face of my approach. I slithered to a stop, rather invading the personal space of an elderly and uncomprehending female pedestrian who had clearly never ridden an ancient rod-braked bike. Then I saw the Hudsons coming back towards me, and only at that late, too late, stage did I realise that I had a chance of reaching The Beacon before them.
I set off and turned left immediately after the pelican, but they had seen the error of their ways seconds too early for me, and there followed a short but unseemly dash along the Marina amongst the unwitting promenaders as Turkeylegs and the Trojan strained to catch the Hudson Hares, missing the finishing flag by seconds.
The Frog was the first to admit that he knew what was at stake, that his pride and reputation would never be allowed to recover from a defeat by the Trojan tortoise, from the moment he saw the van approaching Whitehaven on the hillside as he and Mr Fixit were enjoying their detour. He knew that ahead of the van was the Trojan and that it was going to get to the finish before him unless he ignored the speed limit, junctions, bends, etc, on his dash through Whitehaven. Which explains the breathless and excited arrival at Morrisons!
Still, maybe next year, and a bit of sabotage?
---
First published, August 2005
---
by Tim Shields
Living in one of the most landlocked areas of the UK (Chesham in the Chiltern hills) and not having a car driving licence has its downside when trying to reach the start of far flung club runs such as the 2005 Coast to Coast. Only by relying on favours from chums with vans, and a pal with one blue mobility bus (ex Southport Council Social Services) was it possible to get my Mobylette AV42 in position at Hartlepool for the start of this year's CtoC.
The two days on the run were fully enjoyable if slightly frustrating! With warm sunny weather all was looking good. However for me, a dark cloud soon appeared when before reaching the end of stage one, an unknown iffy electrical problem with the engine (condenser/coil/points?) brought me to an unscheduled stop. Once restarted, erratic ignition failures and impromptu forced pit stops every fifteen or so miles were to become the norm for the rest of the run. After limping to the finish point in Whitehaven on day two, the Mobylette was given a lift as far as Howarth (West Yorkshire) where it was left on a friend's farm awaiting a new condenser and a further lift down south.
In the meantime I received an e-mail from a fellow CtoC rider who, after finishing the run in Whitehaven on the Sunday had continued home on his moped to Selby (North Yorkshire)! With flesh and machine separated by a small inflatable camping cushion, he stopped only once for fish'n'chips in Otley (West Yorkshire), arriving home after 10pm and covering some 200 plus miles in one day.
Along with other epic stories I had read in the 'Stinkwheel Saga' book, such as Mr R C Button riding a Cyclemaster from Reading to Cornwall in 16 hours for a holiday, I had become inspired.
Weeks went past, and then at 05:36 on Saturday 13th August, with a new condenser fitted and a gulp of apprehension I set off south for Chesham on the Mobylette. Passing first through Bradford town centre at 06:00 I was greeted to a mixture of optimistic cheers and drunken yells from the late night stragglers leaving the clubs. The rain followed soon after passing Brighouse and would continue pretty much non-stop for the next 12 hours!
A conscious route plan had been made to pass via the Peak District, and Bakewell was reached by 09:00 in time for breakfast, where refreshments were enjoyed opposite a display of motor cycle memorabilia (including Deerstalker and Autocycle) in an Optician's window. Stopping for a refuel in Derby revealed the new condensor hadn't fixed the ignition problem. With intent focus I treated a handful of onlookers to the 'exercise bike' spectacle before moving off. The dreary rain was now delivering a positive benefit, through turning an air-cooled into a rain-cooled engine, everything was staying cooler for longer and I was able to battle on. Near Burton-Upon-Trent, I found myself in the unfamiliar position of being stuck behind a slower moving vehicle (tractor and trailer) on the very fast A38 dual carriageway. Not wishing to lose time through going unnecessarily slow, but still preserving life, a very rare and careful overtaking venture was required. Eventually, an extremely large gap devoid of cars (and stretching for over half a mile) was observed from behind. With a final check I opened full throttle and took the plunge. Like a narrow-boat setting off on the canal my speed slowly increased and thirty seconds later I was level with the cab window. Not wishing to suggest I was having a race, I only gave a quick side glance to the farmer's face before passing and returning to safer slow lane territory.
Early afternoon was spent plodding along the old Roman road (A5) heading towards Milton Keynes. The rain was now heavier and the folds in my waterproofs had filled to such an extent that Darwin's theory of evolution was in danger of being exercised. 'Welcome to Buckinghamshire' eventually came into view in the afternoon, however it is one large county and I didn't arrive home till 17:10 and a hero's welcome from my girlfriend and Topper the cat.
Technical data: Shipley - Chesham 194 miles. Time taken 11.5 hours. Average speed 16.9mph. Used 6.7 litres at 0.90p per litre. Total journey cost £6.04 (£3.11 per 100 miles), average 132mpg.
Many thanks to: David Casper (for rescuing me from a lay-by on the CtoC), Eddie Dewe (technical advice and assistance), Martin Smith (support, advice and bus driving!)
---
First published, October 2005
---

Go to the Archive index
---