Go to the Archive index
---
Montgomery Hills Run, 26 June 2005
by David Beare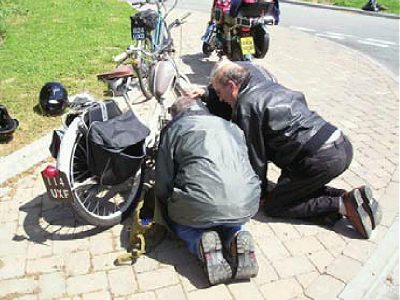 Above - Veneration of the Quickly:
Ian Strangward had problems,
Ivan Dutton & John Merryfield help out

Below - A minor hitch with a Cucciolo:
Philippa sorts it out,
Messrs Strangward, Casper & Merryfield advise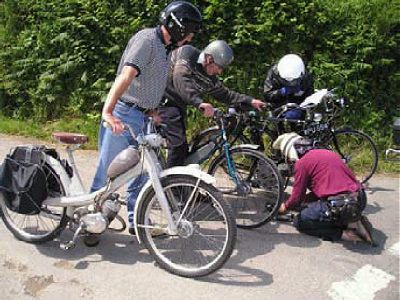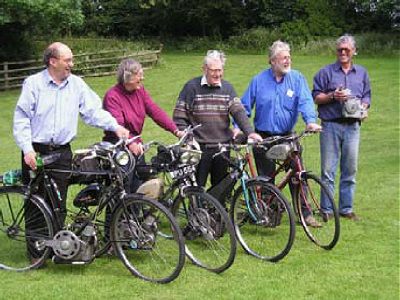 Four Cuccioli:
Ivan D, Philippa, John M & Alan H;
Dave B holds a fifth Cucciolo engine sans bike -
Dave Casper's recently bought French-built Rocher unit
As per last year (when we hosted a Dutch invasion of mid-Wales) the Montgomery Hills Run weekend was based in the rural splendour of Bacheldre Watermill campsite. Proprietors Matt & Anne Scott mill prize-winning organic flour of many traditional varieties and recently won the title of supreme champion, Waitrose small supplier, leading a field of 155 entrants. Just thought you'd like to know. Oh, yes, we had a couple of cyclemotor runs from there too.
Philippa thought we'd give participants a gentle introductory 30-mile run round Shropshire on Saturday to warm them up prior to the main event on Sunday. A navigational cock-up at 20 miles by the leader (me) led us up onto Knot Moor via an extremely steep hill. The Regalia Secretary had to push his James Comet up it, something he would become accustomed to doing on Sunday too.
After the obligatory excessive consumption of alchoholic beverages, burgers and buns on Saturday evening, Sunday dawned hot & sunny, ideal weather for sweating up a range of carefully-selected hills to Clun and back, chosen to challenge the lower powered men and machines. Thirteen eager cyclemotorists assembled for the off; no less than four Cuccioli were present, thus confirming it as the mount of choice for such a route. Having been overtaken by many of them I can vouch for that. As is customary on many NACC runs a good proportion of riders chose to ignore route maps & instructions and took off in the wrong direction at Upper Broughton. They were not seen again until the half-way halt.
The Welsh Marches countryside is truly spectacular in early summer and the narrow tracks and lanes we took were at their best in late June, though thunder-storms had distributed a lot of gravel on them to add to hazards such as blackthorn hedges, nettles & thistles. Sights to remember included a farm full of scrap machinery, Clun Castle, space-age public loos which play opera music, trout streams, the Kerry Ridgeway and perspiring NACC members sent up an extra steep hill by a route instructions error. Sorry chaps...
Nobody complained much and all participants seemed to be well satisfied with their efforts. Thanks go to all who travelled from afar (wherever that is) to do the run; especially Nick, who engineered a combined trip to pick up his longed for Onion Baji tuk-tuk, the Hummerstones Père et Fils, our esteemed Chairman and Paul & Pat Witchard. See you next year, oh, and Ian, bring something with pedals!
Runners & riders:
Nick Devonport - Rajdoot GTS175,
John Lipscomb - posh Mobylette,
Paul Witchard - Moby AV89,
Pat Witchard - Moby AV92,
Philippa Wheeler - Cucciolo,
Alan Hummerstone - Cucciolo,
John Merryfield - Cucciolo,
Ivan Dutton - Cucciolo,
Robert Hummerstone - Sun,
Ian McGregor - James Comet,
Dave Casper - ST50 Easyrider,
Ian Strangward - NSU Quickly,
Dave Beare - NSU Quickly,
and thanks to Lizzie for driving the backup van.
---
First published, August 2005

Go to the Archive index
---