Go to the Archive index
---
The Cykel And Knallert Museum At Glumsø - 2005
An Oasis of History, Art and Humour
by Geoff Hudspith
Once again, this May I had the pleasure of visiting Denmark to exhibit my steam bicycle at the Græsted Veterantræp in North Zealand. (Veterantræp translates as veteran meeting.) Travelling alone this year, I was able to spend 16 days in Denmark, which allowed me an opportunity to visit the Cykel & Knallert (Cycle & Moped) museum on two occasions - at either end of my Danish sojourn. Peder Johansen (the curator) has added several more fine exhibits since last year's visit (described in Buzzing Oct 2004).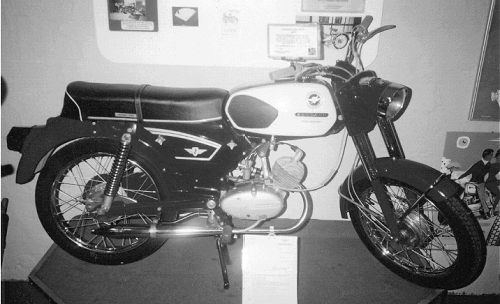 The 1970 Zündapp C50 Sport, rescued from a school motor cycle training scheme
In pride of place was a pristine 1970 Zündapp C50 Sport, which was aquired from a Danish school, having been used for teaching the pupils to ride during its short working life of a mere 1,400km. Two Danish built machines, a 1955 BFC Staffette and a 1958 Power made in Odense (Funen) completed the new moped exhibits.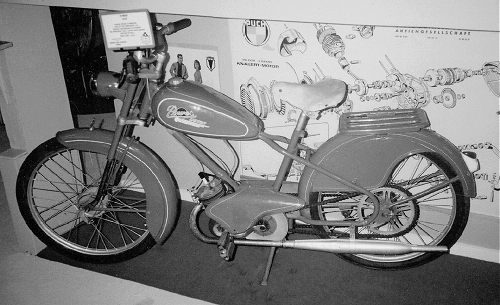 The rare Odense-built Power moped from 1958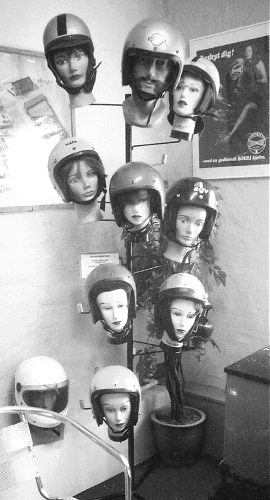 Peder admitted that he spent the winter head-hunting, when I noticed a 'tree' of about nine heads standing tastefully displayed in a corner. Each head wore a different make of period moped riding helmet from pudding basin to full face types. Interestingly, and typical of Peder's sense of humour, there were nine female heads arranged on the 'tree' surmounted by a single male head at the top, sporting a beard and moustache. Was this indicative of some ancient Viking aspiration lurking in the depth's of Peder's psyche? Perhaps female mannequin heads were just more plentiful than male ones in Zealand, during his quest!
In a recondite corner of the boneshaker department, a beautiful, entirely wooden spinning wheel stands on a miniature rock garden, to illustrate that before the bicycle appeared, this was the only wheel most people knew besides the wooden cart or wagon wheel. For the cycle history experts, there is now a unique example of a 1939 4-speed bottom-bracket RAPPA gear made by the Danish "Hamlet" cycle company. This never caught on commercially, due, I suspect to its complication and its heavy weight. It is controlled by a Bowden cable working a rack and pinion at the left side of the massive bottom-bracket casing.
The Græsted Veterantræp was a great success this year with an attendance of over 12,000 people. Alas, the lovely Danish girl Kristina with the Elswick bicycle did not attend this year. However at least it did not matter that I had not learned the Danish for "I'm only here to service her bike mate!"
---
First published, December 2005

Go to the Archive index
---