Go to the Archive index
---
Australian experiment
Harry Jackson
It really started for me in the late 1940s when my father acquired a brand new Mini-Motor. About this time press releases would tantalizingly talk of the Winged Wheel, etc, etc. Being just into my teens this was heady stuff and just seeing and hearing one of these machines actually propel a cycle was just the greatest. After my first ride I was hooked! Though never owning a Mini-Motor I went on to have an assortment of two strokes, ie: James, Excelsior, Ambassador and Corgi. My National Service brought that exciting era to an abrupt end in the early '50s. Now 50 years later in Oz and two or three dozen assorted bikes later I was fired up again after riding a TAS tyre drive and then a Sachs and, somehow, an electric Heinsman.
About eight years ago and well into retirement, I started. Early experiments had me trying tyre drives and then the Cyclaid idea was tried with a simple pair of tensioner skate wheels (turned down to be pulleys).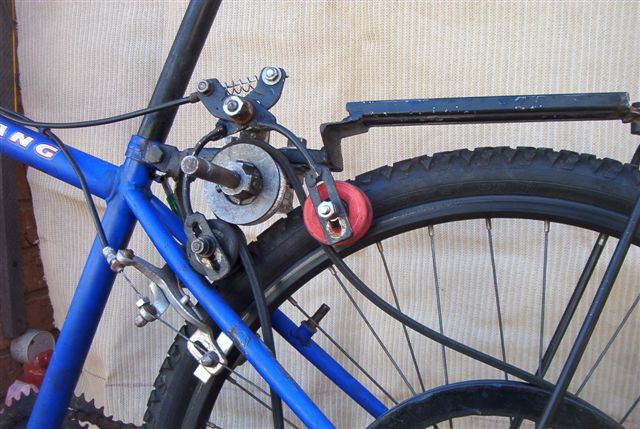 The belt tensioner
Many two-strokes have been tried and discarded in favour of the four-stoke Hondas - either 36cc or 49cc. Currently the GXH Honda and over four years running is proving to be the best of all with low speed pulling (even from scratch) up to about 25mph top speed. Importantly for this performance one rear wheel revolution (26" mountain bike) has to have 16 or 17 engine shaft revolutions.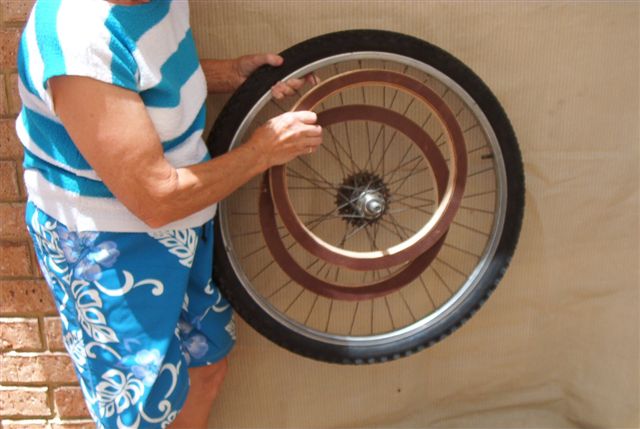 Wheel pulleys
Fitting an engine to a Race-lines DH was quite a challenge as the wheel pulley had to allow the rear disc to operate normally and clear the frame stays. Hydraulic brakes are outstanding on this machine.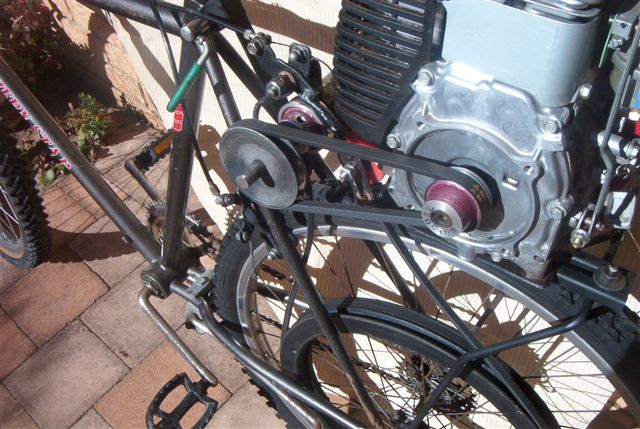 Primary drive from engine to countershaft
All engine to chassis mountings on my three current bikes are identical - the motor can be swapped over within minutes to any bike. My next project might involve a centrifical clutch on the GXH50.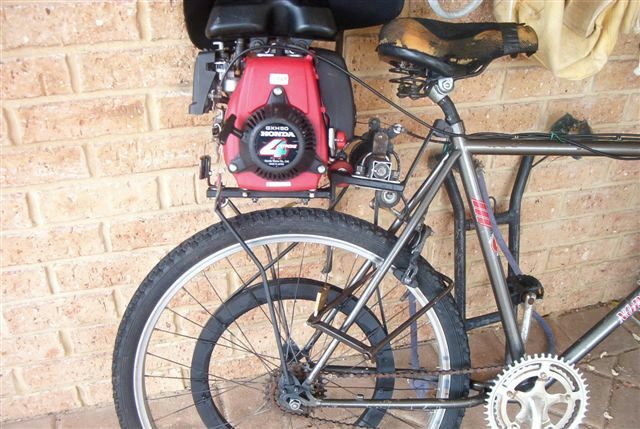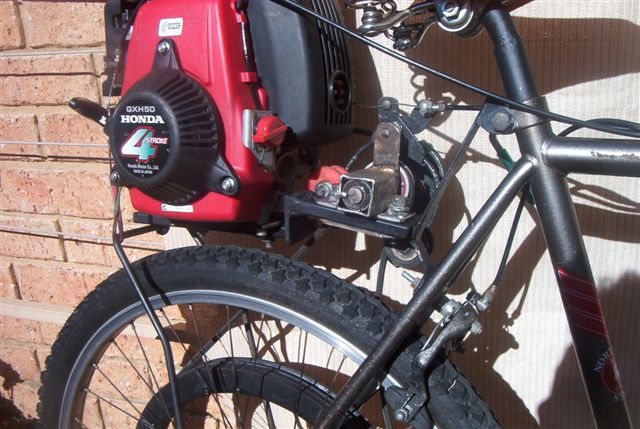 A Honda GXH50 engine provides the power
Has anyone out there tried this idea on this motor? Naturally the recoil starter would always be needed for starting with this addition.
---
First published here, Jan 2006; subsequently appeared in Buzzing, June 2006 under the title "The Wizard of Oz".

Go to the Archive index
---