Go to the Archive index
---
The 2006 Radar Run
by Paul Efreme
The Radar Run on 9th April was hosted this year by Paul Nelmes as last year's organiser, Laurie Coates, was forced to relinquish the job, being unable to obtain funds for the hire of Bromeswell Village Hall. Laurie did, however, still take charge of the route markers.
Around 30 riders assembled at the Hall in order to take part in this eagerly awaited event. One of the day's highlights was the superb mopedjumble both before and after the run. Tiger Man, Carl Squirrel, David Evans and Mark Daniels set up excellent stalls for the convenience of the membership.

Paul sets off from Bromeswell on the Norman Carrier Motobyk
Another highlight was Nelmo's outstanding Norman Trade Autocycle (see April's Buzzing); it certainly turned heads, being extremely rare and well-restored, considering its original state. We set off around 11:15am, embarking on a 36-mile round trip. Although the weather was bleak it remained dry throughout the day. However, viewing across the river on numerous occasions was b****y cold! We took our lunch break at the Ramsholt Arms, overlooking the Deben again!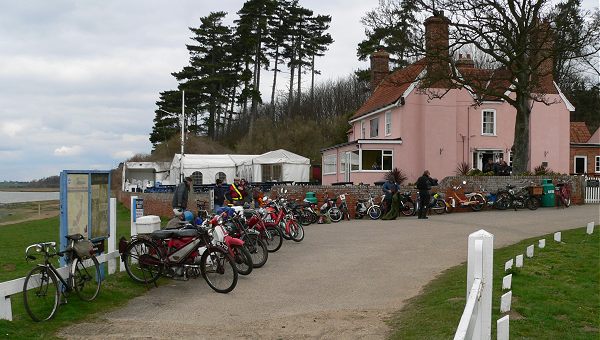 The machines have a rest at the Ramsholt Arms
Then it was the return tour to the village hall where Dawn kindly treated us to tea, coffee and biscuits & we scrutinised the mopedjumble for a final time. I'd like to say many thanks to Paul Nelmes and Laurie Coates for a great day.
Riders were: Paul Nelmes - Norman Trade bike, Ted Riceman - James autocycle, Laurie Coates - Honda PC50, Carl Squirrel - Puch M50GT, Roly Scarce - Honda PC50, Bev Crook - Bown autocycle, Mark Daniels - Phillips P50, Steve Cobb - Garelli, Colin Cloult - Excelsior, Carl Harper - Mobylette M40, Keith Ashby - New Hudson, Mark Gibb - Honda ClOO, Dave Jockel - NSU Quickly, Alan Bloys - Mobylette, David Evans - Garelli Comos, G Daw - Garelli Bimatic, Wally Wright - Honda SS50, David Whatling - Rex, Peter Lawson- Puch, Paul Daniels - Ariel 3, Brian Barley - Tomos A3M, Luke Booth - Levis 80cc, Jeremy Cottey - Puch MS50D, Alex Lees - Norman Motobyk; Neil Morley - James Superlux, Ralph Richardson - Rudge autocycle, Mick Cook - PC50 turbo, Andrew Pattle - James Clubman Ace (bicycle), Paul Efreme - Phillips Gadabout.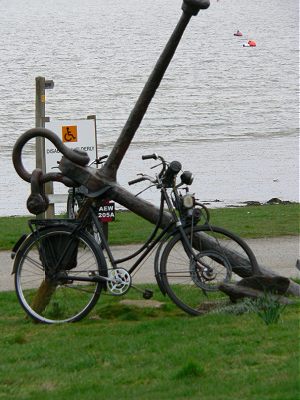 Dave Whatling's Rex at Ramsholt
---
First published, June 2006

Go to the Archive index
---