Go to the Archive index
---
Two Brits and a Bromfiets...
...and how in Holland they learned the folly of having adjusted sparkplug gaps with a screwdriver!
by Doris & Fred Birden
Forty years ago - we're both over eighty years old now - Doris and I were at that happy stage of life when we were fit and energetic and with a reasonable, assured income. With a daughter at university and a son at Police Academy expenses were manageable and there was more freedom to come and go as we wished. Our own parents, still fairly active themselves, were possibly as concerned as we would have been with our activities on mopeds and motor cycles!
Recently we've been looking through old photographs and memories have been jogged by several taken in 1966 on a moped trip which was unusual, even by our standards. Doris had sometimes spoken of a wish to visit Holland, and knowing of the popularity of cycles and mopeds ('brommers') in that country, we thought that might be a good way to learn something about the canals, gardens, villages and small towns and, of course, the Dutch who live there. We were never really interested in the type of holiday which is located in a hotel, from where organised visits to popular tourist spots are laid on. A little research beforehand, then off to 'do our own thing' is our own style.
Among our mechanical marvels in the summer of 1966 was a Mobylette "Luxamatic" which I'd acquired from a dealer I'd done a few hours work for. It was a part-exchange which he'd taken in, valued very low because there was an ignition problem. The bike had a dualseat and rear footrests as standard as well as Mobylette legshields. I sorted the sparks out and the Luxamatic scrubbed up very nicely, but how to get it - and us, and luggage - to Holland?
The accomodation problem was easily solved. From tourist leaflets we had found the name and address of a lady living in Reeuwijk, not far from Gouda, who offered holiday stays in her pleasant little house. We sent her the deposit on two weeks accomodation. But to get there? At the time we had a boat trailer and a Morris Minor to tow it. That would carry the Moby to Hull, from where we had bought return tickets via North Sea Ferries for ourselves at £10-10s each and for the moped at £2-10s. A friend living on the outskirts of Hull offered us parking for the car and trailer, and, on the 6th July 1966, I rode the moped through Hull to King George Dock, while Doris and our meagre luggage travelled by bus.
Over the other side of the water there seemed to be a slight problem. The ferry terminal was, and still is, at Europoort, which is quite a long way from the expected destination of Rotterdam. I didn't like the ride into Rotterdam, especially as cyclists and 'brommers' had to take a lot of steps down to a smoky, smelly tunnel under the Maas, then up similar steps to reach the city centre. Doris and I had arranged to meet at the Central Station, where she had travelled by bus, fortunately without steps.
At the station a friendly railway guard was persuaded that the Moby could be transported in his compartment as a cycle, and off we went to Gouda. Most efficient, the rail and bus network. Wonder if it still is? From Gouda we again parted company, Doris by bus to Reeuwijk and me by 'brommer' to the same village.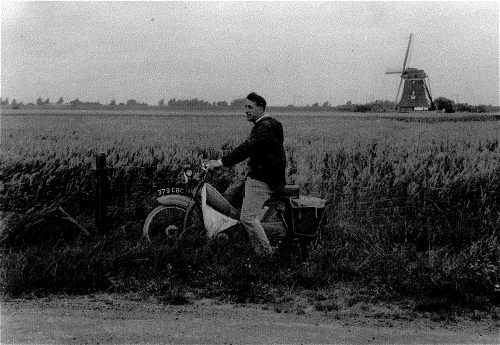 Above: Fred Birden riding through the fields at Tweeman's Polder, July 1966.
Below: Doris takes over for a spell - she has a full motor cycle license.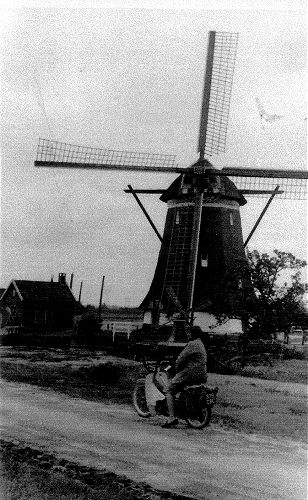 Our hostess, Mrs Anker-Coelen was a delightful person, full of good humour, and we spent quite a time being instructed in the correct pronunciation of Dutch place-names. Equally fluent in Dutch, German, English and even Latin, our attempts to retaliate with Aberystwyth and Loughborough caused her no problem at all!
Scenically, much of Holland is of limited interest but the smaller towns and villages had a relaxed, pleasant atmosphere and the Dutch people we met were delightful. Their system of cycleways "rijwielpads" is extensive and well-signed, though we had to learn the slightly different signs which permitted the riding of moped under power. All were well signposted. We were far from unique with our dual-seated brommer. There were sometimes pillion passengers the right way round and sometimes side-saddle, and little kids perched in front of the rider! We saw baskets on the front of the handlebars, occasionally with a small dog riding there. Two-speed mopeds were favoured by the younger generation. Low-geared to keep them within the official speed restriction, they were noisy and lively, some young riders delighted in leaving the Ancient Britons standing when the lights turned green! However, the Luxamatic had the last laugh as it pulled past them on the open roads without really trying.
Our first ride together from Reeuwijk took us through the cycle ways which threaded around the numerous lakes to the east of the village. At Henkendorp we stopped to watch a sparklingly clean barge lock down from the main canal. The lock-keeper lowered a clog on a long string to the steersman who then dropped the fee for lockage in the shoe. Continuing towards Utrecht, the mixed aromas of chocolate, roast cocoanut and caramel confirmed the proximity of the sweetmaking town of Oudewater. There was so much of interest in that little town! There were barges on the canal, bringing supplies to the factories, storks building untidy nests on small platforms perched on chimneys and a large weighted balance where ones identity as a witch could be determined - or denied - according to a complex formula. We didn't risk the challenge!
At the next small town of Montfoort we stopped for lunch - the light rain had stopped (it came from England said Mrs Anker) and we sat and watched the ducks as we dried off. Ducks in Holland are more numerous than sparrows in the UK. Approaching Utrecht we found a very different scene, busy with traffic and people. A visit to the huge Domkerk was disappointing: paying to enter the church, we were surprised to find it stripped of all statues and decoration, just two large stained-glass windows were left to bring colour to the drab interior.
Our return was via Woerden and Bodegraven, buying petroil on the way; we'd travelled 42 miles altogether.
Apart from one day we took the train to Amsterdam, to give us more freedom to explore the canals of the inner city, we used the brummer to make round trips in the area. We tried to visit the imposing Town Hall, only to find the guardian standing on the steps in his red uniform, clay pipe in a mouth twisted in an unwelcoming scowl - "Geschloten!" - no one but a Dutchman can say "Closed" with such an air of finality!
It must have been a curse the commissionaire placed on us. Riding off, a couple of ominous clunks were heard from the engine, followed by an instant seizure and a shriek of protest from the vee-belt. Definitely a cylinder-off job, not to be performed at the road-side. We had a basic toolkit but no means of removing components such as the exhaust pipe nut or other non-standard twiddly bits. A tool-stall had been spotted in the market and we returned to buy slip-joint pliers = known to this day, 40 years on, as "the Dutch pliers" and still carried (now in our motor caravan) as a 'just in case'.
Have you ever tried to pedal a dead Variomatic Mobylette? With a pillion passenger? No way was it possible. We walked and pushed the three miles back to Reeuwijk and dismantled the engine in Mrs Anker's garden. A sizeable chunk of spark-plug insulator had broken off (this had probably resulted from my having earlier adjusted the plug gap with a screwdriver) and had been embedded in the cylinder head as the piston came up. The top land of the piston groove was badly distorted and the ring broken, possible by having been pushed into a cylinder port.
Fortunately neither big or little ends seemed to have suffered, and once more Doris's nail-file was pressed into service to ease the distorted ring groove - the same file that years ago had cut an oilgroove in a Cymota big-end bush! Carefully easing out the bottom ring and seating it in the top groove, we reassembled the engine with tube glue on the cylinder base gasket. The motor restarted at once, though it obviously had lost compression, and was never quite as lively in the next day or two - but we felt pleased that it worked at all.
We still had an odd day or two for some local rides, then it was time to work out the logistics of our return to Europoort and Hull. We sadly left Reeuwijk and Mrs Anker, Doris boarded a bus heading for the port and carrying our luggage while I set off on the Moby. Rain soon started - no "drifting over from England" this time. Water fell out of the sky in large Dutch lumps and I offered up a prayer it would stay out of the ignition. It did, but my lightweight waterproofs were useless in the torrential downpour and even the cased cine-camera (worn underneath but fortunately with film removed) was saturated. In 24 miles I was literally soaked to the skin. Having changed into dry clothes brought from the luggage Doris had brought, we boarded the ferry. We prefer not to recall the passage to Hull, the sea was so rough that even some of the crew were sick, and the slow hours of the night were punctuated by breaking glass and puking passengers, including poor Doris. I was determined to eat my paid-for breakfast, but one look at the fat pink Dutch sausages and I settled for cornflakes!
After staggering off the ship in Hull, we called a taxi to take a wobbly Doris to our friend's house (where we'd left the Morris Minor) while I rode there on the moped. We'd had a great holiday and thought the brummer had brought us more closely into what then was the Dutch way of life.
So much so that in succeeding years we revisited Holland several time with our small touring caravan, usually with pedal cycles carried on a roof-rack.
And the Moby? Doris's notes state that we had bought ll.l litres (approx 2½ galls) of fuel and had covered 456 miles - this works out at an incredible 180mpg - the Moby did us proud. It was sold soon after, still running well on the sole surviving piston ring!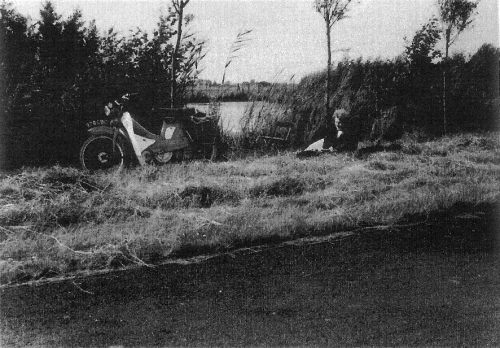 A quiet rest by the lakeside for Doris, Fred's fishing chair is waiting...
---
First published in two parts, in October and December 2006

Go to the Archive index
---