Go to the Archive index
---
Le Guide du VéloSoleX
Reviewed by Dave Beare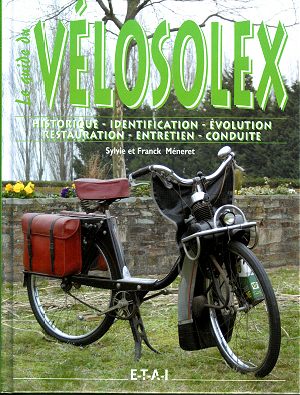 Many NACC members know of Franck Méneret, indeed many will already have one or more of his previous books in their library; titles include "Le Cyclomoteur à Galet de Mon Père" (with Jean Goyard), "Le VéloSoleX de Mon Père" (with Sylvie Méneret) and "Les Gitane de Mon Père", all published by ETAI. Franck is one of France's most erudite authors and has access to a phenomenal amount of technical information and period literature on cyclemotors, mopeds and sporting cyclomoteurs. He is a former president of the Club Français du Cyclo-Sport and is creator of the organisation AML GC17, dedicated to the preservation of motorised transport in all its forms.
The most recent of Franck's works is surely the definitive book on the VéloSoleX; "Le Guide du VéloSoleX", published by ETAI (ISBN 10:2-7268-8693-0, website www.etai.fr), exhaustively covers the complete model-by-model history of all Solex types, including the Micron, Flash, 6000 and Ténor, Triporteur, PliSolex, F4 and present-day electric eSolex. Each model is studied in depth, the smallest differences illustrated, detailed factory parts list diagrams printed and common points of confusion identified. Production evolution of every model is studied, accurate production figures quoted, contemporary accessories illustrated, advice on buying given and over forty photographically-illustrated pages give servicing and restoration advice for Solex owners.
Franck also provides a wealth of previously-unseen period photos, factory publicity shots, wall posters and brochures. I was amazed to discover that seven different manufacturers made child's seats for Solexes, there were dozens of different engine-protection bars, flashing indicators were available, as were sprung front forks, derailleur gears for LPA on hills were a must as were heated handlebar muffs for those cold winter days. Though the text is naturally-enough in French, every page has up to six photos, so the book is very accessible to those who do not understand the language.
Franck and Sylvie Méneret have produced a real master-work, it is doubtful if any future author will be able to improve on "Le Guide".
---
First published, February 2007

Go to the Archive index
---