Go to the Archive index
---
Derbi Memories
by Jim Lee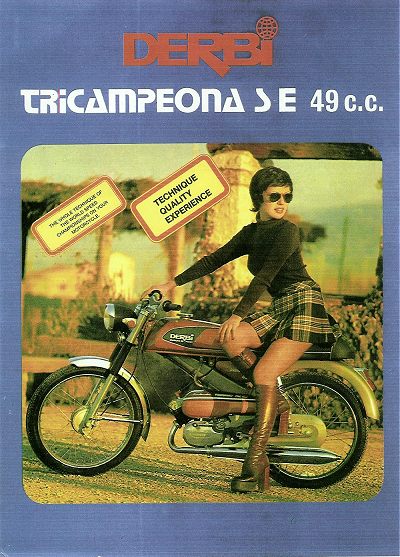 The front cover of the February issue of Buzzing brought back some very happy memories for me. The picture of the 'triple-champion' Derbi 49cc SE was one of Derbi's range of mopeds I sold via my motor cycle dealership from 1974. I did in fact work for Triumph Engineering Co Ltd at Meriden until 1973 but, with the demise of the BSA Group, I found myself to be a victim of that event. With redundancy I took over a shop and sold Puch, together with Derbi, NVT and Honda.
The Derbi range sold very well via Mick Walker, the then importer for the Catalonian factory here in the UK. Mick of course is better known for his Ducati business and, more recently, for his writings on motor cycle marque histories. In 1975 Mick and I, together with some thirty other Derbi dealers, were invited to the factory in Barcelona. The Derbi business had originally been started by the Rabasa family in 1928, their Barcelona factory made an excellent range of mopeds and motor cycles, plus a complete range of bicycles.
Derbi's works was very much like most of the British bike industry in those days, in fact walking around their machine shops was much the same as visiting BSA at Small Heath. Most of Derbi's machine tools were of BSA manufacture, the BSA Machine Tool business having previously taken over the Alfred Herbert Tools business in Coventry. During our visit the Rabasa family treated us like royalty, with bus tours of just about everything there was to see in Catalonia, plus the opportunity to ride their range of mopeds and motor cycles. Their motor cycles were excellent, but too expensive for the UK market at that time due to the pound/peseta exchange rate not being in Spain's favour.
At the conclusion of our tour, the Rabasa family invited us out to their family home in the country for a meal, we all sat down at 12 noon and were still eating into the evening, most of the time being entertained by grandmother Rabasa who played the guitar superbly.
Of the mopeds I sold, along with Puch (which also had a factory in Spain), the Derbi was an excellent product and I never had one returned under warranty. Unfortunately the Japanese always had the advantage with their kind of volume production, enabling them to undercut most of the competition on price.
These days the Derbi range is still made in Spain but with, I believe, Yamaha having a controlling interest.
---
First published, April 2007

Go to the Archive index
---