---
SOMETHING DIFFERENT
by Simon Farrier
Bored with running around on your Cyclemaster? Want something a bit different? Try following the example of Mr F Jones who, in the 1950s, built a model railway locomotive powered by a 32cc Cyclemaster engine.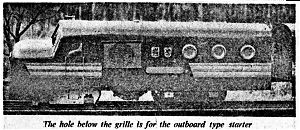 The frame was constructed out of 1/8th guage 1" angle braced by 2"×1/8" strip. The engine was suspended by its original mountings on two lengths of 3/8" rod. A fuel tank was specially made to carry one pint of petroil mixture, sufficient for over two hours running. An exhaust system was scratch-built and had a forward mounted expasion chamber and a silencer at the rear.
The chain final drive was via a system of shafts and sprockets made from mild steel and running in plain bearings.
The wheel axles were also made of mild steel in plain bearings.
The trailing driving wheels were unsprung, the rest being sprung on 5/16" o.d. overhead coil springs.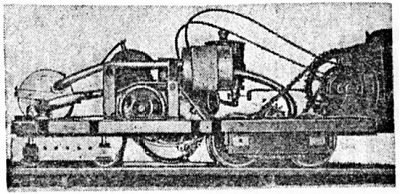 The bodywork was knocked up by a friend from 20swg sheet steel and headlamp rims. The wings on the front and the side strips were made from brass. The model was painted claret, with a blue roof and nameplates. It had much use throughout 1958, pulling several hundred people, as many as six at a time. Such was its success that Mr. Jones built a second powered unit of similar construction, to make a twin engined machine.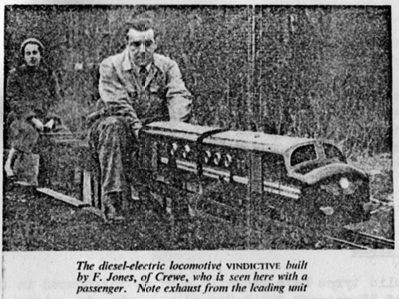 ---
This article was first published in Buzzing, Volume 4, Number 1 in Spring 1985