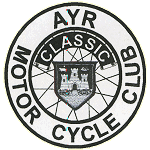 Go to the Archive index
---
C2C2C
(Coast to Coast, June 20th & 21st 2008, & then back!)
by John Gallagher (of Ayr Classic Motor Cycle Club)
Friday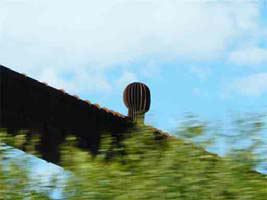 On the way - The imposing
"Angel of the North"
watches over us
Loaded and off to Ayrshire, where I would meet up with John Shaw, Carlo Pediani and Alan Kempster. Everyone timed it perfectly, all bikes loaded and we were off, next stop Tom Norman's in Hartlepool. Tom likes to cook and spoilt us again with a wonderful curry, thanks mate; a walk after dinner to the local pub finished off a very relaxing day.
Saturday
Excited, I got up at 6am to wonderful clear blue skies, and the offer of a cycle ride to get the blood pumping seemed like a good idea. John Shaw and I selected a couple of Tom's old bicycles and headed off down the coast path toward the old Britmag factory - that's the big chimney with a white painted top seen from the C2C start. We were back in time for a good breakfast and soon had the bikes unloaded. Another brave local participant, Martin Preston arrived with his Mobylette.
Bikes checked over again, fuelled up and we were off in a blue haze, doors opened, dogs barked, children waved and we were off ... well to the start anyway.
Now a strange thing happened as we turned into the Crimdon Dene start area, I felt what I thought was a fly behind my glasses, I thought nothing of it. We arrived in style and parked up, people were very friendly and smiling at me, that's nice I thought, very welcoming. I think Dave Casper's wife thought I was bonkers when I signed in. Am I a pirate someone said, duh what? Now, my glasses have reactalight lenses ... here's a fact: lose one lens and it takes a time for you to realise that it's gone or until someone calls you a pirate. Blast, no glasses for the whole weekend - no biggie, I would manage.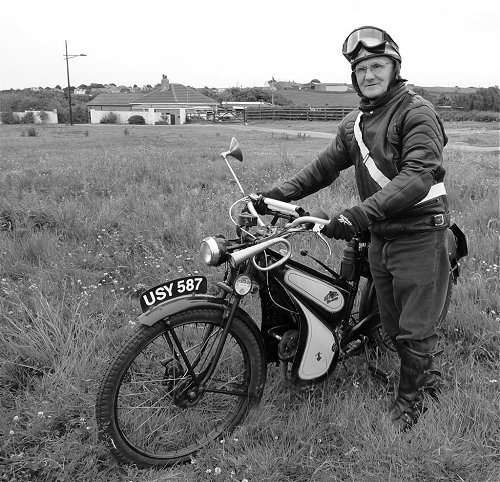 One of the stars of the run at Crimdon Dene
[Photo: Carlo Pediani]
The start line was full of wild and varied machines, putting some classic runs I have been on to shame. At the 10:30am mass start the air was thick blue with two-stroke power, some were pedalling hard to get up the hill, some still pedalling to get going, and one poor guy got a puncture.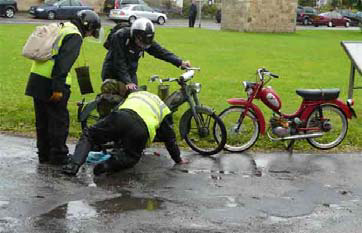 The two Johns help Martin search
high & low for the missing nut
in a wet and windy Staindrop
For the first few miles, we were a bit cautious getting out of heavy traffic, but once over the A19 it was back roads through villages, like Trimdon, Fishburn, Ferryhill, & Chilton. A coffee stop at the Wheatsheaf pub in Chilton was most welcoming, bikes were running fine, and so were bodies. Now it started to rain, and at our next stop in Staindrop, Martin decided to adjust his belt drive. A dropped nut proved very difficult to find (as was Carlo hiding behind a tree eating chips!). Ten minutes saw the Moby and Carlo readjusted - next stop High Force. A 'wrong' turning saw us through some delightful and sheltered countryside, getting us off the main road and into Middleton in Teesdale. At the scheduled stop at the High Force Hotel it was bucketing down, we squelched our way in two minutes too late for anything to eat. We made do with a coffee. Catering folk have really got to get a grip on business, they must have missed out on a fair quid that day.
So now it was the long climb up to Alston, rain in yer face and wet waterproofs; we gradually chugged our way up, on the way I saw some keen off-road types trying to pull a bike out off the muddy moor - bet that was fun - been there, done that ... and on a moped. At last the road started to drop away and it was a welcomed run into Alston, well it was until I used my brakes - a just bit too wet.
Alston was nice and busy, we waited at the cross and sure enough everyone came in at their own pace, well done guys. John Shaw was the gallant saviour of a cycling lady who had forgotten to get her C2C pass/form stamped at a hotel at the bottom of a very steep hill. He zipped off and got it done for her. We hadn't the heart to tell her about the next 20 miles uphill she was about to cycle to Middleton.
Then we fuelled up, only 2 litres average for everyone after 72 miles. Not bad, hey! Carlo and I had problems getting our oil to mix in the fuel tanks, this resulted in our carbs oiling up - this was to catch me out again later.
We found the YHA - six in the same room, bunk beds, snorters and farters together. A wash and dry up, a sit down and a cup of tea, we relaxed. The drying room had to work overtime that night, the worst gone but some stuff still slightly damp. Out for the evening, a meal was sorted out at the Cumberland Hotel. Not bad either, and real ale to wash it down.
Sunday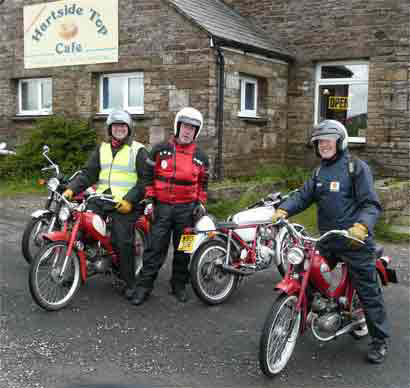 John G, Dave Casper (the organiser) and John S
at the famous Hartside Top Cafe. A well
frequented biker cafe that recently featured
in The Hairy Bikers Cookbook on TV
Nice morning, no rain to speak of, straight off up the 6 mile climb to Hartside Top and Café. Like the man said, nice views when it's not raining - well it wasn't just a bit overcast.
On leaving we opted for a more direct & sheltered route - well done Martin, through small villages across the A6, under the railway and over the M6, back en route - easy and no Penrith. A stop at Caldbeck for tea and cake at the Old Smithy - thoroughly recommend this place, all home baking, yummy cakes, and scones. Also a good toilet stop, just by the Clog and Clock makers workshops.
Back on the road, over the moor to the Sun Inn at Bassenthwaite and it's the Scarecrow Festival, they were everywhere. 6 By now we had picked up an extra rider on a 1970s Mobylette. He stuck with us but soon got fed up. Next town was Cockermouth, I had been here in February - it was closed then as well. A long climb out of town to a set of traffic lights on red. I pull up next to Martin, who is at the front, "I hope I get across before they change" he says. Water on a belt drive can be very frustrating.
The A5086 proved to be a bit of fun, the Granada lads on their 98cc autocycles had caught up with us so John Shaw, never to miss a challenge started mixing it with them. I tried too but the Gerosa was a little down on power. A right turn in Frizington, and down hill into Whitehaven, at the Beacon were 20-odd bikes - we had done it. Some of the other competitors were packing their bikes away ready to go home but we were not stopping; we had to get back to Hartlepool. Other competitors drifted in telling us of a heavy downpour, this was to be our nemesis later on. I had picked up a piece of coal from the beach in Hartlepool and had taken it with me to Whitehaven where it was tossed into the harbour - half the mission completed. New rock from the headland in my pocket, we downed a cup of tea, said our goodbyes and we were off - next stop Honister Pass YHA.
It was again a delightful run as we neared the start of the climb to Honister, the shape of Mellbreak loomed out of the very low cloud - by now it was raining big time. Right turn at Buttermere and we were on the up. By the time we had reached Gatesgarth water was gushing sideways out of drystone walls, puddles flooded right across the road. When we reached Honister Pass, the road was a river with waves rushing down towards us, we had to go up, we were staying at the top in the only building for miles.
We each pressed on at our on pace, Carlo had stopped to rest on a rock, John Shaw had gone back for him, they swapped bikes and slowly made their way up tacking the road from side to side. The Gerosa had given up only 50 metres from the top. I paddled it up the last stretch and sought the haven of the hostel. After confirming the booking I went out again to find the rest. Tom arrived, Martin, Alan, Carlo and John S - we had made it. Getting up Honister on a moped is one thing, doing it in a gale is another, and doing it up a river - heroes or what!
The biggest task now was to dry off all the gear. This done, more or less, we sat down to well earned beers and watched the rain come down sideways. After a hot meal and more beers, we were all full of our tales of travel in entertaining our fellow guests. That night the bunk bed felt so good it was dry and warm, and best of all the snorers were in a separate room - bliss.
Monday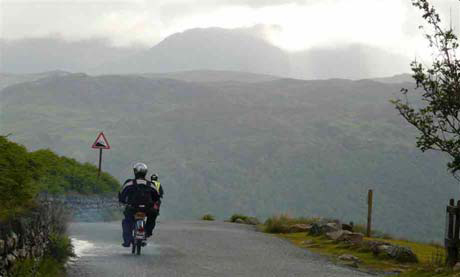 An early start as Carlo heads off down the Honister Pass
An early start, up at 6 and on the road by 7, into Keswick and fuelled up again - I thought I had mixed up properly but no, after 100 metres, dead again. John Shaw had stopped to help me, drained the carb and flushed petroil through, I needed to drain the float bowl, I did and loads of water came out - and I mean loads. Started first kick and we were off, but where were the others? Luckily we had a map and remembered the route up the A591 and turn off right. However, we missed the turn and ended up in Bassenthwaite at the Sun Inn again; well, at least we knew where we were. We decided to press on but after joining the intended route we noticed there were no tyre marks from the others. We had looped around them, so when we got to Caldbeck, out came the mobiles. No signal - so John walked back up the hill – success, contact - they were on their way. In was now 9.20am, the café still shut and we had not had breakfast. After a quick discussion we would make for the Hartside Top Café.
Using Martin's cross country route we joined the Hartside climb way over half way up. So what's this fuss with Hartside, we had no problem getting up it after Honister, a doddle. All up, and in for breakfast, some the BIG breakfast (maybe it now should be called the HE MAN breakfast?).
Suitably filled we were again off... Disaster: John Shaw had a puncture, but it wasn't long fixing and gave the others who needed fuel time to go into Alston where we again met up. A slow climb out of Alston, then a whizz down through beautiful Teesdale into Middleton - oops, Martin pulls up, problems with the transmission on the Moby.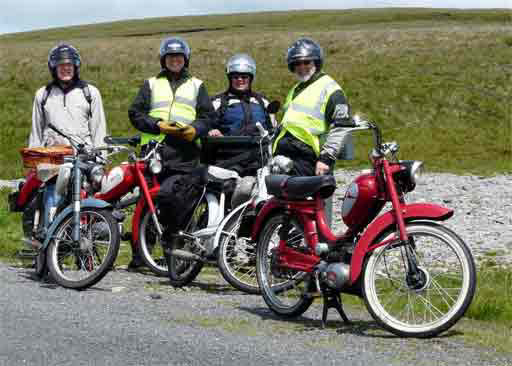 John S, John G, Carlo & Tom taking a
non-smokers' 'fag break' in the Teesdale sunshine (at last!)
Got down into Middleton and rested up with an ice cream - after all it was sunny and we were dry. Another quick discussion and we were off. We didn't get far, Martin pulled up again - he had obviously been thinking about his problem. Using my oil syringe he injected his pedal crank and a mile or two later - thumbs up, a success - all was working well.
We took the B6282 across Woodland Fell and stopped in Woodland where we said our goodbyes to Martin, who then headed South. The rest of us, however, had an appointment in Hartlepool and a stone to get rid of.
As we arrived, heads popped out again as we buzzed into Tom's street. We had done it, a 280 miles round trip and the stone got thrown in the sea!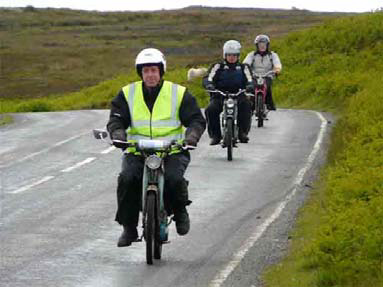 The final bit of moorland: Martin,
Carlo and John S carry on buzzing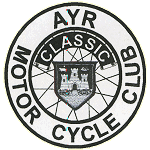 Carlo Pediani - Motobi
Alan Kempster - Puch
John Shaw - Garelli
Tom Norman - NSU Quickly
Martin Preston - Mobylette
and me... John Gallagher - Gerosa
---

Go to the Archive index
---