---
Winter autocycle riding in Australia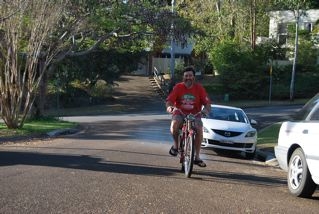 Hi Andrew,
I joined your club last year on the AGM & Kneel's Wheels run last year. I have nearly finished my 1950 James autocycle, just have to put on the horn, see the pictures.
I would like to thank you for the assistance that day and those members for the encouragement to finish it off.
The bike was originally purchased in Townsville in North Queensland by a friend of mine in the Laverda club when he was 15 (A bit different to riding a Jota) and he gave it to me 2 years ago, will send you some more pictures later with the condition I got it in.
The first ride ended in disappointment as I put too much oil in the chain case and the clutch slipped so it wouldn't start. Cleaned off the clutch tried again, same thing!
Put another clutch in it and she started in a couple of yards, very pleased, rode it down the hill then came up the hill, quite steep and pedalling (not something that is a pretty sightt!) she made it up the hill but the clutch started to slip again.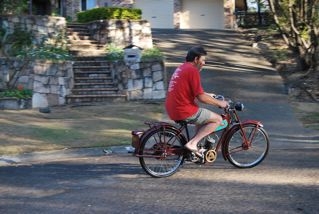 Can any of the club members give me any idea of how to stop this? Clutch is cork, is there something better? Or is there some riding technique that alleviates this problem?
Please don't tell me to pedal faster!
Front brake is good, rear brake useless! Is this normal? It seems to run OK but there's bit of a leak out of the fuel tap Otherwise it's fine. I'm not sure if I will register it for the road as it's quite expensive here ($145 - about 70 quid) and I have five other bikes.
Don't make any comment about no helmet; you are supposed to wear one but I wasn't sure it would start so I didn't bother ... plus it was over 30 degrees C and that was still the winter!
It's quite warm in Queensland in the summer but this was a record. Bloody hot!
Ian Stone
---
First published in The MAC in December 2009
---