---
Raleigh Mopeds—History, Model Introductions, and Specification Changes
By Les Gobbett
Introduction
The first Raleigh bicycles were made in the summer of 1887 in a small workshop situated in Raleigh Street, Nottingham at the rate of 10 per week.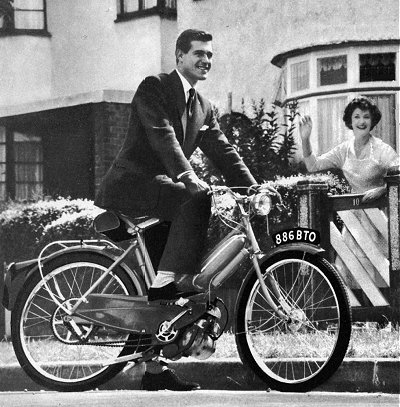 1958
Raleigh announced their first moped at the Savoy Hotel, London in October. This was known as the RM 1 and finished in two tone grey. It had a Sturmey–Archer engine made by BSA, with a single speed clutch-less transmission and 26 inch wheels fitted with hub brakes.
It was marketed through Raleigh's existing chain of cycle dealers.
1959
In May an additional model the RM 1C was introduced. This was exactly as the RM 1 but fitted with a hand clutch to satisfy public demand for a machine which was more easily controlled in traffic. This necessitated the use of coupled brakes and three handlebar levers to comply with the legal requirement to have two independent braking systems. By the year end sales were falling due to many dealers lacking both the spares and expertise to service the machines.
The RM 1 and RM 1C were discontinued in December.
1960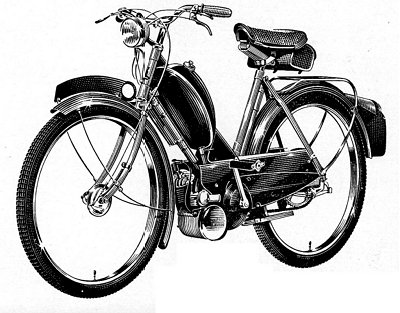 The RM 2C was introduced in January in an attempt to boost sales. This replaced the RM 1 models and had a larger 1 gallon fuel tank partially covered by a fairing, lowered gearing and an improved silencer. It was now finished in maroon and light grey. Production ended in October 1960. A merger was announced on 19th April between Tube Investments Ltd, whose marques included Norman, Phillips, Hercules and Sun, and Raleigh Industries of Nottingham. Subsequently, Raleigh was appointed to head up the group re-organisation of all the companies and products within the British Cycle Corporation.
Before the merger, an RM 3 model was being developed; this was based on the RM 1 & RM 2 but would have been an automatic with a powder clutch. The project was abandoned because of the re-organisation.
Raleigh / Motobécane / Bianchi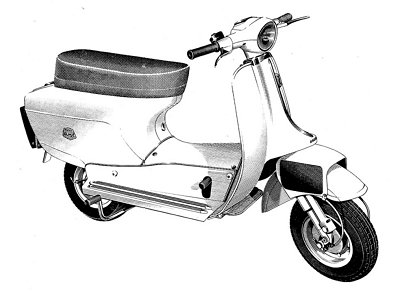 On 5th October 1960, Raleigh's managing director, George Wilson, and Motobécane's président, Charles Benoit, signed a long-term cooperation agreement. Raleigh immediately announced a completely new range of mopeds made under licence from Motobécane of France. Under the terms of the licence Raleigh were given British Commonwealth export rights. The official launch took place at Alexandra Palace just before the Earls Court Show in November with Cliff Richard in attendance.
Also launched at Alexandra Palace in November was the 78cc Roma scooter, made under licence from Bianchi of Italy. Raleigh had world export rights for this model. The RS 1 Roma was produced from September 1961 to June 1962 when the RS 2 was announced with a more powerful engine, new exhaust system and an improved headlamp assembly. The RS 2 was superceded by the RS 3 in June 1964. Styling changes on the RS 3 included a turquoise saddle and matching turquoise custom flash on the rear bodywork. The price was also reduced at this time to £99-19s-6d. This was probably no more than a run-out model to use up factory stock as production of the Roma RS 3 ended in August 1964 after only 2,265 examples had been produced. It is thought that a total of approximately 23,400 Romas were made.
In March 1961 a Raleigh Industries demonstration unit, to promote the new range with dealers and the public, began a tour of the following areas: Kent and East Sussex, Greater London, Essex and Suffolk, Surrey, West Sussex and South Hampshire, North Staffordshire, Cheshire and Liverpool, Lancashire, Lincs, Derbyshire and Nottinghamshire, Warwickshire, Worcestershire, South Staffordshire and Leicestershire.
During April 1961 a major restructure of the British Cycle Corporation division of Tube Investments Ltd and Raleigh Industries was announced. The Sun works in Aston Brook Street, Birmingham and the Norman factory in Ashford would close, together with the Wrights and Brooks factories in Birmingham. Bicycle production would be centred on Raleigh at Nottingham, Phillips in Smethwick would concentrate on cycle component manufacture. A new motorised division would be based at Britannia Works, Downing Street, Handsworth, Birmingham 21, where Raleigh and Sun scooters, Hercules, Raleigh, Phillips and Norman mopeds, and Norman motor cycles were to be built in addition to saddle work and luggage from Brooks and Wrights.
In reality, the Norman and Phillips factories were closed, and Norman and Phillips moped production moved to Raleigh at Nottingham. Production of Sun scooters and Norman motor cycles ceased at the end of 1961, leaving the Raleigh Roma as the sole remaining scooter. The Hercules Corvette moped was no more after the middle of 1963 followed by Norman and Phillips mopeds at the end of September.
The Mobylette-designed range of mopeds were well received and, by the end of 1963, Raleigh moped sales were approximately 800 per week. Sales of the RM 6 alone in the first two years of production (May 1963 to May 1965) totalled approximately 47,000. There were fewer dealers than before, but these were now properly trained and carried a full range of spares. The automatic clutch and variator transmission made the machines easy to ride. Raleigh had learnt two expensive lessons the hard way.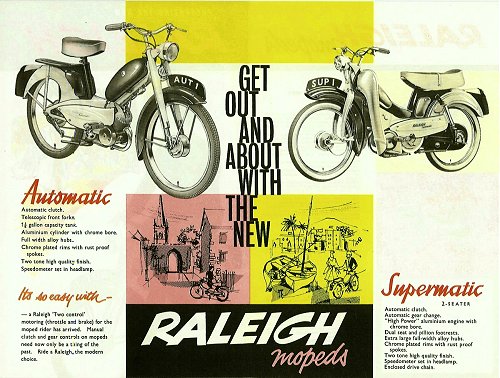 RM 4 Automatic and RM 5 Supermatic models were announced in November with production to start in February 1961. Both were finished in Charcoal and Pearl Grey, and fitted with 1.39 and 2.66bhp engines respectively. The RM 4 was a single-speed machine with automatic clutch and telescopic front forks; it cost £59-17s-0d. The RM 5 was fitted with variator transmission and a dual-seat and was the only Raleigh moped to be fitted with rear suspension. Front suspension was by leading links. It was priced at £87-3s-0d.
1961
An early modification prior to September and affecting both models (RM 5 from frame number RM5/H1098), was the change from a sliding cursor type throttle twist-grip to the rotary drum pattern used on all subsequent models. Also changed were the handlebars which now fitted into the forks by means of a stem and expander bolt. Raleigh cycle-type steel brake levers replaced the Mobylette aluminium items to reduce production costs.
Norman and Phillips versions of the Mobylette-designed mopeds were introduced at the Raleigh Dealer Convention held at Nottingham University on 19th to 21st September. These were the NM 1 Norman Nippy Mark 5 (RM 4) and NM 2 Lido Mark 3 (RM 5), priced at £60-0s-0d and £89-10s-0d respectively. The Phillips range consisted of the PM 1 Panda Mark 3 (RM 4) and the PM 2 Gadabout Mark 4 (RM 5); these were slightly cheaper than the Norman models at £59-0s-0d and £89-0s-0d. The Norman machines were finished in Ice Blue and Charcoal Grey, while both Phillips models were painted in Royal Carmine.
Although Raleigh was well-established in Ireland, it could not sell its Motobécane-based models here as the agreement with Motobécane only permitted exports within the Commonwealth. Therefore, a model called the 'Raleigh Super' was introduced in 1961; these were actually Norman Nippys with Sachs engines, but finished in Raleigh colours for Raleigh (Ireland) Ltd. They were not sold in the UK.
1962
Around June or July, the crankshaft thread sizes were increased from 10mm to 11mm for both the RM 4 and 5 and also PM 1 & PM 2 and NM 1 & NM 2 models. This change was applied to all subsequent models.
The RM 5 pedal chain tensioner was also changed at this time to an automatic spring type.
1963
On April 1st, from frame number 4R 18102, the RM 4 engine was uprated to 1.76bhp with a new cylinder head and 'split fin' barrel, and the crankshaft/con-rod assembly was uprated to that specified on the RM 5. The engines of the Nippy Mark 5 and Panda Mark 3 were also uprated at this time from frame numbers 1N 3667 and 1P 4679 respectively. Production of both the Norman and Phillips ranges ceased in September leaving only the Raleigh range of mopeds. RM 4 total production was around 24,000 units plus approximately 9,000 machines split between Norman and Phillips. The number of Lidos and Gadabouts made is unknown.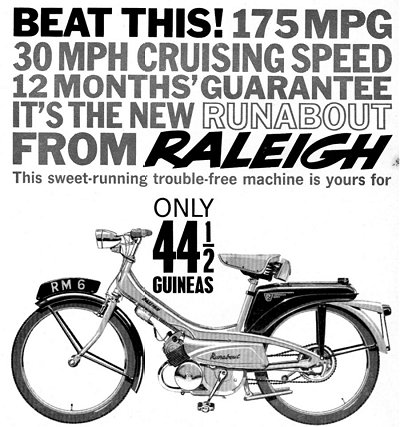 The RM 6 was introduced at the Winter Gardens Show, Blackpool on 15th May. Finished in Raleigh Green and Pearl Grey, 1.39bhp engine, single-speed transmission with automatic clutch, cycle-type forks and a heavy export-type caliper brake operating on the front wheel rim. It was described by 'Power and Pedal' as "probably the most practical, the simplest and even the prettiest utility moped ever to appear in Britian". With a claimed top speed of 32mph and priced at £46-14s-6d, it instantly became Raleigh's biggest selling model.
A September modification to all models was to the stator plate which now had a water proofing flange together with a modified flywheel.
Late in 1963, or possibly early in 1964, the RM 5 rear mudguard valance lower edges were changed to a straight line form, previously curved.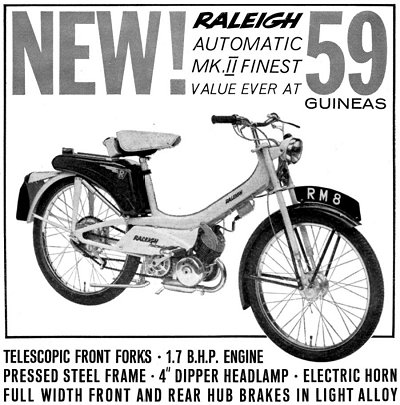 In November Raleigh announced that a new moped was to be produced on the lines of the best selling RM 6, but with sprung forks, better lighting and a more powerful engine. This was the RM 8 introduced in March 1964.
1964
In January the RM 5 carburettor was modified with a redesigned air cleaner and float chamber cover.
Another change in January was to the Parts List numbers for all models which were now given three letters followed by three numbers, replacing the original seven figure numbers.
A new design of piston, fitted to the RM 4 from frame number 4R 18102, was also fitted to the RM 5 and RM 8 from the begining of March. The RM 6 piston remained unchanged. This new piston was subsequently fitted to the RM 9, RM 11, RM 12 and the RM 6 when its engine was uprated to 1.76bhp in November 1965 from engine number R128131.
The RM 4 was dropped in February and replaced by the RM 8 Automatic Mark 2, finished in Charcoal and Pearl Grey. Similar to the RM 6 but fitted with the 1.76bhp engine, telescopic front forks with a hub brake, and a larger 4 inch dipping headlamp by Lucas. It also had a redesigned silencer made by Burgess which was also fitted to the RM 6 around this time from frame number 6R 22579.
The RM 6 front forks were modified to allow the mudguard stays to bolt nearer to the hub. The rear mudguard stays and petrol tank stays were now painted Pearl Grey, previously Raleigh Green.
In April the RM 9 Ultramatic was announced but did not became available until July. Similar to the RM 8, but with variator transmission and 2.0bhp Engine with a 7.5:1 cylinder head and expansion type exhaust system. It was finished in two tone Fire Red and Pearl Grey, and was priced at £69-6s-0d.
The rear number plate of all models was changed in November to accommodate the new Miller type C lamp from frame numbers 5R 8409, 6R 37435, 8R 7559 and 9R 5232 respectively.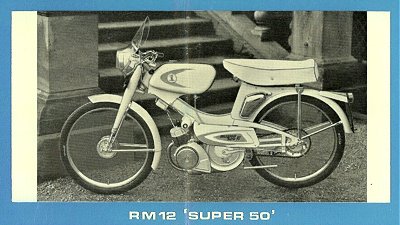 Announced in June, the RM 12 Super 50 was a sports moped finished in black with a Neptune Blue fuel tank which sported plastic "chrome" stick-on knee grips, 2.66bhp engine, variator transmission and 'valanced' telescopic front forks. It was also fitted with a perspex fly screen and drop handlebars which were simply the normal pattern turned the other way round! It was priced at £87-19s-6d.
The range was extended in July with the addition of the RM 6 de Luxe. Finished in Royal Carmine, it had the "power plus" 1.76bhp engine of the RM 8 and a reserve position on the petrol tap. It cost £4 more than the basic RM 6 at £53-19s-6d.
Early in the year, after frame number 5R 10410, the RM 5 tool box lids and engine fairings were restyled. Legshields became a strandard fitting in September starting with frame number 5R 61019.
During the first half of the year, the RM 9 front forks were given metal covers similar to those fitted to the RM 4, and a little later a plastic chain guard extension piece was added to further protect the final drive chain.
A modification in the first half of the year to the RM 6, from engine number R100101, was the fitting of a larger and stronger crankshaft identical to that fitted to the later RM 4, RM 5, RM 8, RM 9 and RM 12. This crankshaft can be recognised by the main bearing lands of 16mm diameter, the earlier crankshaft having smaller 15mm lands.
A later modification, from engine number R109000, was the fitting of an improved lighting coil, now violet in colour, previously blue, together with a modified flywheel stamped 15/. These had different electrical capacities to the superseded items and were not interchangeable.
Around the middle of the year, the basic RM 6 was offered in a choice of colour schemes, Neptune Blue or two tone Raleigh Green and Pearl Grey, From November the RM 6 was available finished only in Neptune Blue and fitted with the 1.76bhp engine of the Runabout de Luxe.
Around the middle of the year the RM 8 was now offered with a choice of two colour schemes, Pearl and Charcoal Grey or Pearl Grey and Royal Blue but, from November, the Charcoal Grey option was deleted. Around this time, from frame 8R 8574, the RM 8 was fitted with a new headlamp of Wipac manufacture, and all current models were now fitted only with Wipac 156 series tail lamps from the following frame numbers: 5R 10725, 6R 46631, 8R 11013 and 9R 6117.
At the same time the RM 5 was now fitted with 'valanced' telescopic front forks (from frame 5R 60184), formally leading link. These valanced forks were only covers over RM 8 forks to make them look more substantial than they really were, and identical to those fitted to the RM 9. This styling modification was applied to all subsequent models, ie: RM 9+1, RM 11 and RM 12.
Other changes to the RM 5 in June were the fitting of a square headlamp and a new colour scheme of Pearl Grey and Fire Red, with Neptune Blue and Pearl Grey offered as an option towards the end of the year.
Announced in November was the RM 6 Super de Luxe, replaceing the RM 6 de Luxe after only five months. It had an improved specification which in addition to the petrol tap with reserve position, and the 'plus power' 1.76bhp engine of the de Luxe, it now included legshields, electric horn, and a light alloy inflator as standard. Finished in Royal Carmine, it cost only £ 5-0s-0d more than the basic RM 6 at £54-19s-6d.
Also announced in November was a RM 9 colour change to Polychromatic Golden Sand.
1966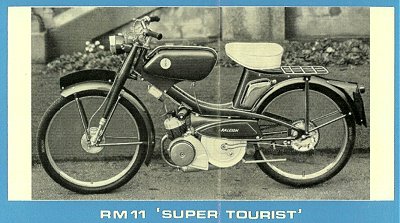 Range as 1965 but with the addition of the RM 11 Super Tourist on 1st January. This was a touring version of the RM 12 with upright handlebars and a carrier. Finished in Royal Carmine and fitted with the 2.66bhp engine and variator transmission it was priced at £81-5s-4d. Between frame numbers 11R 60017 and 11R 60179, the RM 9 handlebar arrangement was changed from stem mounting to fork yoke clamp bolt fixings towards the end of the year.
Also announced at this time was a luggage carrier to fit the models with rear mounted fuel tanks, which is now a sought after accessory. Made for Raleigh by Wistonia Ltd of Lytham St Annes it sold for £0-15s-6d.
The RM 12 colour scheme was changed to Pearl Grey with Red trim and the plastic 'chrome' knee grips deleted.
The RM 6 was now offered only in the single colour of Neptune Blue, and the RM 8 now only in Peal Grey and Royal Blue.
A cheaper engine fairing screw replaced the knurled type previously fitted to all models with the exception of the RM 5 which retained the original knurled pattern.
A modification in March affecting the RM 5, 11 and 12 models was the fitting of a square shaped cylinder head and barrel. A further modification in June affecting the RM 5, was an increase in the length of the bottom bracket axle from 8" to 8 3/16" to provide increased fairing clearance on the R.H.S.
Another March modification was the switch from BA to AR2 series carburettors for the RM 6, 8 and 9.
In September the automatic gearing of the RM 5, 9, 11 and 12 models which had been operated by four balls, was changed to three.
The RM 6 and RM 8 clutch shoe retaining plate was redesigned in October to be retained by two screws, previously four.
The RM 6 "Pop" was introduced in October. This was a cheaper version of the basic RM 6 finished in Black and costing exactly £32 at the factory gate. Strangely, the frame numbering for this model was changed from 6R nnnnn to 3R nnnnn.
A new model in November was the RM 9 Ultramatic Plus One; it was fitted with a dual-seat, pillion foot rests and stronger spokes and rim in the rear wheel. Finished in Golden Sand, it was priced at £76-3s-8d.
Between frame numbers 11R 60017 and 11R 60179, the RM 11 handlebar arrangement was changed from stem mounting to fork yoke clamp bolt fixings towards the end of the year.
Raleigh Industries motorised two-wheelers now accounted for 38 per cent of the British moped market.
The paint finish of the basic RM 6 was changed yet again, to the single colour of Royal Blue, a much darker shade than the superseded Neptune Blue which only served to make the machine even more dowdy looking.
The RM 6 Pop, priced at exactly £50-0s-0d, was discontinued in February only five months after its introduction.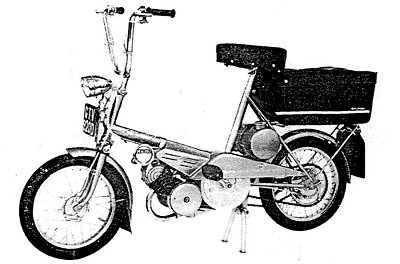 The RM 7 Wisp was introduced on 14th April, finished in either Fiesta Blue or Spanish Gold and fitted with the 1.76bhp engine restricted to 1.4bhp. Single-speed transmission, 12 inch wheels, rigid front forks and drum brakes front and rear plus a large rear mounted shopping bag. It was priced at 57 guineas (£59-17s-0d).
The RM 11 and RM 12 were dropped from the range in July.
In January the Wisp rear sprocket was changed from 44 to 36 teeth to raise the gearing after many engines had been replaced due to over revving. The Wisp frame was modified at this time with an increased angle on the head tube, and the handlebars altered to suit the new angle.
From January restyled 'Tautline' front fork covers and a 'Square Fin' engine were fitted to the RM 5.
The RM 9 and RM 9+1 were now offered in a choice of colours: Royal Carmine or a 'reversed' colour scheme, in which the frame and forks were painted in Calypso Coffee with the remainder of the machine in Peal Grey. This paint scheme was discontinued after a few months with both models then offered only in Royal Carmine.
A modified silencer, shorter in length and with the baffles an integral part of the end cap, was also now fitted to both RM 9 models. The 'blunderbuss' front pipe remained unchanged and therefore interchangeable with both silencers.
The RM 6, RM 6 Super de Luxe, RM 8 and RM 9 were now fitted with "Super Comfort" saddles. These were similar to, but a cheaper version of, the RM 4 saddle.
1969 to 1971
Production offically ceased in September 1969 for all models with the exception of the basic RM 6, which continued with a revised frame numbering system until February 1971. One such RM 6 being first registered on 30th March 1971 as YHJ 65J, engine number R193170, frame number 046084, the 6,084th machine made after the change to the frame numbering system. This machine is probably one of the last few hundred made, and was advertised for sale in 'Old Bike Mart', April 2001. The engine number indicates that approximately 194,000 engines of all types were assembled by Raleigh from parts supplied by Motobécane.
Postscript: Extract from 'Old Bike Mart', June 2000
Raleigh Run Down
"Readers may recall an issue or two ago, I mentioned that Raleigh were finally closing their Nottingham doors after 115 years."

"Not so long ago Raleigh's plan was to move into a new £14 million factory to be built at nearby Bulwell. However, the land on which the factory was proposed was an allotment site and home to bats and toads. Three allotment holders objected and went to the High Court to prevent Raleigh's proposal. The company had thought without this problem and sold the existing factory site but the delays caused by the High Court action rendered it necessary to lease back the old factory at great expense. This did little to help the situation in which Raleigh found themselves when complete bicycles from Indonesia, Malaya and Thailand could be imported cheaper than those assembled at Nottingham (remember Raleigh sold off their manufacturing plant in 1999 to concentrate on assembly of imported components). Although about 100 jobs remain as Raleigh shrinks to a design and distribution centre, the three allotment holders can be very proud of the fact that they are responsible for the loss of 300 other jobs within Raleigh."
---
First published in five parts The MAC between March 2010 and March 2011
Updated in February 2021
---