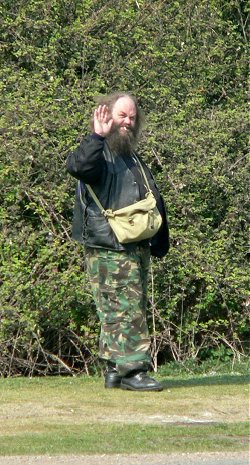 Duane 'Ted' Riceman, 1963 - 2011
It is with great sadness that we find ourselves reporting the recent loss of one of the EACC's great characters, and Ted (as he preferred to be called), will always be fondly remembered as a 'big happy chappy' by all who knew him.
A rider of various machines, from big custom V-twins down to humble mopeds, Ted became involved on the cyclemotoring rally circuit from around 2002 following acquisition of a James Superlux autocycle, and appearing in the popular 'James Gang' feature of October 2004.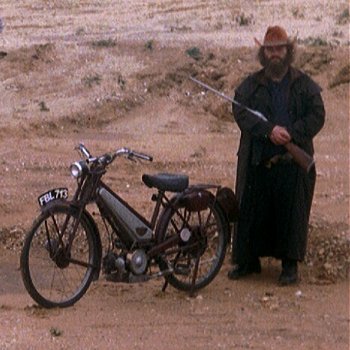 Big Ted and his James supported many Anglian regional events over the last eight years, only reluctantly switching to a more manageable Piaggio Liberty recently, when illness made the modern option more practical.
One memory comes to mind that particularly typifies Ted's gentle and casual attitude to life... Ted used to help in the development of occasional articles, by riding the pace-bike during road tests. It's fairly standard for us to have a pacer, since many of the bikes IceniCAM features either have no speedo, or are rarely accurate enough to rely upon.
One pleasant sunny day, we rode the usual test course with Ted pacing, to take speed notes at the appropriate points.
Getting back to base, I turned to Ted, "OK, good run, let's get the notes down".
To which Ted looked back blankly... "Ah, the notes... It seemed such a nice day, that I was just enjoying the ride."
"Never mind Ted, that's OK. Maybe we can enjoy riding the course again, but perhaps you might make the notes this time."
Our most sincere condolences to his wife Sally, who surely knows his spirit still rides with us all.
Mark Daniels