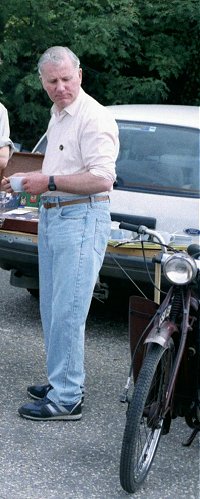 Michael Flood
Michael died on July 4th and his funeral service on Wednesday, July 13th saw East Harling Church packed with the many friends he had made throughout an active life.
Michael was always, since he was a boy, fascinated by autocycles. He joined the NACC early in 1988 and soon became involved with the running of the club, becoming the club's New Hudson marque specialist in January 1990 = a position he kept for 16 years. He organised several events, the Breckland Forest Run in July 1991 being the first.
He will be best remembered from the time he spent as the club's Chairman. Michael was elected as chairman at the 1991 AGM, being 'thrown in at the deep end' as he hadn't been on the club committee until then. Nevertheless, Michael had quite firm ideas as to what the chairman should do. He saw the prime duty of the job as getting 'out and about' as much as he could: meeting and talking to - and listening to - as many club members as possible. A look through copies of Buzzing from this period will see Michael's name appearing among the list of riders at events up and down the country. He is fondly remembered from this period by many club members and was unequalled in the role of Chairman - before or since.
He was a tireless worker for the club - most members will be unaware that he was a regular member of the 'stuffing crew' who, every other month, spent an entire evening putting magazines in envelopes, labelling and stamping them ready top go in the post.
Michael was diagnosed with Parkinson's Disease in 1994. Because of the progressive nature of the disease, this meant that Michael had to gradually reduce his involvement with the club, from standing down as Chairman in 1996 to relinquishing his position as New Hudson ME at the start of 2006.
However, the main thing we will remember Michael for is his love of autocycles. Michael and his autocycles appeared in The Classic Motor Cycle magazine several times and he rode autocycles at many club events. As the years have gone by, the types of machines on club runs have changed, but autocycles still appear as often - maybe more often - as ever. This continued popularity of autocycle in the club is due in no small part to Michael's quiet 'championing' of their cause.