---
Midges
In France in 1938, Roger Derny et Fils introduced a 98cc entraineur - a motorised bicycle used for pacing bicycle races. Motor-paced racing had taken place since the end of the 19th century - the big motor cycles used had a roller behind them that would spin freely when the cycle wheel touched it. The cycles were special too with reversed forks and small front wheel so the cyclist could be a close as possible to the shelter of the pacer.
The Derny had no roller - just a guard around the rear wheel - and the racers used normal racing bikes. The new pacing bikes became so popular that "Derny" became a generic name for this style of pacer.
Motor-paced cycle races were also held in Britain and, seeing the rise in popularity of Derny races in France, it wasn't long before British riders wanted something similar. At the forefront of the call for British Derny races was the weekly cycling newspaper, The Bicycle. In its 28 January 1939 edition, The Bicycle announced...

Things must have progressed well because advertisements for the Good Friday (7 April 1939) track meeting at Herne Hill proclaimed...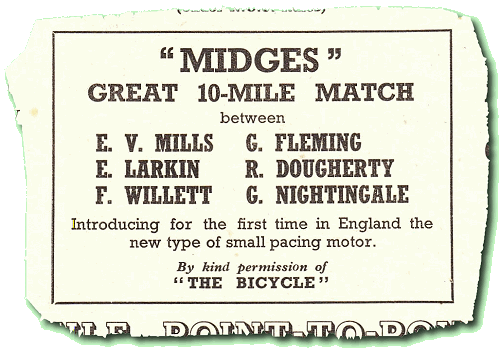 Not only was this the first announcement of such a race, but the first appearance of the term 'Midge' that The Bicycle had coined instead of using the French name 'Derny'.
Revealed at Herne Hill on 5 April for preliminary trials, the new Midges turned out to be Excelsior Autobyks. The standard autocycle had been modified for pacing duties: they had no lights or number plates, no stand or rack; North Road drop handlebars were fitted. The frame too had been changed, with a horizontal top tube. The basic frame geometry of the autocycle had been retained, which meant that the top tube fitted quite low down on the steering head. This also required an extra-long seat pillar to give the pacing rider a position suitable for pedalling. A wrap-around guard, just like that on a Derny, was fitted to the rear mudguard.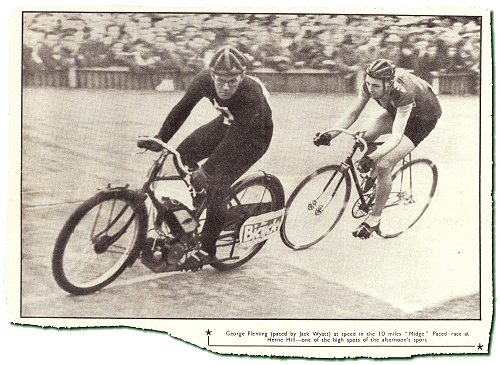 Because track races are run anticlockwise and the press photographers were stationed on the inside of the track, nearly all the photos of the Midges were of the left-hand side. The size of the chainwheel is not discernable in pictures but it is very likely that these were larger than normal so the rider could pedal-assist at speed.
Midge-paced racing proved to be a popular spectacle and the bikes appeared at several tracks throughout the 1939 season. After a couple of months, Smiths speedometers were fitted to help the pacer keep an even speed in windy conditions.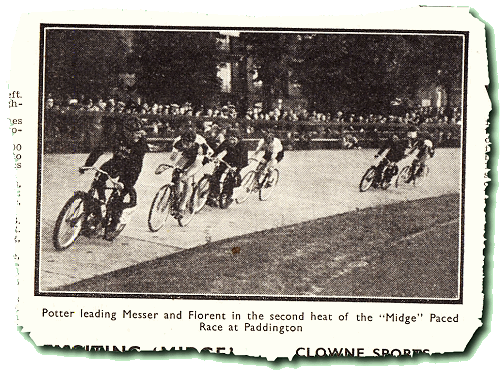 Midge-paced racing was brought to an end by the outbreak of the Second World War.
---
First published in The MAC in March 2013
---