Go to the Archive index
---
Coast-to-Coast 2013
by Dave Watson.
A strange set of circumstances occurred that saw me taking part in this year's event when, due to holiday days due, etc, etc, I thought was not going to attend.
It started at Stafford with the random purchase of a Derny Tandem, then a chance meeting at Felleries campsite prior to the Sars Poteries, France event. I got chatting to Rick, a new member of the NACC, about Stafford and said 'did you see the Derny Tandem?' His reply was 'Yes' and that he should have bought it. I then said 'meet the new owner'. Later, as we sat in the late afternoon sun outside the café/bar (no drink was involved) the subject turned to whether I would sell. To cut a long story short a deal was done that included me delivering the Tandem to Co Durham and staying at Rick's on Friday night. He would take me to Crimdon on Saturday and pick me up at Whitehaven on Sunday. Hands were shaken.
The Tandem and my NVT were loaded onto the trailer for an early start on Friday.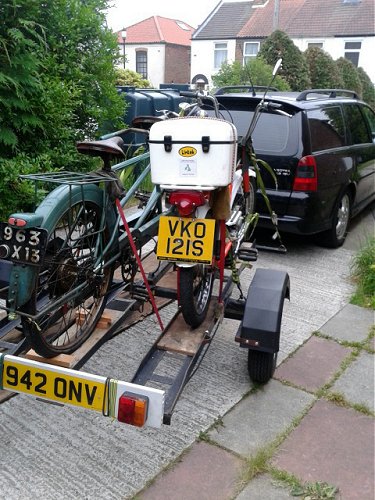 A very pleasant afternoon was spent at Rick's; we fired up the Merc and went to visit Martin, then out for a pub meal. Back to Rick's a good night's sleep and a hearty fry up in the morning was demolished just as Martin arrived to pick us and the NVT Easyrider up for the short trip to the start of the event at Crimdon Dene.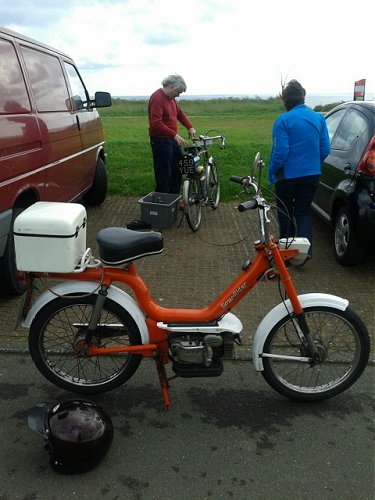 I had never seen the tide out so far and it was rather windy but dry for a 'meet and greet' of the other riders; it was not long before Tom and Co arrived and it was good meeting up with them again as it was Tom, John and Brian (who lives in France) whom I had the pleasure of meeting and riding with on my first Coast 2 Coast in 2009.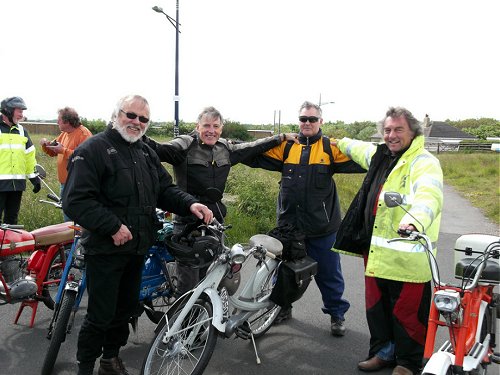 We set off and it wasn't long before we stopped to don the waterproofs that some had not bothered to put on; it didn't seem to long before we passed the spot where my PC50 cried enough (after doing 75 miles to the start the previous day) in 2011. We soon arrived at the first stop for a cuppa and bickies. Good to see Stuart and his mate over from France on nice matching Mobys.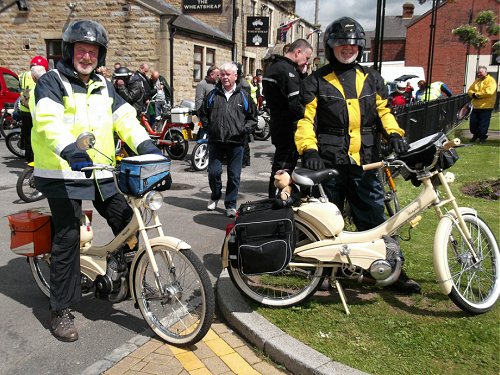 We had had settled into a small group of Tom, me, John and Brian; when we reached Staindrop Brian was missing having stopped for Stuart and Co who needed a top up of petrol. The fish and chip shop was ready for the rush, as they had looked up on the Wibbly Wobbly Web to see when we were coming through.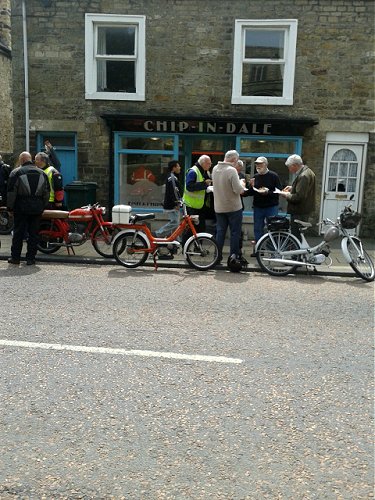 We set off again and it started to rain properly this time and carried on for most of that leg but, just as we arrived at High Force, it eased—but really chucked it down as we were enjoying our drinks.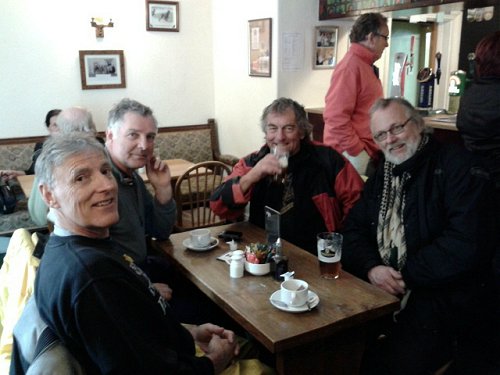 After High Force it's a long climb before reaching Alston; Tom went off into the distance. I thought I would never catch him but slowly reeled him in and passed him, with John then passing me and disappearing into the distance. He stopped to take some pictures and we arrived at Alston, well spaced out, a bit damp, but with no issues at all with the bikes.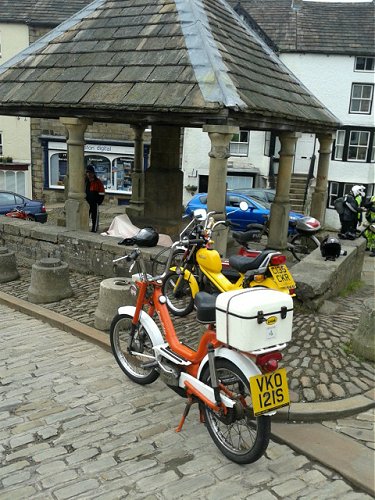 With the bikes all tethered together it was chill-out time: evening meal, socialising in the Cumberland Hotel and back to the hostel for youths of all ages.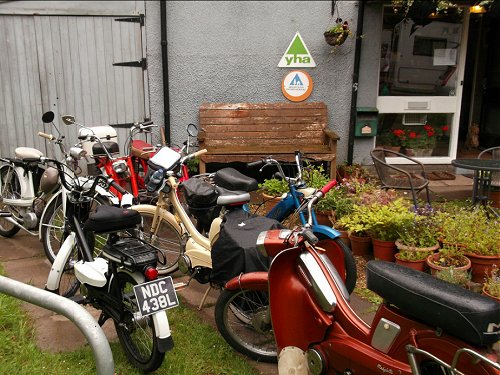 A good breakfast and, with a slight dampness in the air, we assembled on the Cumberland car park, John Boy was in his car deciding not to ride as the Batavus was playing up. Stuart and Co had gone straight to Hartside as they were on slower bikes and we had a plan.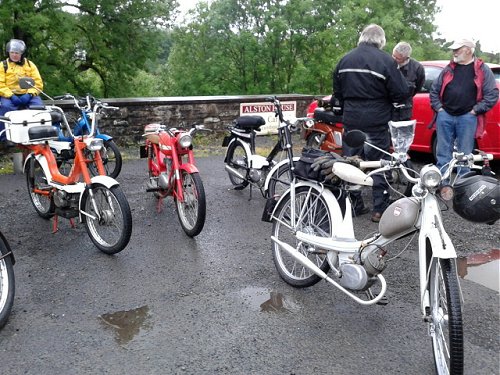 We arrived at Hartside and it was not just our heads that were in the clouds.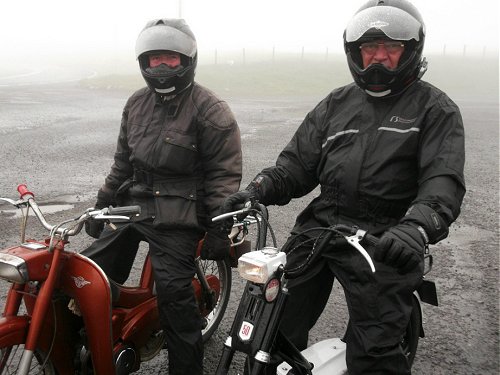 Our group had grown to nine doing an alternative route, plus a couple who were asked if they wanted to join in. the second man drop-off system was explained but they obviously didn't understand as they went straight on at the first turning. It wasn't long after descending Hartside, and now on the other side of the mountain, that we were riding in bright sunshine. We stopped at Caldbeck and met Rick and Martin for tea and cakes. The little Honda had been playing up with the occasional cut out but would always restart just as quickly but, just after the stop, it cried enough and was recovered.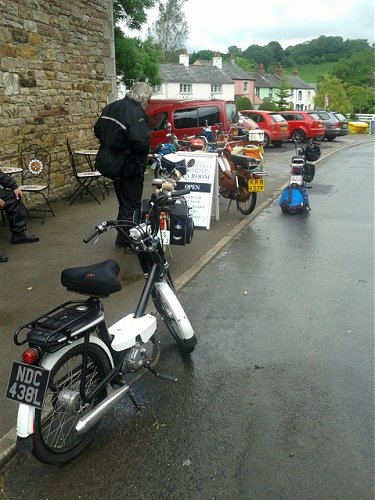 We then carried on to the official lunch stop at Bassenthwaite, a swift half and, just as we were leaving, Dave Stevenson arrived on the only cyclemotor on the run this year. Derek and Andy's driver had just left saying that they had gone straight past this stop and were already at Whitehavern.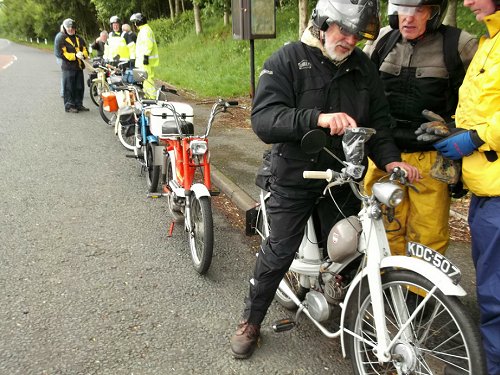 A slight hiccup and we did a bit on the A66 that was not planned but soon got back onto our planned alternative route where we had another hiccup when the three slower bikes somehow went past leader Tom. These were reigned back in at the same time as Tony had ran out of petrol on the Bronze Moby. We then carried on what you would call 'undulating roads', just one regroup and then we carried on to Whitehaven.
The normal finishing point was closed because of a giant funfair in town and we met up with R&M and some of the other riders in the Tesco car park.
Thanks to Tom and his Tomtom for his great leadership.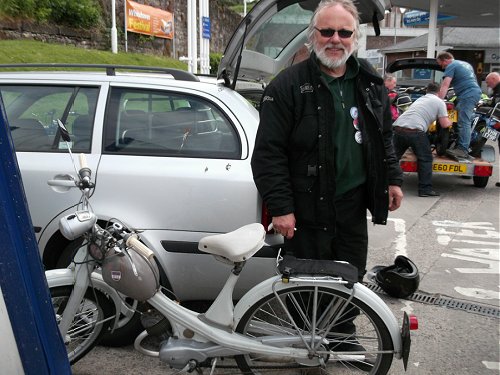 John for great company...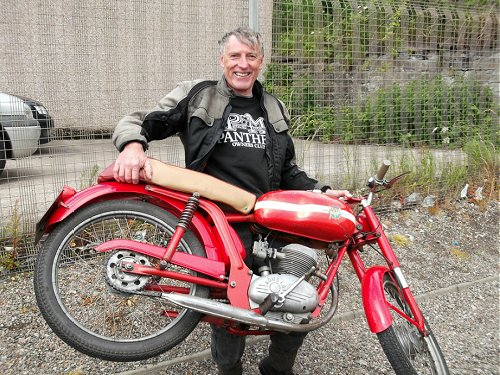 ...and loaning Brian a bike.
Thanks to the NVT for not missing a beat both days and being easy to ride.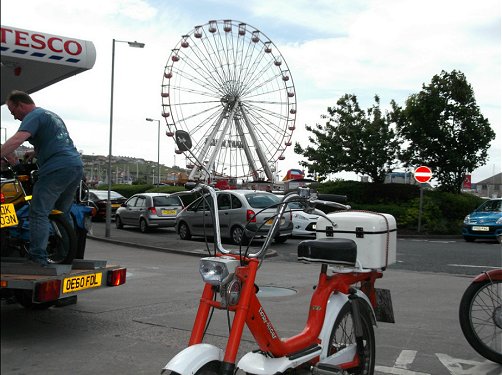 Paul Stewart and mate who made the run that bit different on Sunday...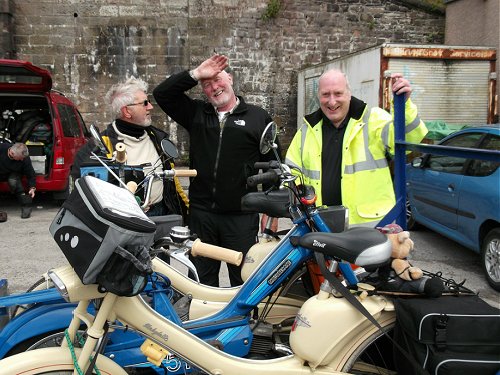 ...and Tony and mate who joined us Sunday; shame the Graduate didn't make it.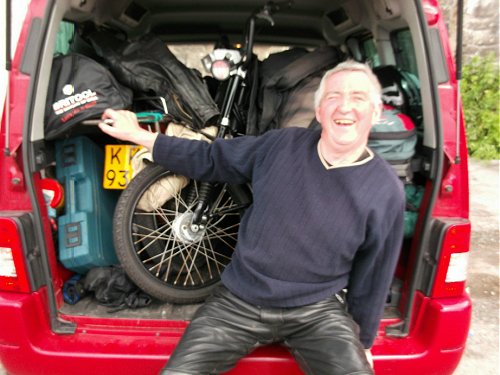 The biggest thanks go out to Rick (with help from Martin and van), without him none of this would have been possible (don't forget visiting rights for the Derny); see you next year if not before.
PS: Thanks again to Rick and Martin, I was back in Martham by 10:30 on Sunday evening, cutting three days out of my previous modus operandi for the event.
---
August 2013

Go to the Archive index
---