Spotted at the Airship Run - 8 Sep 2013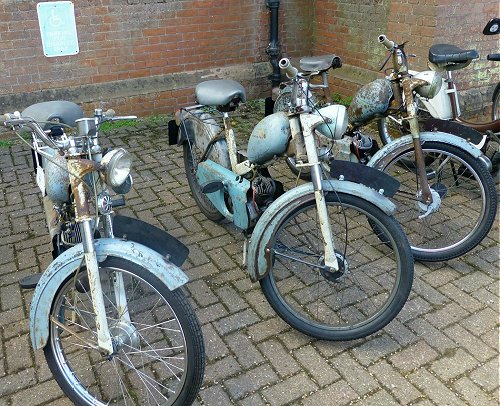 You don't see a Hercules Corvette for ages—then three turn up at once.
Of course, this didn't happen by pure chance although there was a certain amount of coincidence in there being three Corvettes up & running, taxed & tested, and available.
Getting three Corvettes to the start was one thing, getting them all round the course was quite another. They all broke down—one of them broke down twice—and none completed the run under its own power.
However, the following weekend, all three were at the Coprolite Run and, this time, all three were successfully ridden all the way round the route.
Powered by a Lavalette engine and utilising several parts from the Phillips Panda Plus, the Corvette was produced for less than two years, being launched soon after the TI-Raleigh merger in 1960. It ceased production in 1961 after the decision to replace all TI's moped ranges with licence-built Mobylettes.
First published in The MAC in December 2013