I'm not sure about when and where but, after an event (and no doubt a few drinks), somebody said 'why don't we do the Outers?' I heard about this from John Shaw about a year ago and said straight away 'count me in'. Tom Norman was the organiser and a deposit was paid before Sept 2013. When the balance had to be paid somebody dropped out and I was asked if I would like to bring somebody from my area to accompany me. Jim Davies was asked but didn't tick the 'pre-1970 with pedals preferred' box. Being a VJMC man his Yamaha V90 was OKed but he did have a 1974 Moby that was in the spirit of the event/challenge. John kindly offered a stopover at his home (near Kilmarnock) on the way up to the start/first sailing from Oban. After an early start on Tuesday 19th, Jim and I had a break in Carlise for lunch and arrived at John's about 5:00pm.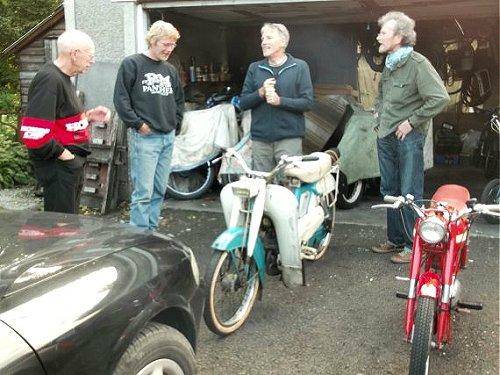 Karlheinz (Germany) was already there having picked up Kees Rieuwerts from the Netherlands on the way to the ferry. It wasn't long before Tom arrived from Hartlepool with Richard, who was to be our back up driver for the week. Karl and Kees were familiarised with their machines for the week; these and the two spares for the week were loaded into the vans. John Sykes arrived with his Puch (not being able to get the documents sorted for his NSU) which went on the back carrier. We walked to the next village to meet Carlo Pediani and the nine of us all enjoyed a meal and drink.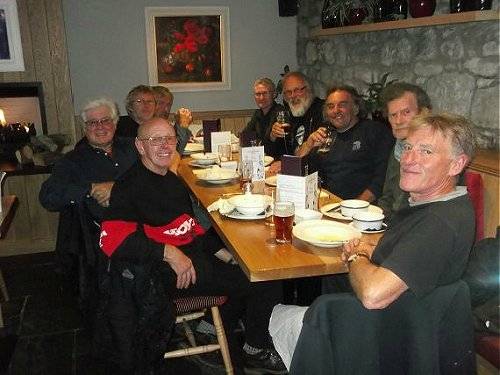 More pictures on www.flickr.com
---
Day 1
Wednesday was an even earlier start as we had 130 miles to go to our next rendezvous: round Glasgow over the Erskine Bridge, past Loch Lomond, through Oban, and onto Siel. Already there were Brian Scarth and Stuart Hunt (Englishmen now living in Southern France) and Neil Cowan, who was having some work done on a couple of big bikes by Chris, who was looking after our cars & vans for the duration of the event.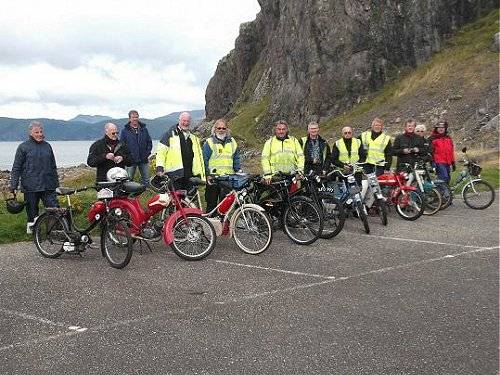 On the way from Oban towards Siel there were some serious looking hills that looked as if they would be hard work for our low-powered machines ... and they where. We took a slight diversion as I followed Kees on past the ferry terminal entrance. Back with the others, we were met by Alistair Alexander on the New Hudson. We had arrived in plenty of time, sorted the tickets and had a look around and got something to eat before loading the bikes for the four-hour crossing to Barra. (Missing that sailing was not an option.) First bike issue occurred with my pedal parting company with the crank as we got off the ferry; thankfully the hostel was in sight at Castlebay. Richard cooked us a meal and we retired to the local.
Day 1 Pictures on www.flickr.com
---
Day 2
Thursday, with nothing in Castlebay that resembled a garage that could weld my pedal back on, Alistair had a contact who advised us that the technical guy at the school might be able to help. The Bown went in the sin bin and the Wisp came out for the first excursion of the day to visit a crashed plane and memorial to those that died in 1944 and those that died in the World Wars. On the way back we got the pedal welded onto the crank (no money changed hands as they said 'call it Island Hospitality'). We set off and it was a HPA then get off and push on the steep rise out of Castlebay and onto our next ferry, where the Bown was sorted and some of the others had a test ride on the Wisp before the ferry arrived.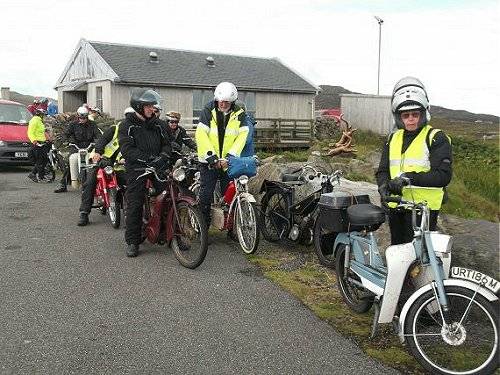 For some strange reason CalMac only allow ten bikes on the ferries and we had twelve, so two had to be loaded in the van each time. We met a couple from Cambridge who put a bike and some bags in their van for the ferry to Eriskay. We had another big hill climb, then a lunch break at a pub named after Whisky Galore and the SS Politian was very welcome. Then we had a long ride via a visit to a memorial to Flora Macdonald, mainly with a head wind that some found taxing but the Bown managed with ease. Kees had a misfortune with gear selecting while struggling in second and found first instead of third—this was game over for the four-stroke MV, and he changed to the Garelli, which developed a misfire. Brian had problems with the Cristophe and was on the Wisp; Alastair was having fuel problems with the Re-styled but made it.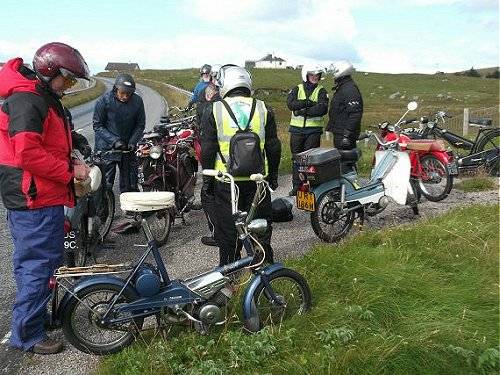 The van had to go back to recover Stuart to our overnight stop at Lochmaddy. Lots of spannering was going on outside and a taxi was booked to take us into the village for an evening meal.
Day 2 pictures on www.flickr.com
---
Day 3
Friday—more spannering. Alastair had sorted the Re-styled, the recently done tank sealant had become detached. The Garelli was running but not 100%, Brian had the Christophe running; Stuart had his bike running but had lost his balls (pedal crank) and was to use the Wisp. We arrived at our next ferry early and were told of an old boy coming out of his house and waving some of the group down and showing them his bikes. We had time, so a return was done by some of us; we met the couple from Cambridge again and we were treated not only to a look in the garage, and lots of stories to tell, then cheese, biscuits and teas provided by the wife.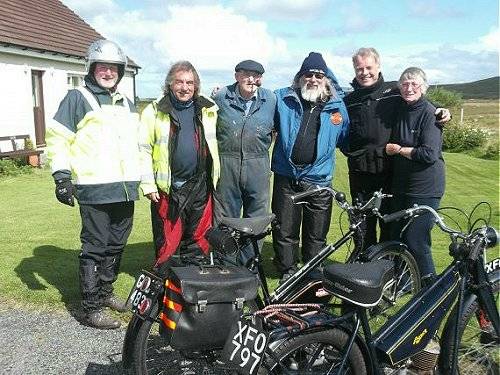 We just made it back to the terminal as the ferry was coming in, CalMac ferries don't hang about unloading, loading, and sailing again—this time to Harris. We had a good crossing (the optional trip to St Kilda had been cancelled due to bad weather). After a snack at the quay and a slight hiccup with the routing, we then had a strenuous ride (for some) with stunning views across miles of barren rocks and lochs of all sizes.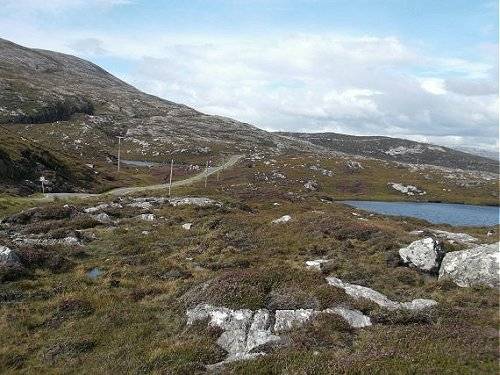 Some of us stopped at a village hall for a welcome cuppa and homemade cake, then carried on to our overnight stop at a newly-built property where Rich did us another meal among more fettling to the Garelli's ignition.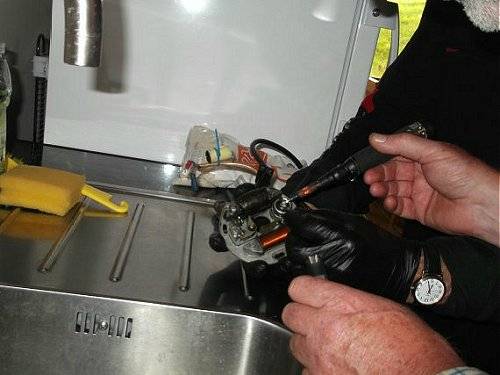 Day 3 Pics on www.flickr.com
---
Day 4
Saturday: we woke to a glorious sunrise across the bay from our accommodation and the owner asked us to line up for a picture that could be used to advertise the property. We visited the site of an old Whaling station and then a steep incline when Brian had more issues and the Garelli clutch was slipping. Side cover off and we found two of the five clutch screws had come completely out.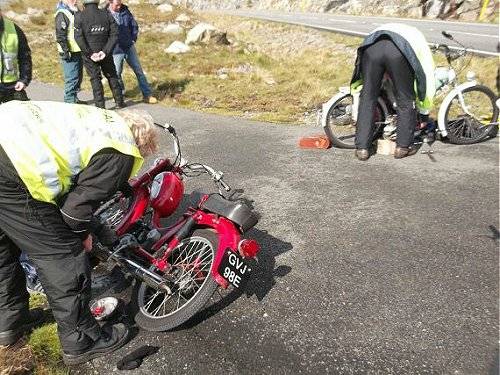 It had been raining and it was quite a sight to see both ends of a rainbow on the mountain side as we left Harris and on to Lewis, followed by about a 20-mile run to the next junction. A lunch stop and a visit to a stone circle was enjoyed. Brian's bike was on the back of the van at this stage. We then visited the stone remains of an ancient building that would of been the house of a family of some importance in its day. We then rode onto our stop for the next two nights, a sympathetically restored set of old stone buildings with straw roofing.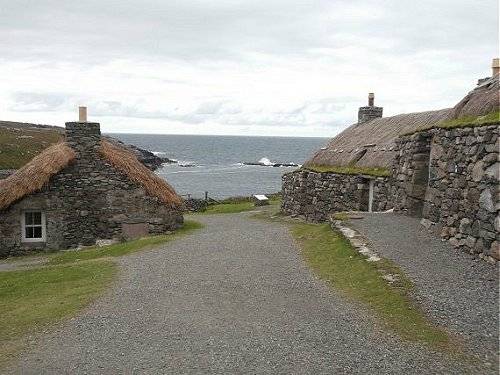 The Bown was getting harder to start when warm, so the carb was checked and the first encounter with the Stone Lady aka Jim's new best friend, resulted in temporarilly losing my float needle. Reassembled and with a different plug, it seemed better. Another Richie meal, several glasses of red wine, encounters with the Stone Lady and watching the sunset all made for an enjoyable evening.
Day 4 pictures on www.flickr.com
---
Day 5
Sunday: Butt or Bust. Brian and Stuart stayed at the accommodation to work on their bikes and Richard would have a day off, only coming out if needed for recovery duties. John had finally admitted defeat with the Garelli and Kees was on the Wisp. We had a stop (don't remember why) but petrol was pouring out from the Re-styled's engine covers, the nut on the float bowl had come undone and was only hanging by the last threads. Then, at a junction, Carlo said his bike was misfiring: the nut had come off his spark plug. We called in to visit a family that Alastair knew about 20 years ago; mother was overwhelmed to see him, father had passed away but the sons were carrying on farming and crofting and also carried on with weaving Harris Tweed. A nice break, they made us very welcome, we carried on and it wasn't long after when Tom pulled up with broken spokes that also burst his tyre. Richie's day off was shattered as he was called out. Nine of us made it to the Butt of Lewis with the sea dead calm and a glorious blue colour.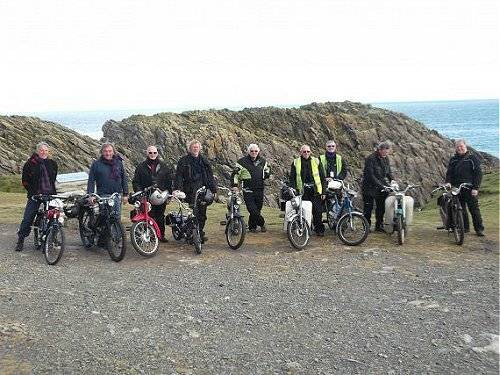 Alastair got a phone call inviting us back to visit the family for soup and rolls; Mum bought along some homemade biscuits and clotted cheese, all very nice and unexpected to be in their company again. They showed Karl Heinz a video clip of some German scouts singing as they departed (just the previous week); they let them stay in a barn on their land, the weather being so bad that they stayed inside for two days. Back at the digs, Stewart had sorted his balls, a cyclist had replaced his and donated the old ones, but he still had spoke issues. Brian was still tinkering and Kees had another go at sorting the Garelli.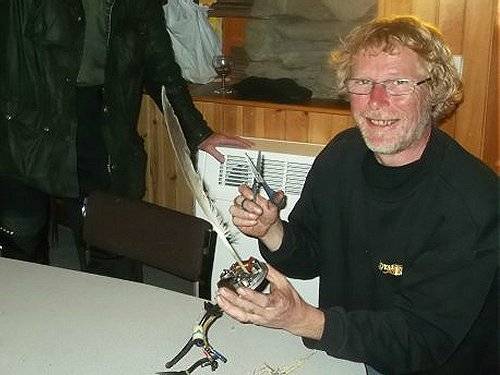 Another fine meal by Rich and more meetings with the 'barking' stone lady who was singing to a seal and had Jim carrying stones from the shore line.
More pictures on www.flickr.com
---
Day 6
Monday: The Garelli was finally declared dead and went in the van; the normally reliable Puch of John Sykes had developed a noise at the end of yesterday's run that he didn't think was too serious, but was something to do with the starting clutch/drive that was not turning the engine. (Don't know how that worked but we now had five dead bikes and three riders to transport). 'Team snail' (those with the most pedalling to do) had departed. The Bown was now sweeper for team 'old boy' average age of we six riders would be somewhere around the 72/73 mark. All was going well until we stopped, looking for a drink, when Carlo's bike would not restart. Then, a bit later, it died on him; Alastair waited with him, so it was four of us to Tarbert, Team Snail was there (somewhere) when Neil invented a fictional ferry terminal miles out of the way.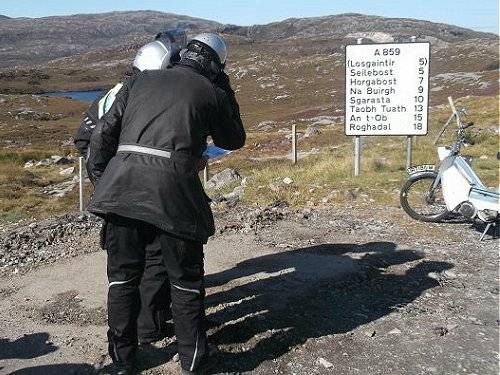 Return and find the others: John Sykes was riding the Motobi, Carlo taking a rest in the van (he will be 84 by the time you read this). The van had made a detour to Stornaway where spokes for Stuart; and spokes, a new old stock tyre and a tube for Tom had been sourced. Kees was straight on to the wheel rebuilding for Tom's bike.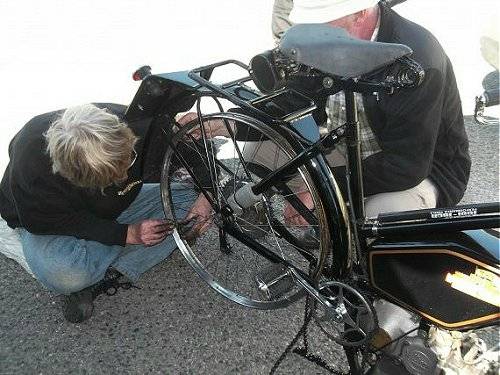 Brian was confident he had sorted the Christophe and replaced the engine covers and it was decided it was 'game over' for the Puch. We left Harris on a large ferry for the sailing to Skye and a ten-mile ride to our stop for the night at a hostel. There was a pub close by that did meals, so Rich got a night off. Alastair had arranged to meet a Velocette owner friend who brought another couple along to play & sing for us. Richie had another talent besides cooking for thirteen; he joined in with his guitar and also did some solo songs for us. A great night was had by all.
More pictures on www.flickr.com
---
Day 7
Tuesday: Tom's wheel was sorted and we left with Stuart still working on his.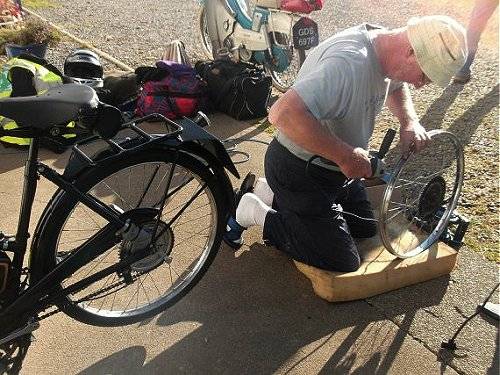 We were due to visit a whisky distillery but turned off before we should, the maps getting the blame (they didn't join with a piece missing!) Nobody minded anyway and we enjoyed a lunch break at the turning much further along. Karl Heinz mentioned the Raleigh was slowing so fuel flow and a decoke of the exhaust was done in the car park. Stuart had fixed his wheel and unbelievable came past us.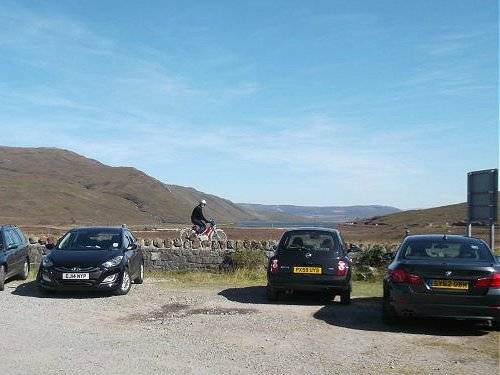 Tom was in the van with another puncture. Stuart's ambition of being last to leave and first to arrive was shattered by running out of fuel. Tom's flat was probably due to an undersized Chinese tube, people must have wondered what was in the bag on the back of the Bown when a correct size tube was produced; this was soon fitted by Kees and we enjoyed ice creams in the afternoon sun before the ferry arrived for the crossing to Mallaig on the Scottish main land. A busy little port unlike anything we had encountered in the last few days; a seal was spotted in the bay feeding from a boat and, from the patio at the rear of our accommodation, there was a steam train waiting at the station.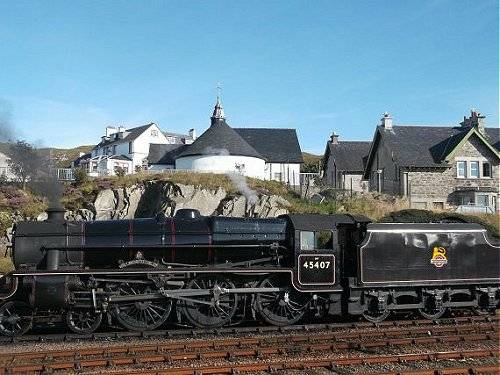 Petrol was sourced and all bikes refuelled before our meal at the adjacent pub.
More pictures on www.flickr.com
---
Day 8
Wednesday: Unfortunately Alastair had to leave us for pressing family matters, shame as his knowledge of the Island's had provided us with places to see and people to meet. We departed with Tom on the Wisp and Kees on the autocycle as reward for all the work he had done to the rear wheel (or was Tom worried it would collapse?) More stunning views and some heavy work for Brian, Stewart and Tom, who must have wished he was on his own bike. A stop at The Highlander Café for homemade pies; Jim made room for others on the bench seat and left his expensive camera and lenses behind. Luckily the van was following and they picked it up. Neal's pedal parted company with the crank and the bike was loaded onto the back of the van and promptly fell off, damaging the clutch/gear change. We got a bit split up and I had seen a brown tourist sign for the West Point on the way to the ferry. Tom said to go past the ferry and follow the sign for lighthouse. A solo ride of nine miles with nothing else but hills was a bit scary but not as scary as the ride back when I was not sure which way I had come, arriving at the ferry with the others gone, just me and two cars on the ferry and the man saying 'it's a bit rough'. Arriving on Mull and not being able to see anybody else, what a relief to see mopeds outside the distillery!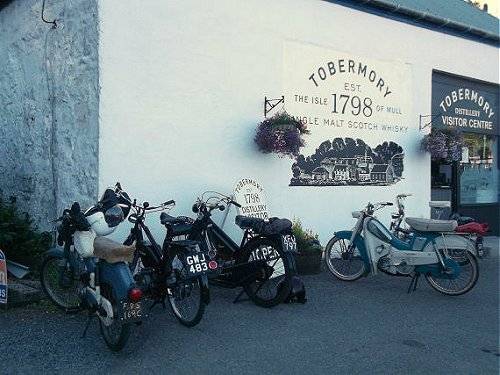 there was no run-up out of Tobermory and it was too much for the Bown and, for only the second time, it was get off and push. A bit later it started to miss, luckily the van was behind, put some fuel in and a tow up the hill was very handy. On arriving at our stop for the night, John and Kees where already on the case and got Neil's bike sorted with the gear change from the Garelli and a crank from the Puch. Our accommodation was unusual in that it was a village hall & community centre with Yoga and then badminton going on and en-suite bunk rooms. Rich cooked a superb 'final' meal followed by dessert and speeches. After the meal and with some down the local, Brian asked what friction drives do I have in the collection? 'Power Pak, Mini-Motor, Cymota...' 'No, you're not getting the point! Do you want to buy the Christophe?'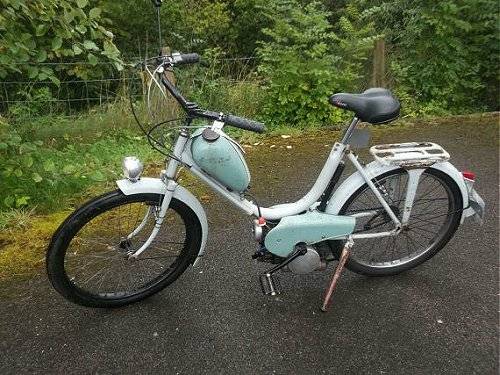 Well it would be rude not too.
More pictures on www.flickr.com
---
Day 9
Thursday: Carlo's bike, being ridden by John Sykes, did not want to start and, as Tom approached Neil to say there is no spare! John got a belt and it fired up.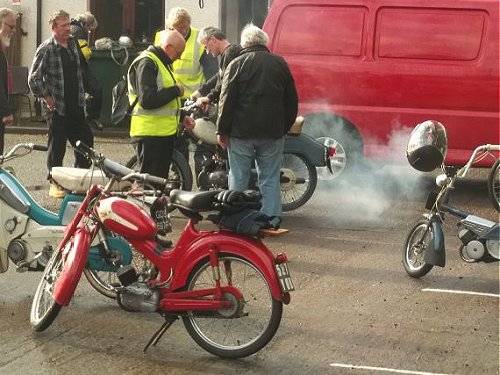 The forecast was for storms but we would not have been able to complain as we had only just got a bit damp on the first two days. Team Snail set off first on a direct route and Team Scenic had a great run in the morning sun, some testing hills and great views with just one issue when Neil's clutch outer cable pulled through the lever, soon sorted by Kees. It was black over Will's mother's but we got away with it.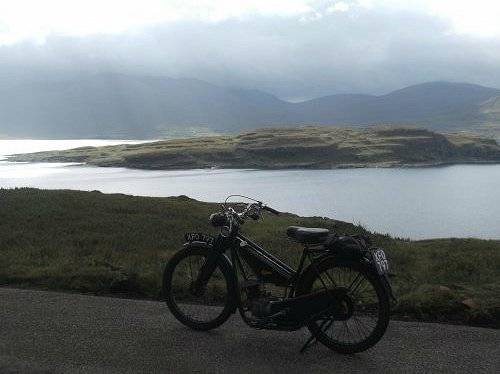 Just as we arrived at the port and a visit to the café it started to rain; a shorter sailing this time back to Oban and fine weather again, then the ride back to Seil. It was some achievement by John Shaw, Kees, Brian and Stewart to have ten bikes arrive back at the starting point after 480.17 miles.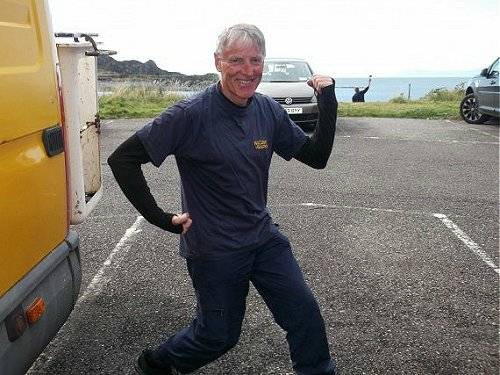 Frantic loading by some as there were long journeys home, some disappeared into Chris's workshop. John Shaw had kindly offered another stop-over on the way home but we had an extra bike to get home! Stuart and Brian were staying another night in Oban; arrangements had been made for Jim and me to stay with them in the hostel ... more like a 4 star hotel! A pint with the holidaymakers, then one with the locals, back to the hostel and three-course dinners for £12 can't be bad.
More pictures on www.flickr.com
---
Friday: The plan was that Brian would drop the Christophe off for me at John Burgess's in Crewe; we set off in the pouring rain just before 9:00. Sat-nav said arrive at 3:30; it was gone 6:30 when we finally arrived at Burgess Repair Services Ltd for a welcome brew. We unloaded the new acquisition and took a quick look at some of John's collection.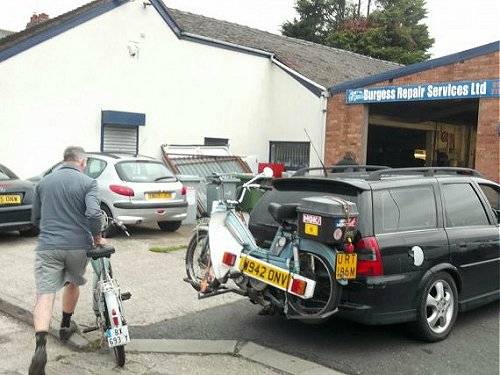 Brian and Stew had to rejoin the M6 car park to Birmingham Travelodge, finally arriving at 9:00. JB joined Jim and me for a meal and kindly put us up for the night; we then had a good run back to Martham on Saturday morning. 1161.6 miles done in the 'didn't miss a beat' Vectra and Jim returned to Ipswich with the 'didn't miss a beat' Moby.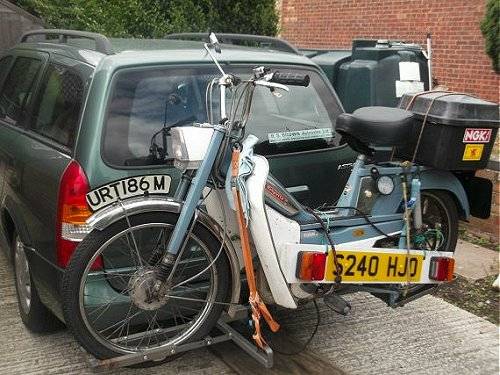 In conclusion: twelve riders with just the one back-up van with all the bags, two spare bikes, fuel, etc. It did look as if we could have a problem on the evening of day two (both spares being used and the van had to go back to recover another). Well done guys, only one rider was passenger in the van at the end.
It was good to see Brian, Stewart, Carlo and Neil again, whom I had met before (C2C and Sars) and to meet Karl, Kees, John Sykes and Alistair for the first time and Jim for his company. Hope you all enjoyed the event as much as I did.
Three special mentions have to go out to:
Tom. For organising the event, all ferries and routes went to plan and finding accommodation for thirteen in remote areas was some feat, probably not to be repeated as he doesn't get that much time to spare now he is retired! (from work).
John Shaw. For his hospitality on the way up, he did the whole event on the Terrot that did not get touched by a spanner, and provided no fewer than four other machines, two of which finished and two will require attention.
Richard. For all his van driving & back up duties and evening meals; he also provided breakfasts every day and

he didn't allow anybody in his kitchen to do the washing up.