Planning...
...was based on the previous 'big runs' organised by Carl Squirrell where a small group of riders are accompanied by a back-up van staying at pre booked Travelodge's. This is when the first bit of luck came in that Dave Wickens (Side to Side and Lan to Low), Jim Davies (Lan to Low), John Burgess and Mike Barrell all committed early on and, what a result, that Mike offered the use of his van as back-up complete with his father-in-law as driver. Five riders are (in my opinion) just right for riding and organising this sort of event. Travelodges were selected around the Christmas time and booked on the 4th January using a credit card: three rooms with two sharing the cost to be divided between the five riders, to enable the driver's accommodation to be covered, came out at a very reasonable £98 each (only two rooms were required on the last night) and everybody paid up before the card payment date at the end of February. A few e-mails were exchanged about details but everything was plain sailing.
---
Run Eve
JB's plan was to ride to the start (mad bugger). After a day's work (in Crewe) on Friday, he rode to Leicester Travelodge, did a Leicester Section run from Sacrewell Farm on the Saturday, and stayed the night in a Peterborough hotel. He then rode what was basically our Saturday's route back to Martham arriving at just after 2:00 on Sunday afternoon.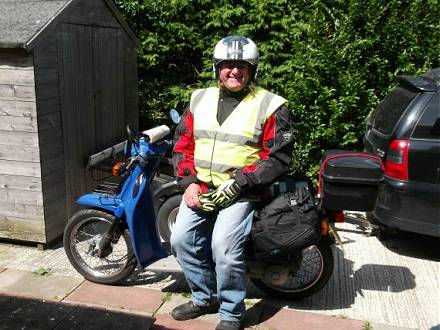 Matthew Hodder popped round and, with me faffing about and saying I must start packing soon, he was duly elected Des. Dave Wickens had travelled up to Norfolk from his Sussex home with his wife, Dave was staying in the Gorleston Travelodge and they dined at the nearby Toby carvery; Sandi then had the long drive back home. Des took JB and me for a very enjoyable evening drink with Dave in the evening sun.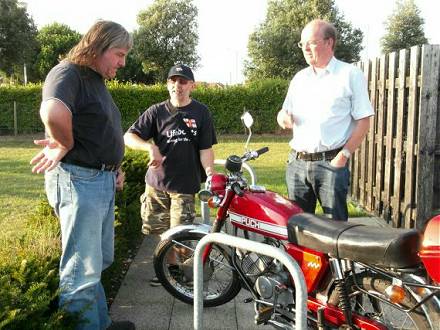 He then dropped us off to order our supper for consuming after a quite pint in the Martham Victoria Inn ('Vic fest' was still on in the marquee.)
---
Day 1
Strangely, not much sleep by me and the bikes were out of the garage early. JB was staying the night so I could not get in my room to start the packing. Packing sorted, we rode the 12 miles to Gt Yarmouth where several work colleges were waiting for their first jobs (our office is in the top of tourist information). Nobody would believe I was going to Wales on that! Mike, Jim and Keith soon arrived and we enjoyed breakfasts (with tea) for £3.50. Dave arrived having eaten at his TL. Bikes were unloaded, Hi-Vis's handed out and it was time for pictures outside the Tourist Office, Marine Parade, Great Yarmouth. Not sure of the time but the plan was to have breakfast at 8:00, on the road for 9:00. Nobody knew what was going to happen next as I had spotted Dave Smith in the café and asked if we could take a look at the Yarmouth Stadium as fellow former racer JB had lost his local (Crewe) track years ago. Dave made us welcome at the track and took pictures for us on the start/finish line.
Then it was off to Martham, my spare bike, JB's and my bags, bits and pieces, bookings, routes, etc, which where loaded into the van. Check anything missing: glasses (had recently lost the previous pair). Next meeting place was sorted and the van sped off to be renamed the 'upfront van'. First break was to be the river at Coltishall but we had a long way to go and didn't exactly get a prompt start so we pressed on to the first stop to visit NACC member Keith Garner, with his new acquisition: a Batavus Go-Go, which it did! Keith has been involved with cars, tractors, motorbikes, and cyclemotors for years; unfortunately he was born with a disability and has an artificial leg, this never stopped him riding in the past but those days are over now. We topped up the bikes and arranged the next stop at Castle Acre; when we arrived we had to have our tea, coffee, & cakes inside as the outside tables were taken and you are not allowed to consume the shop goods on the village green. Advice on the route out towards our point of crossing the A47 was taken, not long after this Jim started having an old recurring problem with his bike, it slows down then picks up again, at Marham he elected to plod on, on a busy section it was no fun and we pulled over and a full carb strip down was done.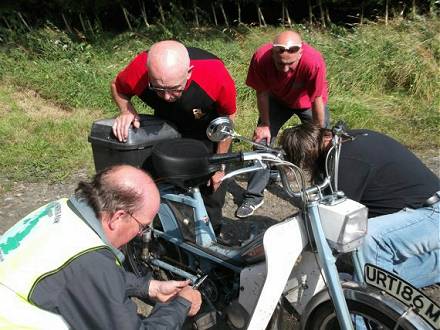 We carried on (quieter roads) with the same issue that was getting worse, Jim had a small bottle of fuel which he put in and the bike flew after that. We carried onto our next meeting point at Outwell; just before Outwell we went left instead of right and did a bit on the busy A1122 that was not in the plan. We met Keith by the garage (as agreed) and topped our bikes up. Then we realised the road we wanted was through some trees and over the grass (had to be done Officer, safer than retuning back to the roundabout). With the Moby running well we made good progress across the flatlands of Linconshire. JB was at the back and nobody was concerned that he was not with us but at a 'leg stretch' just before Whittlesey, when he never appeared, D Wickens went back: Soggy was getting slower and slower with a max speed of 22mph. John said 'carry on I don't want to hold you up', but there was no way we were going to leave him and he was slotted in to second spot and we travelled at his pace. He then had a close shave when a van was overtaking the line of bikes—when a car came the other way she cut JB up and he was visibly shaking so we had a few minutes break. We carried on to the Travelodge where John did a carb strip and I booked us in.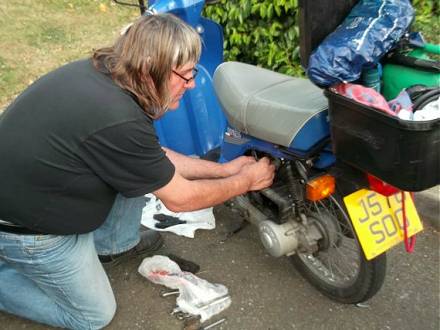 Phew! A long day, bookings (done in January) where all good and my 'leading' was over for a few days: pressure off. We were informed of a pub in the nearby village that would not require a booking on Monday so we walked the short distance. 'Are you still doing food?' 'No. Sorry we finished at 8:30' 'What is the time now?' '8:35'. We drank our pint and returned to the Little Chef adjacent to the TL. Much fun was had with the young staff when first there were no chips, then no chicken, then no something else and, when we ordered the (bottled) beer, they didn't have enough pint classes. We switched the lights off as we left and retired to our rooms.
---
Day 2
Jim elected to stick with the now-running-well-but-would-not-tick-over Moby, JB said he may have gained a couple of extra mph after the carb strip and was to be slotted into second spot behind our 'route master' for the day Dave Wickens. John Truluck joined us and, after a check through the first part for the day, we departed spot on at 9:00. JT went ahead to take some pictures and videos. It wasn't long before we had one of those 'it's safer than the roundabout officer' moments when we went over the foot/cycle bridge over the busy A15. Next stop was to be Burley House where it was good to see Harvey & Jill Spencer waiting for us. We all carried on to our next stop on the South side of Rutland Water via a photo stop at the Leicestershire sign. The pace was dictated by JB in his words 'ringing the neck' of his bike (around the 24–26 region which was quite acceptable to all). JT had to leave us at this point as he had to return to take Cherry for an appointment after her recent hip operation. Harvey & Jill stayed with us, including going over a cattle grid where our way looked blocked by a herd of bulls that leisurely parted to let us through.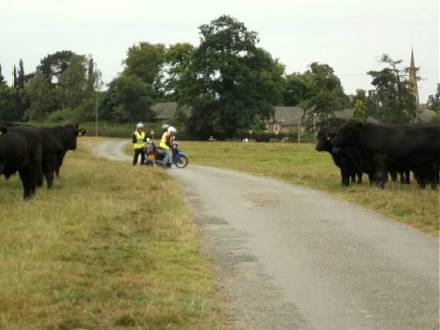 We carried on to our next pre-arranged stop at Thrussington; Harvey and Jill left us here and we had a very enjoyable lunch break. We carried on and came across a closed road and, although it only looked like two men laying kerb stones, they would not let us through so a short diversion and on through Asbly de la Zouch. Somehow we were ahead of Keith! So we pulled over for another top-up and onto our next 'leg stretch' at Kings Bromley, on through Rugeley then Cannock Chase to our next stop at Penkridge, which just happened to have a nice pub.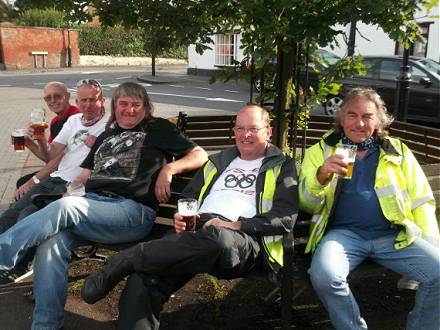 We then had a stretch on the busy A5 past Weston Park where the V Festival is held when we had an unscheduled stop when Jim's bike died, he informed us of the tank slapper he went into as he quickly pulled over to the side, problem was soon diagnose as the HT lead was only connected at one end. Soon fixed we carried on to our overnight stop at Stafford TL. Keith had done the booking-in for us and it wasn't long before we were in the nearby Toby Carvery.
---
Day 3
Back into the Toby for breakfasts, we just started eating when we heard the sound of 'peds arriving. Our route master for the day. Ian Harris. had arrived with two mates. I knew Ian was being accompanied but wasn't expecting two non-members to join in. Paperwork was sorted and away we go, after six miles MB was gutted when the previously running well, oldest machine on the event cried 'enough'. Good spark, fuel, clean carb, not a fart; luckily we had got away before the 'upfront van' this time and Keith pulled up behind us, the Puch was unloaded and the RM4 went into the van. Ian did come back to look for us and we set off following him, we met local Shropshire Buzzard member Ken who joined us and we promptly lost Ian and co and went off-piste. Plan B: JB would lead following Ian's 'Tulip' directions, Ken keeping an eye on us at the back. We regrouped at the Welsh border.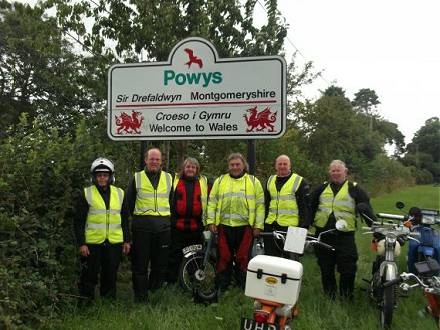 Jim declared that the Moby would have to go in the van at the next meeting point (the not ticking over issue a right pain on a twist and go), this was as per Ian's directions a fuel stop, Tesco's at Newtown. Jim's Yamaha was unloaded and the Moby was in the sin bin with the RM4. After a longer than expected break we were then leaving when Len had a puncture on the Express, fortunately Ian was alerted, an executive decision had to be made and we pressed on. Next stop was for lunch at Machynlleth; we enjoyed our break at various spots and taking time out to enjoy this ancient town with a very busy street market. After an ice cream where people were speaking in a strange foreign language, we returned to the bikes. Ian and co had arrived, being able to buy a new tube from a shop not far away from the Tesco site. We had to press on and all the hills seemed to go down and no pedalling was done at all; we arrived at the Barmouth sign—pictures were taken.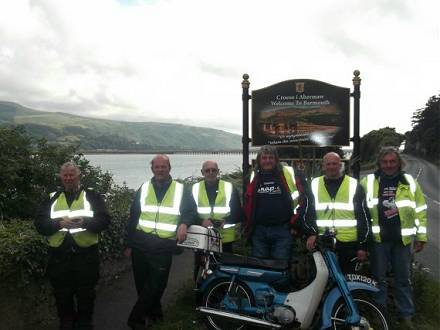 And on to the sea front for a celebratory drink; Cheers Harvey.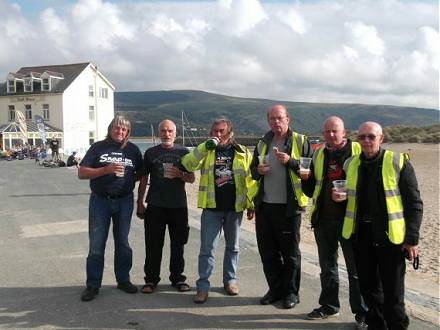 Although it had been damp when we set off we had brilliant sunshine most of the day and Barmouth was bathed in sun. Unfortunately, we could not stay too long as we still had 30 miles to go to our TL at Portmadog. Doris had trouble with the Honda 50, he thought it was terminal so we pressed on and, if need be, the van could be dispatched to pick him up (fortunately not needed). It wasn't long before we were out again walking into the town for a pub meal followed by a stroll around the harbour. It had been a long day and Mike said he would be up early to sort the Raleigh.
More Day 1, 2, & 3 pictures on www.flickr.com
---
Day 4
No eating facilities at the TL so an early start and breakfast on route was the plan. Mike had the RM4 out and said it's fit to go after its rest and the Puch was back in the van. We were ready to go, when, would the Raleigh start? Would it hell. Puch out, Raleigh in again, done in a record time, then the Express would not run. We set off for our return and it wasn't long before we were riding through the Snowdonian National Park when we came across the first (and only) hill that my PC50 could not manage, after a bit of HPA it was GOAP.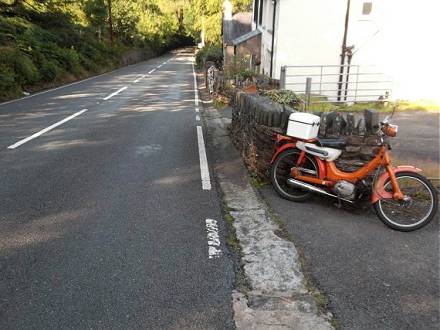 Ian and co were waived through and, thanks to Mike who came back and helped with the pushing, the hill eased a bit before the top and we had a good run to Bala for breakfast. Departure was delayed when a bus from Lowestoft was spotted with several people from Great Yarmouth getting off. JB was doing a good job of leading for us, on through Llangollen where we had stopped for the lunch break on the Welsh Mountain Marathon recently. Ian was stopped by the side of the road, not with his mates but with two Belgian lads who had spotted him and chased after him on their tuned-up machines. One on a Zündapp, the other on a later model Kriedler than Ian's, there being 60 years difference between the rider's ages. What are the chances of that happening?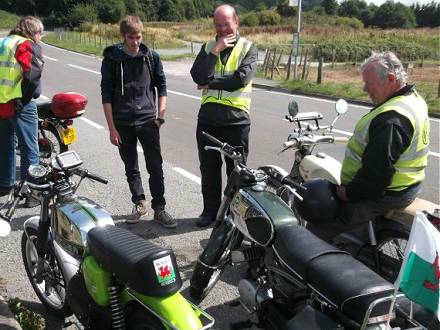 Lunch stop was the Telford Inn, it hadn't been long since breakfast so we sat in the sun having our halves or coffees when, despite what they say, Jim met a friend! Some of us walked or cadged a lift across the ancient Pontcyllte Aqueduct. Nobody knew what had happened to Doris on the Honda C50? Hopefully he made his own way home and wasn't lost to the Beast of Ffestiniog. Next stop was for ice creams at The Mare, Ellesmere. Today was to be our shortest day so we had an unscheduled drink stop at Wem, Ian and Len departed from here and we arrived back at the TL. A very enjoyable day and it's handy that there is an adjacent Toby.
---
Day 5
Dave was keen to depart as he had a long journey home to Brighton via a stop at Newbury. JB was not as keen as he only had to go to Crewe but went via New Brighton on the Wirral (what a leg end). Mike had been given the job of route master for the day leading the three of us back to Peterborough. He worried that he could not plan the route, Dave had done (and lead) our outward route and Matthew Hodder was asked if he would do our return; he spent long hours redoing Dave's route (not needed) then spent even longer detailing the return for us (thanks mate); we had a little mishap at the second instruction, got back on route and had some moped-friendly country roads to our first stop where in the middle of nowhere the landlord of the pub came out and said 'Are you going to be long? We are having an artic doing a delivery soon'. Through Cannock Case (didn't seem so long going back), through Rugely to a stop on our route at the Yorkshireman pub. We parked the bikes on an adjacent park when the landlord said 'Bring you bikes into my car park, would you like a coffee?' (Free) and also gave us a home-made rum truffle.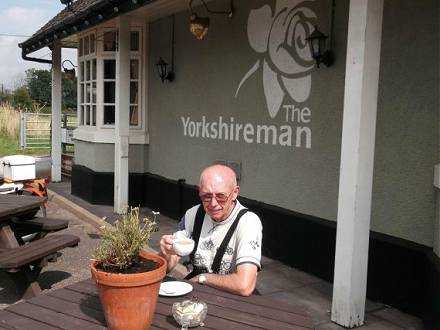 And then Keith found us, I do believe this was the only time a call was made to give him instructions, he did us proud. Onwards past the many revellers who were attending the Bloodstock Festival (Heavy Rock apparently). Then on to Moria for a break and a visit to the ancient furnace. Through Ashby de la Zouch where it was confirmed that Matthew has two lefts. LOL. This one is not Matthew's fault: Turn Left, Corkscrew Lane.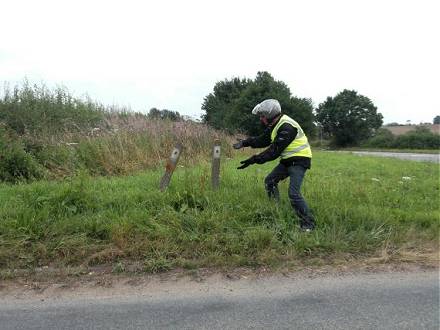 Then we had a closed road sign but no signed diversion, we made our way to Belton (There is one near Gt Yarmouth); after this I was well confused as the instruction said 'under M1 long road to Belton', we had left Belton had a long run and went under the M1! (Has he got two left hands or did he stand on his head when typing up?) Then it started to rain as we headed for the next stop at Siesby. We headed to Oakham but ignored the route as we started to see signs for Rutland Water. Three wrong turn-ins later we finally found the visitor centre. Keith was already there and a call to Carl to check where he and Matthew were? The reply being they were only about five minutes away from us. Matthew took the two left hand ribbing in the spirit it was given, we had made it without the use of a decent map (probably not a good idea). The 'Track Spare' Novio was unloaded.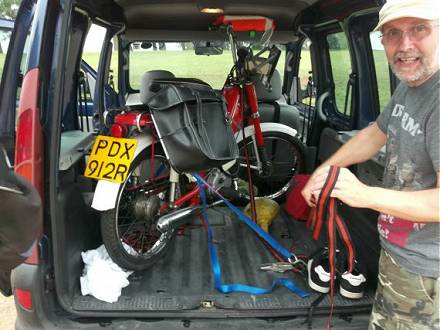 We set off and Carl wasn't having any of the following our route and made up his own route towards Grantham, which was very busy, he then carried on leading, which was OK but Jim and Mike weren't to be seen (we had stuck together all week). We returned and Mike had survived a throttle sticking open moment but it now seemed OK. Carl carried on leading but had to be corrected at the instruction: 'at RB straight over A15' (the foot/cycle bridge is safer than the roundabout Officer) we arrived at the TL with about an hour to spare for the 8:30 food deadline. Great evening in the Globe where we were joined by Harvey and Jill and John Truluck, who said he would be back in the morning for breakfast and ride part way with us.
---
Day 6
Breakfast in the adjacent Little Chef where we were joined by JT on a very nice Sunbeam scooter; John led for the first part through Wittlesey then bid us farewell (pressure back on) to carry on across the Linconshire flat lands where there was much evidence of flash flooding in the area. First stop was Friday Bridge (but it's Saturday) and on to Outwell. I thought I had it sussed after the off-road bit going out but we arrived in Outwell from a different direction, right at roundabout didn't look right, and the guy walking down the road (sounded German) didn't know. Turn back and ask at garden centre: 'Yes, that's the way to Edenbridge' (not on the sign). Next stop was to be Castle Acre, instruction on way out was 'onto main road, turn right, then first right off again', there must be a short cut! First option was signed 'ford' so I opted for the flooded road, next left had us going over a foot/cycle bridge where we had an excellent view of the ruins.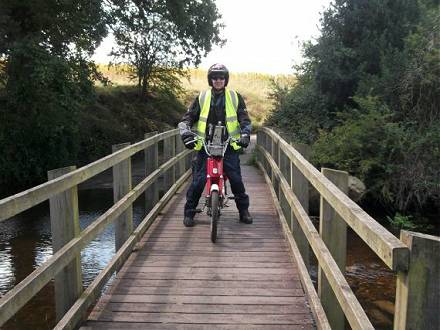 Tea, coffee, & cakes enjoyed outside this time. A good run to Bawdeswell for the next 'leg stretch', Jim did his bit through (phone rings, it's Jim, how scary is that?) Lexham woods, me again through Reepham, out on the Norwich road, check, then miss the next turning (how embarrassing, lost in Norfolk), a bit of a double back meant we had lost Super Snapper Matthew who got fed up waiting and went home. A 10-mile detour (just what you need ... not ... after nearly 700 miles) and we were at the Starting Handle Club event at Marsham. Driver Keith was there as always and a phone call to Hoppy Keith (Day 1 visit) soon had us into the event thanks to Sid. Mainly a tractor event, complete with tractor pulling, some cars and bikes, we met a Norfolk member who informed us the latest edition of Buzzing was out. Ice creams at Potter Heigham cost me as the others had to promise not to tell Matthew about my visit to Feltwell Woods. Through Martham to Winterton where we met up with Matthew again for pictures on the coast.
We returned to Martham and unloaded the van, including my spare (not required) Peugeot Vogue. Mike's and Jim's bikes were loaded in the van together with their sinned bikes; we had a cup of tea and thought it was all over! Somehow, my bag had been put back in the van and was dropped off at Jim's (Ipswich) which needed a 120-mile round trip to pick up where the Moby was already on the bench with the carb stripped.
---
In conclusion
I would like to thank my fellow riders for their fantastic company; they made the organising easy with their early commitment to the event, JB for his solo ride to Martham, Dave's wife for accompanying him up to Norfolk and then having to return to their Brighton home. Mike for the use of the van and his (Soapy with a pipe) father-in-law Keith who did an excellent job: always being there for us, sorting out our petrol requirements, booking in Travelodges and being the Kitty holder, etc, etc. Jim Davies signed on the sheet every day, LOL, great company and I hope I can still get my leg over (a moped) when I am 73. Thanks to Keith Garner, John Truluck, Harvey & Jill Spencer, Ian Harris (and mates), Matthew Hodder, and Carl Squirrel who all helped to make it a very enjoyable event. Must also say no complaints at all with the Travelodges, most of which have recently been refurbished (cheap if booked early and you know exactly what you are getting).
More pictures on www.flickr.com