Ted Bemand was the main man and was ably assisted by Doug G with the organising of the event; most rode their machines to the Liverpool catamaran terminal for a 9:00 sailing and B&B accommodation at the Wellbeck Hotel, Douglas. A plan was hatched whereby I would join John Burgess at Crewe and we would depart at a later time on the ferry from Heysham, travelling in his campervan and staying at a site about three miles from the town. Ken was also on our ferry, riding his Moby 50V about 20 miles from his home. A delayed departure and a four-hour crossing, we headed straight to the hotel for a drink and to see what the itinerary was, then off to the campsite where there was plenty of room with only one other caravan on site.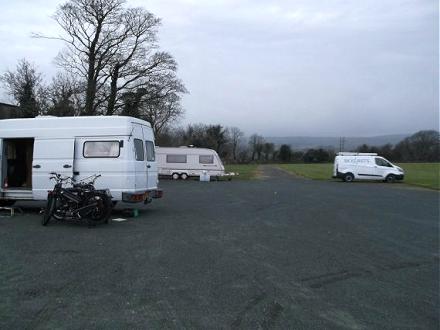 ---
Tuesday
We woke to a dry morning but it was looking very black over the hills; it was off to the Grandstand for a 10:00 start. Only Ted there with his Honda 400, then, as the others arrived, it was good to see a very varied selection of machines arrive. As well as Derek and Andy on their immaculate New Hudson old styles and Jim on a Re-styled to add to our Francis Barnett and Bown autocycles, Clive and Ann Fletcher were also there on the trusty Lifan. Martin and Alan had left the hotel early and were nowhere to be seen, so we set off without them.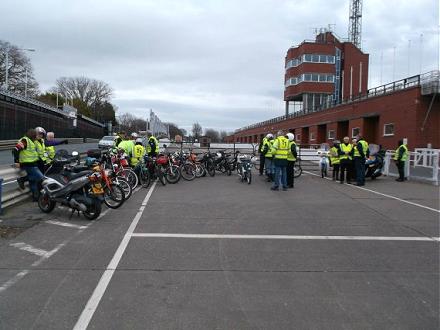 We passed our campsite and it wasn't long after when I stopped with a small group as Jim was having fuel problems with the Re-styled. Martin and Alan on the New Hudson old styles had tried to do the course early and doubled back as Alan's bike was unable to climb the mountain and JB was nowhere to be seen, eventually arriving after having plug issues. We set off again and we all got split up with bikes of varying abilities. We regrouped at the ARE Museum that had opened up for us.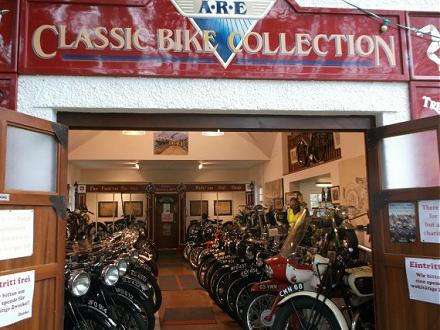 From there it was to be a café stop just down the road but, as I came upon a bridge which, to be honest, was about the only part of the course I knew about, seeing videos of bikes leaping over there so a picture had to be taken. Then it was off to Jurby where there is an industrial unit, which is aptly named Jurby Junk, and then to an excellent meal in what looks to be an old Nissan hut and a double back to return to the course.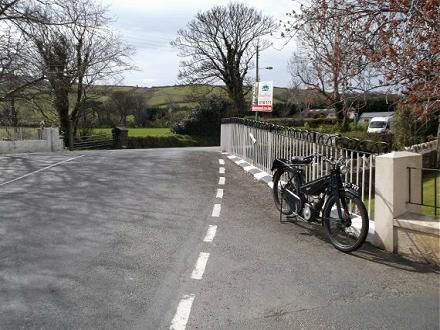 Next regroup was to be Parliament Square at Ramsay; I was towards the back of the group and when Ken and I arrived there was nobody there, so we carried on the Mountain course. Hair Pin and Goose Neck were OK, a couple of LPAs, then HPA and I reached the 26-mile marker which is in tribute to Joey Dunlop. I had to have a break ... another go and I stop again with Lol, who was struggling on a Novio. Ted was on towing duties, and I was pleased that I made it to the top unaided and down to Creg-Ny-Baa where everybody was waiting. Everybody that was except for Ted who had gone back to find Jim on the Re-styled.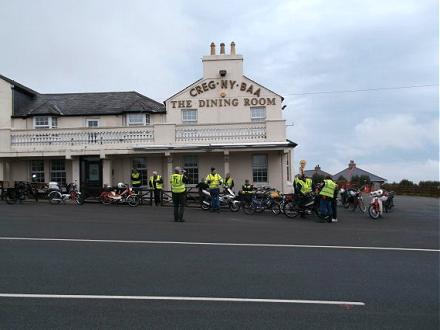 Some debate as to whether we divert to Laxey or not, eventually the consensus was go to the finish and those that wanted to visit the largest industrial waterwheel in the world could do so if they wished. So the course was finished and some of us went to visit and, in my case, arriving just as they were shutting, a quick climb to the top just had to be done.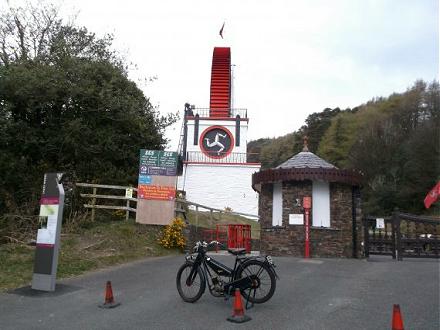 We made a small detour to visit the harbour and it was back to the finish line and return to the campsite. We decided to walk to the nearest village that evening, which was a fair distance and, as the pub was in sight, a bus came along which was flagged down and we had an enjoyable evening with the others in the Wellbeck. We returned to the camp site on the last bus, which departed at 11:15pm.
---
Wednesday:
We woke to rain and weren't keen to depart, the plan was to meet the gang at the hotel and to visit the south of the Island. A bit late we went for it but just missed the others who had just departed (we did see Ken who was apparently looking for fuel). Just before Castletown we met some of the guys at a filling station and rode with them and, thankfully, no more rain.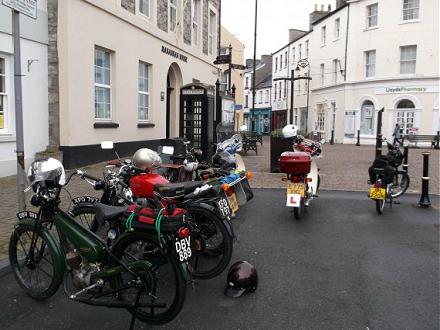 A walk around the town, castle and harbour and a visit to a café were all very enjoyable. We seemed to have split into two groups with the others going on ahead, a gentle ride around the bay with a photo stop and on to Port St Mary where we met up with Clive and Anna, who were not on the Lifan due to the early morning rain.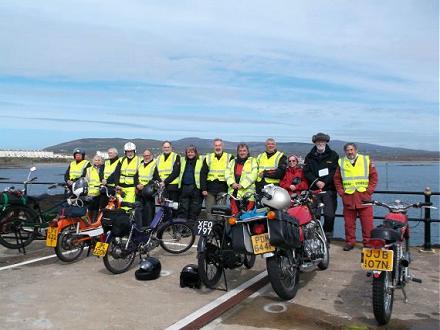 We headed back along the other side of the Island and made a detour to a remote spot that had a café and was bathed in sunshine, a very long steep decent is very nice but the climb back didn't look very autocycle-friendly especially as there was nowhere to get a run at it. We all made it and headed for Peel. Along the way we were flagged down by Clive who was keen to show us the view from his camper and we were invited to stop and were kindly supplied with tea and a cake by his host; sitting on the sun-drenched patio with an uninterrupted view to the sea was a very nice interlude.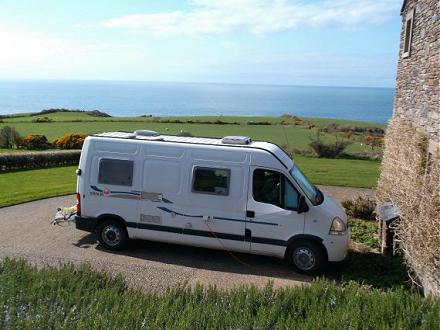 We then had a short run into Peel for our scheduled stop where ice creams were enjoyed and a wander about. It was then a return to Douglas; we turned off at our camp site and then it was soon off again to catch the bus and to join the others for a meal as this was to be our last night together ... and a good night it was.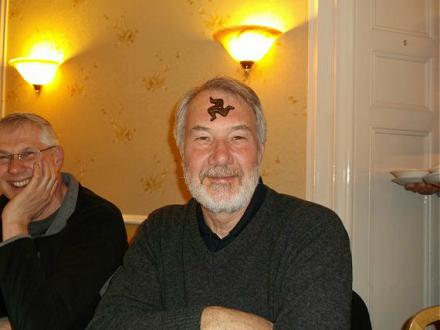 ---
Thursday:
With no run as such planned, it was to be a visit to Peel in the morning if required, we had been there but we hadn't done the course in reverse! JB was up for it but not too many others; I did get some interest and it was to be 9:00 at the grandstand. Three did turn up (including the Novio that struggled) but they wanted to do the course proper so they set off.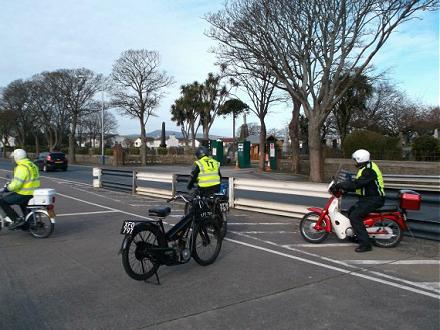 This left just JB and me (my thinking behind doing in reverse was we would avoid the steep mountain climb; to me there was nothing that resembled that climb coming down). So the mavericks set off and it wasn't long before we were at Creg-Ny-Baa. JB was in front but slowing; my Bown just got on with it and, with just couple of spins of the pedals, made it. John did a fair bit of pedalling and had to get off and push for a bit and we took a break at the memorial to Joey Dunlop.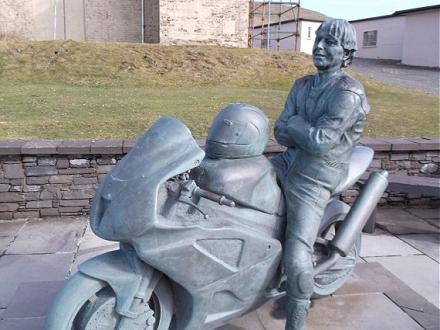 Going down the mountain was, for me, the best part of the course with fantastic views over Ramsay and across a valley that are missed on the way up. We met and had a brief chat with Martin on the New Hudson who had gone ahead of the other two. Then, just as we arrived at Parliament Square, we met Lol who had struggled on the run Tuesday and Doug on the C90 Cub. (Me and my big mouth had earlier said where is the challenge in doing the course on that? I have Emphysema. Oops, sorry Doug).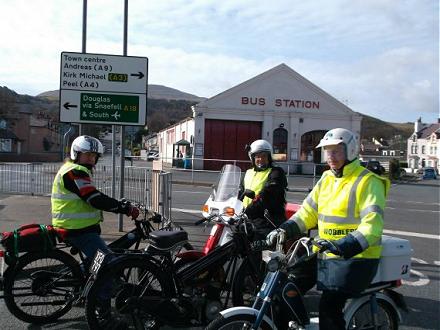 From Ramsey it was all plain sailing for the Bown, just a bit of LPA for John coming out of Kirk Michael on the Francis Barnett. They both have the same power unit and were using fuel out of the same can; why does one run smoke free and the other smoke like a train? As we were nearing the end and the road was getting busier and we (I) came to some road works John was nowhere to be seen, his spark plug had not just come loose but came completely out of the head and was hanging by the lead, he just screwed it back in (hot) finger tight and we arrived back at the campsite.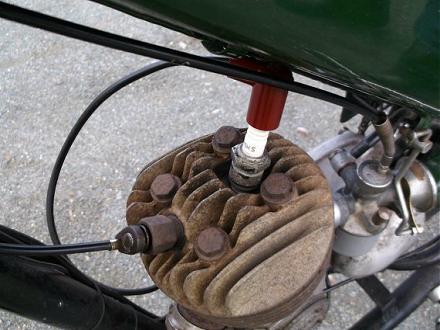 Unfortunately it was time to load up and head back to the Port at Douglas; we had some time to spare on arrival and had a look around the other side of the bay, see the electric train station and a walk to the top where we saw the catamaran arriving on the dead calm sea (unlike when we arrived). The catamaran is certainly a fine vessel with plenty of room and sped us to Liverpool in 2½ hours.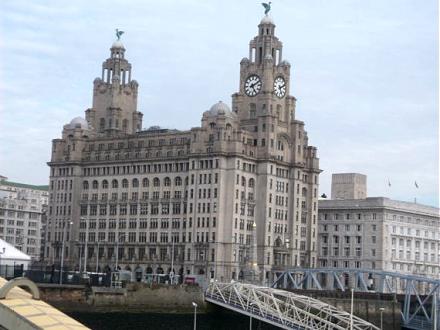 Back to Crewe where the Bown and my gear was unloaded and together with my Sachs-powered Sparta that JB had collected and stored for me was loaded into the mighty Vectra for the onward journey to Martham. Four road closures for overnight works and an altercation with a lorry made it the journey from hell but we made it home.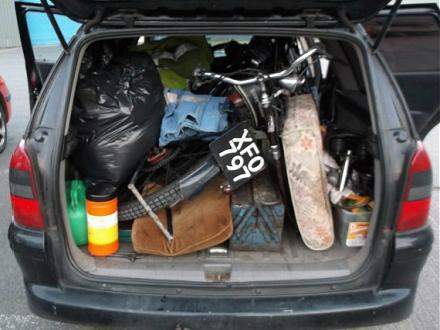 In conclusion I must say the biggest thanks have to go out to John Burgess who put up with me from Saturday evening and also taking me along for a Shropshire Buzzards run on Sunday, sorting the ferry and camp site, being great company, and making this a very enjoyable event. Thanks also to Ted for organising the event, Doug for his help, fellow riders (some whom I had met before and some new) the proprietor of the ARE Museum, Clive and Ann's friend and basically everybody else we met, (shame about the nutter on the bus). It was certainly an event not to be forgotten for a long time.
More pictures at: https://www.flickr.com/photos/40103650@N04/sets/72157649680315164/