A lukewarm response to the sixth of our big runs hotted up at Carl Squirrell's (organiser of the first two) house just after Christmas, until then I just had Dave Wickens (rider) and Matthew Hodder (back up) confirmed. Jim Davies and Phillip Chenery committed again and Keith Backhouse was approached, he said straight away he would like to join in. Game on. Shortly afterwards the itinerary was roughly (very) sorted and the Travelodges were booked. I was to lead on Day 1 and the other DW very kindly offered to do five days for us and, new boy to us but not to biking trips, Keith Backhouse said he would do Day 7 and that was it sorted.
I had decided the normal mode of transport my PC50 (not touched since last year) would be left at home as would the super sub NVT Easy Rider (it's got to blow up one day) and break with tradition and use autocycles.
Jim Davies (Ipswich) and Dave Wickens (Burgess Hill) arrived on Saturday and we had a good catch up and a meal at Hemsby before they retired to a chalet that had kindly been loaned.
Day 1: Sun 30th July
Phil arrived early with two bikes and was unloaded; when the others arrived just before 8:00am, spare bikes, petrol cans, bags, etc, were soon all loaded into Matthew Hodder's Kangoo and on to my three-bike trailer, we were all ready and left Martham at the planned 9:00 start time.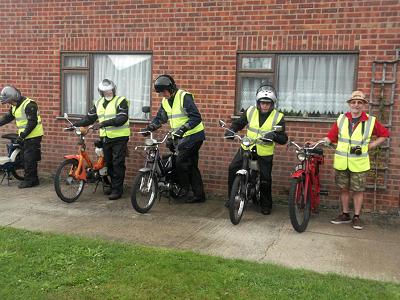 It wasn't long before there were only the two of us! Phil's normally super reliable PC50 had conked with an oiled up plug; he got it going again and we carried on to Bacton for breakfast (highly recommended), straight on at Cromer were Matthew Hodder had pulled into the car park and on to the first of the Wells: Wells Next To The Sea on the north Norfolk coast.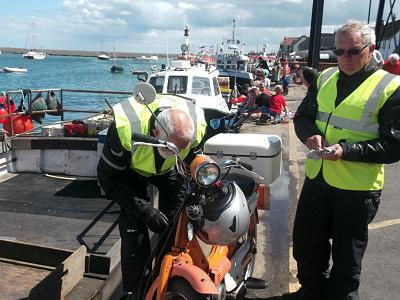 Phil checked his oil and was using an alarming amount; we had a pleasant break chatting to the many visitors in the brilliant sun and just as we were leaving a fellow EACC Norfolk section member introduced himself; we set off and it started to rain (to save boredom I won't mention Phil's oil refills or the times it rained again). We headed to the Sandringham visitor centre, via a photo opportunity at the main gates, for afternoon teas and a refuel (about the only time we arrived before Matthew Hodder). Through Kings Lynn and out of Norfolk to Sutton Bridge, Lincolnshire for another top up. Next stop was to be our Travelodge at Spalding were the bookings were OK (always a bit of a worry, but must say we have never had problem); the legend that is Matthew Hodder had taken the bags to the rooms and the kettles were hot.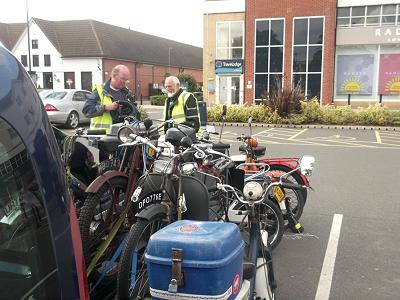 A walk into town and our first 'Spoons of the week was visited.
Day 1 pictures at: www.flickr.com/photos/40103650@N04/albums/72157684556030914
Day 2: Monday 1st August. 145 Miles
With no eatery on site and knowing what we know from last year's run we headed for the truck stop near Colsterworth for a hearty breakfast.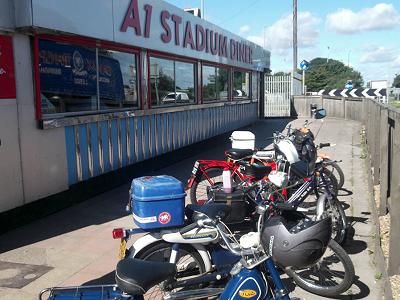 Not many photo opportunities today but we did stop for a leg stretch in a pretty village where the Bown was in stealth mode.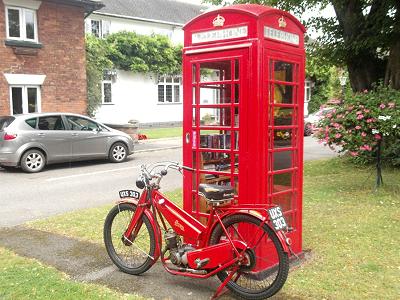 We called into the National Memorial Arboretum which is worthy of a proper visit on another day but we just visited the café area. Through Channock Chase and onto the Telford Travelodge that we had been too previously.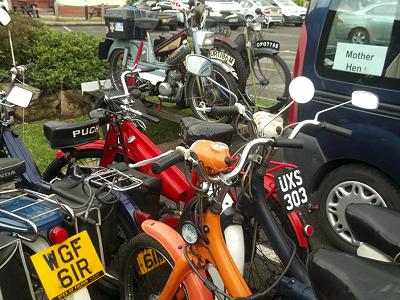 Very handy for having an adjacent Toby Carvery.
Day 2 pictures at: www.flickr.com/photos/40103650@N04/albums/72157687221029285
Day 3: Tuesday 2nd August
Breakfast was taken in the Toby and it was good to have our saviours from last year, Clive and Ann Fletcher, join us for the day. We headed for Ironbridge via a leg stretch stop to take in the view of the winding river Severn. We pushed our bikes over the bridge and parked up and had a nice walk about.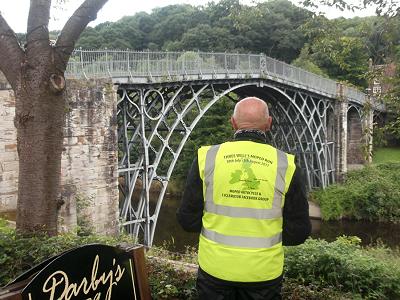 We then went through the Shropshire Hills area which was a real challenge for some and I was glad I had chosen to ride the Bown as there was only the one hill that beat the autocycle (and me).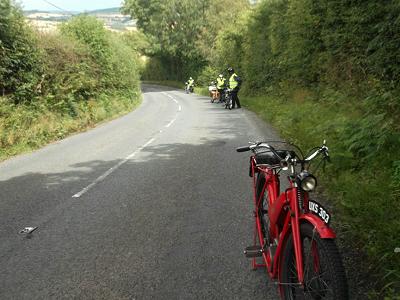 Matthew had reached Craven Arms before us and found us the Museum of Lost Content where we made good use of the refreshment area and we added to the honesty box.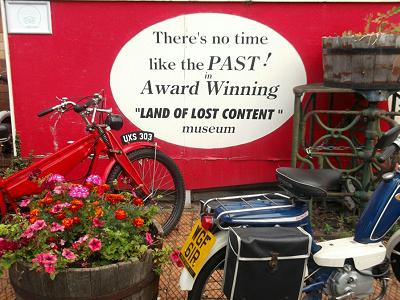 More hills and bike issues in the wet but we eventually arrived at Llandrindod Wells, our second Wells of the run and a visit to the National Cycle Museum where it was almost closing time but the kind lady stayed open and allowed us to bring our very wet machines inside. She was pleased to see the Bown and knowing it was from Wales asked to take a picture.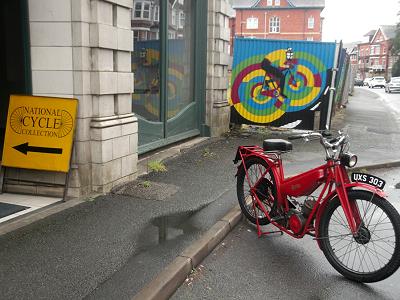 From there it was to be Hereford Travelodge and a short walk into town for the Wetherspoons both of which were visited on the first run, seven years ago.
Picture overload at: www.flickr.com/photos/40103650@N04/albums/72157687296282105
Day 4: Wednesday 3rd August
Bit of an easy day today, ideally I would have liked to get to Bristol but the Travelodges were not moped friendly, ie: next to motorways and expensive, so we were booked in at Stonehouse.
A relaxed breakfast at Sainsburys and we headed to Tewkesbury and parked up for a look around.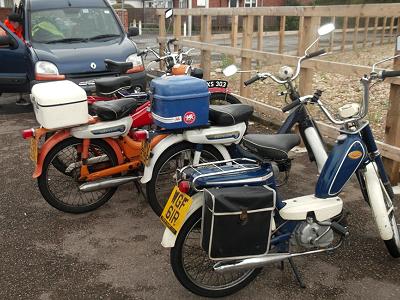 We visited the Abbey…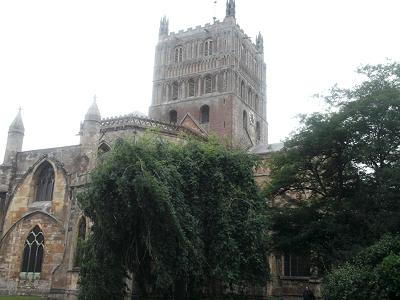 … and generally chilled.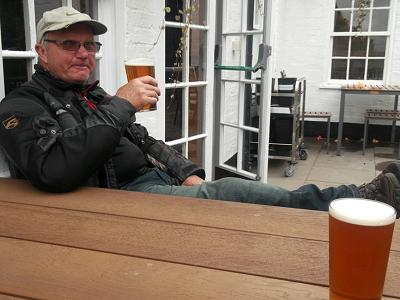 Then we headed to the Stonehouse Tavelodge, another with no eatery on site but no problem as the nearby village had two pubs and we enjoyed a nice meal in the quieter one.
No other pictures today.
Day 5: Thursday 3rd August
The day started early for some! As mentioned on day 1, Phil was using vast amounts of oil in the PC50 and it also kept cutting out (with a clean of the plug it would go again) so his spare came out of the mighty Kangoo and the PC50 went in. With no eatery on site we were going to depart at 8:00 then somebody remembered Clive & Ann were going to join us again, so we waited until 9:00 for them and stopped at a garden centre for breakfast. We were heading for Clifton when Phil missed a turning and went down a large hill and under the bridge (not in the plan), Clive & Ann to the rescue but he did have to come back up the steep hill again and his spare bike was not performing well. I had never seen the bridge before and the others had to wait while I took some pictures.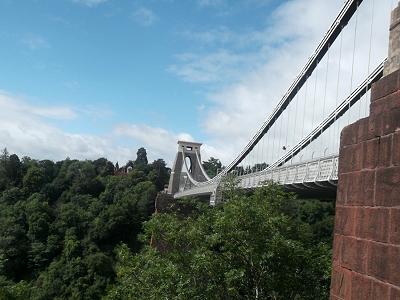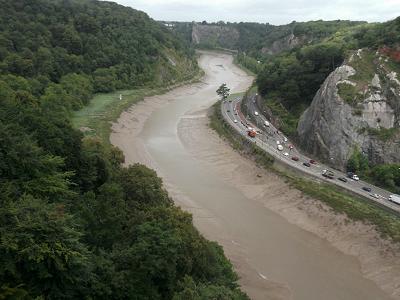 Dave then took us to the dock area for a visit where the SS Great Britain is a popular tourist attraction; it was a bit hectic leaving the town and we headed out towards Cheddar Gorge. Phil was struggling with the head wind now. Thanks to Dave for including this on the itinerary, he met up with a friend and it was probably nearly 50 years ago when I was last there.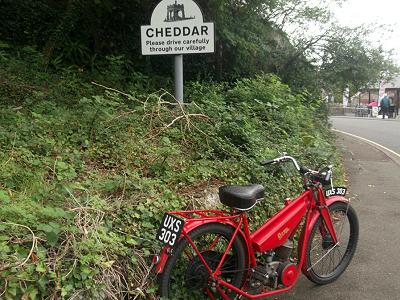 We then proceeded to our third Wells of the week and happened to park outside a shop called 'Insane'! and walked to the cathedral to meet up with Matthew for a group picture.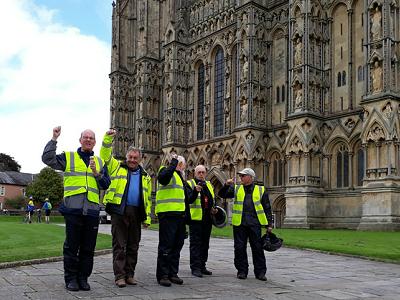 At a leg strech on our way to Devizes, Phil noticed one of his exhaust studs had snapped off and on checking snapped the other one off as well; it really wasn't his day. As if that wasn't enough it was Curry night at 'Spoons!
What a great Day! My pictures are at: www.flickr.com/photos/40103650@N04/albums/72157687307495586
Day 6: Friday 4th August
We always knew this was going to be a long haul but it would allow for a shorter last day. After yesterday I think Phil would have liked to be in the car with Matthew but that was not going to happen so Jim loaned him his Honda and he would ride his spare Moby and I would rest the Bown and ride the New Hudson. Clive and Ann and local Roger Kirkman were to join us for the start of the day.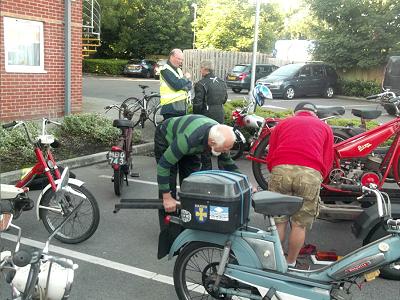 Roger rode a few miles with us then peeled off; after he left us we stopped and Jim's Moby didn't want to play anymore, Matthew had been for petrol and was behind us so the Moby was reloaded, we said goodbye to Clive & Ann and Phil would have to persevere with the Graduate. We stopped in Wantage for a nice breakfast at the 'Buzz' café.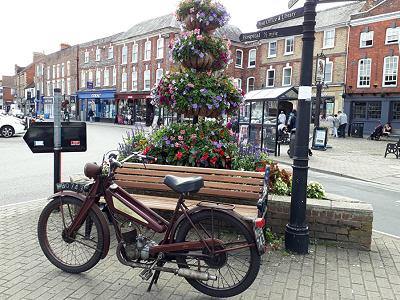 At a leg strech and a look in the church Dave's normally super reliable Puch, Maxi didn't want to start but, after a plug swap, was fine.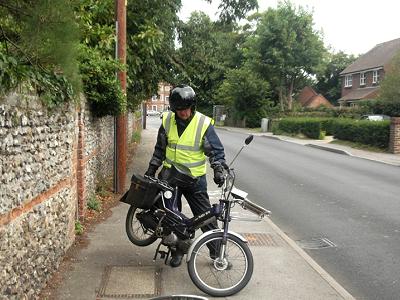 We did several miles on the busy A507 and, at a leg stretch, stop I persuaded Dave to take us on a more rural route; this would involve doing a few more miles but I was happier doing this as we were heading for the A505 that I knew would be busy past Duxford, especially at the junction with the M1. At Saffron Walden we had to find our own petrol then, with it coming over really, dull we followed Keith's sat-nav to the Fourwent Ways Travelodge. Matthew had delayed the booking in the nearby village pub by half an hour! We just locked the bikes up, chucked the helmets in the car and walked to the pub and arrived spot on at 8:30.
It had been a long day and not many picture opportunities just a few at: www.flickr.com/photos/40103650@N04/albums/72157684823423304
Day 7: Saturday 5th August
Breakfasts were taken in the adjacent Little Chef and then it was time for our new boy to have a go as leader and give Dave a break (he loves it really). We set off and all was well until we came to the first planned break! Mr Leader missed the opening and the waiting Matthew, we went back and it (truck stop) was closed anyway. We pressed on and stopped for a leg stretch amongst freshly harvested fields, the next planned stop was to be Old Buckenham Airfield.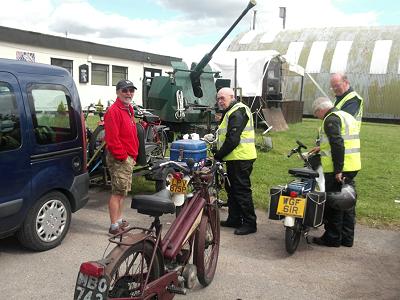 A nice break where tea and scone with jam was only £2. Matthew 'easy life' Hodder headed to Martham from here. We had an unplanned stop when Dave's freewheel wasn't any more and became a fixie; he simply removed the split link and dropped the chain into a pannier without getting any grease on his hands. A pee stop in Loddon and onto Reedham Ferry when it started to rain (oops, I said I wouldn't mention the rain).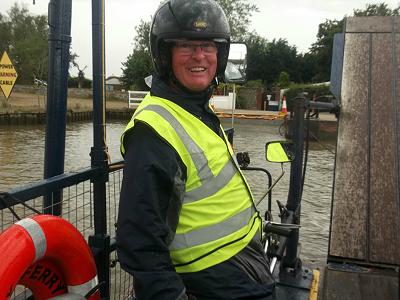 Did I mention it started to rain? Well at Moulton it chucked it down and for whatever reason Keith's Novio conked out (just as it did in the pouring rain heading for Llandrindod Wells) the others had gone on. Keith changed the plug then drained the carb, he was determined it would get him to the finish which I am glad to say it did.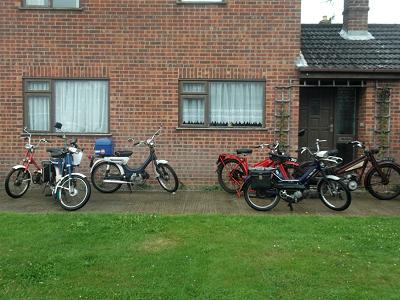 We all made it, 840 miles in total over the seven days.
Day 7 pictures are at: www.flickr.com/photos/40103650@N04/albums/72157687513711985