Preamble
Based on the two runs that Carl Squirrell organised (that spawned from the 2008 Lands End to John O'Groats), where a small group plus back-up would stay at pre-booked Travelodges, this was to be the fifth event that I have organised. As previously it helps if the others commit early and, in this case, it was Matthew Hodder (aka Mother Hen) back up man who was actually the first. Five riders in my opinion is a good number to keep together, doesn't cause too much congestion on busy sections and to book the three rooms.
My first event was Yar(mouth) to Bar(mouth) when we rode up to Portmadog in three days and returned; my one regret was not spending a bit more time in Wales. When we went to Caernafon and onto Angelsey a couple of the riders would have liked to visit the Castle on the way back. A plan was hatched where we would ride to Portmadog, have a day off the bikes, and take the train to Caernarfon. I was lucky in that the same four other riders as last year were up for another run; rooms were booked just after Christmas.
Decisions, decisions, what bike to use? The option of taking the Easy Rider that had been back-up three times but not used, went when that was stolen. Last year I used two autocycles but both were having issues and my PC50 had not been used for nearly two years and was leaking oil then. Much fettling was done to the Bown and the PC's leak was sorted.
First to arrive Saturday was Jim Davies (Ipswich) shortly followed by David Wickens (Sussex), MH (Martham) popped round and we all went for a meal down the local. Matthew had kindly offered them a stay over at his home. Phillip Chenery and Keith Backhouse both arrived from Suffolk on Sunday morning.
Day 1, Sunday 5th August
Assemble at 08:00, on the road for 09:00, went to plan, and we headed towards Caister on time for our first Castle. It wasn't open yet (I did know that) and we stopped for a photo from the nearby lane.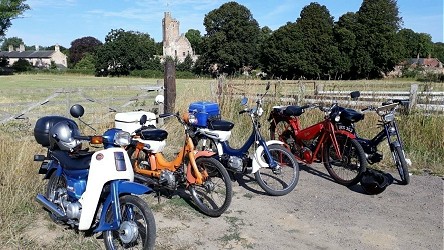 A short hop to Acle just in case there were any early problems (and MH would be going through anyway) and all was well. Next meet with him would be a visit to Swanton Morley. We stopped at Ranworth Broad for a break on what was to be a very hot day. Onwards we found a 'road closed' sign that was not in the plan; it was due to the recently opened distributor road around Norwich but we could get through OK. I was leading but missed a turning and Keith's sat-nav was used to get us via a rural route to meet club member Keith G who has a collection of cyclemotors & tractors and gave us much appreciated drinks.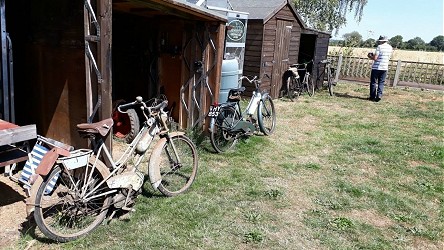 Next stop was at Castle Acre for a leg stretch, drinks & ice creams from the local shop, and a visit the castle; on to Outwell for more water for us and fuel for the bikes. A local came out and recited some of his motorbike adventures and gave us a history lesson. We knew there was no eatery near to our Travelodge so we stopped at Wetherspoons, Whittlesey for a nice meal.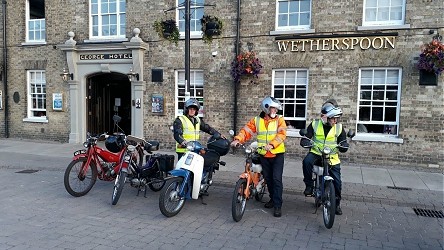 It was to be just a short run from there to Eye, Peterborough for our first night.
119 Miles done and all bikes running well.
Day 2, Monday 6th August, Peterborough to Shrewsbury.
We knew this was going to be a long day! The Little Chef that was at the Travelodge has morphed into a Starbucks so we headed off early to the Morrisons at Stamford for breakfast.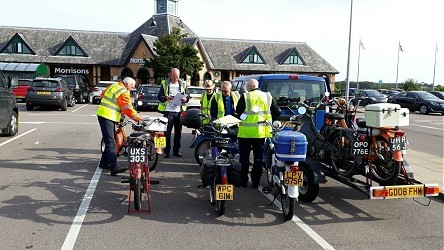 We rode on and had a nice break for lunch at the very hot Sutton Wharf on the Ashby de la Zouch canal. A top up with fuel, lots more rural roads, a stretch on a busy dual carriageway (we saw more of Lichfield than was intended) and it was good to get back on the rural roads again.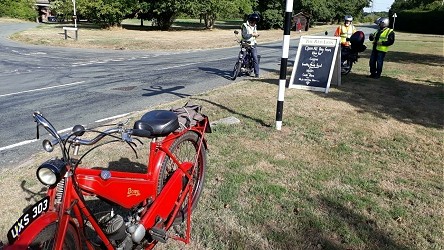 Lots more riding and a later than intended meet with MH, thanks to David Wickens's routing and leadership we eventually arrived at the Shawbirch Travelodge and a meal in the adjacent Two Henrys pub where we were joined by local man Ken Hayes.
165 miles done, not many photo opportunities and all bikes still running well.
Day 3, Tuesday 7th August, Shrewsbury to Porthmadog
Breakfast in the Two Henrys and we were met again by Ken who led us out of Shrewsbury.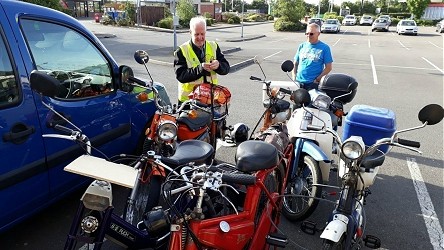 Unfortunately he had an appointment that he had to attend and was to rejoin us later (that evening he said!) We headed for Welshpool for elevenses, then up to Powys Castle for a photo. We headed for Machynlleth and were overtaken by Ken! This was quite a run and we had a welcome break in a café: tea and scone for £2 had to be the bargain of the week. We carried on and stopped at Talyllyn and waited for the light railway train to arrive.
Ken with his local knowledge led us on a nice scenic route up to Barmouth where we crossed a toll bridge that was closed when we visited before.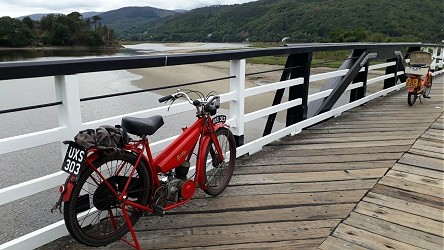 We had a picture by the sign and carried on to the seafront for ice-cream.
A nice ride up the coast road and the Bown that was running well, very well, exceptionally well and then suddenly cried enough. A phone call to MH who had just arrived at the Porthmadog Travelodge and he came back with the trailer and spare bikes. The Bown was loaded (no spark) and my PC50 was pressed into service.
A quick picture before passing Harlech Castle.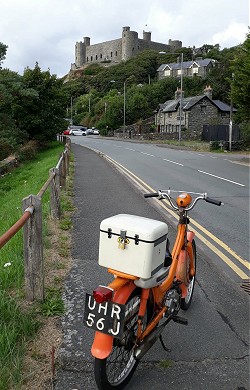 Then on to Portmadog Travelodge, not one of their best locations: on an industrial estate, it was a walk into town and a nice meal in The Ship pub.
A great day riding in lovely scenery and plenty of stops despite the Bown conking out with only 12 miles to go on our 130 miles for the day.
Day 4, Wednesday 8th August, Porthmadog to Caernarfon.
A day off for the bikes and a day off the bikes for us.
Everybody was up for a ride on the Welsh Mountain Railway; we walked into the town and purchased our tickets and had breakfast in the station café. After two really hot days and one not so hot, today started with rain but we hadn't been on the train long when, thankfully, it stopped.
Advertised as "One of the greatest train journeys in the world" we were not disappointed.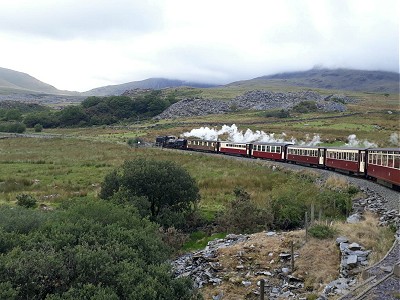 Most of us visited the castle and, by the time of our regroup at 2:30, we were fully Castled Up and gasping as there was no café within the grounds.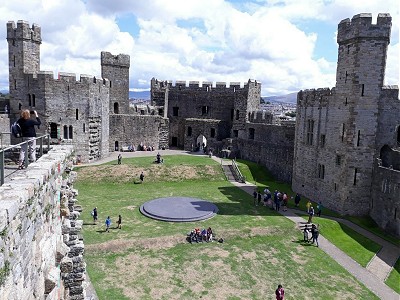 We checked out the bus times, had a coffee or tea and scones and some decided to go back early.
Jim, Ken, and I ambled around the harbour area, a newish development area (where we had stayed at the Travelodge) and back to the Castle Square area before a meal at the Wetherspoons and catching the bus back.
Nice to have a chilled out day off the bikes.
Day 5, Thursday 9th August, Porthmadog to Telford.
A brilliant bright start to the day and a nice breakfast in the newish café on the adjacent industrial estate.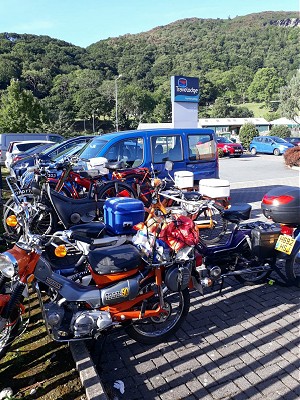 Ken had stayed over with us and was to be our leader for the day with his local knowledge. He led us on some lovely rural roads and we stopped at a farm shop for elevenses. More rural roads and onto the busy Llangollen where Matthew topped up the bikes and we had a nice walk about.
Then a short run for another stop and a walk over the Pontcysyllte Aqueduct to take in the fantastic views. We carried on to Ellesmere for another break, refuel of the bikes, and ice creams or tea.
On to the Telford Travelodge where we arrived early and Ken joined us in the adjacent Toby for a nice carvery meal. We all thanked Ken for his input into the trip and he headed off home.
A lovely day riding in beautiful areas with lovely breaks. 97 miles done.
Day 6, Friday 10th August, Telford to Spalding.
We knew this was going to be a long day and thanks again to the other DW for plotting the route and leading us. Consensus was to make an early start and find somewhere en route for breakfast. MH found us a nice café in Eccleshall.
We carried on and while we were heading for our next meet up with Matthew there was an incident and the rear of my bike received a bit of damage but Keith's Townmate came off worst with bent forks;, then it rained. We met up with Matthew and it hammered down; fortunately he had pulled up at a small farm shop with a tea room. Keith's bike was deemed unfit to ride and it was loaded on to the trailer and the spare Moby was pressed into service in the rain that had eased—but we had to get on.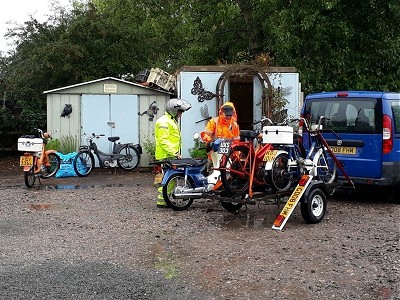 The rain stopped and by the time we arrived at the Wymondham windmill and tea room we had ridden ourselves dry.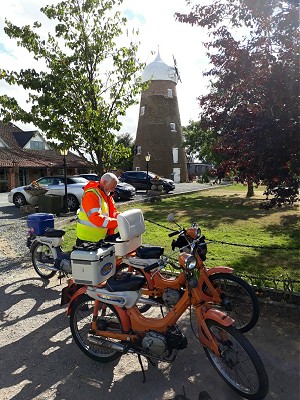 We arrived at the Spalding Travelodge and the plan would have been to go into town for the Wetherspoons, but we were running late so we went in the adjacent "The Kitchen" for a meal. During the meal hands were shaken and the spare Moby that was running well became my latest acquisition. A long day with not many photo opportunities and the only time we had rain on our riding days.
165 Miles done.
Day 7, Saturday 11th August, Spalding to Martham.
Back on familiar territory and a much easier day to be led by me. We had an early start and crossed the busy A17 where there are farm shops and cafés either side of the road to meet Mathew for breakfast.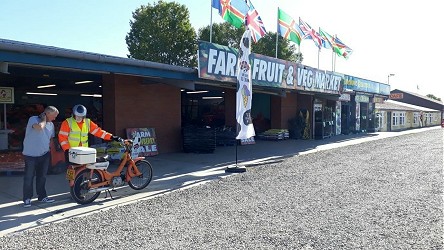 Then just a short run to meet our friend Jim S at Long Sutton, another short hop to Sutton Bridge and then onto the Old Town & Quay in Kings Lynn. Maybe it was my directions but this was the first time we had to wait for MH (we did let him off when he said he had gone into the town for fuel).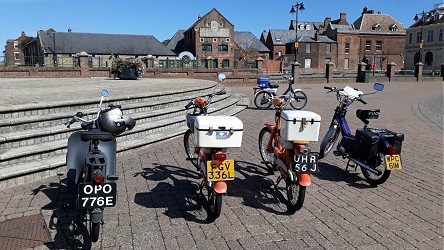 From here it was to be quite a drag to sunny Litcham for a short break and then on to Bawdeswell Garden Centre for a top up with fuel and lunch. This was to be our last scheduled meeting with MH. We had a short break at Buxton Mill and carried on to Potter Heigham for ice creams and were greeted by Matthew and several members of his family. From there it was just three miles back to Martham where it all started from.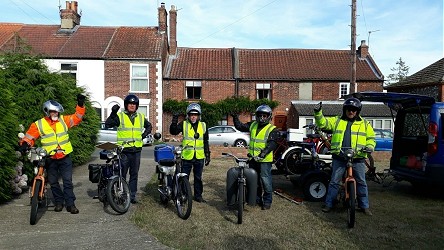 An easy day (no pedalling) plenty of breaks and the sun shone all day. 94 Miles done.
Conclusion
Another great event mostly went to plan and no major issues. Thanks to the other riders and Matthew (the only one who has to book annual leave from something called work!) who all committed to the event early on which does help greatly with the planning and to Ken for joining in with his local knowledge. We were blessed with nice weather all week except for one heavy down pour.
I have said several times that it was to be my last big ride but it appears I lie. Just one more! A completely different take on a Coast to Coast run is being planned.