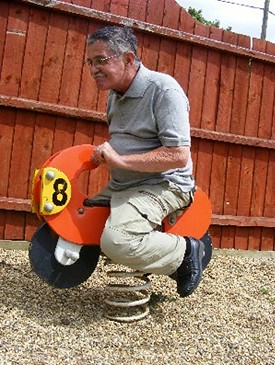 David Evans
3 March 1946 – 3 November 2019
I first met Dave in the early 1990s when my interest in old mopeds started; I didn't know Dave at the time but soon got to know him through our shared interest. Apart from his passion for smart European mopeds—NSU, Puch, Zündapp, Garelli, etc—I knew little about him, other than that he was involved in the printing business and that he was also interested in marine engines. However we soon became friends and went on to enjoy many moped runs together, including an early Coast to Coast ride where, on the first day (which was VERY wet), the dye in his gloves turned his hands jet black which wouldn't come out and that was how they stayed all weekend! And, of course, it was always best to keep some distance behind him on a run otherwise you were likely to bombarded by the contents of his pockets: cigarettes, lighters, tools, phone falling out of his pockets!
Dave's mechanical expertise was legendary and he was always available to help, advise, and supply parts if anyone needed it.
Dave was a little man with a very big heart and he will be much missed by everyone; especially by those in the moped world.
RIP
Carl Squirrell.
---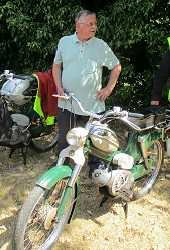 Dave at the 2018
Peninsularis Run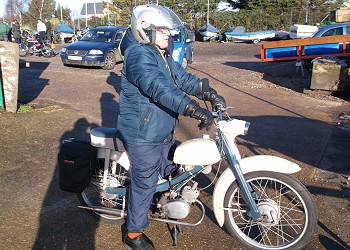 Dave ready to lead
the 2015 Mince Pie Run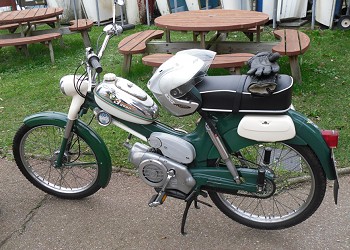 Dave's bike waiting for the start of
the 2012 Mince Pie Run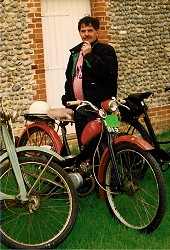 Dave at the 1990
East Anglian Run