CHAMPIONSHIP MANAGER 3. If you are still using CM3 then this info may be of use to you. There are a number of things that you can download to make it a bit easier, here are some that I've used. Click on the files beneath to start the downloads or on the box to visit. the original CM3 crashed all of the time, so to start with you MUST download an upgrade. They install themselves.
The latest upgrade (end June 99) fixes most problems, look in the top left corner when playing the game to see what version you are running.
CM303F_U.EXE This download is 2.7mb and you should only download this if you are running v3.03b, v3.03c,v3.03d or v3.03e. SAVE GAMES ARE COMPATIBLE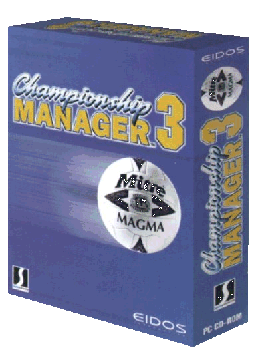 CHEATS
The Ultimate Pre game Editor, This is by far the best editor available. You can view hidden attributes and change all the attributes of players and teams. AS I NEVER cheat, I recommend that you just use this to noble MAN U PLAYERS. It's great to see them relegated
.I have a couple of saved game editors, they are a bit harder to use, than the pre game editor, But if you must cheat then Use one of these virus checked editors.