"Exclusive: Rob Lee to leave club!"
Two more Uniteds battled it out at Kingston Park last night as a depleted R Team turned up their collars, pulled down the brims of their woolly hats, thrust their hands under their armpits for warmth and stared into the Siberian blast we have come to enjoy so much. Steph was wielding her trusty box-Brownie, Mr Steph continued to enjoy the glory of his thermal hiking gear and yours truly combined venomous glances at the hardy press reporters in the heated commentary box with all round synchronized shivering.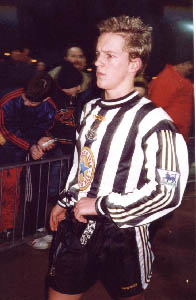 To say that there's a swirling wind at Kingston Park would be to suggest that there is something between the direction of the wind and yourself for it to swirl around; this is patently not the case as it screams in over the North Sea, straight up your trouser-legs, round your swonicles and back off to the North Pole to warm up a bit. Anybody who tried to carbon-date me will no doubt find that I am several hours younger on the outside through cryogenic freezing.
Anyway, enough about the weather, what happened at the Match, I hear you cry. Well, during the warm up (snigger) it was soon apparent that any high balls were likely to land 20 yards behind the kicker when facing into the wind, and would land somewhere in Gateshead when playing with the wind. It was obvious that a passing game would be the order of the day if we were going to learn anything. I watched Robert Lee closely to see if he was still carrying any lingering effects of his achilles injury, but he was moving around well and kicking the ball with considerable power. He was also happy to acknowledge the well-wishers on his way to the changing rooms (of which more later - who says suspense is dead?).
When the Lads came back out it was again apparent that those hard Southerners in the squad were once again all alone in braving short sleeves. Rob Lee and Stuart Pearce affected a nonchalant air as they strolled around, but God alone knows how they managed it. The Team sheet was spot-on and Newcastle United lined up as:
1 Lionel Perez (arse!)
2 Andy Griffin (no sign of Harry Kewell, he should be o.k.)
3 Carl Serrant (is that a Captain's arm band?)
4 Jamie McClen (THE Jamie in the squad)
5 Stuart Pearce (cover the children's ears)
6 Aaron Hughes (why is he back in the Reserves?)
7 Julio Geordio (lots to prove, I still have faith in you)
8 Robert Lee (greyer every day but still my first choice every time)
9 Paul Dalglish (has he been working on that first touch?)
10 James Coppinger (Cop and Coppy to his teammates, keep an eye on him)
11 Talbot (Tally to his mates, taken over from Brady as Reserves winger)
12 Paul Arnison
13 Matt Reed (has Keen left us?)
14 Paul Barrett
15 David Burt
16 David Beharall
I won't pretend to be interested in Rotherham United, but the following players caught the eye for various reasons:
1 Paul Pettinger (usual Super-goalie always present at the Resorves)
9 Richard Tracey (useful player who left Serrant for dead several times)
10 Phil Kangley (crewcut and nasty with it)
11 Andy Monkhouse (tall, gangly, mop-topped, looked like Steve Macmananananan but played more like Ronald MacDonald)
They played in red shirts with white sleeves, so I pretended they were Arsenal (until the second half)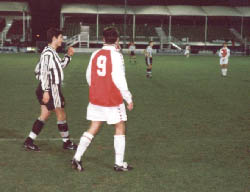 We played the standard Resorves Washing Machine formation, where the players around the edge stay in fairly stable positions and everyone in the middle swirl around so much it's difficult to work out who's who. As I've already mentioned, the wind was so strong that long cross-field balls were as likely to end up as own-goals as anything else (especially with Lionel between the sticks). This didn't deter firing flat, fast. Low trajectory shots over the opposition's defence in the first half, when the wind would slow them enough to drop without running out of play. However, even this was hazardous as a sudden drop in the wind would result in broken greenhouses over the road.
We mostly passed the ball around with relatively short passes, which gave Rob Lee ample opportunity to stretch those muscles and teach everyone a thing or two about close control. Some of his passes were a tad wayward, as you would expect, but he was as game as ever in winning it back, though, like many first team regulars, he expected Premiership time on the ball to start with. Talbot ran tirelessly on the left wing, despite receiving more contradictory advice than anyone else on the Park; obviously being the newbie will take some getting over.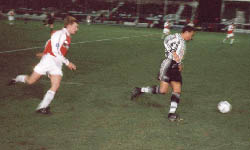 It was quickly apparent that the Lads were out to impress in the first half with the carrot of having at least a supporting role on Wednesday or Saturday dangled in front of their noses. Since this would doubtlessly take the form of an early bath and a chance to get out of that perishing wind, it's no wonder they were playing with some verve. Ruud was in the stand, as usual, and Freddie Shepherd was also alongside, so perhaps somebody is due to be sold. Needless to say, Mac the Mouth was nowhere in sight, and nor were Terry Mac and TSM; look out Celtic.
The best moves in the first half were from Julio Geordio who treated us to a dazzling array of dancing runs through the defenders and powerful shots on goal from the right wing. I counted five, and they mostly scorched over the bar when the amazing Pettinger didn't stop them cold. "Why do they all bring such good 'keepers?" asked Steph, though with a bit of profanity bunged in for good measure. More to the point, how come teams like Rotherham have fabulous Reserve keepers and we have Perez? In the first five minutes Pettinger stopped a shot from Coppinger that we were all applauding as a certain goal and needed to rub our eyes to be sure that it really wasn't in the back of the net.
Pearce provided his usual cabaret of tricks. Steph was sure that he failed to warm up again, but I can't claim to have noticed whether or not that is the case; watch the injury list and we'll let you know! He was his usual uncompromising self with sticking his head where everyone else was only prepared to venture boots. Their No 9, Tracey, "accidentally" kicked him as they fought for a throw in which Pearce won. His instant response was to take a quick throw and "inadvertently" follow through to twat Mr Tracey smartly around the back of the head with his hand; I certainly laughed. When a ball was floated over for Coppinger to chase, it looked like the youngster was about to pull up his run as he raced the keeper for the ball, when the voice of experience from former England skipper boomed out "Keep going, he's fat!" When Psycho took his protests over a turned down penalty appeal too far, the ref enquired as to whom the Captain was and the English Lion bowed his head sheepishly and pointed to Carl Serrant.
This was quite a feature of the game, with very little calling from our side (they miss Elliott in that department) other than Pearce, while the opposition once again kept up a near-constant stream of instruction to one another. Is this a deliberate policy of teams used to playing in an arena where you can't hear a thing over the crowd? Whatever, the defence adapted to the majority of situations despite their remarkably fluid pattern, with Hughes and McClen particularly catching the eye.
The first half ended much like Sunday, with Toon having made all the best running, though Serrant was run ragged by Tracey a couple of times, only for him to fluff the shot. Mr Steph (Jon) was heard to remark ironically "It's o.k, Perez had it covered". We decided that this would feature on anyone's top ten list of remarks unlikely to be uttered sincerely at Toon games.
The half time break gave us a chance to enter the wind-tunnel down the side of the stand where you can buy a plate of chips on a remarkably aerodynamic styrofoam base and watch them wing their way towards the suburbs, or opt for a coffee and a Mars bar. This does not prepare you for the dilemma of deciding whether to a) drink the coffee or b) tip it over your hands in the search for warmth. If you've ever eaten stringy toffee confectionery with a numb face in high wind before, you will appreciate why I now need a hair-cut and can only open one eye.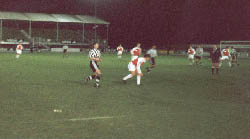 In the second half we were quickly made aware that the lucky winners of the "Resorve Players Most Likely to Feature in the First Team This Week" are Messers Georgiades (hardly surprising after that display) and Griffin (I told you he wasn't playing Harry Kewell this week). Also, Rotherham scored.
This was an abomination. The only shot they had on goal, and the wind dropped at exactly the right moment for it to sail into the net passed the ineffectual Perez (do you get the impression I don't like him?). With the likelihood of featuring in a proper stadium with Heating and some form of windbreak having receded, and even the chance of playing at the Dell (chuckle), the fire went out a bit.
Dalglish kept running, though he was unlucky with the bounce on a few occasions and one of the few highlights was when Pearce managed a powerful free kick which unfortunately did nothing more than provide a Roterham player with a warm leg - I'd have swapped it for one of mine. In the first half, Coppinger and Julio had chalked up plenty of shots, but we had the wind behind us in the second half, which made it far harder to keep the ball in play, so our options were accordingly reduced. The half was also marred by The Tallest Ball-Boy in the World who chose to stand in front of us. When there's 700 silly b*ggers prepared to stand in an icy blast on a February evening, the least they should expect is an unobstructed view of what limited amount of entertainment there is on display.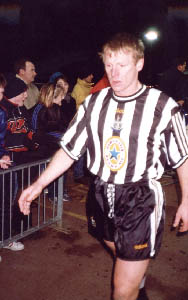 I moved round behind the Roterham goal in an act of defiant optimism (and also to avoid TTBBITW) and was therefore close at hand to observe an unseemly dispute between Pettinger and Dalglish. This had come after Serrant had been upended from behind and tempers were slightly frayed. Paul raced in on a ball that Pettinger was trying to control in a goal-mouth scramble from a Toon cross. This ended with Pettinger cradling the ball and Paul sliding into him. This provoked a storm of four-letter abuse from the keeper (much like hearing my reasoned arguments against the Fourth Estate in the strawberry!) which went unchecked by the ref. The Dads behind the goal joined in with various dark threats about "Fat, Yorkshire b*stards".
However, since Sportsmanship seems to have become a new topic of concern, I am glad to report that when the final whistle thankfully blew and I broke the ice on my jeans in order to make tracks, Pettinger and Dalglish made it up and even walked off with their arms around one another's shoulders.
Well, that's all very interesting Softie, Rotherham won 1-0 and you were cold, but what about this "ROBERT LEE TO LEAVE CLUB!!!" business? Where does this come from? Obviously he wasn't substituted, so he's unlikely to feature in the coming games this week, but how does this qualify him as leaving? The answer, friends, is simple; the curse of Steph has struck again! Having previously managed to put the kybosh on the careers of Ginola and Phileep Albert at NUFC, our photographer has gone and had herself photographed with my favourite player. He can expect his P45 any day now. Now why the Hell wasn't Andersson playing?!?!