(mm-dd-yy)

Newcastle have signed on loan Jose Antunes , known as "Fumaca" in Brazil until December. The 23 year old Brazilian who holds a Portugese passport , therefore like Solano not needing a work permit plays in central midfield. He was thrown in at the deep end last night against Barnsley reserves, and by all accounts had a reasonable first game. So far Fumaca has been to SEVEN clubs in England for trials after turning down the chance to play for Seville in Spain.
He wants to play in England and his club Catauense in Brazil have agreed to give him a year away in England to try to get himself fixed up with a club willing to pay the £500k asking price.
Birmingham were the first club to go for him, He was played out of position in his one and only match upfront for Brummies reserves, Francis wasn't impressed and sent him home. He was soon on his way back to England where Grimsby gave him three games. he scored three goals , Grimsby wanted him but he didn't fancy Grimsby and went for a trial at Derby. That didn't work out and neither did Watford the following week. Barnsley was next on his U K tour , they were very impressed and were about to sign him when the manager was sacked. He then set off for Colchester, where new Newcastle coach Mick Wadsworth was the manager. He was very impressed and played him in a televised match against Man City.15 minutes into the game he was knocked unconscious and spent the next two days in hospital. When Wadsworth left Colchester for Crystal Palace, Fumaca followed him ,. Steve Coppel wanted to sign him but as they are not allowed to buy any players , due to their financial problems he is a free agent. Yesterday he got the call to come North and spend the next two months trying to impress Bobby Robson. Newcastle certainly need another man as cover and eventually as a replacement for Rob Lee., could Fumaca be that man? Well he's made a fair start last night, getting in some good tackles, working very hard, and almost getting on the end of a cross to score.
Lucas Comnineli. on the other hand had a quite game. One of the best players on the pitch was Stephen Glass who is now back to his best. Newcastle played a strong side which included Nick Dabizas, who had a fine game and also Shay Given making his first appearance this season. Robinson was hot again almost scoring the first goal, his shot rebounded off the keeper and Coppinger who was even hotter netted the first goal. Coppinger also got the second just before half time, The third and final goal came from Robbo shortly before the end of the game. Newcastle won 3 - 0 with many fine performances, notably Glass Coppy, Robbo and Dabizas All should take some part in Tursday nights UEFA cup game.
With the midfield now looking stronger all that is needed to ease Bobby Robson's injury problems is another striker. Again he will be looking in the bargain basement , with the News that Ketsbaia will only be out for 6 weeks and Dunc for 3, he is unlikely to be spending much.
34 year old Karle Hienz Riedler almost became a Newcastle player after a late bid last night, but Riedle preferred the promise of regular first team football with Fulham. Other targets include out of favour Milan striker, Maurizio Ganz.. South African former Leeds player Phil masinga, Dutchman Peter Van Vossen and Crystal Palace youngster Clinton Morrison have all had enquiries made about them. Undoubtedly though Bobby Robson would like to bring in Kieron Dyers old team mate, 20 year old Dave Johnson,. The first division top scorer would though currently be out of the chap and cheerful price bracket, having also had a £6 million price tag put on his head by Ipswich town. I wonder if they fancy a straight swap for Duncan Ferguson?
And finally after loads of heavy advertisements and slightly reduced ticket prices, the UEFA cup match on Thursday night is now a sell out. The new predic t it girl is predicting a good win , I'll be staying sober for this one to bring you a match report in the early hours of Friday morning..... as long as we win.
Sunday 26th September
The injury crisis deepens as Ketsbaia could be out for months. With Duncan Ferguson also out until November, Bobby Robson is to hold talks with the board in an attempt to get funds for a new striker. It is believed that another central midfielder is also high on Bobby Robson's most wanted list.
Up to £13 million could be made available for two players after Newcastle United last week secured a £55 million bond from city investors using predicted season ticket sales as collateral. The bulk of that money (£42 million) will go to pay off the loan for the ground improvements with Barclay's bank. The other £13 million was earmarked for investment in the youth Academy and other future developments, however this could be diverted into the transfer kitty for Bobby Robson to borrow from until such a time that the surplus players such as Maric and Ferguson can be offload.
Armed with £13 million, the main questions is just who will he go for? A cheap striker such as Stoichkov (Free)or Spanish oldie Guillermo Amor, who could be available for a cut price £1 million , would give Robson's funds for a top class Midfielder.
High on the list is Luis Enrique, who has been linked with a move to Newcastle over recent weeks. he would cost in the region of £12 million, a lot of money for a 29 year old.
Then again the emphasis could be on a top striker and a cheaper midfielder. Robson was watching Leicester last week and with a striker the number one priority Emille Heskey looks a very likely target. It has been suggested that he could be planning to use Dabizas as bait. Leicester are looking to strengthen their defence and have previously made enquiries about the classy Greek.
but If I were a gambling man I would plump for Van Nistelrooy. The 22 year old hotshot who is top scorer in Holland would cost a wopping £12 million from PSV. He would surely be Robson's first choice if he had the money, and the player himself would jump at the opportunity of joining Bobby Robson and Newcastle . That would leave Robson with only a million to strengthen the other weak area, CENTRAL MIDFIELD. With Rob Lee out, who would we play if Gary Speed is injured? Don Hutchinson would be in the price bracket , but a new name today comes to light
PAUL GASCOIGNE....rated 11/10 in a recent Pizza restaurant poll is available.
He stormed away from the Riverside last night after getting sent off for swearing at the linesman. Bryan Robson is said to have finally run out of patience with the daft geordie, and phoned a number of clubs offering Gazza to them at a discount ONE MILLION POUND. Newcastle were one of the clubs contacted, and Bobby Robson may just be the right man to finally get Gazza to calm down, get fully fit and get into the England team once again.
Saturday 25th September
Newcastle narrowly lose 3 - 2 to Leeds united, full details on AWAY THE LADS.
As well as the disappointing result, Ketsbaia's injury leaves Newcastle desperately short of cover up front. With no money in the Kitty, it's either sign an older player such as STOICHKOV (Scroll to bottom of page) or select a youngster as cover
The under 19s and the under 17s both played on Saturday. Notts forest were the visitors to maiden castle where the under 19s drew 3 - 3, with second half goals from the impressive Shola Amoebi, followed by up and coming David McMahon and finally a late winner from centre back Gary Caldwell
The Under 17s faired even better winning 2 - 1 . An early goal by midfielder Neale Phelan was followed by a late goal from Keith Barr 6 minutes from time. Newcastle u17s are now up to third in the table.
Saturday 25th September
Newcastle United's reserves won at Sheffield last night. Argentinean trialist Lucas Comineli scored the first goal from a free kick early in the game. Sheff wed pulled one back with 10 minutes to go . Finally Irish youngster David Mcmahon got the winner in injury time to complete the double this week over the hapless Yorkshiremen. Marcelino started and played for the first 35 minutes, being replaced to save him for the bigger game against Leeds tomorrow, where he is expected to be on the bench. Stephen Glass played for the whole game, which will rule him out of the Leeds game, More likely is that he will be introduced back into the first team against Sofia next Thursday. Jon Karelse also played and looks set to become the substitute keeper after Tommy Wright returns to Man City next week. There should be no major changes in the team tomorrow, the lineup is almost certain to be.
.................................... Harper ..............................
Barton ............ Hughes.........Goma ..............Domi.
.............. Lee ................ Speed .............Solano
........................Dyer ................... Ketsbaia...........
.....................................Shearer ...........................
Subs , Wright, Marcelino, Dabizas, Robinson and One from Either McClen, Maric or Glass
Toon Hero.... Des Hamilton was injured in Thursdays reserve game, the extent of which is not yet known. He has damage to his knee and was replaced at half time. This is a severe blow to Newcastle and not what the new manger would have wanted, He played a wonderful last 8 minutes against Sofia earlier in the month, his presence will be sadly missed.
ROBERT LEE may well not start tomorrow, he was pulled out of training with a slight muscle strain and is said to have only a 98% chance of starting the game.
Also in the treatment room was TEMURI KETSBAIA , he picked up a nasty little cut and had to have FOUR stitches. Amazingly he is set to start against Leeds despite this severe wound. It is not yet known if he will wear the customary blood soaked bandage on his head, as worn by Terry Butcher and also by Paul Ince not so many moons ago
Also on hold is Andy Griffin's return. "His. back injury will keep him out for a few more weeks yet." said a cleaner at the training ground. "On the bright side, Laurent Charvet has stated to train again after recovering from tendontis in his knee and is in the squad for tomorrow. Francky Dumas should be back in training next week, with Serrant and Pistone a couple of weeks from resuming Stevie "Makem boy" Howey set to return in November and is out fell walking at the moment. There is no news on Givens injury, which has lingered on longer than expected." continued the Newcastle insider.
Thursday September 23rd
Dunc is crocked ....... again. Apparently the hamstring injury that led to his substitution against Sofia is worse than was first revealed and will keep him out for more than six weeks. Indeed his first match back could well be against his old club Everton on 6th November. On the bright side, Dumas and Marcelino are recovering from their injuries, and Glass who came on on Sunday is now fully fit and raring to go. Jon Karelse has also fully recovered looks likely to start in the reserve team game at Hillsbourgh tonight. Also expected to play with Glass is £400,000 rated Argentine midfielder Lucas Comineli. who has impressed during a spell on trial from Granada,. Lucas like Solano holds a Spanish passport and would not require a work permit. He could therefore be bought as a reserve left sided midfielder. Apparently he is a left footed central midfielder, rather than a winger. Silvio Maric may also have a run out in tonights team . He has fully apologized about going to watch Croatia Zagreb play at Manchester 2 weeks ago, rather than stay for a team lunch a tactical talk. he says it was a genuine misunderstanding and has only received a very small "token" fine . His future though still looks uncertain.
Rumors that Gullit will take over at Feyenoord have been refuted by officials of the club. "We are very happy with Leo Beenhakker , just because the fans want a change doesn't mean there will be a change" was the official statement.
And Finally , Luis Enrique will be joining Newcastle in December , when the Spanish transfer window opens. Although he could leave now, they couldn't buy a replacement. "Newcastle United will struggle to match the asking price, but if Bobby Robson feels that he needs a certain player then funds will be found" said a sales assistant in the club shop today.
21st / 22nd September
No real news to report this week , unlike some sites If theirs nowt happnin , I'll have a day off rather than make up a load of rubbish to fill a space.
Monday 20th
Pictures of all the goals from the 8 - 0 win and a report by Macbeth are on MATCH OF THE WEEK . It's the third biggest win of all time , after the 13 - 0 win against Newport back in division two in 1946, and a 9 - 0 win over Southport in the FA cup of 1932. Newcastle have managed 8 -0 on three other occasions . All in division one games nearly 100 years ago. 1901 v Notts county, 1905 v Wolves and 1907 v Birmingham.
There is a great atmosphere around the toon today, The win yesterday has given players and fans alike a real lift. Alan Shearer says everyone in the dressing room has a smile on their faces. Robert Lee says everyone gets on with the new manager and they all look forward to the training sessions, although tough, they are enjoyable.
A new coach arrived today, he is ex Scarborough and Carlisle boss, Mick Wadsworth . He takes over as first team coach, although John Carver remains as a coach and will also be responsible for "spying " on forthcoming opponents. Bobby Robson believes that it is much cheaper to get extra coaches, to improve existing players than to fork out for new ones. He is hoping that individual coaching sessions by Mick Waddsworth with new first team players such as Robinson and McClen can turn them into top players of the future. There is still no sign of Peter Beardsley being asked to join the coaching staff, despite him taking a high media profile in recent weeks, the call has not as yet been put out for Pedro to return.
Tommy Wright will not be kept on after his loan spell expires. With Harper's injury having cleared up and Karelse almost fully fit, the goalkeeping crisis is almost over. When Shay Given returns next month we would have five keepers chasing the number one jersey. Bobby Robson thanked Tommy Wright for his services, but feels that Steve Harper represents the long term future of Newcastle United.
Sunday 19th September
NEWCASTLE UNITED EIGHT SHEFFIELD DOOMSDAY NIL.
No it's not a joke, unbelievably United's abysmal league record of not having won a game since EASTER, comes to an end with an emphatic win over doomed Sheffield.
The fairytale score of 8 - 0 and the fact that Alan "finished" Shearer scored five of them looks like a script from Roy of the Rovers comic books.
Team hasn't won for 16 games.
Old manager sacked.
New manager comes in, instantly stops the rot.
All players given a chance by new manager, Outcats are brought back and team spirit improves.
Team wins a vital game in Europe,against all the odds.
New manager has a tumultuous welcome at first home game.
Players respond well to new coach with drafted in youngster getting first ever goal, new "hot shot" player getting his first ever goal, Vice captain getting away with hand ball to score and best of all England and team captain deifying his critics by getting five. What's more, no one gets sent off, no one gets injured A long term injured winger returns, and a local youngster shines as super sub.
When will the fairy tale end?
Next week at Elland road no doubt, but it's good to have something to smile about again.
Alan Shearer goes to the top of the goal scorers chart. Newcastle are now top scorers of goals at home and are only 12 points off a Champions league place with still 30 games left to play.
A full report of this emphatic and landmark win will be here with pictures of the eight goals. on Monday afternoon.
Saturday September 18th
RUUD GULLIT's (not so secret) Lover. READ Part one of this weeks hot story,
Too much "PROPER WORK" over the last week has caused this site not to be updated as often as it normally is. Normal service will resume....soon.
Friday September 17th
CSKA SOFIA 0 NEWCASTLE 2
Newcastle perform brilliantly and get their first win in 15 games with goals from Solano, (Free kick) and Kets who came on as a sub for Ferguson. Dyer gets 10/10 and everyone else 9/10 .
Robson's revolution has begun.
Thursday September 16th
WORLD EXCLUSIVE ....
Hristo Stoichkov pleads with Robson to sign him up for the toon.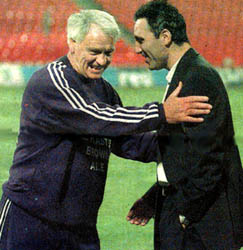 Amazingly Hristo Stoichkov, the TempreMENTAL Bulgarian World Cup and Euro 96 star sensationally burst into Newcastle's training session last night to plead with Bobby Robson to sign him up for the remainder of the season. The two men had a long chat in the centre of the Bulgarian Army stadium. They were firstly joking on about the "DIRTY TRICKS" by the Bulgarian staff who, refused to switch the floodlights on at the start of the training session saying they were saving electric, and then only supplied them with a handful of footballs saying that was all they could spare. They also refused to give Newcastle a video of the last match, which they are required to do under UEFA rules. It would have been pretty useless though as the team that played in their last game at the weekend will bear little resemblance to the one that will play today. They were short of the seven Yugoslavs that normally play , who were away on international duty.
Onlookers then overheard Stoichkov say "you wanna sign a good striker Bobby?" Robson thought it was a joke at first but soon realised Hristo was being serious when he said " I want to play more football, I haven't quit yet , I don't mind being on the bench some of the time, hey I'm not a young guy no more"asking Stoichkov, "How much would you want" which Hristo shrugged "Make me an offer" .
Stoichkov played for six seasons at CSKA from the age of 18, making 119 appearances and scoring 81 goals. He was banned for life in 1985 after starting a huge fight in the Bulgarian cup final of that year. He was reinstated less than a year later. In 1991 he was sold to Barcelona for a record Bulgarian fee of £2 million. Stoichkov became a huge star for the Catalonian's helping then to win four consecutive Spanish league titles and the European cup in 94. His trademark fiery temper meant that he was sent off no less that 11 times for Barcelona, despite this he remains a legend at Barcelona to this day.
Also in 1994 he hit the world stage with some stunning play and set pieces in USA 94. The following year he was sold to Parma but he didn't like it in Italy and he returned to Barcelona the following year, Now managed by Bobby Robson. The two became good friends .
In Euro 96 at St James' park he was in hot water again subjecting France's Dessailly to some racial abuse. He commented at the time, on how much he would like to play for a team like Newcastle United, then flying high under the management of Kevin Keegan. Over the last few seasons he has faded from the spotlight. Having returned from a short spell in Japan, Hristo insists that he hasn't retired yet and wants one last season at the highest level. the pair shook hands and Bobby Robson returned with the team to the Hotel, to find no toilet paper and no running water in what was supposed to be a five star hotel. Today 202 fans have made their way to Bulgaria to support the team. the match kicks off at 6.45 GMT tonight.
To make way for Stoichkov on the team bus, Bobby Robson looks likely to try to cash in on Silvio Maric. The Croatian misfit was left out of the Squad that flew to Bulgaria apparently because he was late in arriving for a lunch date with Bobby Robson and the rest of the team mates. Although relaxed and friendly will his players Robson will not tolerate anyone breaking any of the rules, and so put his foot down with the wantaway Croatian. Des Hamilton has taken Maric's place on the bench. The team for todays game is expected to be the team that played on Saturday at Chelsea with the exception of Steve Harper who finally looks like he has recovered from and injury to his elbow. CSKA are the bookies favorite to win the game tonight, My money is on a high scoring draw or narrow win for Newcastle. Both teams have good strikers and bad defences although if newcastle can keep it tight at the back as they did against Chelsea, they could pull off their first win since Easter.
A summary of the game will be here shortly after the match ends.