.

Today, we welcome with open arms the triple winners
Manchester United to St James' park.
Before the game commences we meet a couple of their fans.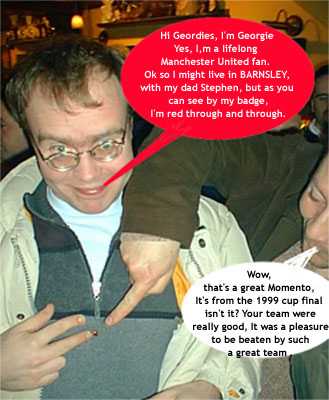 Off to the ground, and best wishes are exchanged between
the two sets of fans.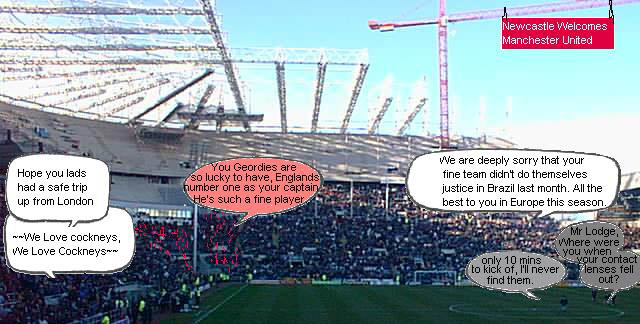 Mr Lodge goes back into the dressing room in the hope that his son Georgie has turned up with his spare contact lenses.
Unfortunately for him, he hasn't .
The game kicks off and Newcastle are all over their friends from Manchester.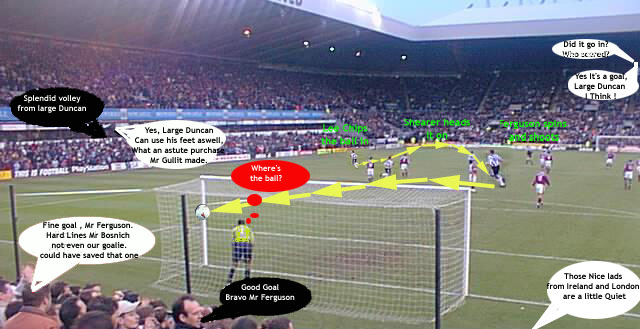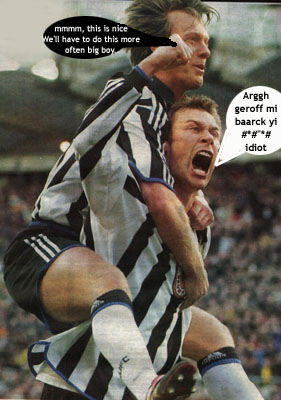 Newcastle almost get a second, when Dyer's chip over the keeper hits the post.
The first half ends with Newcastle leading One - Nil
The second half sees Steve Harper make a fine save when Andy Cole lobs the ball over him. Roy Keane, then almost hospitalises Steve Harper in a challenge at the Newcastle end. The referee, tells Mr Keane that he shouldn't have been so aggressive. he also points out to Mr Keane that he has a slight body odour problem and it may be a good idea if he took a bath.
Mr Keane declined the offer and the game continued.
Mr Keane then tackles Mr lee, in a rather dangerous way.
Mr Keane insists that the referee needs his eyesight testing and that the tackle was in no way dangerous.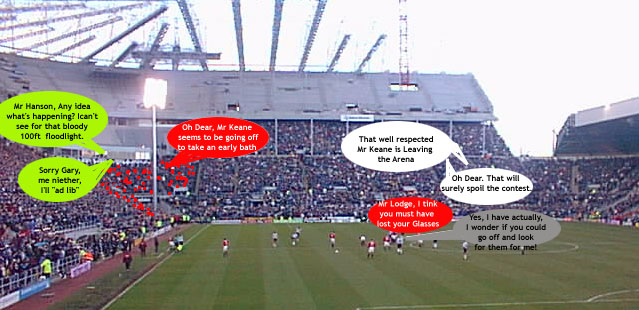 Mr Lodge, tells Mr Keane that his body odour problem is getting worse and insists that he takes an early bath.
The game continues,
Large Duncan has a niggling strain on his back, caused by him giving Mr Barton a piggy back ride earlier on.
He is replaced by Ketsbaia, who tries to make a good impression to the scouts watching him from Portsmouth.
It's "England's, number one" though and not "the bald headed one" who gets on the scoresheet next
The New Paraguayan Diego Gavilan and the new left winger Didier Domi, come on for the last 10 minutes as the onslaught continues.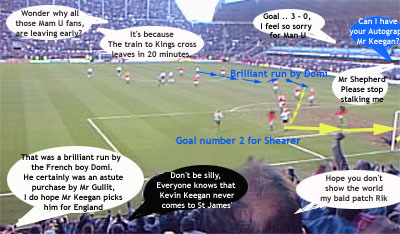 And so It ends.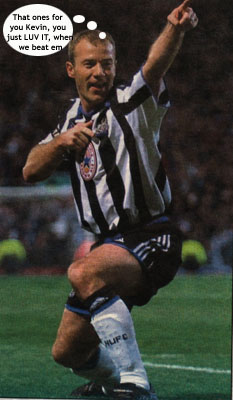 Newcastle United 3 the other United 0.
Off to the Strawberry to commiserate with the Manchester fans that have come all this way to see their magnificent team annihilated by an even better Newcastle one.
I'm sure they will appreciate a bit of sympathy from us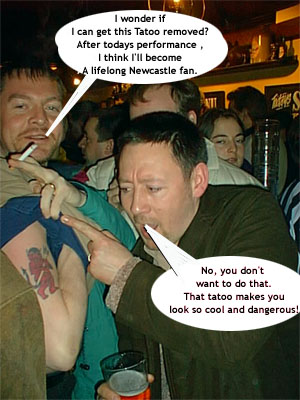 ---
The Small print......, If you are reading this then you must be very sad and have extremely good eyesight. I certainly can't read it. soccer-uk / Riksplace and the-scum are best viewed using netscape Communicator v 4.5, with your screen resolution set at 800x 600 . All Items, ideas on these pages ©Riksplace, soccer-uk , SMB and the-scum team UK© All Rights Reserved. You can't steal anything off us, we will get very cross if you do and send the "boys" round to sort you out. Everyone logging onto this site will have there IP number automatically recorded, so we will have proof that you have been here, we're not stupid, well I am but the other lads aren't The Scum-team consists of Rik, the one that does all the work, Bobby, the one with all the funny stories , Stu , who makes us laugh, and Eddy who makes it look really nice, with contributions from our friends around the globe such as Stevo, Macbeth, Jonno, Barney, Softie, Dr Bill and loads of other guys who send us stories, reports and jokes. Feel free to link to this site and we will do the same back for your site (IF, It's good and funny ). If you want to advertise on here. MAKE US AN OFFER. Mail scumteam@riks.globalnet.co.uk If you want to complain then contact Bobby, as he likes a bit of hassle. All graphics are designed by Eddy Suryadi , of Mag Power. if you want your own custom graphics (he is very reasonable) then contact him . deco@dnet.net.id.. Finally everything you see or read on these pages are probably fabricated lies, meant as a joke and should not be taken too seriously.
| | | | |
| --- | --- | --- | --- |
| Web Site produced for | In association with | Silly stories by | Brilliant Graphics by |