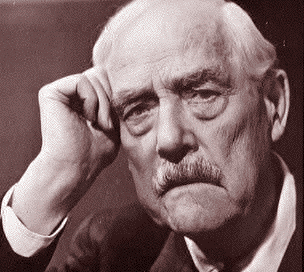 Victor Sjöström: His Life And His Work - Bengt Forslund (New York Zoetrope; HBK £21.99)
Considering his undisputed status as the father of Swedish film, it's remarkable that Bengt Forslund's book is one of the very few devoted to the life and work of director/actor Victor Sjöström (1879-1960). Forslund presents a chronological study of the man and his movies, interlacing impartial analyses with well chosen extracts from Sjöström's copious diaries and letters, suggesting that despite international fame and a workaholic's appetite for theatrical and cinematic projects, Sjöström remained largely reticent about his own work and intensely devoted to his family and last wife Edith, to whom he wrote daily while he was away in Hollywood.
Sjöström's close affinity with his mother, who died during childbirth when Victor was only seven, is seen as the underlying reason for his sensitive portrayal of strong-willed, independent women in his films. As a teenager he fell in love with the theatre, becoming an actor after failing miserably as a doughnut salesman. Later he became a theatre director and was hired along with fellow director Mauritz Stiller by the Swedish film company Svenska Bio.
Between 1912 and 1915 he directed 31 films of which only three still survive. Apart from Ingeborg Holm (1913), regarded as the first classic of Swedish cinema, Forslund considers the others to be in line with the studio's demand for "cheap, novelettish entertainment. . .embarrassing magazine-type stories, absurdly melodramatic romances, or simple, shaggy comedies. . ." Nevertheless, Sjöström still managed to develop a personal style (rich in psychological subtlety and symbolic natural landscape) with thematic concerns (guilt, redemption, role of women, etc), culminating in internationally acclaimed films such as The Outlaw And His Wife (1917), The Monastery Of Sendomir (1919) and especially The Phantom Carriage (aka Thy Soul Shall Bear Witness) (1920), hailed as one of the masterpieces of Swedish silent cinema and striking enough to impress Goldwyn (later Metro-Goldwyn-Mayer) in Hollywood.
In America, Sjöström (known as 'Seastrom') was adept at balancing artistic and commercial concerns, thus earning the respect of Louis B Mayer and Irving Thalberg, plus a sizeable income. Forslund devotes lengthy attention to the peaks of this period, The Scarlet Letter (1926) and the last masterpiece The Wind (1927), both starring Lillian Gish. The final chapter considers his careful tutelage of Ingmar Bergman and the latter's Wild Strawberries (1957) where a 78 year-old Sjöström turned in a lifetime's best performance in the leading role. This is a benchmark study of one of silent cinema's greatest directors. (Chris Blackford)
stills from Victor Sjöström's films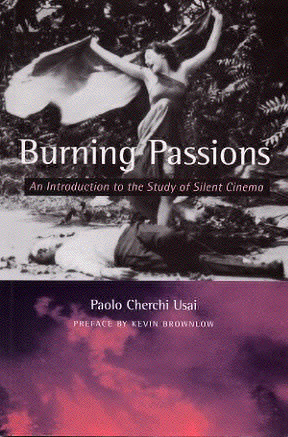 Burning Passions: An Introduction To The Study Of Silent Cinema - Paolo Cherchi Usai (BFI Publishing; PBK £10.95)
Paolo Cherchi Usai's highly readable book aims to challenge the prejudices that still surround silent cinema, not least "its current status as a dead language", by equipping the prospective research student, in particular, with a series of helpful 'rules' and guidelines on archive viewing practice, and how to analyse as well as produce adequate written documentation for future study.
Useful preparatory explanations are given on the nature of early film stock, film formats, musical accompaniment, film distribution and film production (it's estimated that 80% of the world production of silent films, between 1895 and 1927 approximately, has been lost; the total number of films made is thought to be in excess of 150,000). The section on colour is supported by some fascinating plates, demonstrating the lustrous lengths to which many film-makers would go to hand-colour, tint or tone their creations. Projection speed continues to be a controversial aspect of silent cinema study, and both Usai and leading silent film historian Kevin Brownlow (who contributes the Preface) draw attention to how projectionists over the decades (and some current video companies) have destroyed the artistic integrity of silent films by projecting them at inappropriate speeds, thus reducing them to near slow-motion tedium or accelerated farce.
The problem raised in Usai's "Rule 8" underpins most theoretical debate around silent cinema: "The 'original' version of a film is a multiple object fragmented into a number of different entities equal to the number of surviving copies." Clearly, this makes silent film study an especially hazardous undertaking, not just for the researcher but for the reviewer too, whose judgement is based on usually having seen only one 'version' among possibly many. Finally, Usai deals with the equally thorny ethical/theoretical concerns of film restoration: e.g. whether to present an 'authentic' yet incomplete print to the public, or to create an artificial flow that makes a film more aesthetically interesting and entertaining to the spectator. Usai provides the research student and the general cineaste with a thorough grounding in the highways and byways of silent cinema scholarship. (Chris Blackford)
These reviews were published in Rubberneck 18, June 1995.
Text © Rubberneck; photo of Victor Sjöström - see relevant list of copyright acknowledgements in Victor Sjöström: His Life And His Work (New York Zoetrope)