Silent Film
All videos reviewed here are UK VHS PAL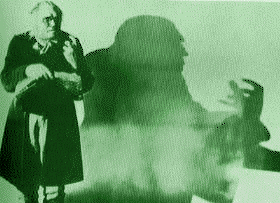 The Cabinet Of Dr Caligari (1919)
Dir. Robert Wiene, with Werner Krauss, Conrad Veidt (Redemption Films RETN 013, 48 mins, Black & White)
Caligari is widely regarded as one of the key films of early German Expressionist cinema and an inspirational touchstone for many films that have followed in the supernatural/horror genre. The basic narrative describes the visit of Dr Caligari (Werner Krauss), a fairground showman, and his somnambulist partner, Cesare (Conrad Veidt), to a small town where their presence precipitates strange and deadly goings-on. The principal controversy surrounding the film concerns the degree to which it can be read as an allegorical critique of the Weimar Republic and the social and economic collapse of Germany after the First World War. As Lotte Eisner says in her classic book The Haunted Screen: "The material conditions which resulted led to a general decline of values, and the inner disquiet of the nation took on truly gigantic proportions." Screenwriters Carl Mayer and Hans Janowitz also claimed to have been influenced by a sex killing in Hamburg in 1913, and by Mayer's harsh sessions with a military psychiatrist during the war.
This basic narrative is framed by a prologue and an epilogue which take place in the courtyard of an asylum. Identity, truth/falsity, sanity/insanity, sexual repression, are explored with deliberately ambiguous results. The events appear to occur in the mind of the narrator, Francis (Friedrich Feher), who also appears to be an inmate of the asylum, so the reliability of the narration is in question. But is Francis mad, or is the Head of the asylum (also Werner Krauss) whom he associates with the Caligari figure, mad? Distorted interiority is suggested by the angularly painted sets of art directors Hermann Warm, Walter Röhrig and Walter Reimann. The multi-perspectival effects of these sets give the film its expressionistic character and are largely responsible for its peculiar fascination. The acting ranges from flamboyant expressionistic gesture to subtly ambiguous facial expressions, especially Krauss' at the end of the film. The sudden jumps from medium shot to close-up on Krauss are also effective. Whichever way you choose to look at it, Caligari is a living masterwork. (Chris Blackford)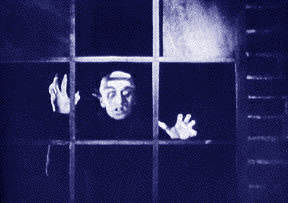 Nosferatu, A Symphony Of Horror (1922)
Dir. F W Murnau, with Max Schreck, Grete Schröder (Redemption Films RETN 012, 55 mins, Black & White)
Faust (1926)
Dir. F W Murnau, with Emil Jannings, Gösta Ekman, Camilla Horn (Golden Age Films VRL 52, 87 mins, Black & White)
Friedrich Murnau's (1888-1931) Nosferatu sees the first screen appearance of the now (in)famous Count Dracula, and with the possible exception of Werner Herzog's remake in 1979, no subsequent presentation of the Dracula phenomenon is as magically poetic as this one. This pioneering German director combines Expressionism's obsession with forbidding chiaroscuro interiors in the sequences inside the Count's castle with opening shots of lyrical beauty in the garden of Jonathan (Gustav von Wangenheim) and Nina (Grete Schröder) Harker, whose newly-wed bliss is about to be transformed into terror when the young estate agent leaves his wife to secure a contract with the mysterious Count (played to perfection by Max Schreck). For a film of modest length it is remarkably full of grandiose compositions and a striking array of supernatural cinematic effects, including negative film, superimpositions, ethereal dissolves and fast motion. Yet, in the hands of a master like Murnau these devices never become mere trickery, but an integral part of the film's attempt to create the elusive texture of the spirit world. The director also uses atmospheric landscape photography (by Fritz Arno Wagner) to telling and sometimes symbolic effect, often incorporating only a few images to achieve a resonant sense of place. Likewise, his use of crosscutting between narrative strands not only builds tension, but sounds ambiguous undertones in the film's treatment of repressed sexuality - in particular the relationship between Nina and Nosferatu. The astonishing scene where the vampire observes the Harker's house through a darkened window from across the road, drawing Nina from her bed and awakening in her an insatiable 'passion', is charged with an understated yet undeniable eroticism. The sinister shadowplay of the next sequence is again pure Murnau magic. This wonderful film grows and grows on you with each viewing.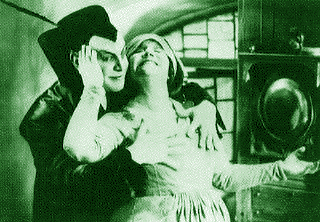 Nosferatu was called "A Symphony Of Horror", but against the awesome scale of Faust it appears decidedly chamber. For Faust, Murnau went back into the studio with a vengeance and assisted by cinematographer Carl Hoffmann and art directors Robert Herlth and Walter Röhrig (of Caligari fame) produced a visually spectacular version of the well known legend. The set lighting is one of the most magnificent achievements in the Expressionist chiaroscuro style: the early sequences between archangel and demon are particularly lavish; so too the aerial journeys on which a youthful Faust (Gösta Ekman) is taken by Mephisto (performed with plenty of gusto by Emil Jannings). The pace of technical inventiveness is feverish. There is hardly time to marvel at one supernatural effect before another succeeds it. The film's central section (an irritation to some critics) attempts to lighten the mood by introducing a medley of near sentimental melodrama counterbalanced by some mischievous hit and miss farce. Gravitas is eventually restored by Camilla Horn as the betrayed Margarethe, whose flair for tragedy assumes Lillian Gish-like proportions. If the plot creaks in one or two places, the sumptuous visuals continue to amaze. Andrew Youdell's delightful score and piano accompaniment (why can't more video companies at least provide this instead of vaguely appropriate orchestral music?) are two more reasons why this video should be in your collection. (Chris Blackford)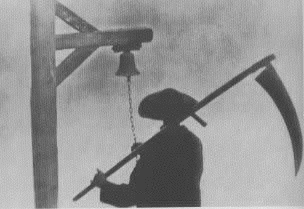 Vampyr (1932)
Dir. Carl Theodor Dreyer, with Julian West, Sybille Schmitz (Redemption Films RETN 010, 62 mins, Black & White)
Few films about the supernatural retain their sense of mystery after repeated viewings like Dreyer's extraordinary Vampyr. Although not a silent film it makes extensive use of intertitles, and pitches its occasional muffled dialogue at the threshold of audibility. As Ivan Butler says in his Horror In The Cinema (quoted in the excellent chapter on Vampyr in S S Prawer's Caligari's Children), the film is "the supreme example of horror sensed rather than seen, evil suggested rather than exposed." This has much to do with its stately pace: the slow pans and tracking shots accompanying David Gray, the inquisitive protagonist, around a sinister inn situated in the French countryside, gripped by a vampiric malaise. Landscape is a shimmering grey haze: human beings, fleeting silhouettes. The famous dream sequence with its use of subjective camera shots from inside a coffin is vintage surrealism. Dreyer's masterly cinematic vision transforms an unexceptional narrative into a work of great subtlety and lasting beauty. (Chris Blackford)
The Monastery Of Sendomir (1919)
Dir. Victor Sjöström, with Tora Tege, Tore Svenborg (Redemption Films RETN 045, 54 mins, Black & White)
The Phantom Carriage (1920)
Dir. Victor Sjöström, with Victor Sjöström, Hilda Borgstrom, Astrid Holm (Redemption Films RETN 041, 90 mins, Black & White/Tinted)
Both of these films enjoyed considerable commercial success in England when they were first screened in the early 1920s. Of the two, The Phantom Carriage (aka Thy Soul Shall Bear Witness; The Stroke Of Midnight; or The Phantom Chariot) is by far the most ambitious, technically and structurally; however, notwithstanding Bengt Forslund's savage dismissal of the narrative as "a religious masterpiece of drivel", The Monastery Of Sendomir (aka The Secret Of The Monastery) does have a number of commendable features - notably cameraman Henrik Jaenzon's sophisticated, atmospheric low-key lighting which, combined with suitably ornate costumes and a fine studio castle, lend an air of dignity and polish to this aristocratic tale of marital infidelity, vengeance and atonement. The acting is never overplayed, and with an appropriate score (not Redemption's choice of occasionally relevant romantic piano library music) the subtle nuances of mood and gesture would have achieved a greater emotional impact.
Similar themes were enacted within a complex flashback narrative in The Phantom Carriage, for which Redemption should be applauded for releasing this gorgeous tinted version; sepia (interior scenes), blue (night scenes) and a couple of red tints enhance the film's pictorial beauty. While modern viewers may find the moral/religious tone (the consequences of drunkenness on family life) a bit sanctimonious, the emotional subtlety of the acting never falters - led by Sjöström as the detestable drunk who finally repents in a twilight spirit zone between life and death. Director Sjöström, photographer Julius Jaenzon (Henrik's brother) and lab man Eugén Hellman, worked long and hard on the stunning, supernatural double exposure sequences that contribute to the film's lasting visual poetry. (Chris Blackford)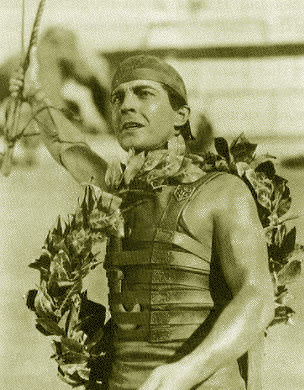 Ben-Hur: A Tale Of The Christ (1925)
Dir. Fred Niblo, with Ramon Novarro, Betty Bronson, May McAvoy, Francis X. Bushman, Carmel Myers (MGM/UA S051474, 143 mins, Black & White/Tinted/Colour Sequences)
One can't help feeling that there's something a little bit ridiculous about watching Ben-Hur on a television screen, when the film was so obviously designed to communicate on a huge scale; but, strange as it may seem, not even a modest TV set can diminish the stateliness of its epic vision - the breathtaking energy of its action sequences, the grandeur of its monumental sets, swarming with extras.
These days the silent film version of Ben-Hur tends to be remembered (if it's remembered at all; most film fans now associate the title with William Wyler's 1959 remake, starring Charlton Heston) for its saga-like production problems in Italy and Hollywood, making it the costliest film of the silent era. Those wishing to follow the astonishing story of battles with Italian technicians (themselves divided between fascists and anti-fascists), the often underhand changes in director and cast, and the life-threatening demands placed upon actors and extras during the shooting of key set-pieces, should read the chapter in Kevin Brownlow's indispensable The Parade's Gone By (Columbus Books).
What's often downplayed is the film's rattling good story with its heady mix of adventure, melodrama, history and mysticism. In accordance with the contractual demands of the script owner, the figure of Christ was never fully shown, instead implied by shots of sacred arms and shafts of radiant light. Actually it's a blessing in disguise, since the film is mostly untainted by the sort of mawkish sentiment typical of Biblical epics.
With a running time approaching 2 1/2 hours, Ben-Hur has surprisingly few longueurs; director Fred Niblo holds the attention, skilfully varying the focus of the narrative, cutting from general to particular and vice versa, thus enlivening the vast crowd scenes with many interesting reaction shots and cameo details. The stars, too, are impressive: Ramon Novarro as the aggrieved hero successfully balances action man heroics with romantic and familial tenderness; Francis X. Bushman plays Messala with bags of menacing swagger; and May McAvoy brings a heartfelt poignancy to Hur's long-suffering mother. The other (unseen) stars are the technicians and craftsmen responsible for the amazing sets and ingenious hanging miniatures, the staging and virtuoso editing of the sea battle and legendary chariot race, and the sumptuous cinematography. Carl Davis' powerful, unsentimental score further enhances this irresistible masterpiece. (Chris Blackford)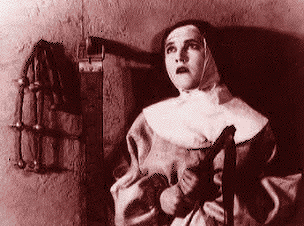 Häxan: Witchcraft Through The Ages (1921)
Dir. Benjamin Christensen, with Maren Pedersen, Oscar Stribolt, Emmy Schoenfeld, Benjamin Christensen (Redemption RETN 017, 87 mins, Black & White/Tinted)
Danish film director Benjamin Christensen (1879-1959) started work on the ambitious Häxan: Witchcraft Through The Ages in 1919 and completed this extraordinary film in 1921. Christensen had been recruited by the Swedish production company SF, who bought a studio for him in Copenhagen. Its leader, Charles Magnusson, who wanted cinema to attain the artistic status of theatre, lavished huge resources on its production, and in return received one of the most original works of the Scandinavian silent era, yet also its biggest financial flop, due mainly to censorship resulting from its controversial subject matter.
Christensen's earlier work has received the highest praise from the film historian Kevin Brownlow; his debut, the spy drama The Mysterious X (1913), is described as "technically an astonishing piece of work." In particular, Brownlow draws our attention to Christensen's "obsession with light" and chiaroscuro effects, which he says "were far ahead of practically anyone else at the time." His "remarkably sophisticated" editing is also applauded. Brief, but very atmospheric, tinted sequences from this film and his next, Night Of Revenge (1915), were shown in Brownlow's and David Gill's documentary series, Cinema Europe: The Other Hollywood, though neither to my knowledge has been publicly shown in its entirety in England, at least in recent years. Most of his Hollywood films (1925-30) are now feared 'lost'.
Häxan, though, is usually regarded as this director's masterwork, and we videophiles are indeed fortunate to have this full length restored version, resplendent in orig-inal colour tints. But, Redemption's tacked-on romantic piano music doesn't do justice to frequent, often jarring, variations in visual rhythm and mood.
The director sets out to present a cinematic "lecture" showing the relationship between mediaeval superstition and so-called satanic possession, and modern (1920s) medically diagnosed examples of hysteria. If the lecturer's wooden pointer highlighting details from occult drawings now has an antique charm, the dramatic reconstructions of satanic rituals and witch trials (sometimes fetishistic) retain the power to delight and disturb, juxtaposing gleeful irreverence with an austere poignancy - the many powerful close-ups of judgemental and anguished faces pre-echo Dreyer's Passion. Exquisitely lit and feverishly inventive. (Chris Blackford)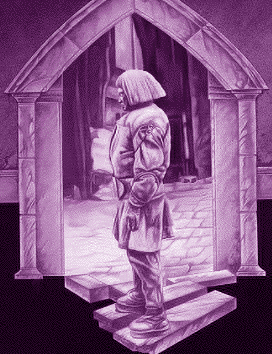 The Golem (1920)
Dir. Paul Wegener, with Paul Wegener, Albert Steinrück, Lyda Salmonova (Screamtime Video SCR5004, 69 mins, Black & White)
German film director Paul Wegener first established a reputation as an actor with renowned theatre director Max Reinhardt. By April 1916, Wegener was calling for film to escape the formal influence of theatre and the novel. And yet, Reinhardt's chiaroscuro lighting effects proved to be an important influence on Wegener and other emerging directors of German Expressionist cinema - ideal for their obsession with the darker regions of the human psyche and events supernatural and mythical.
Wegener's first version of The Golem (1914) is lost, but his second (1920) remains one of the highlights of German silent cinema, boasting a first-rate technical crew including set design by Hans Poelzig and Kurt Richter, photographer Karl Freund (later The Last Laugh, and Metropolis) and special effects wizard Carl Boese.
Set in the Prague ghetto of 1580 where, legend has it, Rabbi Loew fashions a giant clay creature called the Golem (played by Wegener) to protect the Jews from Rudolph II, tyrannical emperor of Hungary, Germany and Bohemia, The Golem is an odd mix of fairy tale, monster movie and religious myth.
A simple tale enlivened by atmospheric studio sets, it's the visual style that impresses most; the quirky stone houses with their pointed roofs, packed into narrow streets; the aberrant Gothic of Loew's curvilinear lab, where a blazing magic circle and smoke-breathing demon are among arresting special effects. Michael Murphy's pedestrian piano/synth music is an irritant, leaving one to imagine the further delights that an orchestral score by Carl Davis or James Bernard would have brought. (Chris Blackford)
From The Pole To The Equator (1986)
Dir. Yervant Gianikian and Angela Ricci Lucchi (Connoisseur/Academy Video CAV 051, 99 mins, Tinted)
From The Pole To The Equator by directors Yervant Gianikian and Angela Ricci Lucchi is a contemporary silent exploration documentary, consisting of footage from the archives of pioneering Italian film-maker Luca Comerio (1874-1940). Their methodology of re-editing and recontextualising existing footage is the filmic equivalent of plunderphonic sound art. Much emphasis is placed on the use of different film speeds; in this case, varying degrees of slow-motion. As Maya Deren says in her essay 'Cinematography: The Creative Use Of Reality', slow-motion "can be a statement of either ideal ease or nagging frustration, a kind of loving meditation on a movement or a solemnity which adds ritual weight to an action; or it can bring into reality that dramatic image of anguished helplessness. . ."
Her comments seem particularly relevant to From The Pole To The Equator, where Comerio's footage of military parades and missionary schools in Africa and India has been re-presented as part of a skilfully assembled critique of colonial power. But there's also the impression of a "loving meditation" on village life and the charming innocence of children. Yet, sequences of big game hunting make disturbing viewing; the sight of an Antarctic polar bear being shot from a few yards certainly emphasizes the point about "anguished helplessness". A highly expressive use of colour tints, toning and damaged film stock make for a texturally rich, sometimes exotic visual experience, while an effective, understated electronic score by Ullrich and Anderson heightens the atmosphere. (Chris Blackford)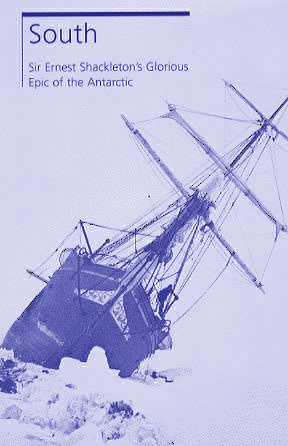 South (1919)
Dir. Frank Hurley (BFI Video Publishing BFIV054, 80 mins, Black & White/Tinted)
South provides us with valuable docum-entary footage of British explorer Sir Ernest Shackleton's heroic but unsuccessful attempt to cross Antarctica in 1914-16. Despite the outbreak of the First World War, the British government gave the expedition the go-ahead. In due course the film would come to symbolise "British pluck, self-sacrifice and indomitable courage"; yet, it was an Australian photographer and film-maker, Frank Hurley (1885-1962), who recorded the memorable visual account of the voyage.
Hurley's footage covers a wide range of activities and encounters, from lighthearted dog feeding and grooming, to the film's central haunting images of the beleaguered ship Endurance slowly succumbing to the pressure of mounting ice. Here, in particular, Hurley's cinematography conveys the magnitude and terrifying beauty of a polar landscape, and the fragility of human lives trapped within it.
Sadly, the film-maker was not part of Shackleton's heroic five-man crew who sailed 800 miles in an open boat to obtain help from the South Georgia whaling station. Meanwhile, marooned on Elephant Island, Hurley seized the opportunity to film the indigenous penguins, sea elephants and seals, turning the latter stages of South into an engaging wildlife documentary. NFTVA's tinted restoration and reconstruction job are superb, and Neil Brand's piano score and accompaniment, if a tad too busy at times, introduce tension and heroic sentiment in appropriate measure. (Chris Blackford)
Text copyright © Rubberneck