Video Reviews
All videos reviewed here are UK VHS PAL
Listed A-Z by director
Seven Songs For Malcolm X (1993)
Dir. John Akomfrah (A Black Audio Film Collective Production; Electric Pictures EP0046, 55 mins, Colour)
Not a 'conventional' bio-pic, but an intriguing mixture of commentary, archive film, reconstructions, intertitles and stylised direct address to camera. The latter is provided by a mixture of family, former comrades of Malcolm, cultural commentators from contemporary Afro-American academia, and other interested parties, such as Spike Lee, whose frequent acting collaborator Giancarlo Esposito is one of the voices on the soundtrack.
Never dull or over-worthy, this film, broadcast last year on Channel 4, takes the viewer/listener through the complexities of Malcolm's life and the developments within and outside the Organisation of the Afro-American Unity. The figure 'seven' is important throughout for its relevance to Islamic culture, and the structure of the film reflects this, albeit at times obliquely. Malcolm is described in the film as the first great media politician. How much of his message was direct to Afro-American peoples, how much of it was part of a wider, global appeal on human rights issues? Watch and decide for yourself. Intriguing music track, incidentally, with Bach, Penderecki, Monk, Bird, tenorist Bill Saxton and AACM drummer Thurman Barker. (Gerard F Tierney)
Nadja (1994)
Dir. Michael Almereyda, with Elina Löwensohn, Suzy Amis, Galaxy Craze, Martin Donovan, Peter Fonda (ICA Projects ICAV 1021, 89 mins, Black & White)
A film which owes so much to other film makers that it's a miracle the bailiffs haven't been sent round. Perhaps that's because the heavy influences have been put to such good use. First of all, the general tone of the film comes from Ingmar Bergman via the more modern filter of Hal Hartley. The characters are generally young (at least in appearance!) and suffer a high level of late 20th- century existential alienation, their dialogue is abstracted and disjointed, their actions lack certainty. The actors are from the Hartley stable. Martin Donovan starred in The Unbelievable Truth and Amateur alongside Elina Löwensohn who also featured in Simple Men.
Other influences are Carl Dreyer's Vampyr (in the eerie use of disquieting close-ups, a pervasive lyrical unreality, and scenes of supernatural horror in everyday settings) and FW Murnau's Nosferatu, inasmuch as Nadja is also an adaptation of Dracula with a number of significant changes. Nadja (Löwensohn) is a Dracula who rarely shows her fangs yet retains a deep sense of ennui and alienation. Renfield, Jonathan Harker and Van Helsing (played by a frenetic Peter Fonda) are also present, while Lucy is stunningly portrayed by the strangely named and magnetic Galaxy Craze, an actress we need to see more often. David Lynch's influence is also apparent (not only as a director but also as producer and in a bit part as a morgue attendant), as is the American Underground Film's kitsch technique of using Fisher-Price's toy Pixelation video camera for the scenes of vampirism.
However, even with all these highly visible influences, Almereyda has made a worthwhile and original film. The story, although hackneyed, is engaging because of the lack of moral outrage or horror shown by the characters - the presence of vampires in the middle of New York seems to be business as usual to them. This sets it apart from other adaptations of Stoker's book, but the film's real focus is the performance of Löwensohn and Craze who both bring a subtle passion to their roles. Perhaps someone will now make 'Jim Jarmusch's Frankenstein'. (Jim Barker)
Like Water For Chocolate (1992)
Dir. Alfonso Arau, with Lumi Cavazos, Marco Leonardi (Electric Pictures EP0051, 109 mins, Colour)
This is chosen as an example of the art-house fare now widely available on video soon after cinema release. Although attention is currently focused on Asian cinema, Mexico produces a significant number of films, of which the recent Cronos, a dark, brooding horror piece, is highly recommended. Like Water For Chocolate itself followed a common route: festival acclaim leading to limited, targeted, cinema release, in this case including success in the US, which is understandable since there are elements of the 'feel-good' about it. Based on a famous novel, Like Water is a story of love and passion in the early part of this century; food becomes the central device through which these emotions are expressed. Folk tales and the supernatural play an important part in the narrative, politics less so; the revolution appears as a 'noise off' which occasionally intrudes. This has been celebrated as a 'women's film' (some individual women in control, some subversion of the patriarchy); it has to be said that the issue of class is hardly touched on. Servants pass on recipes which transform lives, but they remain servants; the camera lingers elsewhere. Stylish and entertaining all the same. (Gerard F Tierney)
Fanny And Alexander (1982)
Dir. Ingmar Bergman, with Pernilla Allwin, Bertil Guve, Ewa Froling, Jan Malmsjo, Erland Josephson (Artificial Eye Part 1 (ART 031A) 163 mins; Part 2 (ART 031B) 138 mins, Colour)
At approximately 5 hours, the TV version of Fanny And Alexander is not for the faint-hearted. The film is basically one-paced: a majestic largo in 5 Acts with Prologue and Epilogue, and so needs to be given time to unfold and reveal its treasures, of which there are many.
The first and most obvious is Sven Nykvist's splendid cinematography (he worked on 22 Bergman projects), capturing the affluence and grandeur of the Ekdahl family in turn-of-the-century Sweden, and later the austerity of the Bishop's residence to which the children, Fanny (aged 8) and Alexander (aged 10), are transported after the death of their thespian father."There is nothing more beautiful than faces in a simple room," Nykvist once said. He and Bergman proved this in Cries And Whispers and do so again. Bergman's disposition of actors within the frame, his use of close-ups to elicit tenderness or menace, are as impeccable as ever; the use of a dynamic frame for the scene where the wife mourns the loss of her husband, creates an atmosphere as harrowing as any Bergman has put before us.
This is not, however, a study in pessimism (a common enough misgiving about the director's work), rather, a sensitive interplay of darkness and light. Scenes of religious solemnity and marital discord are interspersed with moments of ribaldry and gleeful silliness. Even the puritanical bishop, a man for whom "a loving punishment can never be humiliating in the deeper sense", is presented with a hint of the larger-than-life. The upper room in which he imprisons the children, with windows that do not open and bars across the panes, is like something out of Hans Christian Andersen. The manner of their escape is also the stuff of fairy-tales. Ghosts stalk the corridors. Magic and illusion collude to subvert narrative realism. The film ends with a quote from August Strindberg's A Dream Play, reminding us that the art of storytelling itself is the hub from which all other themes radiate.
Fanny And Alexander was to be Bergman's farewell to the cinema. Happily, it is not the work of a great director running out of creative steam. Whether it will be regarded as one of his more important films is a matter for further critical debate. That it will continue to delight for a long time to come, there can be no doubt. (Chris Blackford)
Before The Revolution (1964)
Dir. Bernardo Bertolucci, with Francesco Birelli, Adriana Asti, Alain Midgette, Morando Morandini (Connoisseur Video CR040, 115 mins, Black & White)
Thought for the Day: "Those who have not lived before the revolution have not tasted the sweetness of life" - Talleyrand. Alternative Thought for the Day: If Bertolucci's later films have seemed like endless empty spectacles to you, then check out his second film, made in 1964 when he was only 22. Sure, there are baroque, ornate camera movements, but the style is much more varied, with hand-held work, jump cuts and modish references to Godard. The film's subject matter may seem fairly banal, dealing with the struggles of a young bourgeois: to conform or to follow the Party, to marry or to pursue an affair with his aunt; it's the telling that is fresh and exciting. There are obvious references to Stendhal's Le Rouge Et Le Noir, a whacking chunk of Verdi at the end, and Bertolucci's usual helping of Marx and Freud, but it all hangs together. Almost impossible to believe this was made by a 22-year old, and thirty years ago: it's a remarkably mature film by any standards, and quite ageless. (Gerard F Tierney)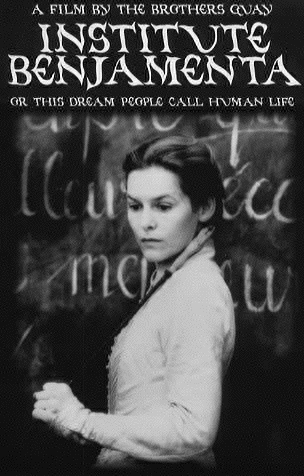 Institute Benjamenta, Or This Dream People Call Human Life (1995)
Dir. Brothers Quay, with Mark Rylance, Alice Krige, Gottfried John, Daniel Smith (ICA Projects ICAV 1020, 104 mins, Black & White)
Institute Benjamenta sees the American Quay twins (Stephen and Timothy, born 1947) making their live-action feature debut, having already gained an international reputation for richly inventive animated films. Borowczyk and Svankmajer are other celebrated animators - whose surrealist influence is perceptible in Quay work - to have successfully made this transition.
Prospective viewers should acquaint themselves with Swiss writer Robert Walser's 1908 novel Jakob von Gunten on which Institute Benjamenta is based (the novel is published in the UK by Serpent's Tail under the film title). However, the Quays and screenplay collaborator Alan Passes have taken liberties with the novel, most noticeably by making protagonist Jakob (Mark Rylance) and fellow students at this extraordinary school for servants considerably older than Walser's schoolboys. While a certain vulnerability and pathos have thus been heightened, the complexity of Jakob's mental life has been disappointingly reduced to bewilderment and willing obedience. In the novel, which is his private journal, he is also capable of pride, pomposity, naivety, truculence, intellectual acuity, and sexual arousal. A few carefully chosen passages would have restored these important characteristics without upsetting the pervasive enigmatic mood of the piece.
In terms of characterisation, most attention here has been devoted to Johannes and Lisa Benjamenta, the brother and sister partnership in command at the Institute. Jakob's arrival, and his subsequent status as unwitting agent provocateur, signal the gradual collapse of the Benjamentas' governance, as their repressed fears and desires surface. In Johannes, magister-ially played by Gottfried John, the Quays sensitively draw out a homosexual inclination (less evident in the novel) towards Jakob, and a clear suggestion of a hesitant, unfulfilled incestuous desire between him and Lisa, again only very covertly hinted at in the novel. Lisa (which is also the name of Walser's sister) is played to perfection by Alice Krige who, with memorable equanimity, registers every nuance of emotion from abject lovelessness to mildly hysterical sexual frustration. The meaning behind these power games and ritualistic acts of subordination and subjugation, in which the Quays find delightful moments of bizarre deadpan humour, is never fully revealed; nor is the secret of the Benjamentas' "inner chambers" (surely not merely a goldfish in a bowl). One suspects that the Benjamentas' forbidden love - certainly the greatest act of emotional subjugation here - may be the underlying cause of the uneasy atmosphere in their dilapidated Institute.
This atmosphere is superbly evoked by the Quays customary visual flair and meticulous attention to mise-en-scène detail, where live-action and animation sequences are seamlessly integrated. The black and white photography is exquisite, each gentle movement of light in shadowy corridors creates an air of dream-like enchantment (echoes of Cocteau and Vigo). Classroom scenes in misty greys are invigorated by Jankowski's versatile score: a waltz turns into free jazz. Repeat viewings reveal the subtlety of the Quays' art. (Chris Blackford)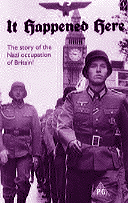 It Happened Here (1964)
Dir. Kevin Brownlow and Andrew Mollo, with Pauline Murray (Connoisseur Video CR 159, 95 mins, Black & White)
Kevin Brownlow (documentary film maker, author, and film restorer, specializing in the silent era of Hollywood) began It Happened Here when he was 18 and co-director Andrew Mollo (military historian, assistant director and production designer) was a mere 16 years of age. After 10 years of piecemeal shooting on a miniscule budget the film was financed by Tony Richardson's Woodfall Films. The film asks: What might have happened if the German army had successfully invaded Britain in the 1940s? This is explored in the form of a documentary-style narrative without the use of stock footage or newsreels: all the atmosphere of a nation under occupation is recreated in absorbing detail (posters in the street, Nazi broadcasts and music on the radio, etc) and using an almost entirely non-professional cast. Pauline Murray plays the District Nurse who joins the Immediate Action Organisation, a group of British collaborators who now promote the doctrine of National Socialism. Soon she discovers the evil that lies behind this efficient bureaucracy which purports to offer the country a new stability and purpose.
The film's great strength resides in its understated treatment of the emotive subject matter; its ability to show the barbarity of fascism with an almost analytic detachment and without the usual moralising tone. It's a skilful blend of documentary realism and imaginative hypothesizing that never falters under the weight of its considerable ambitions. Hardly seen for 30 years, It Happened Here is a triumph of low-budget, independent British film-making. The opportunity to see it now should not be missed. (Chris Blackford)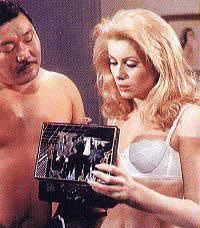 Belle de Jour (1967)
Dir. Luis Buñuel, with Catherine Deneuve (Electric Pictures EP0007, 102 mins, Colour)
The Diary Of A Chambermaid (1963)
Dir. Luis Buñuel, with Jeanne Moreau (Electric Pictures EP00l3, 98 mins, Black & White)
"Bunuel's women are fabulous masochists. They love being maimed, tortured and degraded. How it comes about that the feminist movement seems not to question Buñuel is a total mystery." (Paul Mayersberg, 1983)
Although these remarks are not directed at any specific Buñuel (l900~l983) film, they are certainly pertinent to any discussion of Belle de Jour with its central theme of female sexual fantasy.
The film is based on Joseph Kessel's 1928 psychological novel about a bored young wife who feels the urge to spend her afternoons in a brothel. Buñuel transforms this material into a complex study of bourgeois sexual morality: its sadomasochistic, sub/dom role-playing, guilt-ridden fantasies. These are explored through the (day)dreams of the well-to-do Severine (played superbly by Catherine Deneuve), who pays imaginary visits to a Parisian brothel where she enacts various fantasies. Lesbianism is only suggested, and the incest episode was trimmed by the censors.
So, is this directorial misogyny, Freudian satire, or just a surreal sex(ist) romp? Difficult to be certain, really. Buñuel's unobtrusive camerawork doesn't fetishize Severine/Deneuve or overtly ridicule the goings-on. Severine is in control of her fantasies, feels fulfilled by some, guilty about others; but, of course, these are structured by Buñuel - the male gaze representing its version of female sexual fantasy. Introduce sadomasochism and you are in a veritable minefield of controversy. And Bunuel knows this. Even the "feminist movement" is divided on the issue of sadomasochistic female fantasy, which possibly explains why this intelligent, teasingly constructed film has not been dismissed.
Another fine French actress, Jeanne Moreau, provides the sexual energy at the centre of The Diary Of A Chambermaid. Set in provincial France in the 1920s, and based on the 1900 novel by Octave Mirbeau, this sombre tale follows the 'progress' of a stylish, working-class, Parisian woman who takes up employment as a chambermaid in an upper-class household. The master is a sex-starved lecher, mainly because his wife finds sexual intercourse too painful; her aged father is a boot fetishist who enjoys literature, and Joseph, the handyman/gardener, an unsavoury, sadistic, Fascist brute. Celestine (Jeanne Moreau) uses charm, cunning and sexual potency to consolidate her position amongst this lot, eventually marrying an ex-army captain. She enters the ranks of the bourgeoisie, but not without a sense of apprehension and resignation. Even her lustre has been tarnished.
Buñuel's understated film uses these characters to focus on larger themes such as upper-class decadence and the rise of Fascism in Europe. A series of resonant images operating like visual rhymes across the narrative reveal the tension between innocence/beauty and savagery/sadism. A shotgun blasts a butterfly from atop a flower; we hear the sound of a goose left to bleed to death; snails crawl over the legs of a raped and murdered girl. The balance is tipped on the side of savagery/sadism. Buñuel's evocation of this ominous climate is masterly. Moreau's performance is magnificent. (Chris Blackford)
Pumping Iron II - The Women (1984)
Dir. George Butler, with Bev Francis, Rachel McLish (Connoisseur Academy Video CAV 035, 107 mins, Colour)
By using two well known female body builders, but setting them in the fictionalised context of the Caesar's Palace World Cup Championship, Pumping Iron II uses documentary drama to explore the world of competitive female body building. The acting may be rather wooden at times, but this 'realism' only serves to reinforce the sense that we are being taken behind the scenes.
On one level the film operates as a straightforward narrative about the mounting tension between Rachel McLish, current World Champion, and Bev Francis, ex-power-lifter turned body builder, as they prepare for the final of a presitigious competition. Taking the meaning of 'body building' literally (in the way that men do) as a quest to build and then exhibit the largest possible muscles, the arrival on the scene of Bev Francis' hugely muscular body presents a challenge to the judges' existing tendency to choose women who look 'athletic' but remain 'feminine'.
This then is both the judges' and our dilemma: should Bev Francis' muscular body be accepted as just another form of femininity, another way of representing the female body, or has she transgressed the boundaries of what it is to be female. By raising questions such as these, Pumping Iron II also serves as an enjoyable and accessible route into contemporary cultural debates about the possibilities for reshaping the body, redefining femininity and challenging, even blurring, gender distinctions. (Catherine Blackford)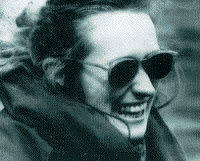 Jane Campion - Three Short Films
Dir. Jane Campion (Connoisseur Video CR 092)
With her latest film, The Piano, having established her as one of cinema's most original, younger (born 1955, New Zealand) directorial talents, now seems an opportune moment to look back at the formative work of Jane Campion.
Passionless Moments (1984, 12 mins, b/w) presents a series of vignettes featuring everyday 'characters' involved in moments of absurd, profound, even transcendent contemplation: moments, according to Campion and her co-director Gerard Lee, which each have "a fragile presence which fades almost as it forms." The flatness of the voice-over resembles documentary; expressive camera angles sometimes weave a whimsical poetry out of banal situations. There are echoes of early Greenaway shorts in how the genres merge and collide. A Girl's Own Story (1983, 26 mins, b/w) is an evocation of female adolescence during 60s Beatlemania. Family discord, schoolgirl rivalries, sexual awakening, incest and pregnacy through incest, are among the film's intense themes, an intensity spiced with a generous measure of irresistible off-beat humour. An episodic approach to narrative and paranoid framing produce a work as entertaining as it is disturbing. Some of the darker themes surface again in her memorable feature debut Sweetie (1989). Finally, Peel (1982, 9 mins, Colour), which tells of a father's attempts to discipline his young son, also peels back the layers of normality to reveal an ambiguous zone fizzing with stressed-out tensions and boisterous humour. While Campion's more recent work may have moved closer to the mainstream, it still retains the experimental edge of these shorts. (Chris Blackford)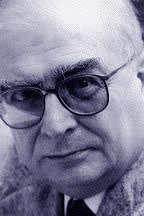 Les Biches (1968)
Dir. Claude Chabrol, with Stéphane Audran, Jacqueline Sassard, Jean-Louis Trintignant (Art House AHO 6008, 99 mins, Colour)
Le Boucher (1969)
Dir. Claude Chabrol, with Stéphane Audran, Jean Yanne (Art House AHO 6009, 94 mins, Colour)
Le Cri du Hibou (1987)
Dir. Claude Chabrol, with Christophe Malavoy (Lumiere LUM 2209, Colour)
A major contributor to the French journal Cahiers du Cinema in the late 50s, Claude Chabrol's early work formed part of the French New Wave. By the early 60s, however, while Cahier colleagues Godard and Truffaut were experimenting with improvisation and cinema verité, Chabrol concentrated his talents on the more commercially orientated art film.
It was Les Biches (1968) that established Chabrol's international reputation. Perhaps its most perfect moment is the opening scene set against a backdrop of a sepia-tinted Paris. Dressed in black, the elegant Frederique (Stéphane Audran) circles around and coolly appraises a young female street artist called Why (Jacqueline Sassard). In Frederique's second home - beautifully shot in the deserted streets and squares of an out of season St Tropez - the lovers establish a relaxed domestic routine. Their relationship is disturbed, however, by the arrival of Paul (Jean-Louis Trintignant) who seduces Why and is in turn seduced by Frederique, who claims she has fallen in love. Appearances are not what they seem, and a sensual, psychological 'game' of shifting identities ensues, intensified by Chabrol's sumptuous, yet understated lighting. Whether Frederique's appropriation of Paul is motivated by genuine love or simply the desire to possess what Why wants is never clear.
Using an outsider to introduce psychological tension is a narrative device employed to great effect in another of Chabrol's important late 60s films, Le Boucher (1969). Filmed on location in the Dordogne, it opens with a detailed picture of the rhythms and routines of provincial life; a pattern upset by the news that another young woman has been murdered. As the murders disrupt village life, the carefully controlled life of Mademoiselle Hélène, the glamorous village headmistress (Stéphane Audran), is gradually torn apart by her friendship with Popaul (Jean Yanne), a local butcher returned from 15 years army service. Obsessed with the horrific details of his army life, Popaul recalls, across the butcher's slab, memories of dismembered bodies. Tension mounts: guilt, fear and forgiveness intertwine, culminating in a bloody conclusion where there is no comfortable dividing line between victim and protagonist. Chabrol again captures all the psychological complexities in his usual elegant, understated visual style.
Le Cri du Hibou (1987) is a minor work by comparison. A variation on familiar themes of guilt, obsession and revenge, with an unsettling conclusion where the main protagonist (Christophe Malavoy) emerges credibly as both the victim of revenge and also skilful manipulator. However, there's little here in Le Cri du Hibou of Chabrol's usual cinematographic appeal: neither his close attention to natural surroundings or the glamour of a lead actress like Stéphane Audran, which made Les Biches and Le Boucher so rewarding. (Catherine Blackford)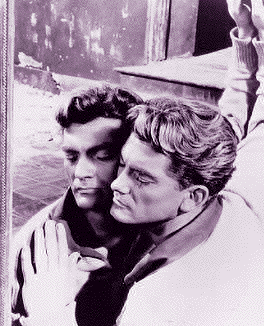 La Belle Et La Bête (1946)
Dir. Jean Coctean, with Jean Marais, Josette Day (Connoisseur Video CR018, 100 mins, Black & White)
Orphée (1950)
Dir. Jean Coctean, with Jean Marais, Maria Dea (Connoisseur Video CR004, 95 mins, Black & White)
Jean Cocteau's intention was to create a version of the well known fairy tale, Beauty And The Beast, in a "realistic style", thus "making the implausible plausible". His Beast would be so human, appealing and superior to men that Beauty would be disappointed when he was transformed into Prince Charming. Unfortunately, the critics at the time of its release, were disappointed too, considering the pace too slow, Jean Marais' triple role as the unworthy Avenant, the Beast and the Prince, too problematic, and the final bathetic twist, unwelcome. Nevertheless, La Belle Et La Bête has stood the test of time and remains, for this writer at least, a delightful achievement.
The "realistic style" turns out to be more magical than many big-budget films using sophisticated special effects. Henri Alekan's cinematography, his use of limbo lighting in the Beast's castle, where disembodied arms hold jewelled candelabra, marvellously conjures the mood of enchantment. The rooftop sequence, amid baroque animal sculptures, has an eerie beauty. Marais' performance as the Beast is commanding: a fine balance of the monstrous and the pitiable, realised through a combination of silent screen grand gesture and modern acting. Even by today's standards, the Beast's appearance is extraordinary, and made moreso by the use of alarming extreme close-ups. Beauty's (Josette Day) 'seduction' is never sentimentalised and consists of a plausible development from initial fear and revulsion, through pity to restrained passion. Cocteau's version of the tale is visually splendid and gently subversive.
Arguably his finest film, Orphée is Cocteau's updating of the Orphic myth: a complex and beguiling interpretation where reality and unreality converge, overlap and interact. Frequent references to sleep suggest the narrative is occurring in the unconscious mind of the poet, Orphée. "The closer you get to a mystery, the more important it is to be realistic," says Cocteau. His characters are recognisably modern: Orphée (Jean Marais) and his wife Eurydice Maria Dea) live in an ordinary home, have a garage and a car (which picks up mysterious messages on its radio). But Death, in the guise of a Princess (Maria Casares), and her motorcyclist emissaries, intrude and change everything, abducting the couple and, after a trial, issuing the verdict that they can return to Life if Orphée never again looks at Eurydice...
Cocteau interweaves his themes of fate, free will and (im)mortality with a wonderful lightness of touch, using the cinematic language of slow motion, reverse motion and lap dissolves to create the rhythm of a dream - mysterious, puzzling, yet possessed of an inner consistency. Jean Marais produces another stylish performance, sparkling with wit and refined sensuality. The film is a landmark in avant-garde cinema, and an inspiration to all who have the appetite to expand the formal frontiers of cinema. (Chris Blackford)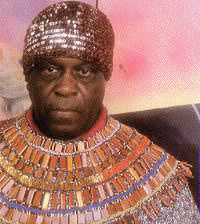 Space Is The Place (1974; re-edited 1992)
Dir. John Coney; Editor - Jim Newman, with Sun Ra, Ray Johnson, Christopher Brooks (K Jazz Video KJ123)
For years many myths and rumours have surrounded the Sun Ra movie Space Is The Place. It was shown briefly in 1974 in San Francisco, Boston and New York. The media response was slight and unresponsive. Shortly after that it was shelved. Critics and fans have since praised and gossiped about the movie often based only on fragments of information. Now, due to the persistence of the producer's son and Bruce Ricker of Rhapsody Films, it is being screened in the US and released on video in the UK. I got the facts about this elusive film from its producer Jim Newman.
The project was started when Newman and director John Coney, who had worked together on television arts programmes, approached Sun Ra. Ra was enthusiastic and provided ideas involving "his idea of a separate alternate destiny for black people apart from a sentence to death on planet Earth." Originally, the film was intended to be a short documentary. After a failed shoot during a show at San Francisco's Planetarium, the film-makers re-grouped and took Ra and entourage to the Rosicurian Egyptian Museum. The scenes filmed there include a fantastic dream sequence in which John Gilmore appears as an Egyptian prince, covered in blue make-up and wrapped as a mummy. He is awakened from death by the hand of Ra and rises from his tomb.
Around the same time the producer put the group in a recording studio and filmed them. Tunes recorded included 'We Travel the Spaceways', 'Calling Planet Earth', 'Satellites Are Spinning' and 'Outer Spaceways Inc.'. This material makes the film special because of the unique way in which it is integrated. The songs are worked into the framework of the narrative so that they take on a whole new level of meaning. For example, when Ra's spaceship heads for Earth, the Arkestra performs 'Calling Planet Earth' and the spaceship itself appears to be moving through the power of music (the soundtrack from the movie is released by Evidence).
Filming continued for a couple of weeks without a set storyline. A giant inflatable spaceship was constructed and reproduced as a small model to use keyed-in over space travel sequences. Ra was filmed arriving from outer space and being confronted by the media. About eight months were spent trying to edit the material into something coherent, without success. At this point, they brought in a scriptwriter from Hollywood, Joshua Smith. He wrote new scenes incorporating the sequences that had been shot. These new scenes involved government agents out to get Ra and teenagers who would interact with Ra and want to join his space travel ventures.
So, a year after beginning the film they were still shooting more material. Smith didn't script everything. The scene where Ra talks to teenagers in a youth centre is completely improvised. Smith helped pull the film together, but he also added some elements that with the passing of time came to be seen as distasteful and unproductive. When re-editing the film in 1992 Jim Newman decided to cut these scenes, thereby shortening the running time by about 20 minutes. The two scenes cut involved two young women attached to Ra's nemesis, the Overseer. One took place in a whorehouse and featured the women and government agents; the other took place in a hospital.
One should not, however, overlook Ra's contribution to the movie as "virtually everything of importance came out of his suggestions." Ra did see the re-edited version and approved. The film had cost $250,000 by the time it was released - not a small budget for an independent movie in 1974.
Space Is The Place is without doubt the most important film on Ra. It is also very much of its time. Comparisons have been drawn with the classic Blaxploitation movie Sweetback, which it resembles in its psychedelic, sociological critique of American life. It has also been compared to Alexandro Jodorowsky's El Topo, but on a mystical level it's closer to Holy Mountain. In the end, Space Is The Place is an oddball. Moving and seriously philosophical one minute, humorous and silly the next, it's a fitting tribute to the many facets of the creative mastery Ra achieved. I highly recommend it to the converted and to those unfamiliar with his work. (Gamall Awad)
Dementia 13 (aka The Haunted And The Hunted) (1963)
Dir. Francis Coppola, with William Campbell, Luana Anders, Bart Patton, Mary Mitchell, Patrick Magee (Screen Multimedia REEL 2209, 74 mins, Black & White)
Although director Roger Corman is regarded by many as a B-movie hack with nothing but dreck and kitsch in his repertoire, he's been responsible for giving tuition and support to some of modern American cinema's finest talents: Peter Bogdanovich, Joe Dante, Martin Scorsese, Robert De Niro and Paul Bartel. Francis Ford Coppola (minus the 'Ford') first worked for Corman by translating his Russian film purchases into English, even though he didn't understand Russian. The success of one of these films enabled Corman to give Coppola $20,000 to make his first film, Dementia 13.
It's not a particularly 'good' film by most lights - the acting is mostly wooden, the plot is silly and the dialogue is weak - but the mood and atmosphere transcend the technical failings to give us a glimpse of Coppola's potential for off-kilter strange-ness that would come to fruition in elements of Apocalypse Now (1979). Dementia 13 has a dream-like quality similar to Dreyer's Vampyr (1931) and Robert Wise's The Haunting (also 1963). The setting, an Irish castle, appears at times to have been painted by the surrealist De Chirico, while the opening scenes in a rowboat seem to have been filmed in the depths of space. A stunning title sequence, showing a series of cross-faded paintings of drowning people and surreal scenery, makes it one of the finest in low budget cinema. Influenced by Psycho in its use of aloof and strong blonde actresses (the weirdly attractive Luana Anders is superb as a manipulating gold-digger), and in certain plot devices that I can't divulge for fear of spoiling a potential viewer's enjoyment, Dementia 13 is very much a B-movie, yet offers a clue to the direction Coppola might have taken. A dip in the weird pool. (Jim Barker)
The Umbrellas Of Cherbourg (1964)
Dir. Jacques Demy, with Catherine Deneuve (Tartan Video TVT 1278, 91 mins, Colour)
Repulsion (1965)
Dir. Roman Polanski, with Catherine Deneuve (Odyssey Classics ODY 781, 104 mins, Black & White)
At first sight, there might appear to be little that links the first two films of Catherine Deneuve's career; apart, that is, from the striking, blonde beauty of this now iconic actress herself. Yet, in both Jacques Demy's The Umbrellas Of Cherbourg (1964) and Roman Polanski's Repulsion (1965) there is a preoccupation with interiors; in particular, the interiors of flats. Also, although both films are utterly different in tone and style, it is Deneuve's character who is trapped or constrained within these interiors, literally and metaphorically.
Demy's The Umbrellas Of Cherbourg is an explosion of carefully co-ordinated (techni) colour, where the wallpaper matches dresses, and bicycles match shirts. The staged quality of the film is further enhanced by the unusual choice of an all-sung dialogue, from casual banter in the workplace to heartfelt exchanges of love. This in turn seems to affect the way characters move; they are not just acting but delivering sung performances.
On the surface, it's a fairly lighthearted film about the trials of growing up, of falling in love, and seeking independence from home and family. Genevieve (Deneuve), living and working with her mother in an umbrella shop where - thanks to colour co-ordinated outfits she literally blends into the décor - she meets Guy (Nino Castelnuovo) and falls in love. Though the narrative hints at a greater complexity in the world outside the home (the Algerian War and attitudes to illegitimacy, for example), we are never allowed to become too immersed in the characters' emotions. Demy's stunning use of co-ordinated colour is always the main focus of our attention.
Interiors are used to rather different effect in Roman Polanski's Repulsion; filmed in atmospheric black and white. We are slowly drawn into the mind of the central character, Carol - Deneuve on mesmerising form - so that we too begin to see the cracks opening in walls, the images of men appearing in mirrors.
But first we meet her as a quiet, dreamy young Belgian woman working in a beauty salon, follow her cautious moves to and from work through the public male space and gaze of the streets. The nervousness of this woman, a foreigner in London, unused to male company and attention, gradually acquires a disturbing edge when she is left alone in the flat by her sister (Yvonne Furneaux).
Polanski skilfully narrows the focus. The camera closes in, framing head and shoulders, as Carol locks herself in the flat, hypersensitive to every sound and movement of the light. Polanski then treats us to some superb sequences as we see the interior of the flat through Carol's eyes - the intense paranoia of the visuals imaginatively drawing on the surrealist tradition. Only at the very end are we presented with another, sudden and brutally shocking perspective, when we come to realise where we have been taken. (Catherine Blackford)
Themroc (1972)
Dir. Claude Faraldo, with Michel Piccoli, Béatrice Romand, Marilù Tolo (Art House AHO 6023, 110 mins, Colour)
The late 60s and early 70s was a time of political and artistic turmoil for France. The riots of May 1968 had enormous repercussions, while the intellectual outrage of the Situationists is still to be heard loud and clear in pop culture today. This film was clearly part of that anarchic and violent movement of liberation from the crushing weight of conformity, industry and the absurd irrationality of the state. Themroc (Michel Piccoli is magnificent) is a painter who paints the insides of the gates while other painters paint the outsides. He then loses his job after spying on his boss and the film ceases to be a general critique of the mund-anity of work and becomes a tower of rage and bestiality. In a state of turmoil Themroc returns home, seduces his sister and sets about re-inventing his life. He liberates himself from possessions and becomes animalistic in desires and actions. Scenes of incest, random beatings and cannibalism, yet it's the deliberate and gleeful destruction of property which forms the most shocking aspect of this film. A vitriolic and surreal attack on work and conformity, Themroc is truly strange (although Faraldo made Bof! along similar lines in 1970), not least in its use of language - entirely gibberish. Be sure to search it out. A treasure. (Jim Barker)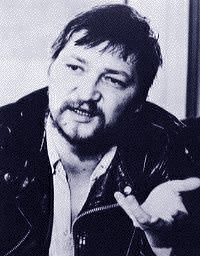 Effi Briest (1974)
Dir. Rainer Werner Fassbinder, with Hanna Schygulla, Wolf-gang Schenck, Ulli Lommel (Connoisseur Video CR 156, 135 mins, Black & White)
It's easy to get wrapped up in all the myths about Fassbinder's extraordinary life and death, and overlook a few facts. He was, of course, the most astonishingly prolific film-maker of modern times, but let's not forget that he also had a tremendous strike rate, a healthy proportion of his work finding critical and public acclaim. This film, in most people's estimation, ranks among the very finest of his works.
Although shot at a time when Fassbinder was, in the main, using modern stories to dissect post-war Germany, Effi Briest is based on Theodor Fontane's 1890s literary classic. A lonely, repressed, naive young wife is trapped in marriage to an older man and becomes attracted to his friend - to what extent we are never quite clear. The events that follow are a ruthless analysis of the society in which the film is set, as ruthless as, say, Fear Eats The Soul or Fox among Fassbinder's present-day films. In fact, the correct title of the film is Fontane Effi Briest, and it is very explicitly a reading of the novel, not an adaptation. This doesn't make it over-arty or theoretical, however, just very carefully distanced, allowing for the viewer to stay slightly detached while working on its meaning. It's always sumptuous to look at: the art direction and the black-and-white photography are first-rate. There are some striking performances, too: long before she became an art cinema icon (partly through later Fassbinder like Maria Braun), Schygulla was perhaps at her best in this astonishing film. (Gerard F Tierney)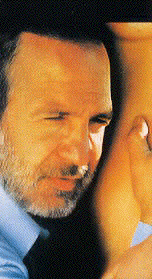 Tales Of Ordinary Madness (1981)
Dir. Marco Ferreri, with Ben Gazzara, Ornella Muti, Susan Tyrrell, Tanya Lopert, Roy Brocksmith, Katia Berger (Art House AHO 6060, 108 mins, Colour)
Tom McDonough once wrote that Charles Bukowski was "a Zen lush". In a way that's all you need to know about him to enjoy this understated Italian/French production. Based on Bukowski's Erections, Ejaculations, Exhibitions And General Tales Of Ordinary Madness, the story follows the sordid, dissolute wanderings of Charles Sirking, a booze-sodden writer whose only commitments are to the bottle and the romance of the street. There are numerous, almost surreal, scenes in which Sirking (charmingly played by Ben Gazzara, a member of John Cassavette's acting stable) attempts to uncover truth through absurdity. A beautiful girl pierces her cheeks with a giant safety-pin; a tiny woman-child hides in a darkened palace, and Sirking attempts to re-enter a womb-like state by trying to insert himself headfirst between the thighs of an overweight woman he's just had sex with (a scene as much at home in the work of Robert Crumb as Charles Bukowski).
Ornella Muti as Cass, a tragically self-destructive prostitute, is uncannily beautiful, while Susan Tyrrell and Tanya Lopert are also outstanding in supporting roles. But the film has a certain lack of humour. Bukowski's work is essentially absurd or blackly comic, yet Ferreri communicates little of this. Barbet Schroeder's Barfly, starring Mickey Rourke, is in some ways a companion to this film - a riotous outrage alongside Ferreri's romanticism and distance. There's also an atmospheric connection with Luchino Visconti's Death In Venice, which is a far cry from Bukowski's Women or Post Office. Ordinary Madness is more Italian than American, more Ferreri than Bukowski, yet it's still worth seeing whether or not you're a Bukowski fan. Central performances and the evocation of one man's drunken quest for truth across a dirty and dream-like landscape are powerful. Ferreri has captured one side of Bukowski's work, but see this in a double bill with Barfly for a fuller picture. (Jim Barker)

Peter Greenaway - The Early Works
Dir. Peter Greenaway (Connoisseur Video CR012, 70 mins)
Peter Greenaway once said: "There are, after all, approaches to be made other than the dependable routes that massage sentimental expectations and provide easy opportunities for emotional identification." His refreshingly trenchant anti-realist approach to film-making has, of course, divided critics and audiences, especially in Britain where both traditionally crave the security of realist structures of representation These three examples of Greenaway's early pre-Draughtsman's Contract work, display an engaging concern for a cinema of ideas where documentary forms collide with the enigmatic, often hermetic literary worlds of writers like Lewis Carroll, Jorge-Luis Borges and Andre Breton. The outcome is amusing, bemusing, ironic; in fact, anything but dull and predictable.
Dear Phone (1976), approximately 16 minutes, is essentially about the uses and abuses of the telephone system. Static shots of red telephone boxes in various locations (including the Houses of Parliament), at various times of the day in various types of weather, are linked by entertainingly convoluted narratives, scribbled, often illegibly, or badly typed. Each contains a male character with the initials HC, most of whom have wives called Zelda, and all are incurably obsessed with the telephone.
Water Wrackets (1978), approximately 10 minutes, is similar in tone to those short heritage-information films (usually about British castles) which the BBC used to plug awkward gaps in its morning schedule. Colin Cantlie's deadpan documentary voice-over describes a fictional military campaign and its aftermath, using a euphonious, yet virtually impenetrable terminology. The visuals splendidly display the photogenic properties of water, whilst Max Eastley's 'ambient' score heightens the intrigue. Homage or parody? One is never quite sure.
Of the three, A Walk Through H (1978), approximately 40 minutes, comes closest to the Greenaway that most film-goers will be familiar with. There is the fascination with game-playing, statistics, black humour and, of course, death. Michael Nyman's rhythmically compelling score adds a further note of familiarity. "The Walk" refers to the transition of the soul from the dead body to its destination "H" which, according to Greenaway, "could stand for either Heaven or Hell". Greenaway's father, an ornithologist, died six months before its making which possibly accounts for its somewhat elegiac subject matter and the central image of birds. Shots of these are introduced more rapidly as the narrator's journey across 92 painterly maps (using rostrum camera) reaches its end. In typical Greenaway fashion, the film raises more questions than it's prepared to answer. (Chris Blackford)
The Falls (1980)
Dir. Peter Greenaway, Music - Michael Nyman (Connoisseur Video CR 157, 185 mins, Colour)
The Falls is arguably Peter Greenaway's most demanding film: an epic three-hour journey through the labyrinth of his game-playing imagination. The central premise on which the 'narrative' is based seems to be that approximately 19 million individuals have become victims of an apocalyptic catastrophe, the Violent Unknown Event (VUE), which has left them with various debilitating medical conditions (the early physiological signs of mutating into birds), speaking in bizarre, private languages, and interested in ornithology and/or human flight. All are now immortal. The viewer is presented with a selection of 92 brief case histories of victims registered in the Directory published by the committee investigating the VUE: the surnames of these selected individuals begin with the letters FALL.
Greenaway's 11 years as a film editor at the Central Office Of Information, an arm of the British Home Office, laid the foundations for his enduring fascination with bureaucracy and bureaucratic methods of collecting and collating statistical information. Add a generous pinch of parody, a Borgesian (read the classic Tlön, Uqbar, Orbis Tertius) attention to detail, documentary voice-overs and interviewers, and you have something of the tone of The Falls (which took five years to assemble). Its preoccupation with strange characters, absurd statistical data, birds, English landscape and water photography feature in earlier (and later) Peter Greenaway films such as Dear Phone (1976) Water Wrackets (1978) and A Walk Through H (1978) - available on Peter Greenaway: The Early Works (Connoisseur CR 012), see review in Rubberneck 10/11 - but in The Falls receive a more thorough-going treatment. The staggering complexity of the information crammed into these case histories makes the video format particularly appropriate; repeat viewing offers a relaxed way of absorbing the literary intricacies. The director has suggested that the viewer take the work a little at a time, or fast-forward if and when desired - there is no compulsion to view its three hours in one sitting or in any set sequence. It's to be viewed as one uses an encyclopedia. In the long term, however, interactive video might prove to be the film's most effective format, where each of its 92 sections could be separately indexed to ensure speed and accuracy of access, and options to programme section order or adopt shuffle mode would invite further viewing strategies.
While the film offers no clear allegorical reading, the title may suggest the biblical fall of Man. Birds, who are possibly responsible for the VUE, are perhaps presented as idealised, liberated creatures whose enhanced powers of vision and flight are desired by mankind, hence the preoccupation with human attempts to simulate bird flight and references to the fall of Icarus. The transmigration of souls (dealt with in the bird imagery of A Walk Through H) is again suggested by the victims' development of bird physiology, perhaps in preparation for this spiritual journey.
Allegory or not, Greenaway's principal achievement in The Falls is to have created a compelling and consistent world sustained by the conventions of the documentary form; however absurd or hilarious the revelations appear, the mode of representation (the sober voice-overs, the restrained camera movements, the use of found footage, the teeming cross-references inside the film and to other (even future) Greenaway films, etc) rings true. When a narrator questions the veracity of the VUE itself, it serves to reinforce the foundations on which the whole enterprise is based. If there's a darker side to the film, it's that it reminds us of the sinister way governments control and fabricate the nature of the information they disseminate to their populations through the seemingly reliable structures of bureaucracy. The Falls is Peter Greenaway at his most engagingly bizarre and challenging, and further proof that he is Britain's greatest living film writer and director. (Chris Blackford)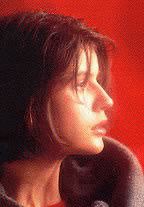 Three Colours - Blue (1993)
Dir. Krzysztof Kieslowski, with Juliette Binoche, Benoit Regent (Artificial Eye ART 085, 87 mins, Colour)
Three Colours - White (1993)
Dir. Krzysztof Kieslowski, with Zbigniew Zamachowski, Julie Delphy (Artificial Eye ART 100, 87 mins, Colour)
Three Colours - Red (1994) (Artificial Eye ART 105, 95 mins, Colour)
Dir. Krzysztof Kieslowski, with Irène Jacob, Jean-Louis Trintignant
Taking up a theme that is central to his earlier work (a consideration of how ethical issues affect individuals in their everyday lives), the Three Colours trilogy by the Polish director/writer Krzysztof Kieslowski, who died in March this year, explores the ideals of the French Revolution (Freedom, Equality, Fraternity) in a contemporary setting. Although each film in the trilogy may be viewed independently, in Red, the final film, the fate of this disparate group of characters is cleverly brought together. However, not only does each film draw on a different group of characters, but the tone and style of each is very different.
Three Colours - Blue (1993) is a visual delight with its use of coloured filters and lingering close-ups in which the stillness of the camera allows us to watch the central character Julie (Juliette Binoche) think and feel. Surviving a car crash in which her husband and daughter are killed, Blue is the story of Julie's attempt to come to terms with this tragedy and to 'free' herself from painful memories. There is a slow rhythm to the film; Kieslowski makes much use of symbolism to convey the long and difficult process of coping with loss. Recurring snatches of classical music (Julie's husband was a composer) connote the painful resurfacing of memory, whilst beautifully shot scenes of Julie swimming in a pool could be seen as representing a desire to cleanse and purify the spirit. Eventually, Julie's quest for freedom, which involves an attempt to become free of personal involvement and responsibility, is presented as rather empty and lonely, reinforced by the final lines of the choral work by her husband, which she is helping to finish: "If I have not love, I am hollow."
Three Colours - White (1993) the second film in this series, addresses the ideal of equality. Without the slow moving symbolism of Blue, its style is more clearly narrative-based. Divorced by his French wife (Julie Delphy) on the grounds that their marriage has not been consummated, Polish hairdresser husband, Karol (Zbigniew Zamachowski), is left homeless and penniless on the streets of Paris. He returns to Warsaw by a very unconventional route. Yes, what follows is often quite bizarre and also humorous, the director cunningly interweaves strong feelings of passion and love with a darker strain of obsession, where 'equality' means getting even. However, White lacks the attention to visual detail that forms such an important part of the pleasures of both Blue and Red.
In what was to become his last film, Three Colours - Red (1994), Kieslowski constructs another complex narrative structure with two storylines running in tandem, their links and points of reference becoming apparent as the film unfolds. Through the ideal of fraternity, Red explores responsibility, betrayal and survival, counterposing the optimism of youth, in the form of a young model, Valentine (Irène Jacob), with the cynicism and defeatism of old age - a retired judge played by the veteran French actor Jean-Louis Trintignant. One senses that Kieslowski values this ideal above the others. Where the pursuit of freedom has been held up as a lonely individualism, and equality as the imposition of sameness, the ideal of fraternity is interpreted as enriching and rewarding: a point emphasised when Valentine reaches out to help the elderly stooped woman, who has passed across the screen in all three films, to deposit her bottles in a bottle bank. It's a simple, yet unself-conscious act of humanity which resonates across this marvellous trilogy. (Catherine Blackford)
Kwaidan (1964)
Dir. Masaki Kobayashi; Music - Toru Takemitsu, with Keiko Kishi, Tatsuya Nakadai, Kazuo Nakamura, Tetsuro Tamba, Rentaro Mikuni (Tartan TVT 1157, 154 mins, Colour)
Strangely enough, this stunning quartet of quintessentially Japanese ghost stories ('Kwaidan' means 'ghost story') is based on the writings of an American, Lafcadio Hearn, who collected and published tales and legends from Japan in the late 19th and early 20th centuries. Kobayashi's adaptations are both visually and culturally stunning. Best known for his nine-hour epic trilogy The Human Condition (1959-61), the director makes full use of Japanese tradition in both set and costume. The Samurai uniforms, priests' robes, elegant dresses, and dishevelled peasants' rags are rich and colourful, while the obviously artificial sets (including a sky painted with eyes in the 'Snow Woman' segment) give the viewer a sense of theatrical and storytelling distance. All four tales are impressive, but the third segment, 'Hoichi the Earless' is the most affecting. At first we see a re-enactment of a medieval sea battle which captures all the power and tragedy of the Japanese Samurai tradition against a background of burning red sky, then a blind biwa (a kind of Japanese sitar) player is called upon to sing the song cycle of the battle by the ghosts of the fallen. His attempt to escape their spiritual clutches has horrific consequences.
In all, this film makes a welcome change from other similar compendium horror films of the 60s like Twice Told Tales (1963), Dr. Terror's House Of Horrors (1964) and Torture Garden (1967). Japanese film has seldom been better used to chill the spine, while the startlingly eerie soundtrack by the late Toru Takemitsu is alone worth the price of the video. (Jim Barker)
Color Me Lurid - The Weird World Of George Kuchar
Dir.George Kuchar (Connoisseur Video CR017, 70 mins)
George Kuchar is part of the American underground tradition, though his work has not received the sort of critical attention in this country as, say Andy Warhol's or Kenneth Anger's. It doesn't help matters when encyclopedias habitually omit to mention his idiosyncratic contribution to experimental cinema; consequently, the sleevenotes to these four shorts are particularly welcome. Born in New York in 1942, he started making 8mm films with his twin brother, Mike, at the age of 12. At 24 he produced, directed, wrote, edited, photographed and appeared in the 16mm Hold Me While I'm Naked (1966). If Fellini's 81/2 is the most visually resplendent film about a director's struggle to make a film, Kuchar's has to be the cheesiest and most hilarious 15 minute romp around the same theme. Jump-cutting between pairs of lovers engaged in soft-porn canoodling and an increasingly (sexually) frustrated director (played by Kuchar), who ends up banging his head against the bathroom wall, Kuchar heightens the drama with emphatic use of garish colours, whining voice-over and wistful melodramatic score.
The Mongreloid (1978) also eschews Hollywood production values and opts instead for a sort of super low-budget home movie observation of the director and his pet hound. Reminiscences of the latter's sexploits and excretory pleasures make this a remarkable exercise in how to extract hilarity from banality.
Ostensibly a documentary about a 'Hooray For Kids' festival, Forever And Always (1978) is intercut with scenes from a provocative melodrama which tend to get lost amid other less interesting footage. Mannequins and children's toys conspire to provide an eerily surreal as well as comic atmosphere. Dialogue is replaced by a succession of kitsch love songs which carry an unexpected poignancy.
A Reason To Live (1976) brings together a number of Kuchar's obsessions: troublesome toilets, troublesome weather and troublesome love. This, the gem in the collection, is primarily a film about films; a 27 minute distillation of the excesses of Hollywood melodrama and film noir, clothed in Kuchar's glittering camp aesthetics. In the paranoid shadowplay of its glorious chiaroscuro black and white photography, one senses the spirit of Von Stroheim, Von Sternberg, and Swanson with Wilder. Elsewhere, in the foggy, ethereal outdoors, Sirk and Dieterle are referenced. (Chris Blackford)
Wild At Heart (1990)
Dir. David Lynch, with Nicolas Cage, Laura Dern (Palace Video PVC2163S, 127 mins, Colour)
"It's a strange world," Jeffrey Beaumont concludes in Blue Velvet. The world of Wild At Heart is stranger still and very very sick. Its Lula (Laura Dern) says: "It's just shocking sometimes when things aren't the way you thought they were." This is the voice of a 20 year-old, who is raped at 13 by an uncle, who terminates the pregnancy, who witnesses the torching of her father, and is now on the run from her psychotic mother, with a boyfriend (Nicolas Cage) who has broken parole after beating out the brains of a man with his bare hands.
Lynch's vision has rarely been this chilling, his penchant for expressionist lighting and neo-surrealist framing, this extreme. His characters burn with a passion called hate. The two that love, do so in an escapist, Yellow Brick Road kind of fantasy. Their ancestors are Lang's problematic 'heroes' (e.g. The Big Heat, Rancho Notorious) who strive to do what is 'right', yet never emerge unsullied. Still, there is humour here; usually off-the-wall or jet black, and delivered in a spoof 50s B-movie lingo. However, the confrontation between Lula and sadistic mobster, Bobby Peru (Willem Dafoe), is revolting. That Lynch should even suggest the possibility of Lula's complicity in this sexual assault is treading on some very very thin ice indeed. Peru's flip remark at the end of the scene is presumably Lynch's way of saying it's not for real - it doesn't become him.
Lynch is now big bucks at the box office. Mainstream film-goers are flocking to see his films on the strength of the Twin Peaks show. Horror fans still get off on the violence and sadistic sex. Those of us who defended Blue Velvet against charges of gratuitous violence and misogyny, because Lynch was an auteur working through complex themes, see the same themes reworked in Wild At Heart, but might now be feeling increasingly uneasy, because here they are swept along by the tidal wave of adrenalin whipped up by tight editing and Lynch's stunning visual style. You will need to see this film a number of times before passing judgement. Its video release is, therefore, essential. (Chris Blackford)
Dear Diary (1994)
Dir. Nanni Moretti, with Nanni Moretti, Renato Carpentieri, Antonio Neiwiller (Artificial Eye ART 107, 96 mins, Colour)
A film in three chapters, Dear Diary takes us through a year in the life of its director Nanni Moretti (winner of Best Director at Cannes in 1994). In chapter one, the camera follows Moretti on his Vespa through rather uninspiring streets in Rome, while the voice-over tells us about his passion for exploring different neighbourhoods. Although amusing at times, this is like watching someone's home movie - one or two laughs but nothing very memorable.
Chapter two continues the diary theme, although here voice to camera and voice-overs are replaced by dialogue between Moretti and friend as they search for peace and solitude in the Eolian islands. This kind of format calls to mind a travel show, lots of beautiful scenery, some engaging characters, but a rather forced narrative.
In chapter three, Moretti adopts a style reminiscent of fly-on-the-wall documentary, taking us through a year of frustrating encounters with mainstream and alternative medics. Only in this chapter does one really begin to appreciate the inclusion of this low-key, lighthearted content. In a sense, its presence serves to throw into sharp contrast the more intimate and genuinely moving events recorded in this part of the film. At the same time it's a reminder of the multi-textured and layered content not just of diary writing/making, but of life itself. (Catherine Blackford)
The Tango Lesson (1997)
Dir. Sally Potter, with Sally Potter, Pablo Veron (Artificial Eye ART 151, 97 mins, Black & White/Colour)
Sally Potter's The Tango Lesson is a different kind of love story, using the interesting device of having two main leads, Potter and Pablo Veron, an internationally acclaimed dancer, playing themselves in a fictional context. This sets up a strange tension; while Potter is a key player in the drama, her aloof and 'unactorly' screen presence (the distinction between her 'real' self and screen character deliberately blurred), together with the knowledge that she's the film's director, has an unsettling affect on the narrative, resulting in romantic exchanges which appear staged and dramatically unconvincing. Perhaps what we are witnessing is a form of dramatic therapy where Potter-director explores her own fantasies.
Structuring the narrative around Sally's (Potter) attempts to learn the tango from Pablo (Veron) an Argentinian dancer, the film is divided into a series of lessons, taking us through the characters' emotional struggles and conflicts rather than merely dance steps or routines. For Potter, the crux of learning the dance is an emotional and intell-ectual struggle over whether to hand over the power to lead and direct which forms a fundamental part of her own work/life. In this respect, it's also an analysis of gender relations. Towards the end, when roles are reversed and Pablo becomes a potential actor in the screenplay Potter is working on, we see the couple renegotiating their relationship and evaluating the compromises required to work together.
The film's at its most visually stimulating and light hearted when the romantic exchanges errupt, in the well worn tradition of musicals, into fully fledged dance routines where the lovers dance to a seductive score of tangos in the cobbled streets of Buenos Aires and by lamplit river in Paris. Given her ease and elegance dancing the tango, it shouldn't surprise you to learn that in 'real life' Potter trained as a dancer/choreographer at the London School Of Contemporary Dance in the 1970s. (Catherine Blackford)
Autobus (1991)
Dir. Eric Rochant, with Yvan Attal, Kristin Scott-Thomas, Charlotte Gainsbourg, Marc Berman (Artificial Eye ART 042, 93 mins, Colour)
It's commonly accepted that there is massive over-production in French cinema, which means many French films never travel abroad, and doubtless don't deserve to. When a successful piece of French product does enjoy some success abroad, it seems churlish to complain, especially as this is a well constructed piece of work, but I found it pretty thin stuff compared to, say, the films of Olivier Assayas, which haven't broken out of the festival circuit over here.
Rochant got some fine performances out of the cast of his first feature, Un Monde Sans Pitie, and there's nothing wrong with the acting on display here either, but I found the storyline idiotic and the characters unsympathetic. Others have argued that it's all terribly gripping (non-entity tries to 'be someone' by hi-jacking a school bus), and some of the plot twists are certainly fresh, in a sort of daft existential way. It's also a welcome change from the world of morose Parisian student types found in Rochant's earlier film, but I have to confess to wanting a wholesale massacre to break out by the time I'd reached the 30-minute mark. (Gerard F Tierney)
Parsifal (1982)
Dir. Hans Jurgen Syberberg, with Edith Clever, Robert Lloyd, Armin Jordan and the voices of Reiner Goldberg, Yvonne Minton (Artificial Eye ART OP1, 244 mins, Colour)
Syberberg's trawl through the highways and byways of German culture occupied much of the 1970s, producing film epics such as Ludwig and Hitler, plus more 'intimate' films like Ludwig's Cook and Winifred Wagner. In 1982 this body of work reached its perhaps inevitable climax as HJS took on 'ol RW himself, on the 100th anniversary of Parsifal's first performance at Bayreuth. With Syberberg, we're a long way from either 'filmed theatre' or 'opera on location'; he creates vast, surreal settings (Wagner's death-mask the size of some Teutonic Mount Rushmore), filled with a curious mixture of objects symbolic, dramatic and kitsch. Part of the fascination is that the camera, despite the tableaux, is mainly focused on the actors, most of whom are non-singers lip-synching (very successfully, too). The subject matter is a notoriously heady brew of magic, myth and religion. This production emphasises phallic imagery, a strong case of the Oedipal and a palpable castration anxiety. One major variation involves gender, occurs during the second act, and is fully in line with the depiction of this anxiety. There's also extra emphasis on Kundry, and Clever's mesmerising performance fully justifies this: the ageless Kundry constantly plays upon, and subverts, male neurosis towards the 'wild woman'. Not a Wagnerite, I was still impressed by the scale and intensity of the music, while constantly intrigued by Syberberg's approach. However, four hours, even split into three acts over two tapes, will prove pretty daunting for many non-believers. (Gerard F Tierney)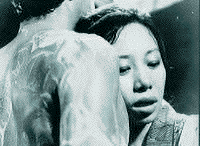 Woman Of The Dunes (1964)
Dir. Hiroshi Teshigahara; Music - Toru Takemitsu, with Eiji Okada, Kyoko Kishida (Connoisseur Video CR 077, 119 mins, Black & White)
A young professor of entomology (Eiji Okada) in a desert surrounding a remote village, searching for that new species which will get his name and reputation forever established in an encylopedia. He ruminates on the task's absolute need for corroboration and certification; in fact, a certificate for everything in his life, his identity measured out in certificates - finally, even a certificate for a 'missing person'
He accepts an offer to spend the night in a house in the village which turns out to be a shack at the bottom of a pit: its only inhabitant a young widow. Thus begins his strange imprisonment. Trapped like the insects he studiously pins to boards or keeps in bottles, his confusion turns to anger, to desperation, but never to complete hopelessness.
Teshigahara's bewitching allegory is a testimony to the persistence of the human spirit when all seems incomprehensible; also, perhaps, a political statement about the need for individuality in the face of collective coercion and conformity. Larger ideas, however, are never allowed to overburden the essential starkness of the human predicament as it appears in the basic narrative. The ensuing 'relationship' with the woman (Kyoko Kishida) is beautifully paced. She seduces him, first by sleeping naked, ostensibly to avoid "sand rash". Unwittingly, he is acting out a role prescribed by the woman in league with the villagers' "village council" whose deeper motive is revealed to us but not, it seems, to him. Their moments of tenderness and passion are smoothly juxtaposed with shots of the rippled dunes; huge close-ups of sand-flecked skin create a broad, textural landscape of eroticism - temporary escape from the cramped confines of the shack. (Chris Blackford)
Lifespan (1975)
Dir. Alexander Whitelaw, with Klaus Kinski, Hiram Keller, Tina Aumont (Art House AHP 5027, 85 mins (copy under review 76 mins), Colour)
Whitelaw, an American based in Paris, has directed a few films, made cameos in others, subtitled far more. This is his best-known work; it had a cult following in repertory cinemas, and not just for an extensive bondage scene. The story is familiar: scientific experiment meets conspiracy theory. Keller, visiting Amsterdam, pursues a dead colleague's research into the secret of eternal life. Kinski, a Swiss industrialist spends early scenes brooding in the background, then becomes more central to the plot. The most interesting element is our old favourite - how much is real and how much the hero's paranoia? Though atmospheric, the film depends upon large chunks of narration, frequently a sign of trouble (of course, in the right hands, narration can be a triumph). Here, it's just flat. Aumont, Kinski and the mainly Dutch cast are quite convincing (though some dubbing produces mixed results), but there isn't much for them to do; Keller is unconvincing, a weak and unlikeable figure to play against. Curiously, Terry Riley provided the music, with a few surprise results. It has to be said that this review copy is several minutes short - the aforementioned bondage scene, in fact. (Gerard F Tierney)
These Three (1936)
Dir. William Wyler, with Miriam Hopkins, Joel McCrea, Merle Oberon (Video Gems SG 3015, 92 mins, Black & White)
Based on Lillian Hellman's classic lesbian stage play The Children's Hour (a big success at the National Theatre last year), the video release of William Wyler's These Three promises, but does not provide, an early representation of lesbian love. Whilst it succeeds in capturing the claustrophobia of smalltown American life and the hysteria unleashed by rumour and scandal, the heterosexualisation of the plot reveals rather more about inter-war anti-lesbianism than the original content of Hellman's play. By making the male character, a local doctor (Joel McCrea), the prinicpal object of desire, Wyler removes all traces of lesbianism from the film.
Yet, in his second screen adaptation of Hellman's play, The Loudest Whisper (1963), starring Audrey Hepburn and Shirley MacLaine, Wyler reinstated the play's central themes - female friendship and lesbianism - and in so doing produced one of the few films of the post-war period which dealt with the issue of lesbianism. These Three may stand alone as a powerful account of the effects of frenzy whipped up by rumour and gossip in a conservative community, but it also needs to be seen as another striking example of Hollywood homophobia. (Catherine Blackford)
Text copyright © Rubberneck