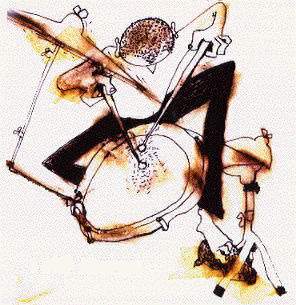 For You To Share: John Stevens On CD - reviewed by Chris Blackford
During the transition from vinyl to CD much of John Stevens' (1940-1994) back catalogue has drifted into a limbo of indefinite unavailability; consequently, some of the landmark recordings in the history of European free improvisation are no longer available to a younger generation of listeners who can't/won't pay the ludicrous prices now being asked for some of these recordings on the second-hand LP market.
Thankfully, though, in recent years a few labels motivated by artistic integrity rather than the potential for profitability on reissues, have transferred Stevens' work to CD. While Chronoscope Records has reissued the seminal 1968 Spontaneous Music Ensemble (SME) recording Karyobin, Berlin-based Konnex Records has reissued five albums (to date) which reflect the variety of Stevens' stylistic interests; three of these are reviewed below. However, the label most dedicated to keeping Stevens' work in print is Martin Davidson's Emanem, which has reissued a number of SME recordings from the early 1970s with additional material. The same label has also been publishing previously unreleased recordings from the mid-late 60s (and one from 1980-91), thus increasing our knowledge and appreciation of John Stevens' and SME's pioneering efforts in free improvisation. It's time many more people realised that John Stevens was one of the most original figures in post-war British music and, five years after his sudden death, he continues to be one of the most influential. (Chris Blackford, February 1999)
Spontaneous Music Ensemble, Karyobin (Chronoscope CPE2001-2)
Karyobin was originally released by Island Records! It is one of the seminal recordings of freely improvised music, made in 1968 by British pioneers Spontaneous Music Ensemble. Personnel: Kenny Wheeler, Evan Parker, Derek Bailey, Dave Holland and John Stevens. Also, Parker and Bailey's first record. An accomplished group outing it was, too. Wheeler and Parker provide the most assertive dialectical exchanges: the former still with a Cool ear for jazz heritage, the latter sculpting a new, non-idiomatic soprano sound, bristling with lightning flourishes. Bailey's textural smudges and icy chords are glimpsed above the restless, understated groundswell of Stevens' cymbalplay. Holland, though freed from rhythm section constraints, opts for a fairly conventional tonal role. Karyobin also makes a fascinating comparison with the following year's more abstract Music Improvisation Company release (Incus CD 12).
John Stevens Works, Big Band & Quintet (Konnex KCD 5045)
John Stevens Works, Re-Touch & Quartet (Konnex KCD 5027)
John Stevens Dance Orchestra, A Luta Continua (Konnex KCD 5056)
John Stevens Quartet, New Cool (The Jazz Label TJL006)
Big Band & Quintet comprises a 20-minute big band piece dating from 1971, followed by three quintet pieces from 1975. The former, 'Let's Sing For Him (A March For Albert Ayler)', proceeds with the moving gravitas of a New Orleans funeral march, interlaced with much spirited improvising from the 21-strong SME Big Band. The five female vocalists (Julie Tippetts, the Nichols sisters, Carolann and Maggie, Pepe Lemer and Norma Winstone) bring the piece to a soaring climax with the repetitions of the title taking on an almost mantric intensity. Four drummers, two bassists and pianists, and a horn section including Wheeler, Carr, Watts and Warleigh provide the instrumental weight to keep the work on track for its duration. This gig must have been quite a spectacle all those years ago - the emotional impact of its uplifting music has not lessened.
The quintet pieces featuring Kenny Wheeler, Ray Warleigh, Trevor Watts, Jeff Clyne and JS are in the 'freebop' mode, a delightfully agile play of theme and variations, constantly pushed and pulled by Stevens' subtle shifts in tempo and dynamics - even his more robust accents have a gorgeous, springy lightness that injects an irresistible fizz into these pieces.
Re-Touch & Quartet typifies John Stevens' remarkable facility for exploring widely differing soundworlds through small group improvisation. The first half of this collection consists of two pieces by a 1977 quartet/quintet featuring Allan Holdsworth (electric guitar), Jeff Young (piano), Barry Guy (bass), for the 37-minute 'No Fear', plus Ron Mathewson (bass) for the short and rhythmically punchy 'Re-Touch'. The longer work begins in a riffy, fusion vein with Young's glassy electric piano rippling over the rhythm section's choppy metres. Young's piano becomes acoustic and more lyrical, and by halfway the sonic architecture has turned romantic chamber jazz, courtesy of the melodic counterpoint between Young and Holdsworth. The guitarist eschews those characteristically intricate and sometimes directionless solos, adapting superbly to a more collective, less soloistic context. Throughout, it's Stevens' highly inventive, restive drum and cymbalplay that keeps the rhythmic impetus in a state of flux.
'One, Two, Albert Ayler, Birds Of A Feather, Nothing' is another extended piece from the 1971 London gig that spawned the aforementioned 'Let's Sing For Him' on Big Band & Quintet. JS is joined by Julie Tippetts, Trevor Watts and Ron Herman. Grooveless abstraction, often dense with fragmented flurries of activity peaking and diving. Watts' sax is particularly strong, but Tippetts' vocals have travelled less well across the passage of time - soprano wails and yodels that lack interesting colour and variety. The sensitive forays into fusion and chamber jazz on this disc sound a deal more persuasive than the radical abstraction.
Some of the material on A Luta Continua by the John Stevens Dance Orchestra was recorded between 1977 and 1981 with group numbers ranging from seven to 17. Stevens refers to a notion of "rhythmelodic" statements, where each rhythm has a melodic content and vice-versa; the nine pieces are also about playing in and outside of time simultaneously - some instruments holding down a groove while others run free, then swapping roles. 'Humble Seamen Hayes' recalls the extended jazz-rock line-ups of late 60s/early 70s Soft Machine; the short, interlocking rhythms of 'Sandwich' suggest a favourable meeting place for jazz improv and minimalism. This is an album that is sure to grow in stature after each hearing.
Finally, New Cool by the John Stevens Quartet (with Ed Jones, saxes; Byron Wallen, trumpet & flugelhorn; and Gary Crosby, bass), recorded at the Crawley Jazz Festival in 1992, combines freebop (or is it freecool?) and rhythmelodics ideas to produce an accessible sound with room for soloists to stretch out and collective playing to reach an occasional intensity. John Stevens is behind everything, busy guiding, coaxing and generally creating space for others to sound good in. They conclude with 'Dudu's Gone', a tribute to another departed, inspirational, eclectic jazz master.
Derek Bailey/John Stevens, Playing (Incus CD 14)
Playing is the first duo album by pioneer improvisors Derek Bailey and John Stevens in their 25 years or so association. Fiercely non-idiomatic, it's also one of the most demanding albums I've heard this year. Bailey on electric and acoustic guitars, John Stevens, a restricted drum kit of two small high-hats, children's snare and a few cymbals, plus mini trumpet. Nine tracks teeming with complex, seamless transitions ­ the choppy, abbreviated phrasing of Bailey's guitar set against Stevens' rapid-fire snare rolls and shuffling, scuffed-up cymbal sounds. Only 'Reflecters' and 'D Baby' indulge in anything remotely like regular pulse and then only fleetingly. The interplay is concise and to the point; ideas are stated, then nipped back as new shoots spring up. After a few hearings one becomes attuned to the percussive and rhythmic nuances of the guitar playing and how they interact with the more conventional percussive sounds. 'The Instance' is that mini trumpet blown shrill, ragged and finally delicately, underpinned by the slenderest of electric guitar tones. A benchmark recording in duo improvising.
Evan Parker/John Stevens, Corner To Corner (Ogun OGCD 005)
Corner To Corner finds Evan Parker in the company of another stalwart improvisor and long-time associate, percussionist John Stevens. The two go way back to the 60s where they pioneered the approach in the seminal British improv group SME (Spontaneous Musical Ensemble). Stevens plays occasional trumpet and the same restricted kit as the one featured on Playing (Incus, 1993); and if you have that album or are going to have it, I daresay you'll want this one, too. Parker's playing is certainly not as overtly melodic on Corner To Corner as was the case in the aforementioned Anthony Braxton duets [Anthony Braxton/Evan Parker, Duo (London) 1993 (Leo CD LR 193 CD); a review of this CD was published in a double-header with Corner To Corner]. These seven pieces with Stevens are essentially non-idiomatic and like Playing involve a great deal of intricate interaction. The point at which the two musicians meet is usually hard to pin down; sometimes one senses that it's a general mood that's being mutually felt and shaped; and sometimes the common ground has more to do with the shape of the space between the sounds. One identifiable motif that crops up in a few places is Stevens' use of sustained trumpet tones on which Parker embroiders a little soprano multiphonic magic. Steve Beresford unhesitatingly declares in his sleevenotes: "Free improvisation is certainly the UK's most important recent contribution to the music world." Corner To Corner confirms the validity of that statement.
Gary Smith/John Stevens, Gary Smith/John Stevens (Ecstatic Peace #52/Soul #9)
". . .seven improvised guitar and drum duets. . . Stevens was in typically good form, punctuating, goading, responding, reacting, sometimes with the deftest of touches of brushes on cymbals, at other times belting the hell out of his kit. Truly a listening drummer. However, John Stevens was a known (if constantly surprising) quantity. The guitar work of Gary Smith was the real shock. His use of dynamics, the way in which he produced swathes of sound that seemed to hover and then curve in the air, his creative use of stereo, his amalgam of rock/jazz/improv/classical into a seamless whole, all singled him out as one to watch. . . Though cruelly under-reviewed, Gary Smith/John Stevens was one of last year's best releases." (excerpts from 'Gary Smith: Electic Guitarist', interview by John Eyles in Rubberneck 24, June 1997)
Spontaneous Music Ensemble, Face To Face (Emanem 4003)
. . .Also working at the same time was a stripped-down SME. Spontaneous Music Ensemble: John Stevens & Trevor Watts, Face To Face (1973) (Emanem 4003) includes three previously unissued pieces. Though busy, this duo's interaction is more intimate, hinging on the delicacy and precision of sudden sounds cut short. Watts darts across the soprano's registral compass, producing low notes that mutate into the wispiest overtones in the twinkling of an eye; Stevens suggests pulse without rigidly stating it, brief repetitions amid the restive, non-rhythmic play of cymbals and crisply-struck snare. Clearly, the sax/drums duo had undergone some radical rethinking since Coltrane/Ali's Interstellar Space of 1967.
Spontaneous Music Ensemble, Summer 1967 (Emanen 4005)
Spontaneous Music Ensemble's Summer 1967 provides a crucial document of the early days of this seminal British improvising group, here featuring the duo of John Stevens and Evan Parker, and for two pieces (recorded in a less than attentive London coffee bar) augmented by German bassist Peter Kowald. Parker devotees should note that this CD replaces Karyobin as the saxophonist's earliest published recording (even earlier material featuring EP is on the way).
Summer 1967, like the later Stevens/Watts Face To Face (on Emanem CD) showcases SME's egoless, "conversational" approach to the then revolutionary non-idiomatic strand of improvisation. All selections are previously unissued. 'Listening Together 1 - 5' is music of great intimacy - nimble, gentle, reflective, alive with ever-changing detail. Stevens already possesses the polyrhythmic suppleness of a Rashied Ali, but has his own method of registering incredibly subtle gradations in pitch, tempo and attack. The younger Parker (a mere 23) was fast becoming a unique voice on the London scene, developing his non-idiomatic approach with few overt signs of US free jazz influence; here, his deliberately restrained tone and restricted dynamic range does recall the path-breaking work of Jimmy Giuffre (Free Fall, 1962).
Spontaneous Music Ensemble (Stevens/Coombes/Smith), Hot And Cold Heroes (1980-91) (Emanem 4008)
Spontaneous Music Ensemble (Stevens/Smith/Butcher), A New Distance (ACTA 8)
John Stevens, Nigel Coombes and Roger Smith were the longest lasting SME line-up, but were seriously under-recorded. Hot And Cold Heroes is the first album entirely devoted to the music of this trio: true to an SME 'philosophy' where individual contributions are offered up for the greater good. Not that distinctive voices don't emerge; the slip-skating phrases of Smith's acoustic guitar, that sometimes swell with flamenco-like flourishes, are interlaced with Coombes' tense and sinuous violin lines. Stevens sharpens the debate using metreless cymbal cascades or dramatically spaced drum snaps and cracks. The nearly half-hour piece 'Boileau Road' proceeds with a detailed determination, recorded in Stevens' dining room! Neil Metcalfe and John Rangecroft add flashes of woodwind colour to 'Five To One', but it's the trio's blended energy that bends the ear most memorably.
After Coombes left in 1992, John Butcher (tenor/soprano saxes) joined. A New Distance is the first recording to surface by this Stevens/Smith/Butcher line-up and, sadly, with the passing of John Stevens in September 1994, these two London sets (3rd LMC Festival and the Red Rose Club) are also the last they recorded. Consequently, the album now represents the end of an era; the triumphant final chapter in the SME story - a story that lasted almost 30 years. Butcher's marvellous sensitivity to microtonal timbral detail is ideally suited to SME's egoless ethos; the trio's close-knit cohesion is exemplified on 'Stig' - a breathtaking masterwork of subtle, non-idiomatic invention which maintains its intricate, textural focus for 26 minutes. Inspirational.
Spontaneous Music Ensemble, Withdrawal (Emanem 4020)
Emanem's excavation of treasures from the early days of British free improvisation goes from strength to strength with these three Spontaneous Music Ensemble CDs, spanning the years 1966-74. Arguably most important are previously unreleased performances from September/October 1966 and March 1967 which comprise Withdrawal, also the title of a 35-minute film (now presumed lost) by American George Paul Solomos, based on the David Chapman book about a drug addict in a mental institution. The four 'Soundtrack' improvisations by Messrs Wheeler, Rutherford, Watts, Parker, Guy (EP's and BG's earliest published recordings to date) and Stevens were to accompany this film; musicians having first familiarised themselves with the book. And there's a slow-motion, hallucinatory quality to the music, arising, in particular, from Guy's deep arco drones and Wheeler's hazy trumpet tone. Watts contributes some fascinating near-ethnic sounds on oboe which become increasingly frenzied as the separate lines work towards occasional tangled crescendos. Stevens' simple, disorientating glockenspiel wouldn't be out of place in a Hitchcockian psychodrama.
The few jazz inflexions that remain are most noticeable in the playing of Wheeler and Rutherford, the former here emerging as the most persuasive soloist. Interestingly, Parker seems less inhibited when taking over glockenspiel duties on track 5. By 'Sequence 1' of the seven 1967 pieces, Bailey has joined the ensemble, and for 'Sequence 2' Guy has switched briefly to piano, delivering some imaginative internal (on the strings) and external (on the keys) percussive sounds. As one might expect, this later series of pieces, entitled 'Seeing Sounds And Hearing Colours', demonstrates a more ambitious range and control of group dynamics, with large and small gestures confidently balanced and combined, space used to telling effect, and a surer sense of structural development and mood-creation as individuals' non-idiomatic vocabularies become much richer (notably Stevens and Watts) within this collective context. Over the course of about six months, we've heard SME develop into a seminal improvising unit; so much so, that this release now occupies that cornerstone position in British non-idiomatic free improvisation once held by Karyobin (1968). As usual, this Emanem disc comes with informative sleevenotes and good period photos. Spot the Harry Palmer lookalike.
Spontaneous Music Ensemble, Quintessence 1 (Emanem 4015)
Spontaneous Music Ensemble, Quintessence 2 (Emanem 4016)
Of course, much important pathbreaking work had been done both in and outside -Amalgam, MIC, Parker/Lytton Duo, etc - SME by the time the fine 1973-4 recordings on Quintessence 1 were made. The previously issued 'Forty Minutes' (ICA Theatre, 1974) featuring Stevens, Parker, Watts, Bailey and visiting US bassist and cellist Kent Carter, displays a marvellous, close-knit group cohesion based on instrumental symmetries. Parker's and Watts' soprano saxophones are often to be heard exploring related areas of the attissimo register, while Bailey's fractured, irascible amplified guitar complements Carter's mellow pizzicato. Remaining tracks consist of three previously unissued 1973 trio performances by Stevens, Watts and Carter; the first and most compelling, 'Rambunctious 1', is busy yet memorably sensitive. Stevens' light and breezy shifts of energy and emphasis on a few small drums and his delicate, quick-witted use of cymbals, are truly mesmerising. Unfortunately, 'Rambunctious 2' and African- influenced 'Daa-oom' have had their allegedly "less successful" parts lopped off. A somewhat controversial editorial decision.
Quintessence 2 is the second half of the aforementioned ICA quintet performance, with previously released 'Thirty-Five Minutes' and 'Ten Minutes' providing further evidence that this was indeed a very special gig. On this disc, two previously unissued tracks feature the Stevens/Watts duo version of SME. 'Corsop', for cornet (Stevens) and soprano sax, has strong dialogic elements with both players listening intently and working beyond mere call and response patterns. Finally, another version of the distinctive 'Daa-oom' hears Stevens' strange African pygmy-influenced vocals fervently echoed by soprano sax - long at 10 minutes, but sufficiently outlandish to hold the attention.
Spontaneous Music Orchestra, For You To Share (Emanem 4023)
John Stevens' large-scale improv projects, later (1973) identified under the name Spontaneous Music Orchestra to distinguish them from smaller-scale Spontaneous Music Ensemble activities, assume an important place in the experimental music of late 60s/early 70s Britain where, with groups like the Scratch Orchestra and Portsmouth Sinfonia, they challenged orthodox concepts of music making by, among other things, their use of improvisation and 'anti-virtuosic' approaches to musicianship. In some cases, the latter meant the involvement of amateur musicians, even audience participation, resulting in work that valued collective co-operation and community fellowship above individual virtuosity. These wholesome principles guide For You To Share, recorded in January and May 1970, featuring Stevens, Trevor Watts, and "numerous young musicians and audience members". The 37-minute title piece includes sections for massed voices, atmospherically sustaining multitextured drones that sometimes serve as a sonic canvas for Stevens and Watts to paint their vigorous tone-colours, while a previously unissued 'Peace Music' successfully draws on the slow, procession-like pace and vertical density of Japanese gagaku. Comradeship in unpretentious pursuit of musical adventure.
These reviews were first published in Rubberneck 15, 16, 18, 20, 22, 24, 26 and 28
Text © Rubberneck; drawing by John Stevens