EMERGENCY WATER SUPPLY SIGNS.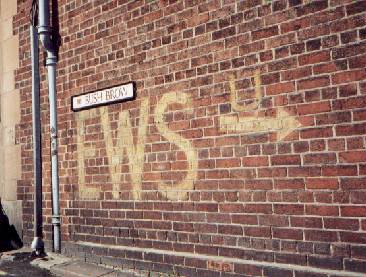 Emergency water supplies were laid in most, if not all towns and cities to provide a source of water for extinguishing fires and incendiary bombs, should the main supplies be damaged. Many forms of pipe were used, from 6-inch iron pipes laid along gutters, to concrete shuttered trenches and canvas pipes in a metal frame. The cross-section may have been round, rectangular or square.
The water ran through these pipes from swimming pools, industrial tanks, specially- built temporary tanks and even bombed-out cellars. Dammed-off rivers and streams were also used. These "Static Water Supplies" were to be found all over the place. Sometimes an "SWS" sign turns up (Static Water Supply), rather than an "EWS". The Emergency Water Supply sign in the picture on the left (photographed in July 2000) is in Carlisle, on the wall behind Woolworths, on Bush Brow. I suspect the "U" stands for "underground" rather than a surface-main.
Emergency water supplies were not confined to industrial cities or towns, or areas of large population. The picture below was taken in Appleby-in-Westmorland, a small country town.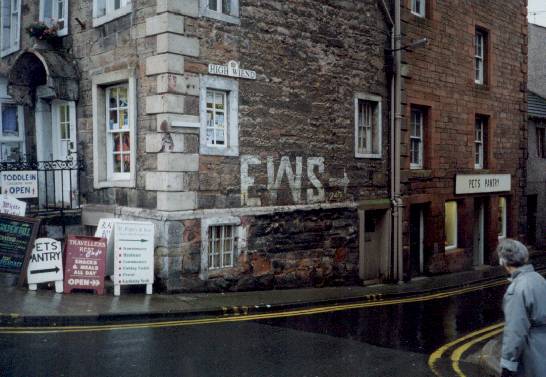 The five examples below are all in Carlisle. A further, faded, EWS sign can be found on the side of the bridge going over to Denton Holme. There was an EWS sign in Penrith, on the brick wall behind what was the "Regent" cinema, which was demolished in 2003.
ABOVE, CLOCKWISE FROM TOP LEFT:

Opposite Carlisle castle.
On the side of a public house, Botchergate.
St. Cuthbert's Lane, next to (what was) Binns.
Metcalfe St., Denton Holme.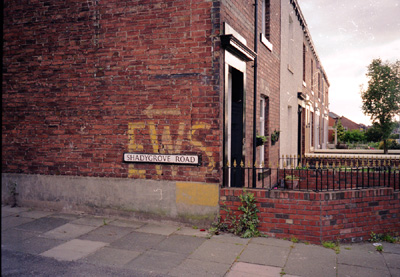 The picture to the right is on the end of Shadygrove Road, at the west side of the city. Note the large yellow block still visible below the lettering. This is evident on several EWS signs written on corners (not shown on this website). Anyone know why it was there? My own theory is that it marks the edge of the wall making it easier to see in the black-out.
There were several static tanks in Workington; at the junction of Queen St and Bolton St, next to the "Tin Mission", On St. Michael's Road, On Gordon Street, At Salterbeck behind the Cemetery gates, and on the Marsh. All have long since disappeared. Hoses were led out of the Mill Stream and laid along Washington Street for Civil Defence excercises.
One of the static water tanks in Penrith was on Scaws, near to where Beaconside school stands today. A section of nearby wall was loop-holed to accommodate Home-guard riflemen!
---
Home | Contents | Workington | Defence | Links | E-Mail
---