BARROW: ROC - UKWMO POST
The ROC post at barrow is located on Walney Island, on the site of the Fort Walney Coast-Battery. It is likely that the adjacent Battery Observation Post furnished the WWII ROC look-out, where the present-day Coastguard look-out is mounted.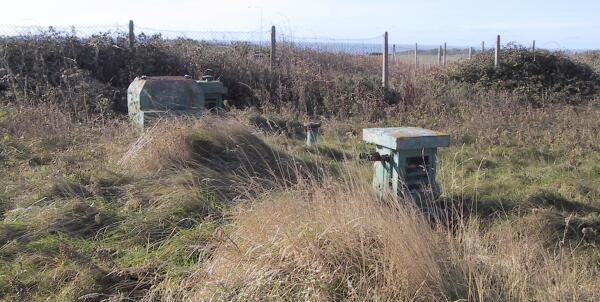 Closer observation of the above photograph will reveal that this was a 'Cluster-Post', equipped with VHF radio. The aerial mounting apparatus is attached to the side of the ventilator shaft.
Above left is the rather unusual entrance hatch, which differs from those at other ROC posts. Despite its shabby appearance, it is held firmly closed by two shiny big padlocks!
The other photograph shows the general degree of dilapidation to which the post has fallen since becoming disused. It is located in the middle of Walney Island Golf-Course and exposed to the sea-air and associated weather.
---
Home | Contents | Workington | Links | E-Mail
---