TYPE 23 PILLBOX VARIANT, WHITEHAVEN
Take a look at the photograph below. Cast your eyes around until you come to the words 'BUS STATION' between the two lamp posts. What do you see to the left of this sign? That little grey hut is a variant on a type F/W 23 pill-box, nestling in a prime defensive position above and behind the bus-station, and just in front of Wellington Row.
PHOTOGRAPH: Frank lewthwaite, Whitehaven.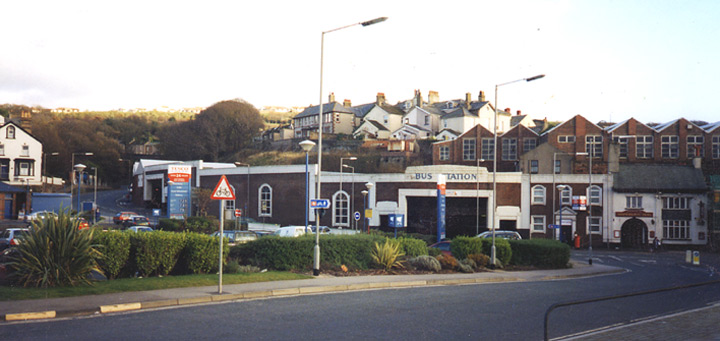 This area has changed significantly since WWII, but the elevated defensive position taken by Whitehaven's contribution to urban warfare would have covered the road to the dock, the road from the railway station (any invaders dashing round from behind the 'Grand Hotel' would have been strafed), the bottom of Bransty and the entrance to William Pit and the 'Waggon Road'.
BELOW
Close-up of the pill-box. Now used to support a brick-bunded oil-tank! Note the steel loophole surrounds still in place.
PHOTOGRAPH: Sean Duffy, Whitehaven.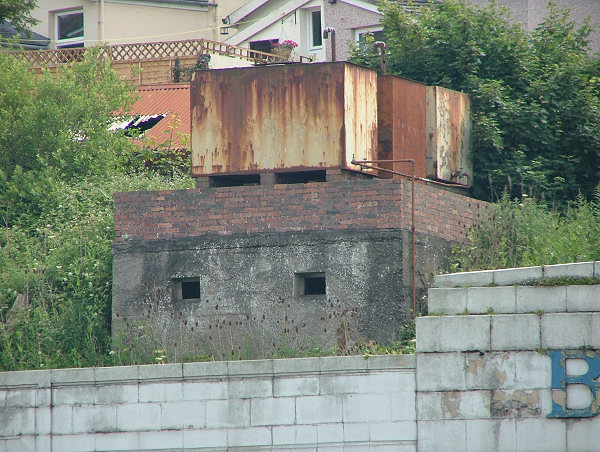 ---
Home | Contents | Workington | Links | E-Mail
---