LIEUTENANT BLACKMORE AND OTHERS ON THE BEACH AT DRIGG.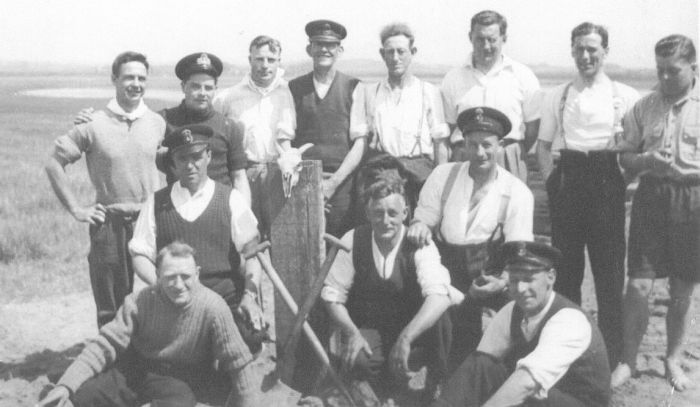 PHOTO: Bert & Mary Blackmore.
Bert and Mary Blackmore recall: 'This picture was taken on the sand dunes at Drigg...Bert 2nd on the left and the men either side of him are American Ensigns. The man 2nd right back is Lt Saul who married just before this photo was taken - against 'LULU's' wishes - and was killed removing limpet Mines from ships at Gibraltar. 'LULU', was Captain Llewellywn, Director of the UXB dept. Etreme left front is CPO Walker. CPO-retired and called back and a great guy.'
Drigg sand dunes were used to train for D-Day mine clearance. Also a boat was blown up for training purposes. Remains of boat still visible at low tide. 'I have seen it myself', says Sheila Cartwright.
---
Return to the HMS Volcano page.