HOLMROOK HALL - "H.M.S VOLCANO".
PHOTOGRAPHS: Michael Friend, Bert Blackmore, Betty Lawson.
RESEARCH: Sheila Cartwright.
The landscape and environs of West Cumberland south of Whitehaven are dominated today by Sellafield and Calder Hall, a vast, sprawling, often controversial industrial nuclear installation which has made West Cumbria famous - or infamous - the whole world over. Controversy aside, This architecturally futuristic conurbation employs thousands of local people, a position which would have been enviously unthinkable seventy years previously.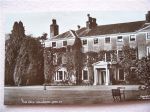 West Cumberland suffered horrendously in the depression of the 1920's and 1930's. So much so that Government-assisted industrial grants were given to bring manufacturing industries to the area - and with them employment - including a huge munitions works at Sellafield, which after WWII was subsumed by Windscale and the Calder Hall atomic power station. This wild, remote corner of England, nestled between the Lakeland fells and the Irish Sea was, in the war years, seldom heard about and probably considered quite inaccessible to the country as a whole. It was this reason, perhaps, coupled with the close proximity of two Ministry munitions works (ROF Drigg and ROF Sellafield) and gun ranges, that the rambling pile of nearby Holmrook Hall was quietly comandeered by the Admiralty and converted into a "stone frigate" for use as a bomb disposal training establishment and christened "H.M.S Volcano".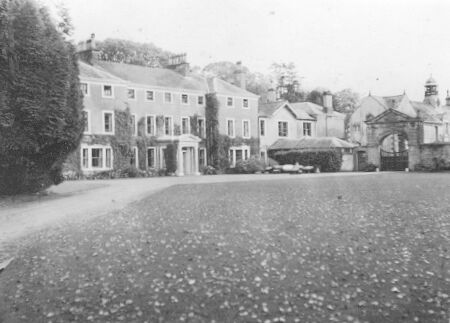 RIGHT: Holmrook Hall in 1944.
Holmrook Hall was at one time owned by the Rev Charles Skeffington Lutwidge, whose relative Charles Lutwidge Dodgson - better known as the author, mathematician and photographer Lewis Carroll - used to come and stay from time to time. Perhaps the Lutwidge Arms Hotel in Holmrook is named in memory of the family.
Sheila Cartwright, of Gosforth has undertaken much research into this little-known Naval establishment - reputed to have been responsible for training Commander Lionel 'Buster' Crabb of 'Sverdlov' fame - and as a result of further dogged research, entered into correspondence with Michael Friend, whose Father, Lieutenant P. D. friend, (GM, RNVR) was one of the original six bomb disposal officers, and who was at H.M.S Volcano in 1943. I am indebted to Sheila - an inveterate researcher of industrial West Cumberland - and Michael, without whom this page would not have been possible.
It was assumed by the local populace - who had no reason to disbelieve the purported reason for the Admiralty's presence - that the hall had been acquired as a rest home for shipwrecked and distressed sailors. This was considered a huge joke by the incumbents at the hall!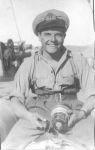 Sheila has been in touch with Bert Blackmore, who - as Lieutenant Bert Blackmore RNVR (pictured left), was active at HMS Volcano during WWII . Bert sent in some of the pictures below, larger versions of which can be accessed by clicking on them. Bert wrote the book 'The Explosive Years: Exploits of a Royal Navy Bomb and Mine Disposal Officer 1940-1946', and entered the Church after leaving the RNVR (and after paying his Mess bill of twelve shillings and threepence, of course...!). Several other books where HMS Volcano might be mentioned (all, most probably, out of print) are: 'Service Most Silent', Seventeen Seconds', 'Softly Tread The Brave', 'Of Mines and Men'.
The operational duties undertaken at HMS Volcano were the training of British and Allied forces in demolition, dealing with unexploded bombs. Several Norwegian Resistance workers also passed through HMS Volcano. The Director of Royal navy Bomb Disposal was Captain Llewellyn Evan Hugh Llewellyn - known as 'LULU', who in 1959 was appointed Deputy Lieutenant for Cumberland.
There was a unit known as LCOCU based at 'Volcano'- Landing-Craft Obstruction Clearing Unit, as nearby Drigg was considered the ideal place for the job. The task allocated to these brave diving men was to go in one hour before 'H'-hour on 'D'-Day and clear the German 'Teller' mines which were placed under the high tide mark; a vitally necessary but incredibly dangerous job indeed.
BELOW: Photographs from Bert Blackmore and Betty Lawson.
| | | | |
| --- | --- | --- | --- |
| ON THE BEACH | BOMBS | WRENS ON PARADE | VISITORS |
| | | | |
| RAVENGLASS PIER | HMS VOLCANO BOAT | GROUP AT RAVENGLASS | W. WARD-HUNT |
| | | | |
| W. WARD-HUNT | V.E DAY PARADE | GATEWAY ON VE DAY | INSIDE THE GROUNDS |
| | | | |
Further photographs of bomb-disposal training at Holmrook Hall are shown below, and are all courtesey of Michael Friend.Michael's family lived at Sorrowstones Farm, near Gosforth. Ironically, the place was surrounded by Germans - Prisoners Of War engaged in agricultural labour, as found on many Cumbrian farms!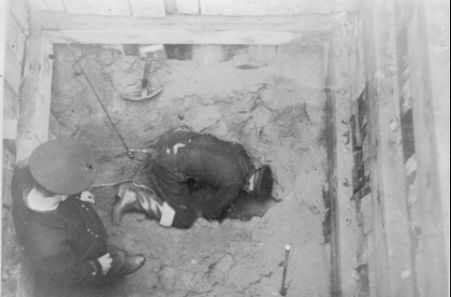 ABOVE: One of the many shafts dug in the grounds of Holmrook hall for the training of defusing unexploded bombs.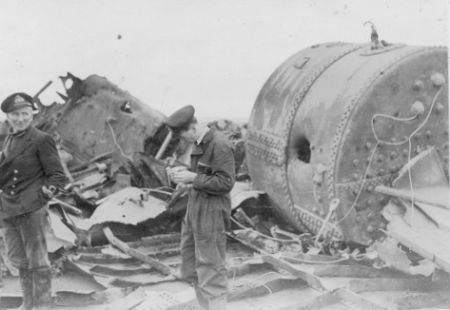 ABOVE: Two members of the bomb-disposal squad appear to be checking detonator wiring connected to what looks like plastic explosive attached to an iron vessel. The younger man is Noel Cashford.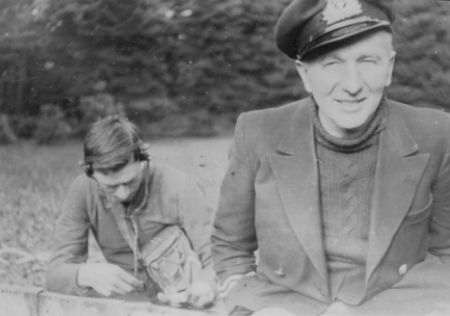 ABOVE: The chap with his head down and sporting headphones looks like he is using an amplifying listening device on a bomb.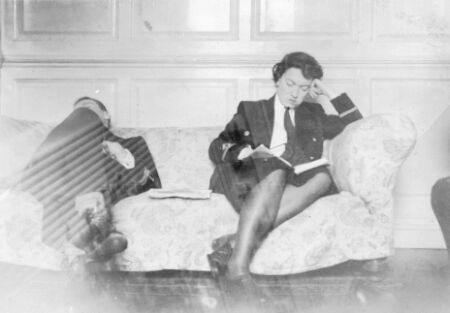 ABOVE: Lieutenant P. D. friend, (GM, RNVR) takes a break while WREN Doris Ellis sits reading attentively, having nearly reached the back page! Note the highly polished wooden wainscotting behind the settee. Doris was identified by WREN Betty Cooper (later Betty Lawson).
HMS Volcano was not the only "stone frigate" in this remote neck of the woods. A little further down the coast at Bootle was HMS Macaw, recognised as a Royal Naval Air Station. What it lacked in runways (there were none), it made up in masses of administration blocks, sleeping quarters, a galley and classrooms, remembers Laurie Farrington of Ottowa, Canada, who spent some time there in 1944. HMS Macaw was used as a "half-way house". Fleet-Air-Arm aircrew were sent there prior to going to Canada for training under the British Commonwealth Air-Training Plan, or were attached to Bootle upon return before posting to Naval air squadrons.
Some building foundations at HMS Macaw are still visible, as is the indoor swimming pool, used presumably by the local community. HMS Volcano commenced operations in 1943 and closed in 1946. Holmrook Hall fell into dereliction (renovation of comandeered buildings was pretty non-existent on the agenda of those ministries which had sequested them), and was demolished soon after WWII ended.
---
Home | Contents | Workington | Links | E-Mail
---