WHITEHAVEN COAST-BATTERY
422nd Battery of the 561st Coast-regiment, R. A.
The graphic below is based on an aerial photograph of the battery site taken on 19th May 1948, and a 1971 26-inch-to-the-mile map, on which the gun and searchlight emplacements and the power-plant are clearly visible. Further detail is derived from Frank Lewthwaite's sketch of the battery.
Some buildings are of purpose unknown, although it is likely that a Royal Marine detatchment was present on site, and they may have had quarters there. Some of the 561st Coast-Regiment were billeted with local families at Bransty, generating a small means of income during austere times, as well as solving a temporary accommodation problem!
The searchlights were 101 yards apart, equidistant either side of the engine-house. All the searchlights and associated plant were tucked in at the foot of the sandstone cliffs, with communication by field-telephone to the guns and BOP above. The guns were 50 yards apart.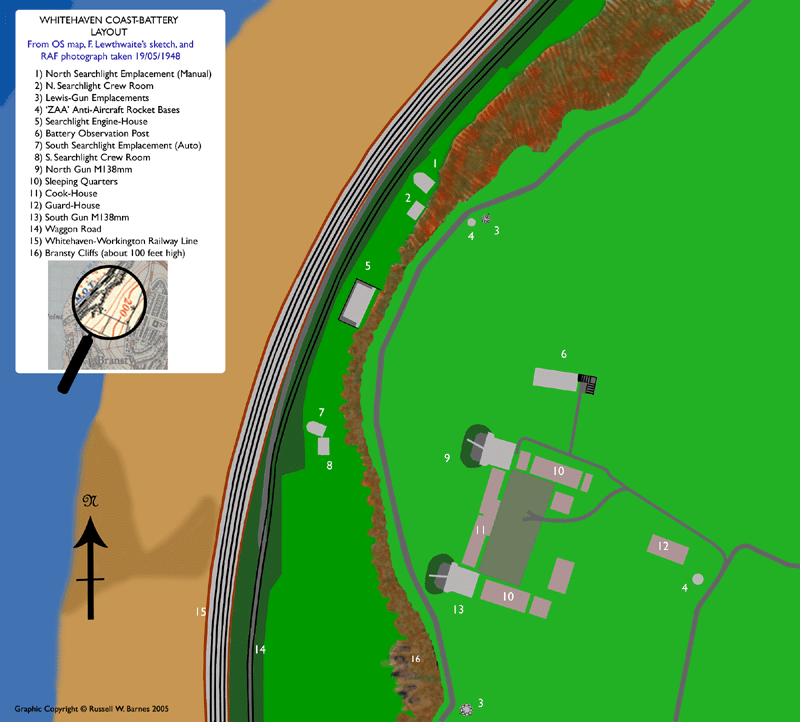 ---
Return to the Whitehaven page.
---