THWAITE FLAT: RAILWAY PILL-BOX.
IMPORTANT NOTICE: This pill-box is NOT accessible to the public. The penalty for trespassing on the railway is severe; the consequences potentially fatal. You have been warned!
A railway junction just north of Barrow-in-Furness is defended by a heavily-built pill-box of a type seen in several locations around barrow, and seemingly unique to the area. It is positioned to cover the level crossing from which one of these photographs was taken. Note the upper loop-holes cut into the corners, rather than in the faces. The lower loop-holes are to take a light machine-gun or - perhaps - a Boys anti-tank weapon.
This pill-box was returned from relative obscurity when the dykes were cut back to reveal it. At first glance, it looks like a rifle is still protruding from one of the loop-holes, but further inspection reveals it to be nothing more dangerous than a broken branch!
PHOTOGRAPHS: Christopher Eager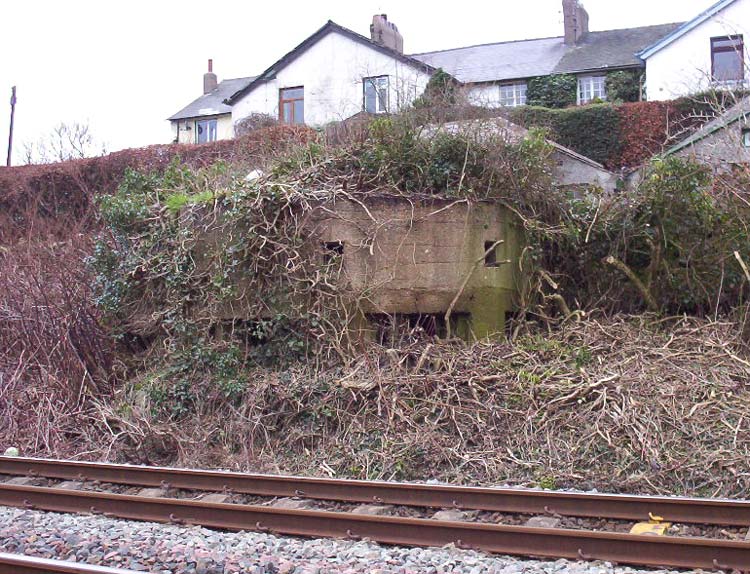 According to Mike Osbourne's 'Defending Britain', this type of locally-utilised pillbox has six sides, one (rear) being 16' wide containing the door, and five of 6' 6", containing the loop-holes. A second photograph shows how the pill-box sits alongside the tracks.
---
Home | Contents | Workington | Links | E-Mail
---