WIGGONBY AIRFIELD WATCH - OFFICE.
Before proceeding any further with this page, I should point out that Wiggonby Airfield (Great Orton) is now the site where upwards of 500,000 animal carcasses are buried; victims of the 2001 foot and mouth plague. This grim fact must be considered before a visit to this site is contemplated.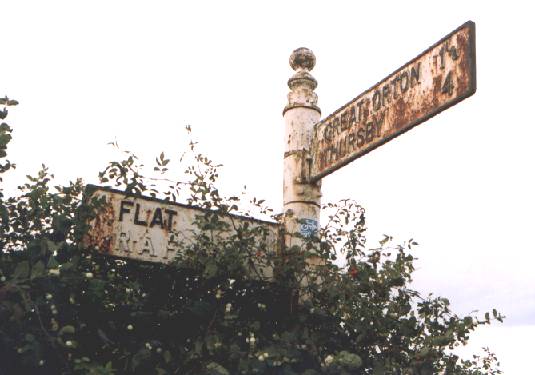 The sign still points to Wiggonby Airfield. A close examination of the sign arm reveals the letters "R.A.F" underneath Flat. Properly known as Great Orton Airfield, it lies between these two villages on the Solway Plain.
Constructed in 1943, it was originally a satellite aerodrome for Silloth, to be transferred to Crosby-on-Eden when a new satellite was built at Mawbray. Mawbray was never built, and so Wiggonby stayed under Silloth's control.
From 1943 to 1944 the aerodrome held a detachment of Hurricanes from 55 OTU, Longtown, parented by Annan (where now stands Chapelcross nuclear power station). In 1944 Annan became 3 Tactical Excercise Unit, with the unit's Typhoon conversion squadron formed at Wiggonby. Between 1944-45, Wiggonby hosted 281 and 282 Air-Sea Rescue squadrons. The aerodrome was mothballed in 1945, and used for bomb storage until closure in 1952.
This site - as mentioned above - is now a burial site for animal carcasses destroyed due to the 2001 foot and mouth epidemic. It is also home to an electricity-generating wind farm.
Aircraft at Wiggonby over the war years included Wellingtons (6 OTU), Hurricanes (55 OTU), Typhoons (3 TEU), Warwicks (281 / 282 ASR), and a brief visit of Lancasters (diverted). Great Orton, or Wiggonby was once mooted to be the site for Carlisle Airport. The outlying ground is quite marshy, however, so Crosby - on - Eden got it instead.
Below:
The watch - office, or "control tower" as it stands today. The small room to the lower right has a "U" - shaped trough in the floor, about 300mm wide by 300mm deep.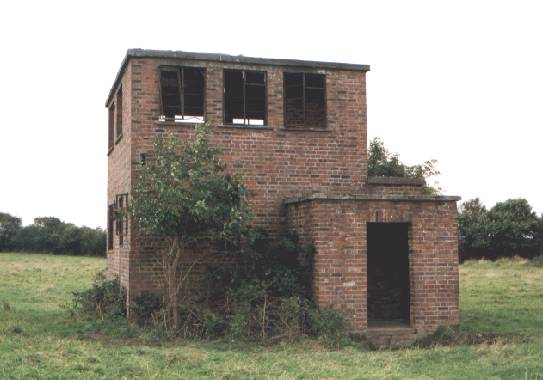 View of the front, facing the runways (R.H. wall).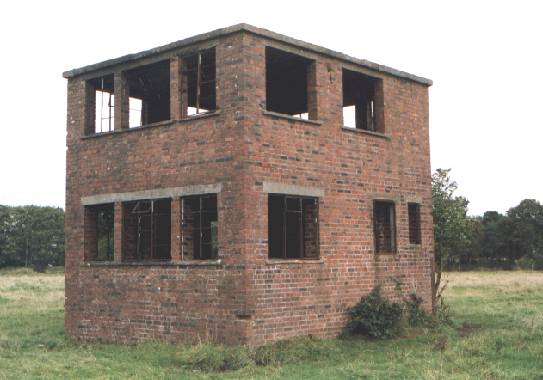 Entrance now obscured by a thriving bush....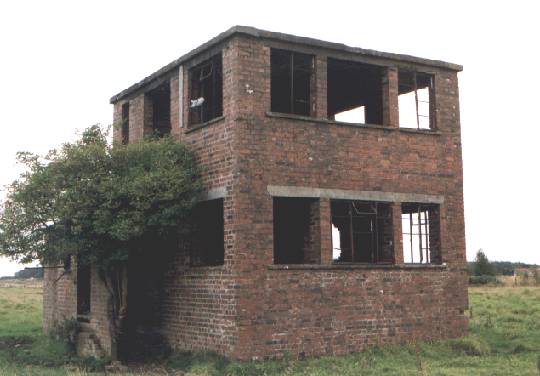 Inside:
The lower floor.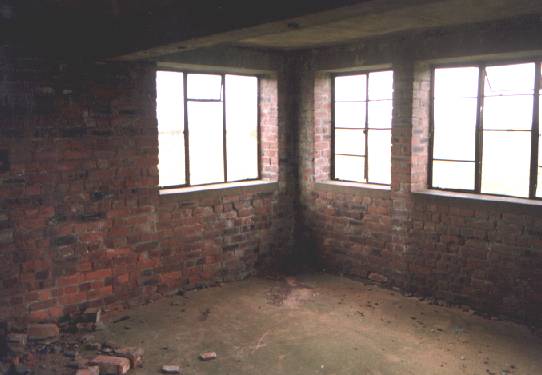 The upper floor.... For a moment I swore I heard the roar of Merlin engines....Then I looked out of the window to see hordes of Ford Escorts hurtling past around a race track!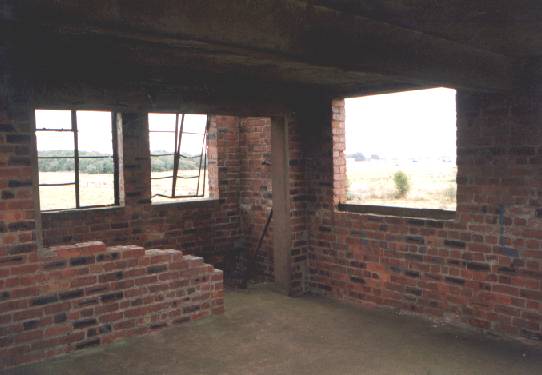 | | |
| --- | --- |
| | |
| Up the stairs, looking down.... | Down the stairs, looking up.... |
---
Home | Contents | Workington | Links | E-Mail
---