!TITLE SECTION>

Contacting a Tree Surgeon
---
Like most other home maintenance industries the Arboricultural industry has its fair share of rogues and cowboys. Many vulnerable home owners have been ripped off by the unscrupulous 'tree surgeon'. The following notes will hopefully guide you away from the door knockers, the cowboys, the 'loppers' and the 'toppers'!
The first important rule is not to entertain the Door-Knocker. Professional tree maintenance companies do not spend time knocking on front doors for business but the cowboys do. The best course of action is to simply say No Thank you and shut the door - Do not enter into a conservation with them and Do not ever take action if the door knocker tells you that your 100 year old Oak is diseased and needs to be removed. Chances are that it isn't diseased but your tree officer is the one to call for confirmation. Door knockers may try and 'chat you up' to gain your confidence, keep a sharp mind and don't be afraid to be rude. If the door knocker persists and becomes pushy, take his vehicle registration number and call the police.
Cowboys are generally easy to spot. They will greet you with terms like '...want some lopping or topping done guv'! They wear the mandatory jeans and training shoes (remember, Health & Safety Law requires that chainsaw protective Boots and Trousers are worn by competent operatives). If they produce a trade card it wont have an address or home telephone number - just a mobile number (and they may want it back!). They certainly wont be insured and will have no regard for Tree Preservation Orders or Conservation Areas. Remember, fines of up to £20,000 can be imposed for the cutting down of a protected tree. Never ask a cowboy if your trees are protected, they will invariably say they are not; check it out yourself by contacting the local council.
Cowboys generally fly-tip, so your tree prunings may well be dumped alongside a country lane. The cowboy will also try and get payment from you before the work is completed. Never, Ever pay until the job is completely finished. The cowboy will often leave a pile of prunings on your front lawn and tell you that he will be back later to collect them. If you pay him before they are removed you will never see him again and neither will the prunings!
One good way to find a good tree contractor is through word of mouth. If you have a friend or relative who uses a particular company and is happy with their prices and their standard of work ask for their telephone number. But always obtain quotations from 2-3 different companies. Many local councils provide a list of approved contractors or try the Arboricultural Association who maintain a list of recommended contractors. You can select at random from the Yellow Pages or other directory but don't assume that all those that advertise offer high quality works. Nor assume that the biggest advert represents the best company (it usually doesn't). Look for qualifications and ask for copies of insurance certificates when they quote for the work. It may be a good time prior to quoting to find out their work schedule, some companies will keep you waiting for 2-3 months before they can carry out the work.
Always ask for a quotation not an estimate. An estimate is just that, an estimate; the price may change during the job. Get the quotation in writing and check that it includes disposal of arisings, and that the site will be left reasonably clean & tidy. You also need to know whether VAT is payable and whether a cheque is acceptable, it should be, if they insist on cash without a receipt, give them a miss. If you wish to keep the logs or wood chips tell the tree surgeon while he is quoting, it may save you a fair amount. If you need a tree root removed make sure this is included on the quotation. If you accept a quote, get a firm date from the company to carry out the works. Never pay until the job is complete!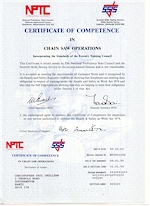 There are now many laws applicable to tree works, most relate to heath & safety items such as use of proper protective equipment and chainsaw training. Because the professional tree surgery companies will have invested much time and money to ensure that they conform with such legislation they need to charge accordingly. The cowboys who avoid such overheads can undercut the professional companies which makes them attractive to use.
Please remember, most professional arborists have spent between 1 and 3 years of their lives attending full-time college training in order to obtain a professional qualification. Please support those that have bothered to get trained and disregard the cowboy.
---

---
© 2000 Chris Skellern. AIE. Home | News | A-Z Index | Resources | Contact AIE | Terms of Use