THE VISITORS

When the Spanners re-formed in order to tour Czechoslovakia in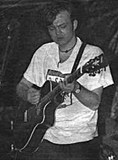 1992 only half the band went. Mac, Smedley & Bartlett were joined by Gary 'mad as a mad twat' di Campo (drums), Wildman Napthine (guitar) and Jo Cox (flute)-re-naming themselves the SkaCats (a Czech word for bouncy).
Upon return the band and incumbent musicians pottered around for several years staging a series of 'theme shows' for visiting Czech guests based on cover songs from specific years-38/58/68/78 and forming ad hoc bands to entertain the troops.
In 96 bassist and blossoming songwriter Bartlett decided he was fronting a band and had written enough original songs to do so. By 1998 they were up and gigging as THE VISITORS.
Bartlett on vocals and acoustic guitar, Brian Smedley on six string bass and Kevin Freeman on drums were later supplemented by Alexia Vernon in backing vocals.
The Visitors who toured the Czech Republic and Slovakia in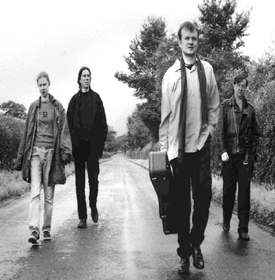 April 1999-(but with Andy Paton on drums) brought out a CD full of Bartlett songs 'Flying to the Ocean Floor' (Midnight Mango label).
In 2000 the Visitors again toured Czech Republic but this time with Emma Whitley replacing Alexia on vocals and Nick Tuckwell (Bikeshed bassist) on drums.
In June 2000 the Visitors brought out their second CD 'MOVING DARKLY'-(Midnight mango) again full of Bartlett songs but also featuring overdubs on acoustic guitar, harmonica, accordion and keyboard by bassist Smedley plus an exciting rworking of the Barty classic 'Air from the Lung' by ace photography chick , cover artist and junior Bartlett Ellie
In April 2002 the Visitors 3rd CD 'Post Industrial Daft' came out.
If you want any of these CDs you can buy them from us for £8
The Visitors have a spate of web sites and places you can download their music from the net from www.peoplesound.com/artists/visitors
for instance.
Recently the Visitors supported Joe Strummer on one of his last ever gigs on Bridgwater (below) at the Palace Theatre (Nov 17 2002)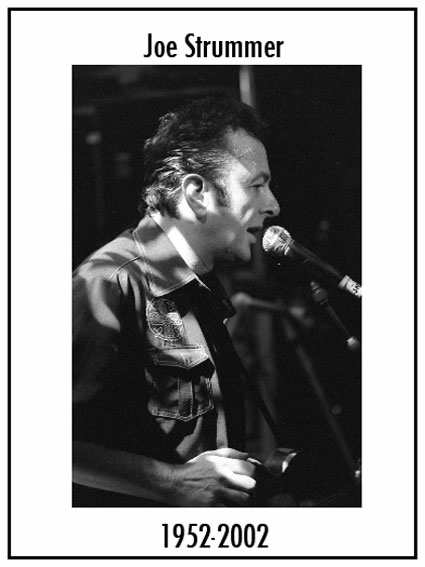 For more information about the band plus their gigs and copious tones of Bartlett poetry try www.midnightmango.co.uk
.