---
Review of the Consider This EP. Kerrang Magazine April 11th 1998. KKKK

One of the smartest self-released singles in ages, 'Consider This' sounds like the best Bob Mould song you never heard, hungry guitars snapping around a delicious vocal. The other tunes push and prod in all the right places too.
Review of Everbloom live at the Bristol Fleece & Firkin April 9th 1998
Bristol Underground Gazette. 9/10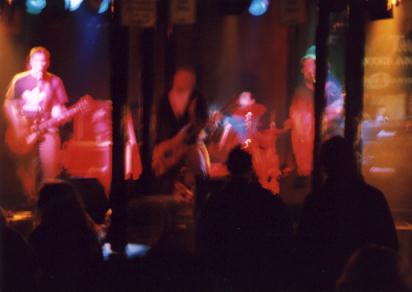 Tonight saw local favourites Everbloom perform their first headlining gig at the Fleece & Firkin. The evening started well with a young band called Afterglow keeping the masses happy. By the time the Bloom took to the stage the place was pretty much packed and ready for action. They opened with a new number called 'Never time to' which has a quiet brooding intro that lulls you into a false sense of security before quickly changing tack and ripping your head off with a break-neck, no-nonsense riff and a huge chorus. This was quickly followed by the ever popular Pumpalina, a post-modern punk anthem for the late 90's. By now the audience was jumping around, climbing up the ceiling support struts and in some cases rolling around on the floor in a amphetamine induced delirium. Everbloom continued to power through their set with songs such as 'The Original Skitz', 'Love', 'Eggy's Den' and 'Consider This' before slowing things down for a while with 'Does It Matter?' and 'Solitaire'. The set was brought to a close with a massive rendition of 'Kingy'. All in all a great big bastard of a gig, and if you weren't there tough titties.
Review of the Consider This EP. JerseyBeat e-zine

Four song English rock that teeters somewhere between brilliant pop band and the Silverchair/Nirvana angst sound. It seems this band cannot decide whether to be a pop band or something heavier. Nonetheless, this decent disc will get several spins in the next few weeks. (Paul Hanson)
---