1871 VALISE EQUIPMENT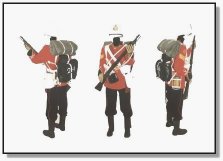 Full 1871 Valise equipment on the uniform of a Colour Sergeant 24th Regt. (2nd Warwickshire) 1879
Yes, we know the Valise was not worn on the field at Isandlwana
Click for larger image
Item names may be clicked on for a photo
Zulu War 1879.
In addition to the 1871 Valise equipment listed above, all the items listed below will be of special interest to Zulu War enthusiasts and for their convenience we have extracted them from various other sections of this catalogue and grouped them together here. They will also still ap pear in the respective categories of the catalogue.
For postage & packing please add 10% to orders up to &pound 100.
Over &pound 100 add &pound 10 only (UK). Overseas is always 10% on order.


Thin Red Line
Thin Red Line, PO Box 65, Seavington, Ilminster, TA19 0WE. UK