Thin Red Line Catalogue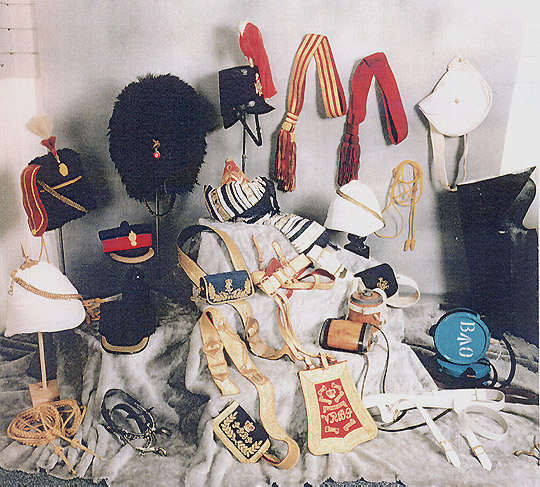 Below you find links to the relevant sections of the catalogue.
Click on each image for the full page

At present we produce one pattern of Knapsack and three patterns of Valise equipment. These are relevant to the Crimea, Zulu, Sudan and Boer wars respectively.
A Royal Welch Fusilier
1854 (Crimean War) with Trotter knapsack and all equipment

Full 1871 Valise equipment on the uniform of a Colour Sergeant 24th Regt. (2nd Warwickshire) 1879

Full 1882 Valise equipment on the uniform of an infantryman of 92nd.Gordon Highlanders 1885

Full 1888 Slade & Wallace equipment on Boer War uniform of a Sergeant, Royal Welsh Fusiliers

Other Catalogue pages
This section contains O/R's and Officer's (undress) leather belts, pouches and accoutrements.

CEREMONIAL & EMBROIDERED ITEMS

We manufacture a complete range of belts and pouches ornamented with gold lace for Officer's Dress Uniform. Also rank insignia, badges and other embroidered items

We manufacture everything, from bearskin caps to Indian Army kullahs and pugarrees, from pillbox caps to plumed shakos and from busbies to foreign service helmets.

Selection of Waterbottles and Messtins from the 19th Century

In this section you will find helmet fittings, chinchains, belt clasps and various badges.


Thin Red Line
Thin Red Line, PO Box 65, Seavington, Ilminster, TA19 0WE. UK