Snippets From The Latest Issue Of WALOC
(Vol 11 Iss 2)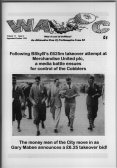 Just a taster of the latest issue of WALOC
COBBLERS DIARY
AUGUST
8 On a scorcher of an afternoon, the Cobblers are far from helped in their efforts against Stoke City at Sixfields by Colin Hill's 6th minute dismissal for handling a goal-bound attempt from the visitors. Carlo Corazzin scores an absolute screamer from a free-kick but the Potters win the game 3-1.
11 Heggs and Freestone are on target at Sixfields as Town overcome Third Division Brighton & Hove Albion 2-1 in a First Round First Leg Worthington Cup tie.
15 The Cobblers and Walsall battle out a goalless draw at the Bescot Warehouse. Ian Atkins is none too chuffed, however, that a John Frain 'goal' direct from a corner is ruled out for an alleged foul on the 'keeper. New signing Tony Witter is delayed on the motorway and the central defender only arrives at the ground shortly before the kick-off. The youth team, which includes Sean Parrish as an over-age player, are also in Walsall but go down 1-0 in the Midland section of the Football League Youth Alliance.
17 Sammo, Sean Parrish, Roy Hunter and Tony Witter, who has been signed on a week-to-week basis, all turn out for a Cobblers XI in a private practice game against Walsall. Christian Lee scores in a 2-1 defeat.
19 With Northern Ireland's friendly international against Malta having been called off, Colin Hill is able to line up in the centre of defence as the Cobblers take on Brighton at Gillingham's Priestfield Stadium in the second leg of a First Round Worthington Cup tie. A close range effort from Heggsy in extra-time secures a draw for Town on the night and a place in the second round by virtue of a 3-2 aggregate victory.
22 Tony Witter makes his Cobblers debut in place of the suspended Colin Hill as Town look for their first League win against promoted Notts County at Sixfields. However, it's only thanks to an injury time goal by Razor Ray that a point is secured from a 1-1 draw. Despite a goal from Paul Hough, the youth team go down 2-1 at Lincoln.
24 The Reserves begin their Avon Insurance Combination programme with a 2-0 victory over Oxford in front of an 800+ crowd at Sixfields. Christian Lee and Roy Hunter (penalty) are the men on target.
26 In the draw for the second round of the Worthington Cup, the Cobblers are given a plum tie against West Ham United.
29 The Cobblers turn in a poor performance as they slump to a 1-0 defeat at Wrexham. The youth team enjoy a 1-0 success at Shrewsbury thanks to a goal from Paul Hough.
31 Ian Atkins is livid after Ian Clarkson suffers a broken leg following an ugly challenge by Lincoln's Lee Thorpe. The Cobblers also lose Carlo Corazzin with a cut to the head as the footballing Neanderthals hold Town to a 0-0 draw at Sixfields.
SEPTEMBER
1 Accusations and counter accusations are traded between Ian Atkins and Lincoln officials in the aftermath of last night's events. Meanwhile, the club pledge to give their full support to Ian Clarkson should he decide to take action over the injury that will keep on the sidelines for several months.
2 Recent injury victims Hunter, Parrish, Seal and Matthew all get a run out in a Cobblers reserve team that goes down 2-0 away to their Scumborough counterparts.
5 Charlie Bishop comes into the side at Blackpool for Colin Hill, who is in Turkey on international duty, but it turns out to be the Nottingham-based defender's last appearance for the Cobblers. After Carlo Corazzin gives the visitors the lead from the penalty spot, the Tangerines hit back with two late goals to win the game 2-1, and Ian Atkins is quick to blame Bishop for both of the home side's goals. Winless Cobblers remain just two places off the bottom of the table. On the plus side, Roy Hunter returns to first team action after many months on the sidelines.
6 Charlie Bishop has his contract, which still had about 20 months to run, cancelled by mutual consent after a Sunday morning confrontation with Ian Atkins.
8 The Cobblers pull off an unlikely first win of the season at Gillingham. Hunter, Corazzin and Spedding are on target in the 3-2 victory.
9 Seal, Wilkinson and Matthew continue on the road to full match fitness in a private practice game against Cambridge United at Sixfields.
11 Left-sided defender Tony Dobson joins the Cobblers from West Brom for £22,500 and goes straight into the squad for tomorrow's home game against Oldham Athletic. Dobson is not entirely unfamiliar to the boys in claret and white - he played against them for Gillingham as a loanee on Tuesday evening. Atkins is also reported to be interested in the Oldham central defender Doug Hodgson. The youth team, who include the far from youthful Paul Wilkinson amongst their numbers, get their home programme of league games underway with a 1-1 draw against Notts County.
12 The Cobblers spurn several good scoring chances against the Latics and are forced to settle for a point from a 1-1 draw. Chris Freestone does, however, manage to score his first league goal of the season. Town occupy 20th place in the Third Division table.
13 Preparations by BSkyB for the West Ham game on Tuesday forces the reserve team game at home to Cambridge United to be moved forward a day to a Sunday lunchtime slot. The stiffs go down 1-0 but both Paul Wilkinson and David Seal complete the full 90 minutes.

The world cup has gone, history, and those who followed the pigs bladder settled into their dormant ways for a few weeks before twitching back to life in expectancy as the new season commenced. It was during this dormant spell that the old brain cells sparked into a little life and made me wonder about the game and its terminology.
Some sayings can be misleading, as are quotes. For example, I used to think a football was round but after watching televised matches I've learnt that it can be square (John Gregory), long (John Beck), High (Wimbledon), Cheeky (Gazza), sliced, curly, chipped, hanging and even (paradoxically) a great little.
A ball can be eaten (that was peach, or even a banana), it is sometimes very valuable (a gem or a pearl), it can be an intelligent ball or even informative (he read that well).
The ball seems to have taken on mortal status, as many a player has killed a ball, often dead balls can be seen on the pitch and many teams employ dead ball specialists who whisper in little groups at various times during the match. Dead balls are OK but players tend to be wary of the famous hospital ball.
The whole enigma surrounding football is a paradox, we sit in the stand and stand on the terraces. The Cobblers can be (and were) a goal up down at Plymouth last season. A team can be back in front at wherever, whether their backs are up front or their forwards are back (normally for a corner - a la Atko).
A team can suffer a close shave or a shot can be narrowly wide or scream by. Kicks can be scissors or bicycle and even the linesman is not left out as they can be seen flagging almost straight from the kick off.
A player can be "stripped for his country" and in having time to "pick his spot" does not relate to his acne. Furthermore some players show great ability in being able to put the ball away, although it's not very clear how they manage to play on afterwards.
There are perhaps many more which I have not mentioned which may amuse you, although some things may never become clear. Why is their no such place as Port Vale ?, and why if you go to Anfield are you in Everton (with Everton's ground in Walton) ? If Chelsea play in Fulham, where the hell do Fulham play ? (who said they don't). Oh yes, and why do radio commentators insist on telling me "that so and so are playing from left to right", and so it goes on..........
Return to Snippets Menu

Since my last article pre-season, I have had a mixture of the good and the not-so-good. Let us start with the good. In late July to mid-August I was privileged to be present several times at one of the most moving and inspiring events I have witnessed for many years - the World Cup for Players with Learning Disabilities. The opening and closing ceremonies and games were held at Filbert St, Leicester, and much of the tournament took place at various non-league grounds in Leicestershire; but we played our part by hosting two of the quarter finals. The other two were held at Nene park. These are the bare facts, but behind them lies a whole welter of emotions. Fifteen countries took part, including some from as far afield as India and Burkina Faso. You had to be there to witness the pride and thrill experienced by the players as they paraded their national flags in turn around the stadium, in the opening ceremony at Filbert Street. The ceremony was organised by the same team who organised the last Paralympics held in England, and it was stunning, with a whole host of images and entertainments provided by over 1300 participants, mainly children and the disabled. The closing ceremony ended with a brilliant firework display, and farewells in every language of the competitors.
The quarter finals at Sixfields were a low key event by comparison, but I was honoured to welcome the players and guests on behalf on Northampton Town , and to play some small part in such a wonderful and heart-warming event.
My daily work is partly involved with the care of people with learning disabilities, and I count many among my friends. Groups from our homes in Dunchurch and Rugby attended and enjoyed the games at Northampton and Leicester, and some were inspired to want to help as volunteers when the games are held next.
Northampton Town Football in the Community scheme, and particularly Russell Lewis and Kevin Rootes, have been in the forefront of developing competitive football for people with learning disabilities, and in creating our national team. It was only right, therefore, that we should be a part of this great event.
More recently, last week, I attended the three day Conference at Leicester University entitled "Football 2000 - Challenges in the New Millennium". This was an excellent event with speakers from the F.A., the Football Task Force, the P.F.A., many Universities and Police Forces, also Howard Wilkinson and Rogan Taylor. Subjects covered included Football Politics, Economics and Marketing, Managing Crowds, Football and Communities, Playing, Coaching and Managing. I had to present two papers on Democracy and Fandom, and the history and development of Northampton Town Supporters Trust. We are now being seen as a model for others to follow, and this was echoed by the Task Force representative at the Conference. The Fans' Movement is certainly growing. Only this summer we have seen Partick Thistle and Bath City become fully owned by their supporters, like A.F.C. Bournemouth, and major public campaigns have been launched at Dundee United and Manchester City to establish Trusts similar to our own. We can always be proud that we were the first.
I also chaired the plenary session on "Football and Communities", with inspiring and forward-looking contributions from Neil Watson, Director of Leyton Orient Community Programme and Ben Tegg, Deputy Director, of the Kick It Out campaign. Ben has been a great support to our own Anti-Racism Working Party at Sixfields over the last three years.
The papers of this Conference will be published shortly and will, I believe, prove highly influential in the development of the professional game in the coming years.
Coming nearer home. I would like to congratulate Gareth Willsher on his appointment as full time Press and Publicity Officer for Northampton Town Football Club. Among his responsibilities will be the Matchday Programme. Gareth, as you know, has served the trust admirably as Joint Secretary for the last six years, and all supporters owe him a debt of thanks for his tireless work on our behalf. I cannot think of a better person to take on these responsibilities. As in the case of Barry Collins before him, Gareth has had to resign his post as Trust Secretary in order to take this job, and in his place we welcome Katrina Wells, previously Assistant Secretary, who takes over on a temporary basis until fresh elections are held at our AGM Please note that the Trust AGM will be held on Thursday 12th November at 7.30 p.m., and we hope Ian Atkins will be present as usual. While on the subject of dates, the next TRUST OPEN FORUM will take place at Sixfields on Wednesday 30th September, also at 7.30p.m. I look forward to seeing you at both meetings.
Turning to the not-so-good, several complaints have recently been made to the Stadium Manager about racist abuse during the game against Lincoln City, by several home "supporters" in both the North and West Stands, mainly directed against Leo Fortune-West. Although these were only isolated individuals, there is no excuse whatsoever for this behaviour. We as a Club have taken a very public lead on the issue of racism in football, and we will not tolerate it. Happily we have some very precise identifications of individuals and/or seat numbers, and these will be reported by me to the Board of Directors at their next meeting. Anyone proved to have uttered racial abuse can expect a length ban from Sixfields. The positive side of this unhappy episode is that true supporters are now reporting this sort of behaviour with precise evidence on which we can take action. I would encourage any supporter who hears this type of abuse to do the same in future.
To close, early season results have not been all that we hoped for. We have struck lucky (financially) by drawing West Ham in Round Two of the Worthington Cup, after being fully stretched to beat Brighton in Round One; but at the time of writing we have only one League win to show for our efforts. Injuries have been a crucial factor up to now, in particular Roy Hunter's late start and the injuries to Paul Wilkinson and Damian Matthew. When they are fully fit I think we will go from strength to strength. Nothing I have seen so far leads me to doubt that we can soon be back up there challenging for promotion. Remember the start we made two seasons ago - and then remember how the season ended!

COBBLERS COMMENTS AND CONSIDERATIONS
I thought that for my article this time I would just reflect upon the matches I have been able to see, as this season I hope to be able to see many more than in previous years.
Home v Stoke (1 -3)
What a disaster! We lost the game after 5 minutes when Hill decided to play goalkeeper. I am surprised that someone of his experience did that he must have known he'd get sent off. We did well to come back into it before half time, a brilliant Corrazzin goal, and then in the second half we could have had a penalty and Corrazzin missed a good chance, but with the heat we tired as was inevitable allowing Stoke back in.
Of the new boys Corrazzin looked good, Matthew was substituted early on and Spedding looked as if he had good pace. I was however very worried by Woody's failure at crosses which cost us the first two goals. Overall though not too disheartened because after an early sending off on a hot day it was always going to be difficult.
Home v Brighton (2-1)
Better. Should have been 3-1 but for some a hugely inept piece of refereeing whereby the ref failed to play the advantage from which we scored because he didn't realise you could wait to book a player. Still encouraging points were the toward line with a superb Heggs goal. But worried still about the midfield (when will Parrish and Hunter be fit). In fact there were only two in midfield this evening and Matthew looked awful. But we played five at the back, which is fine if your wing backs (a) push forward into midfield and (b) Go wide. However they did neither often enough, the one time Gibb took the defender on we scored, why were they so frightened of taking on defenders? I was worried about Woody in goal, again he missed some crosses and it was fortunate that Brighton didn't know where the goal was. Still, I expect us to go through.
Away v Walsall (0-0)
A very disappointing game, but admittedly not unlike many of the away games last season where the Cobblers played for a 0-0 and hoped for a breakaway goal. The defence looked OK, Woody played well making a couple of fine saves, and we had a goal disallowed, it was hard to tell why from the away end. I hadn't been to Walsall's ground before and it reminded me a little of Scunthorpe's ground, at least at Sixfields the ground is in a natural bowl and has the West Stand as a slightly larger stand to add a bit of variety.
Home v Notts County (1-1)
An awful performance, I couldn't bring myself to applaud them off the field, we were very lucky to get away with a 1-1 draw. I believe that the tactics are completely wrong, if you play five at the back at home the wing backs must get forward or else the midfield gets over run, which is precisely what happened. At least against Stoke before the sending off Gibb & Spedding were the wing backs who looked to get forward, here Clarkson & Frain just played as orthodox full backs. Also yes play three up front but one of them must drop back to help the midfield, it wasn't happening enough.
Home v Lincoln (0-0)
I couldn't write this straight after the match because I was so angry. I was angry for two reasons
1. The Lincoln thugs disguised as football players. They were appalling and I hope they go down, they managed to break Clarkson's leg (for which only a booking followed) and they generally tried to kick any player they could.
2. Despite all this it was a abject performance by the Cobblers, the only tactic appeared to be to hoist the ball forward allowing a towering centre half to head it clear. No thought of using the wings or of playing the ball on the floor. I'm sure that if Sky had the misfortune to cover this match they could have done a statistic for amount of times the ball was in the air (a lot!)
Home v Oldham (1 - 1)
Superb performance, much, much better a shame we couldn't finish and gave away a bad goal (poor marking at a corner even though all the players were back please note Mr. Atkins!) It was good to see Hunter and Parrish back in midfield, and Spedding looks like an excellent buy. I was also pleased to see us playing a 4-4-2 formation we looked much better in midfield and didn't get over run as we had in previous games. After this performance I feel much more confident for the season ahead. But if I am honest I will still be happy to finish in a boring mid table position.

Subscription to WALOC is £7.50 for six issues. Cheques or Postal Orders made out to WALOC please. Send to WALOC, 123 Draycott Road, Sawley, Notts, NG10 3BX,(England)