Creators of hand-made ornamental glass


Wendy & David Pryce Jones
The Glassblobbery
Glanrafon Hall, Glanrafon,
Corwen, Denbighshire,
North, Wales, UK
LL21 0HA

Tel & Fax: 01490 460440

International: +44 1490 460440

E-mail: sales@glassblobbery.com

Web Site:   www.glassblobbery.co.uk




Please visit
our   web site
for more information.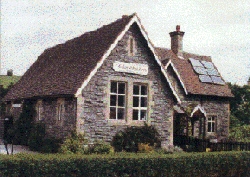 Our Studio and Showroom

The Glassblobbery studio and gallery was originally built in 1890 as the community hall and vicarage to the church of St James which is situated across the road. The church building is held in some repute as the first in Wales to be built by the celebrated architect Gilbert-Scott, with beautiful stained glass windows and rows of Minton tiles around the altar.

Shop open Easter to October 10.30am to 5.30pm
Open every day during July and August
Closed all day Tuesdays in April, May, June,
September and October (except Bank Holidays)
November-Easter by appointment only.
Evening talks and group visits by appointment, throughout the year.

© 2003 The Glassblobbery - All rights reserved.